If you're looking for the best fine dining pubs in the Peak District, The Blind Bull in Little Hucklow and The Prince of Wales in Baslow are the places to go.
I'd heard a lot of good things about The Blind Bull, but being a bit further away from Matlock than a lot of my favourite places AND often fully booked, it took a while to visit!
The Prince of Wales in Baslow I have been to a few times. They always have delicious food and amazing service.
Both are reasonably priced for the standard of food and I often say you pay a little bit more to get a lot more. Sometimes you don't even have to pay much more for a lot better!
The Best Fine Dining Pubs in the Peak District
If there is one thing Derbyshire and the Peak District have plenty of, it's pubs! However there is definitely a shortage of something a bit different. A pub that doesn't have the same menu as Every. Other. Pub!
I don't know about you, but I have really noticed a lack of creativity with menus recently. I don't know if it is a shortage of staff post Covid or I have just noticed it more after a year of cooking the same things for myself.
If you're looking for something a bit different, something a bit fancy, but still with that country pub feel, then The Blind Bull at Little Hucklow and The Prince of Wales in Baslow are the ones for you.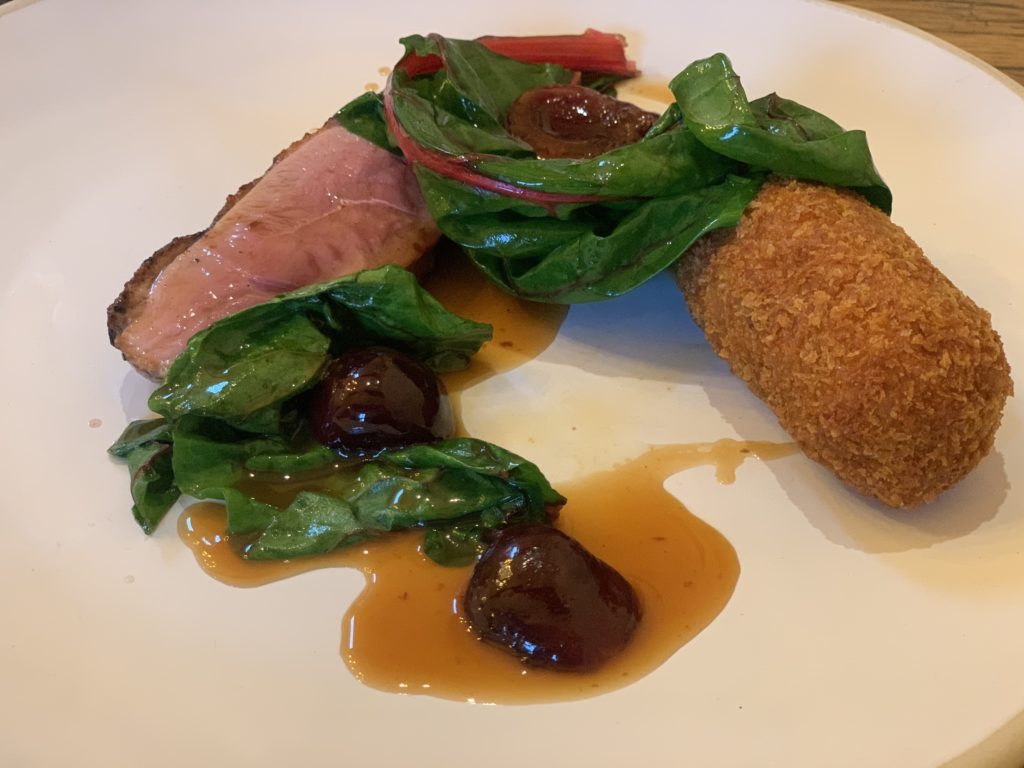 The Blind Bull – Little Hucklow
After getting bored of the menus at so many pubs around the Peak District it was great to see a breath of fresh air with The Blind Bull's menu.
I've been meaning to visit for a while, so our girls night out at The Blind Bull in Little Hucklow was well overdue!
They have undergone a huge renovation project after it has been empty for almost 15 years. The pub is one of the oldest pubs in the country. A 12th Century Inn that has been restored to its former self. It has been immaculately designed with a casual and modern, yet rustic interior.
The garden looks across the Peak District, and yes you can see plenty of cows, and maybe a bull. It can't see you though! 😉
The Blind Bull's main menu is reasonably priced for the unique flavours on offer. At £29.50 for 3 courses including bread and an Amuse-Bouche its definitely worth every penny.
I can confirm the side of triple cooked chips are delicious too!
The specials increase the price considerably, but I am sure are worth it. However get there quick before they sell out.
They are currently renovating a barn which will have a number of luxury rooms, so you could make a weekend of it and stay in this little hamlet right in the middle of the Peak District.
The Prince of Wales – Baslow, Derbyshire
The Prince of Wales is a cosy but sophisticated pub in the heart of the Peak District in Baslow. They have a more 'restauranty' bit upstairs and a 'puby' bit downstairs where dogs are allowed!
You can have the same menu wherever you sit and when the sun shines they have lots of outside seating too.
Alongside their standard menu they have some sensational specials on offer too. I am still dreaming of their Scallop starter they had on the other day. My favourite though is still the pigs cheek, the flavours are out of this world.
The Prince of Wales is also well priced at £24.95 for a 3 course meal.
They source their produce locally wherever they can, from grass-fed Derbyshire beef to local Stanage Millstone cheese.
Alongside their tasty menu, they have an extensive selection of wines, gin and local ales and a really lovely, friendly team who are their to help with your food choice or drink inspiration when needed!
They do a great deal on Fridays with Fish and Fizz and they have regular music nights too. Keep an eye on the events coming up at TPoW.
I've been to The Prince of Wales or TPoW as it is affectionately known a few times and will definitely be returning again soon.
Have you been to either of these pubs and agree they are the best fine dining pubs in the Peak District? or is there somewhere else I should try?
Other Posts you might like