Chatsworth Country Fair – Everything you need to know
If you're thinking of visiting Chatsworth Country Fair this year, here is everything you need to know before going. As one of the biggest countryside events in England, set in the beautiful Peak District, it is a weekend not to be missed, with fun entertainment, stalls and lots of food. Not to mention many dogs!
Chatsworth Country Fair holds a special place in my heart as I spent so much of my childhood both at the fair and celebrating birthdays and holidays in the gorgeous Chatsworth grounds. As a youngster my dad ran a fencing company and each year would put up the temporary fencing for the different events and arenas at the show. We would have a caravan and a stand at the show and so I wouldn't just spend the three days the fair is on at Chatsworth, but a few days either side, helping set up and take down the fencing.
I remember passing dad the nails needed for the fences, my favourite job, and occasionally attempting to knock the posts into the ground. It was one of my favourite times of year and when the actual fair opened I would invite friends and we would have a great base to then explore everything the Chatsworth Fair had to offer.
If you love Chatsworth Country Fair, make sure you visit Chatsworth Christmas Market, the best one I know!
Back in the day we did have dogs… two Dobermans called Odin and Tila, they were the most loving, yet most ferocious dogs you can get. As soon as dad would shut the gates at night they would be on duty. Good luck to anyone who dared try to go near them. When they were off duty though they were the most loyal, docile dogs around. I would ride on their backs, pull on their tails, play with their ears and spend hours snuggling with them. They were always very well behaved at the fair.
Anyway I digress… back to the fair! I was pleased to see when I returned that not much has changed at Chatsworth Country Fair and in most parts it has stuck to its routes as a true country day out. Stalls full of Barbour jackets, Hunter wellingtons and wax hats. The traditional carousel, and helter skelter and an arena filled with entertainment all day long, from dog and duck shows, to motorcycle acrobatics and hot air balloons.
Looking for some short walks around Chatsworth, you get to see some of these spots in a different light at the fair.
So, as a seasoned expert of Chatsworth Country Fair I wanted to share all my tips and tricks and answer all your questions as a visitor of this exciting weekend out in Derbyshire.
Everything you need to know about Chatsworth Country Fair
Chatsworth Country Fair takes place on Friday 2nd to Sunday 4th September 2022. The gates open at 8am each day and this is the best postcode to use DE45 1PP. It is set in the beautiful grounds of Chatsworth in the middle of the Peak District, with the spectacular Chatsworth House as its backdrop.
It's about 8 miles from Matlock (the nearest train station) and about 4 miles from Bakewell.
How much are tickets to Chatsworth Country Fair?
You can buy tickets for the fair online and can either buy a single day ticket, two day pass or pass for all three days.
A single day pass is £25, a 2 day pass £40 and 3 day pass is £60. Though there is lots to do, unless you want to watch all the shows then you can probably see most of the fair in just one day.
Is parking available?
There is plenty of parking and it is included in your ticket price. They put mats on the grass where they can, but do be careful if it is particularly wet as there's certainly been examples of cars getting stuck in the mud when they try to leave.
Chatsworth do everything they can to stop this happening though, so you will likely be fine.
There are different car parks around the fair, depending which entrance you come in, you will directed to the nearest available car park.
Are dogs allowed?
I am a dog lady… and if you love dogs I promise you will meet many of them at Chatsworth Country Fair. So first things first, are dogs allowed? Absolutely, Yes, definitely, 100%!
You will find hundreds of dogs… there for a fun dog walk, there to perform or even there to help out some of the stall holders. Perhaps even trying to sell you a new lead or two.
So if you have a dog, definitely bring it along, I am sure it will have as fun a day as you. Remember, your dog must be kept on a lead.
Is the fair accessible?
Yes it is reasonably accessible. There are a limited number of blue badge parking spaces at the front of each car park. If you need one of these ask one of the parking stewards as you arrive.
You can hire electric scooters or manual wheelchairs for the event. It is best to prebook these via Event Mobility. There are accessible toilets around the fair too.
What should I wear?
Firstly, dress for the countryside. Even on a dry, sunny day you don't want to be in heels or tiny sandles. I would recommend wearing shoes you don't mind getting muddy and if it is rainy then definitely wear wellies or walking boots.
They do put down plastic matts on the ground in certain areas to try and stop too much mud, but they won't be everywhere and even with those on a rainy day it's going to get pretty messy!
If you really want to dress the part, then Barbour Jackets, tweed and wax hats are an absolute must. You will have never seen as many Barbour jackets in one place.
What is there to do at Chatsworth Country Fair?
It really is a jam-packed day out. Firstly there are plenty of different stalls to visit selling everything from garden furniture, to dog treats, to you guessed it, Barbour jackets!
Once you've had your fill of the stalls then it's time to try some of the different activities on offer. You can watch the hot air balloons take flight, have a go at clay pigeon shooting or take the kids on some of the rides. My favourite is the helter-skelter.
The main grand ring has a full day of entertainment, from horse driving, to highland dancing, to dog agility and so much more.
There are also a series of smaller tents and rings doing things like cookery demonstrations, country craft demonstrations and even the opportunity to test your dogs in some of the open competitions.
There's always a few celebrities around too. When I visited a few years ago Jessica Ennis Hill was there as the President of the fair.
You won't go hungry either. I recommend walking around the food tents as you will definitely find some free tasters. Chatsworth do a lot of their own food stalls and there's usually a few others there too. I'm always partial to crepe at these kind of events!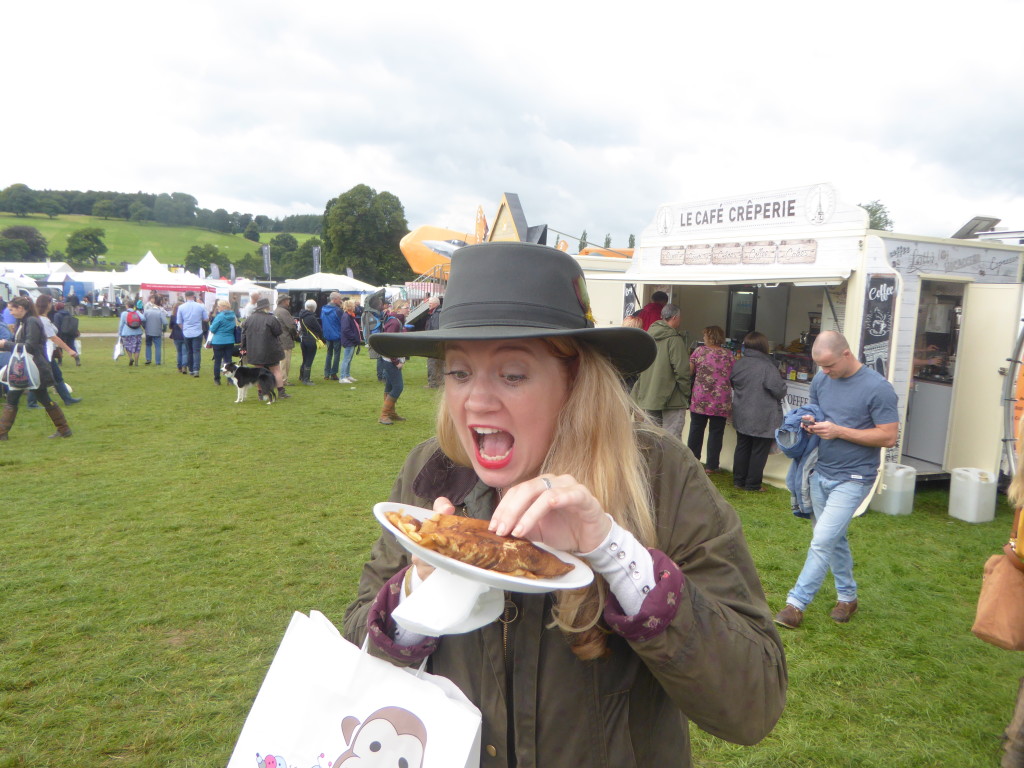 Is it still fun in the rain?
Obviously the weather can make things less enjoyable and it rained the Saturday I visited with my family, but we bought ourselves a couple of wax hats and happily wandered around in the rain, before scurrying up to the café for a bit of respite and a cake before returning to watch some of the arena performances.
Just make sure you dress for the weather and you will be fine.
Let me know if you decide to go to Chatsworth Country Fair. It really is a fun day out in the countryside and a great end to the summer calendar of events in Derbyshire.
Other blog posts you might like