Chatsworth's hidden gems – the best things to do in Chatsworth
If you're visiting Derbyshire, Chatsworth is a must-add to your itinerary. And, to help you make the most of your trip, we've shared our favourite things to do in Chatsworth.
A (very) brief history of Chatsworth House
Chatsworth to Derbyshire is basically what the Leaning Tower is to Pisa – we're very proud of our biggest tourist attraction.
If this is the first time you've heard of it, Chatsworth House is the historic residence of the Duke and Duchess of Devonshire (the family are probably most famously known for being the descendants of Georgiana Cavendish, who was recently portrayed in the deeply moving 2008 film The Duchess).
Today, the family's residence doesn't take up the entire house (don't worry, they're still well catered for). Much of it has been made accessible to the public, including its interior, grand galleries and extensive grounds.
In fact, the world-renowned Chatsworth Estate includes the Grade I listed house and stables, a 105 acre garden and 1,822 acre park, plus one of the most acclaimed art collections in Europe, The Devonshire Collection.
Visitors can explore one of the best-preserved examples of a historic English estate. Be it a sunny day lounging in the grounds, a hike amongst the sheep, deer spotting, a tour of the landscaped gardens, or leisurely stroll through the famous artworks, you'll never be short of things to do.
Keep reading to find the insider's secrets, and all the best things to do in Chatsworth during your visit.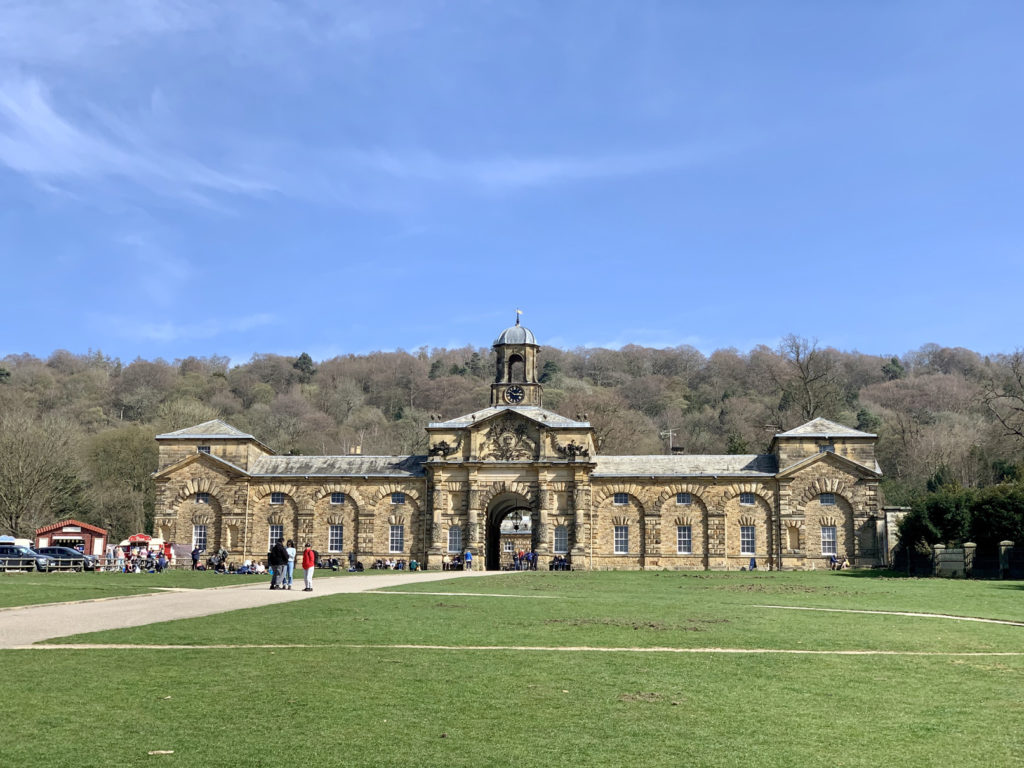 The Best things to do in Chatsworth – the great outdoors
The waterfall steps
I appreciate it sounds a little strange (and a bit of a deathtrap) but trust me, don't knock it until you've tried it.
The waterfall steps are always packed full of people, come rain or shine. Ask kids in Derbyshire what they remember most from their childhood, and you can safely bet that most will have these steps somewhere on their list. Back in the day, it was easily one of my favourite things to do in Chatsworth.
For Chatsworth newcomers, they're a great series of stone steps, in the middle of the grounds, with water trickling down them from a fountain at the top.
The challenge is to climb from the bottom, all the way to the top.
There's no swimming costume necessary, just go barefoot, and wade your way up to the fountain.
It's all good, silly fun.
Filming spots from pride and prejudice
Any Austen fans reading?
In the 2005 adaptation of Pride and Prejudice, Darcy's iconic Pemberley Estate was brought to life using Derbyshire's very own Chatsworth House.
Throughout the film, you can see both interior and exterior shots of Chatsworth, reimagined as the famous Darcy residence.
We highly recommend following the path that the movie took, and matching up these beloved scenes with the real deal in front of you.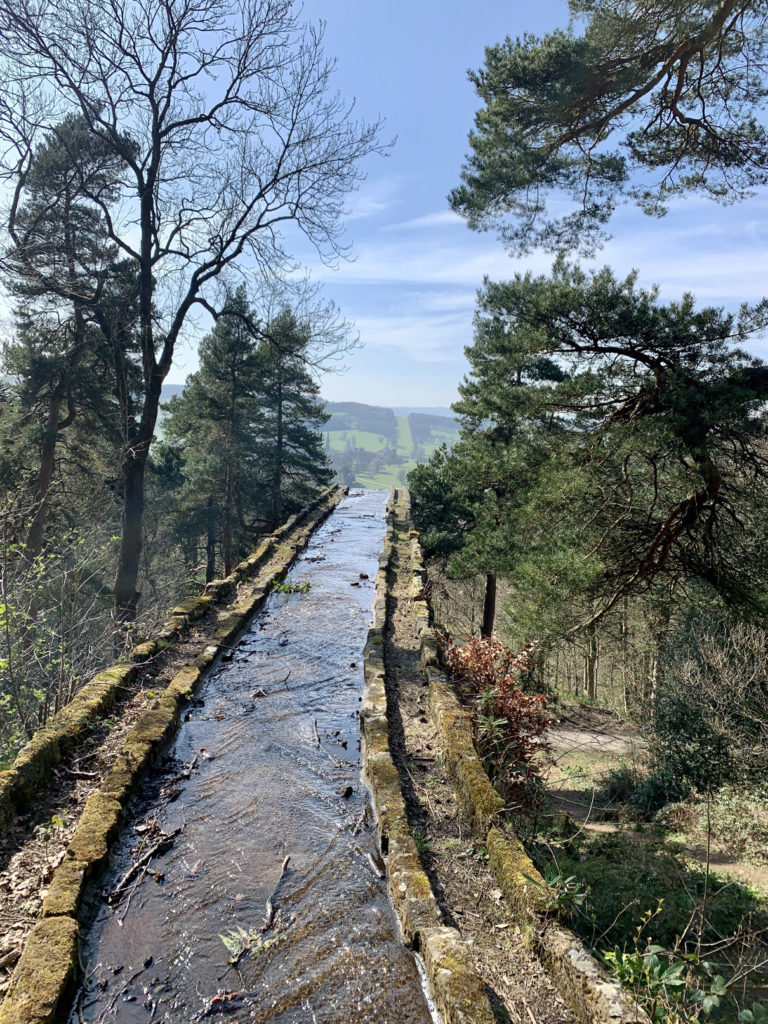 The Hunting Tower
This is one of the most popular walking routes around the Chatsworth Estate, and there's no prizes for guessing why.
The Hunting Tower is perched deep in the forest, high above the house itself – when you're standing by the house, if you look closely, you can just see the top of it poking out from the trees.
It makes a wonderful walk, and gives you some of the best possible views of Chatsworth (indeed, of Derbyshire).
Just follow the signs for the Farm Park, and then keep going upwards, through the forest.
On the way, you'll also get to see the old aqueduct, and its stunning natural waterfall. Trust us, it's well worth the climb. The shimmering water and the panoramic views of the estate genuinely feels like something out of a fairytale.
From there, you can keep following the road upward, to the Hunting Tower (before you set off, we recommend getting a map, or speaking to a member of staff and asking for a few directions).
Once you get there, the views are outstanding. From that height, you get a real sense of just how vast (and green!) the landscape is. Plus, there's a lovely little bench, conveniently placed so that you can rest your legs and soak it all in.
The maze
You can tell I spent a lot of my childhood days out at Chatsworth.
But whether you're 9 or 90, the maze is always going to be one of the funniest things to do in Chatsworth.
Much like the Red Queen's elaborate garden, the Chatsworth maze is a large, complex hedge maze.
Your challenge – if you choose to accept it – is to get to the middle of the maze, and then back out again.
It's positioned right in the heart of the gardens, so not all viewers actually know it's there. But, we definitely recommend leaving a bit of time for this in your schedule.
Things to do in Chatsworth – in and around the grounds
The farm shop
If you're big on your food, it's well worth a stop off at the Chatsworth Estate Farm Shop.
This charming, traditional little shop is filled with some of Derbyshire's finest. Its fresh, tasty offerings include fresh fruit, a delicatessen, baked treats, patisserie, local beers and some of the finest produce from Chatsworth estate itself.
In recent years, we've seen a huge uptake in nose to tail dining. The idea behind this being that, if we eat food that's grown locally and seasonally, we can minimise food waste, cut down our carbon footprint, and enjoy food at its peak of freshness and flavour. Talk about a win-win.
This diddy farm shop is a wonderful example of the 'fresh, local and sustainable' ethos. And, although the prices might be more than that of your usual Asda shop, the food really is sensational.
Endsor village
Whenever I speak to my city friends, I just know that Endsor village is exactly what they picture the entirety of Derbyshire to be like.
And that's precisely why this little spot is one of my favourite things to do in Chatsworth – it's full of charm, rich in history, and absolutely beautiful.
Endsor is situated just alongside the Chatsworth grounds – in fact, the village itself is actually a part of the Chatsworth estate. You can take a walk along the river towards Endsor, and stop off for a bite to eat in the Endsor Tea Rooms (I'd highly recommend their filled Derbyshire Oatcakes).
Looking for other places to eat in Derbyshire?
Chatsworth Events
Chatsworth do lots of events throughout the year that are definitely worth visiting. From outdoor movie nights, live music performances and different shows.
These are a couple of my favourites:
Chatsworth Country Fair – for true country living with delicious food, horse shows and different performances and of course lots of country life stalls too. And LOTS of dogs!
Chatsworth Christmas Market – Definitely worth it for Christmas shopping and getting into the Christmas spirit. It is often held late November and has so many lovely artisan craft stalls. I've twice got so many presents from here.
Deer spotting
We couldn't write a list like this, without mentioning Chatsworth's deer.
Chatsworth is renowned for its thriving herds of deer. They're dotted throughout the grounds and, if you're lucky, you'll see them grazing during the day.
Up close, and wild in their natural habitat, these are absolutely stunning creatures.
Also, a little top tip for you, if you come during the day and don't manage to see any deer, try again at night.
If you drive along the roads at a gentle pace, you should see groups of deer dotted throughout the grounds, or even running full-pelt in their herds. Although I'm no deer expert (so I can't advise you on the seasons or the exact best time of day) they're often about doing their thing. And, a bit of patience will more than pay off.
---
We hope you enjoyed reading our picks of the best things to do in Chatsworth. If you book a little Derbyshire staycation, we'd love to hear about it!
Or, if you've got some extra local insight to add to our list of things to do in Chatsworth, tag us in your recommendations on the She Gets Around Instagram page.
Other posts you might like