Is Kaji in Buxton Derbyshire's Best Sushi Restaurant?
Derbyshire has a sushi restaurant! I repeat Derbyshire and the Peak District has a sushi restaurant. This was dreamy news to my food focused mind. Sushi Kaji in Buxton is amazing and, I think, Derbyshire's Best sushi restaurant.
If you live in Derbyshire you will know we don't always have the best choice of international cuisines. There is the usual Indian, Chinese, Thai and Italian, but then it's just a variety of different levels of pub grub and cafes.
Don't get me wrong there are some amazing places to eat in Derbyshire, from fine dining pubs to brilliant brunch spots. However, there just isn't the choice you get in the city, which is to be expected in the middle of the countryside.
It just means that when a new exciting restaurant opens we get all the more excited. Sushi is probably the food I have missed the most and regularly crave, knowing I would have to go to Sheffield or Derby to find anything resembling good sushi!
But now, Derbyshire has a sushi restaurant. Sushi Kaji has been open just over a year and I only found out about it recently and knew we had to visit. As soon as I mentioned it to fellow coworkers at Coworking Corner we instantly decided we needed to have a road trip to give it a go.
Buxton is still about 35 minutes drive from Matlock, but is the closest place for sushi, and other than Derby city the only place I know of where you can find sushi. We hopped in the car and headed there for lunch one Thursday and it was worth the trip!
Is Kaji Derbyshire's Best Sushi Restaurant?
So, is it really the best sushi restaurant in Derbyshire? Well, it's the only sushi restaurant I have found so far… and it was bloomin' brilliant! So YES I would say it is. If you know of any more sushi restaurants in Derbyshire then let me know!
If you're looking for different and interesting cuisines to try in Derbyshire then start with Japanese food at Sushi Kaji.
Here are the answers to a few questions you might have about Sushi Kaji.
What's good on the Sushi Kaji menu?
So far I have only been once, but I will be back and add to this when I do. We shared a range of sushi and starters and then each had our own hot main. Everything we had was delicious and the sushi certainly didn't last long!
We had Salmon avocado maki, prawn tempura maki, a crispy roll with salmon avocado and some soft shell crab tempura. It was all absolutely delicious, though for me the winner was the soft shell crab, it was perfectly crispy with a delicious dipping sauce.
For main I had teriyaki chicken, which had a scrumptious thick teriyaki sauce and came with rice and a warm side salad which was also yum!
There were so many more things I wanted to try on the menu so I will definitely have to return to work my through the menu. There are plenty of non sushi related items on the menu if sushi isn't your thing. From ramen to teriyaki to tempura and katsu curry.
Check out Kaji Buxton's full menu.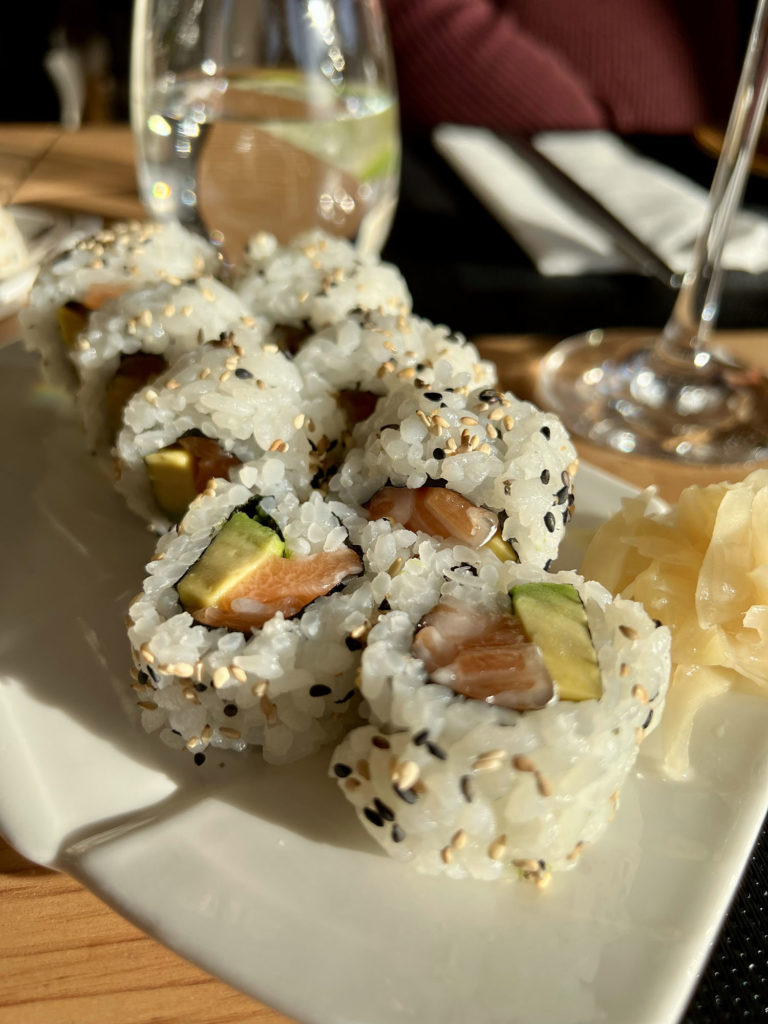 Is it good value?
Sushi is never the cheapest food option… unless you're in Japan! There I found the cheap and yummy sushi on almost every street. Anyone want to take me back?
There were four of us and we had a bottle of prosecco and the bill came to £105, so just over £25 each including alcohol for a two course meal. I don't think that is too bad at all to be honest. Fish doesn't come cheap these days, the portions were big and the food really was delicious.
What's the service like?
I found the service really good. They were friendly, welcoming and attentive, all you need in a great restaurant. They weren't hugely busy as it was a midweek lunchtime, but there were a few other tables in and everyone (including us) seemed to be served quickly.
The decor is fairly simple and you do have to walk up 3 flights of stairs to the toilets, but they were clean when you got there. We were there on a lovely sunny, but wintery day and it was beautiful and bright in the restaurant too.
Do they do takeaway?
Yes they do! I'm not sure they will deliver as far as Matlock though, here is hoping!
Where can I park?
Sushi Kaji can be found on one of the corner's of the big 5 way junction near the centre of town in Buxton. Buxton is just on the edge of the Peak District about 15 minutes away from Bakewell. You can park on the road on Green Lane opposite fairly easily and there are a few streets around Buxton you can park. Otherwise there are carparks in town just up the road.
Address: 55 High Street, Buxton, SK17 6HB
Will you go back?
100% Yes! I think this really is Derbyshire's best sushi restaurant and I will be returning more than once!
Have you been? Let me know if you decide to give it a go and tell me if YOU think it is Derbyshire's best sushi restaurant.
Other Posts you might like