Why you should visit traditional Japan – My Secret Wakayama
Wakayama City isn't somewhere you read about on your average 'things to do in Japan' list, but that doesn't mean it isn't somewhere that shouldn't be on your bucket list. Off the usual beaten path of tourists visiting Japan, it's so close to many of the other places you might visit, such as Osaka and Kyoto, that it's an easy place to add on to any holiday to Japan. And believe me it is oh so worth it!
So why do you need to visit My Secret Wakayama? The hidden gem of Japan.
To stay in a traditional Ryokan
We arrived into Wakayama after dark and grabbed a taxi from the train station to our traditional Ryokan, the ISARIBI-NO-YADO Seaside KANCHO. Winding up tiny roads, I was excited to see what delights we would awake to.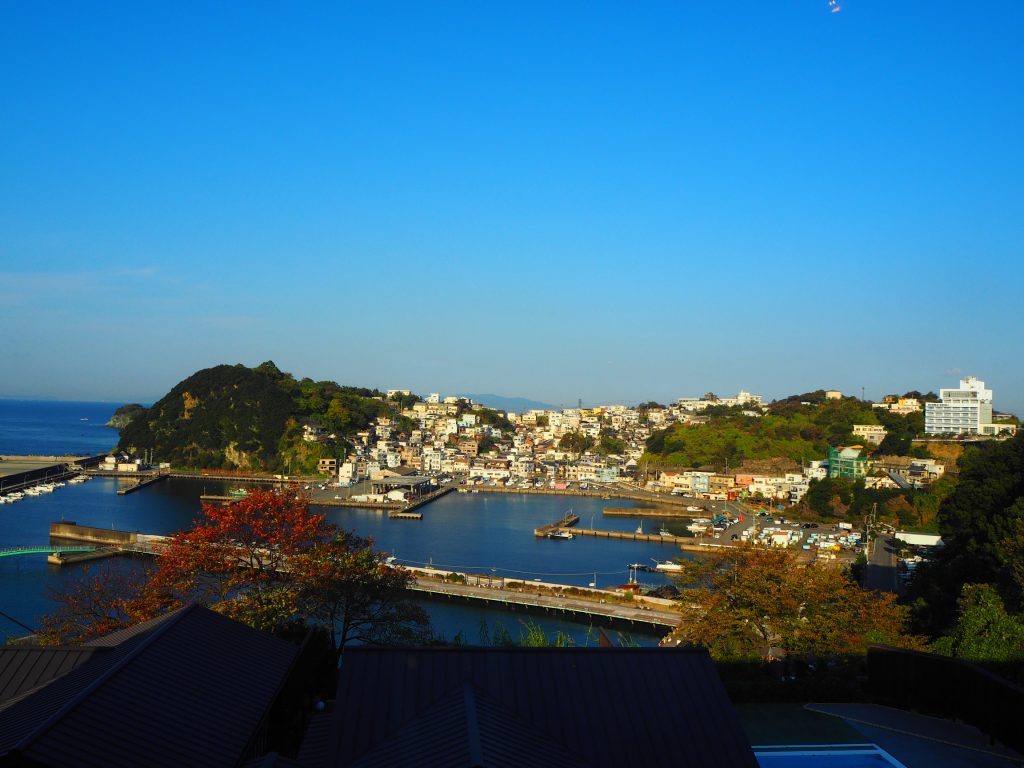 With only one day and two nights in Wakayama there was lots to do, starting with seeing what our rooms had to offer. Lucy and Elle had a cute suite, complete with their own "onsen" (more on that later), living area and sleeping area. The shower was outside next to the ryokan with a separate toilet and sink next to the living room (more on the toilets in a later post). Everything was as you would expect, exceptionally clean and minimal and beautifully styled.
My room took minimal to a whole new level, as when I walked in there was no bed. A little perturbed, I soon found a big pile of bedding and thin mattresses in the cupboard. When I came back from dinner, the hotel staff had set my bed up in the middle of the room for me.
No shoes are allowed in the room and you are given traditional slippers to wear around the hotel, along with traditional outfits too. Many guests wore the outfits all over the hotel, including to dinner, but we opted for normal clothes for dinner.
I'm not sure I will ever know everything I ate at the eight course local cuisine dinner that night, but most of it was delicious so we will leave it at that. Rice, fish, meats, soups, sweet treats… each course a new surprise to our eyes and taste buds. Everything was so beautifully presented we had to stop for photos before eating every course (obviously, we are bloggers after all!).
Breakfast was equally random and some of what was on offer my eyes and belly weren't ready for, but I can recommend rice, egg and soy sauce as a nutritious breakfast. Mmm, tasty!
The  ryokan was welcoming, traditional and very cosy. Though the staff barely spoke a word of English and we didn't speak a word of Japanese, we seemed to get by fine and were clearly very welcome! There was a relaxation room complete with massage chairs, free tea and sofas, though by far the best part was the traditional onsen…
To enjoy a Japanese Onsen
Onsen – natural hot spring pools or baths – are found in most traditional ryokans in the area. There are clear rules for how you take an onsen and an order in which you do things.
Wash – bathe in the onsen – scrub/wash again – back in the onsen – wash and done.
The rules for taking an onsen include:
No swimwear, everyone must be naked
Wash before entering the onsen
Take your small towel (barely big enough to cover your modesty) with you, but do not put it in the onsen!
No visable tattoos (this is due to an old tradition that only gang members had tattoos and though it is still upheld in some more traditional ryokans they can occasionally let this one slide)
Though we were all a little cautious about getting starkers in front of each other, it didn't take long to become comfortable in nothing but our own skin. They have separate onsens for men and women and they often change these each day so you can try out different onsens. My favourite was the second one which included three round tubs out in the open air overlooking the Wakayama bay.
I felt so relaxed after my onsen, with skin as smooth as a baby's bottom and it certainly helped me sleep away any jetlag. We enjoyed it so much we managed to squeeze in a second one after breakfast in the morning. Such a great way to start the day!
To see the Autumn leaves at Wakayama Castle
Japan is often known for the blossom in the Spring, though really its burnt orange and bright red Autumn leaves should be just as popular.
Wakayama Castle built in 1585 sits on a hill overlooking the city of Wakayama, surrounded by a traditional Japanese garden, a zoo and a variety of different tall stone walls. We visited just as the leaves were turning to the bright oranges, yellows and reds of Autumn and couldn't stop snapping away photos of the contrasting colours.
The castle itself is a museum filled with old Japanese warrior costumes, letters and swords, and my favourite item, a huge chest, that I could easily fit in, that was used to store tea. That's my kind of tea chest!
It costs about 400 yen to go inside the castle, though you can visit the Japanese Garden and walk around the walls for free. It's worth going in to walk to the top and see the views across the city though.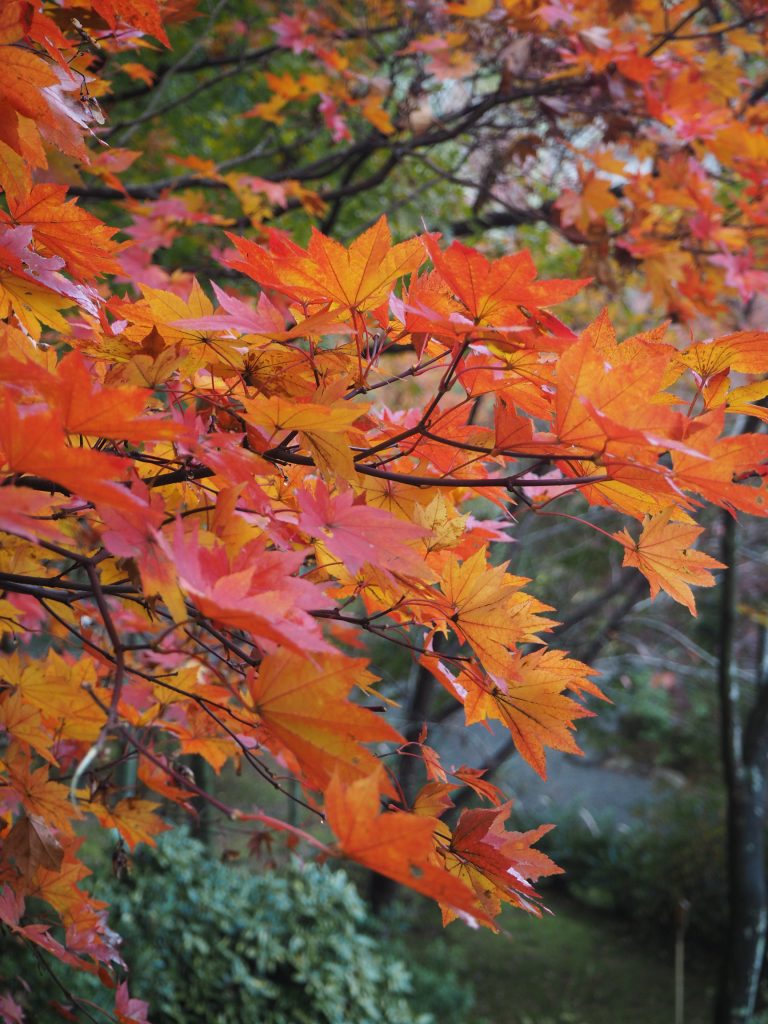 To eat the best ramen you will ever taste  
Japan is known for its melt in your mouth sushi and flavoursome noodles and the food in Wakayama didn't let us down. We were told we had to try the best ramen in Wakayama at 'Ide Shoten' and to get there early as queues can wind round the corner. They weren't wrong.
We arrived for lunch at about 11.30am (not long after breakfast!) and were told to wait outside until there was space. The tiny restaurant only seats about 16 people so quickly fills up with a mix of suited business men, visiting tourists and locals out for lunch.
You have the choice of ramen as it comes, ramen with extra noodles, ramen with extra meat or ramen with extra noodles AND extra meat! Being so close to breakfast we opted for the regular size with no extra anything, though it certainly had enough of everything in it.
There are sides of boiled eggs and rice if you want them and you are quickly brought glasses of water or can order soft drinks. Rumour has it they've been adding to the same ramen sauce base for the past 30 years, but I like to think that isn't true! Needless to say, whatever they are doing works and the ramen noodles were truly delicious.
For our evening meal we were left without recommendations, so headed to an area that seemed to have quite a few restaurants, though we had a couple of funny moments when we were turned away from restaurants that had space. We soon realised this was because they didn't speak English and we didn't speak Japanese and so not being able to bestow their usual Japanese hospitality on us they thought it easier to tell us to leave.
Luckily, we found a younger bar and yakitori restaurant who welcomed us in. After some conversations via Google translate we found ourselves eating some delicious yakitori chicken washed down with saki (of course). Not quite having our fill, we found a second restaurant later that was well catered for tourists, with photo menus and lots of yummy sushi.
Despite some funny 'lost in translation' moments we certainly filled our bellies with lots of delicious food while in Wakayama. It's definitely a hidden gem of Japan and a place to add on to any trip to the country to see somewhere that is a traditional Japanese city, yet to be overtaken by tourists.
Getting to Wakayama
It's really easy to get to Wakayama by train or bus from Osaka or KIX airport. There is a direct bus every half an hour to the airport or a train with one stop takes you to the airport or direct into Osaka. Both take around 45 minutes.
On my return journey I got the train to Kyoto and with a quick change in Osaka it took less than 2 hours.
I visited Wakayama, Japan as a guest, though as always everything I say is my 100% honest opinion and I wouldn't recommend anything I didn't enjoy. #Mysecret #Wakayama
Other posts you might like: