What to Watch for Wanderlust
Reading travel blogs is an amazing way to get travel inspiration. But sometimes, we just want to zone out and let all the hard work be done for us. So watching travel inspiration on the TV is a great way to learn about fun, new, adventurous destinations, with minimal effort!
If you're looking for some top quality TV shows as the nights draw in to inspire some fun on your next travel adventure, keep reading!
Here's my ultimate what to watch for fun, adventurous, wanderlust-travel inspiration.
Natural Curiosities – W Channel
I mean, the clue is in the title. I often find myself curious about a destination by finding out what natural wonders might await me. Plus, this is an exclusive show to W Channel (one of my faves) presented by no other than Sir David Attenborough.
I'm sure you will have seen Sir David's shows on the BBC, and I love those, too. But in this series, he talks about discoveries in the animal kingdom that really get me excited about the places they come from: as fun, exotic travel destinations.
W Channel has really nailed it with this one, and if you haven't already, you can catch all the episodes here
I've mentioned W Channel a couple of times on the blog and have to say they are the best guys to work with. I love the ethos of their brand and the way they work with bloggers in such a 100% natural way.
I'm working on an exciting project with them at the moment to launch their new TV show 'The Secrets in my Family' a groundbreaking new show using research to uncover people's ancestral history. To help with the launch I have done my own DNA test, which I am eagerly awaiting the results of. Watch this space to find out where I really came from!?!
Departures – Netflix
These guys are so down-to-earth and their personalities really shine through in this series. They're all about exploring, meeting locals, playing games and having FUN as they travel. Which is right up my street! Each episode explores a different country, so it's a great way to get a full round-up of the highlights a place can offer.
It's presented by two Canadians, Scott and Justin, and they go to 'regular' travel destinations but they always show you places you didn't know existed. They always do fun and adventurous activities and really show you just how much you can do in a place, rather than just the run-of-the-mill tourist spots. You can catch it on Netflix here!
Jamie's Food Escapes – Amazon
This is an oldie but a goodie, recommended by foodie legend Sophie. If you're totally excited about food when travelling, then this is the series for you! Jamie goes on a culinary adventure to a range of different spots, like Marrakesh, Athens and Andalucia. But he's not just captivated by the food, he really makes a point of finding local people and eating (and drinking!) the way they do.
He uncovers traditions like how family-focused life really is in Athens. He shows how slowly they live their lives and pretty much revolve it around food. In the Athen's episode, he stays with a local family, eats meze and cooks tuna straight from the sea on the beach. He also makes the most divine. Greek. salad. ever.
In Marrakesh, he makes a slow-cooked lamb kebab and shows us the ultimate food-on-the-go; eaten straight from a charcoal pit in the local market. If this show doesn't get your wanderlust for fun, travel and adventure buzzing, I don't know what will! You can download each episode on Amazon.
Levison Wood- All4
If you haven't yet discovered Levison Wood, where have you been for the last couple of years? This guy is one of the most exciting travellers of our time. He's a British explorer, writer and photographer and he pretty much WALKS everywhere. He's had three series, Walking the Nile, Walking the Himalayas and Walking the Americas. In each, he really does unveil some truly breathtaking and EXCITING wanderlust inspiration.
In his episode Walking the Americas he treks 1800 miles from Mexico to Columbia. He narrowly avoids escaped convicts and poisonous trees. Basically, this guy makes Bear Grylls look like a pansy. Levison is a true legend and watching his shows will really inspire your adventurous side, I promise! You can watch all three episodes on All 4 here!
Joanna Lumley's Travel – ITV
I don't know about you, but I love this woman. The first of her travel documentaries I discovered was her trip to Japan. She explored the four main islands, plus the major cities and her enthusiasm just totally captivated me. Starting in Hokkaido, she visits the natural, hot springs which look incredible. And even gets to see the famous 'dancing birds'!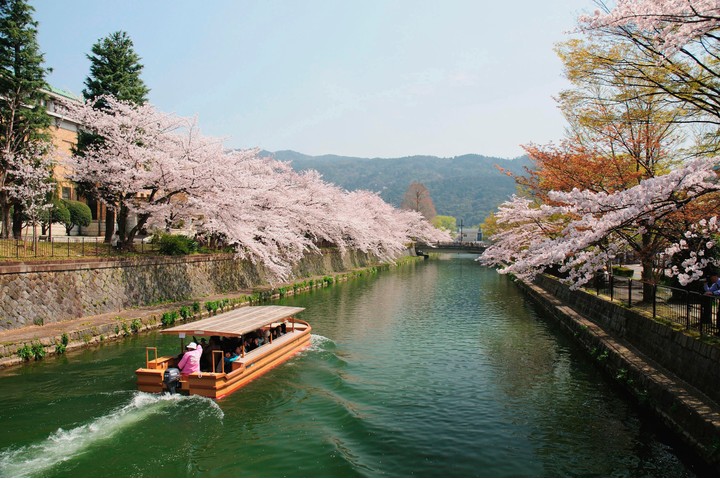 She then visits the world-famous blossom trees and a brewery that has been making Sake since 1689. She also shows us WW2 bomb sites, spends time with a Geisha girl-in-training and goes to the world's first robot hotel. Very cool indeed.
After watching her Japan adventure, I discovered Joanna was actually born in India. So, I watched her India series and that was brilliant too. An amazing, wanderlust-filled travel exploration. If you missed it, you can get  all her episodes in full on Amazon Instant Video.
So I hope I've inspired your next wanderlust watch! I think it all comes down to the enthusiasm and passion of the presenters. Afterall, if they're not in a state of constant wanderlust, how will we ever be?!
Want more fun-filled, adventurous, travel posts? Head over to my Pinterest for the ultimate wanderlust inspiration!
Other posts you might like: