Easy short loop walk in the Manifold Valley
If you're looking for a new easy short loop walk in the Manifold Valley in the South West Peak District, then I have a perfect little walk for you near Wetton at Weag's Bridge.
I love exploring new walks in the Peak District and have made it my mission to make sure I share some of my findings with you so you can do the walks too.
My usual walks are in the centre of the Peak District near the popular Monsal Trail and Millers Dale. However this week we thought we would try somewhere new and headed to the South West of the Peak District in the Manifold Valley.
This loop walk started and ended at Weag's Bridge, which is about a 3 minute drive from the village of Wetton. We wanted to find a walk where we could easily park and get back to the car, but take in some different scenery of the Peak District and not be too far from a local pub to refuel afterwards.
The Weag's Bridge loop walk definitely fulfilled all those needs.
This post shares the key things to note about the walk, our route and answers to any questions you might have.
East Short Loop walk near Wetton in the South West Peak District
Parking at Weag's Bridge
The drive to Weag's Bridge, from any direction, is a beautiful one. Rolling hills, views for miles across the Manifold Valley, it really is a beautiful part of the Peak District. But then where isn't?
The parking is free and to the right straight after the bridge if you are coming from the East.
There is no toilet, bin or any other facilities, so bring what you need with you and make sure you take everything away too.
How far is the Weag's Bridge Loop walk?
The walk was about 5.2 miles in total and I would say at least 50% of the walk is completely flat along a bridal way, the Manifold Way.
The beginning and end of the walk are the same. You cross over the road from the carpark and take the right hand bridal way and follow it straight and around the corner by a camp site. I don't think this is an official campsite, so who knows if the caravans and campers that were there when we walked past will still be there, but they looked pretty settled?
We saw so many horse riders along the route, so there is either a horse riding school nearby or it is just a very popular spot for a clip clop along the path with your horse.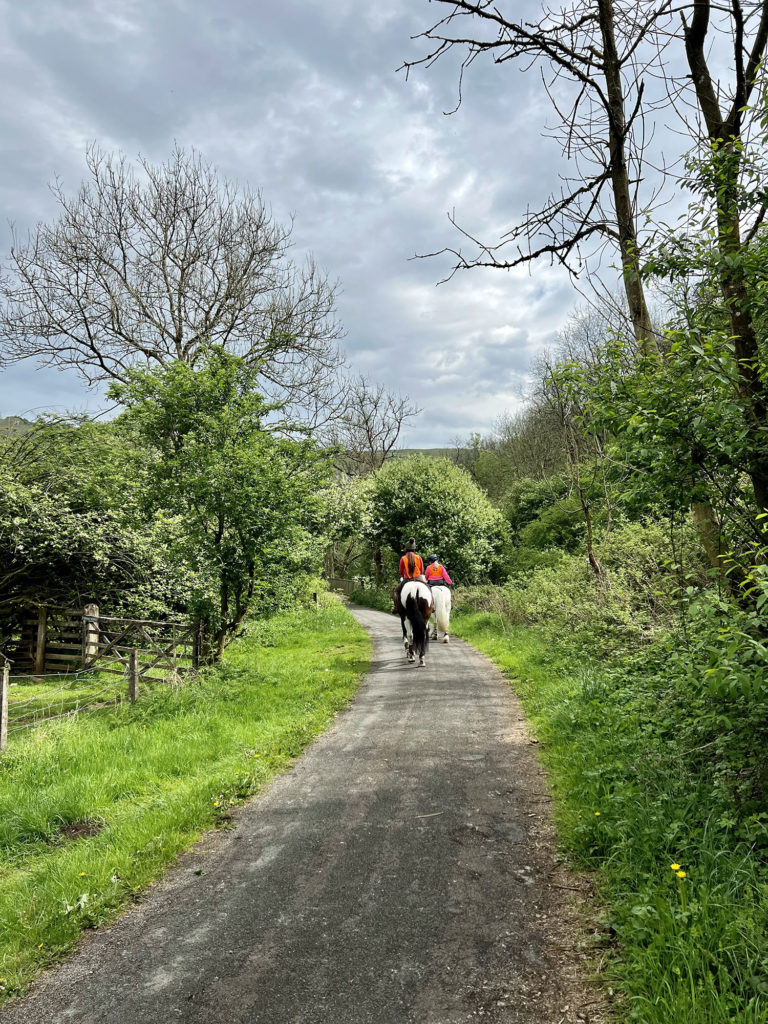 How difficult is the loop walk?
Well the title of the blog kind of gives that away. It is easy. That said, what is easy or difficult very much depends on the person. I would say this is easy because so much of it is flat. However there was one bit that was a short, but relatively steep ascent that was also quite muddy with a few rogue thorns sticking out into or above the path.
Once you get through the thorns, you continue on a more gentle ascent through a couple of fields before meeting the road and heading along the flat before making the slow descent back.
Though there was definitely a point of getting quite breathless when walking up the hill, to me that felt good and wasn't so long that it became unmanageable. You are treated to incredible 360 views once you get to the top of the hill too, so it is definitely worth it.
Is this walk accessible?
No, the full loop walk is definitely not accessible for wheelchairs, pushchairs or people with injuries due to the steep incline and the rocky descent near the end.
However, the Manifold Way bridal path is definitely accessible with a mainly tarmac road. I would definitely recommend this for a gentle stroll or cycle in the Peak District. We saw a lot of cyclists along the route and the bridal path continues much further along from where we turned off to do a loop walk.
Watch our loop walk along the Manifold Way on YouTube
Full description of the Loop walk
The first part of the route takes you along the bridal path. We were quite excited to be walking beside a river the whole way, however the Manifold river was completely dried up, so there wasn't so much to see.
Below is a rough look at the walk on OS Maps and you can find the starting point by searching 'Weag's Bridge carpark on Google.
There are two wide paths across the road from the car park. Take the right path and follow it down. If you take the left path, you can cross over a bit further down.
You continue along the Manifold Way for about 2 miles, passing the campervan site mentioned above and passing over numerous small bridges. You will pass the point where you come back down, Old Soles Wood (see photo below), but keep walking, past the farm house.
Shortly after the farm house you turn left across a wooden bridge (see photos below) where you will see a gorgeous holiday cottage and a perfectly placed wood fired hottub. I know where I want to book my next weekend away!
I've looked it up and you can rent this beautiful cottage, it's called Lea House Farm Cottage , prices start from £260 for a 1 or 2 night stay.
This is where the walk gets a little harder with a steep walk through trees and thorn bushes. Be aware that this does connect to a field with cows and so be careful with your dog. None of the cows were on this bit of path, but you could see from the poo that they occasionally came this way.
It's a bit confusing which is the path, but as long as you are heading straight up the hill you should be ok. The woodland opens up into a field and you follow along the left side until you get to a style.
From here you continue straight up through two more fields until you get to the small road at the top.
Here turn left and follow the road down about 500 yards, past the farm track to your left before you start heading back down again on your left through the middle of a big wide open field. This field had both cows and sheep in when we walked through. Always be careful when cows are in fields, I would not recommend walking through a cow field if they have calves.
We passed a large round stone 'something'(see photo below), I would guess used to store water or clean the farm animals in the past. Not sure it is still used. We walked around the right of this and continued straight down, until we reached a stone wall on our left. Continue walking beside this until you reach another style.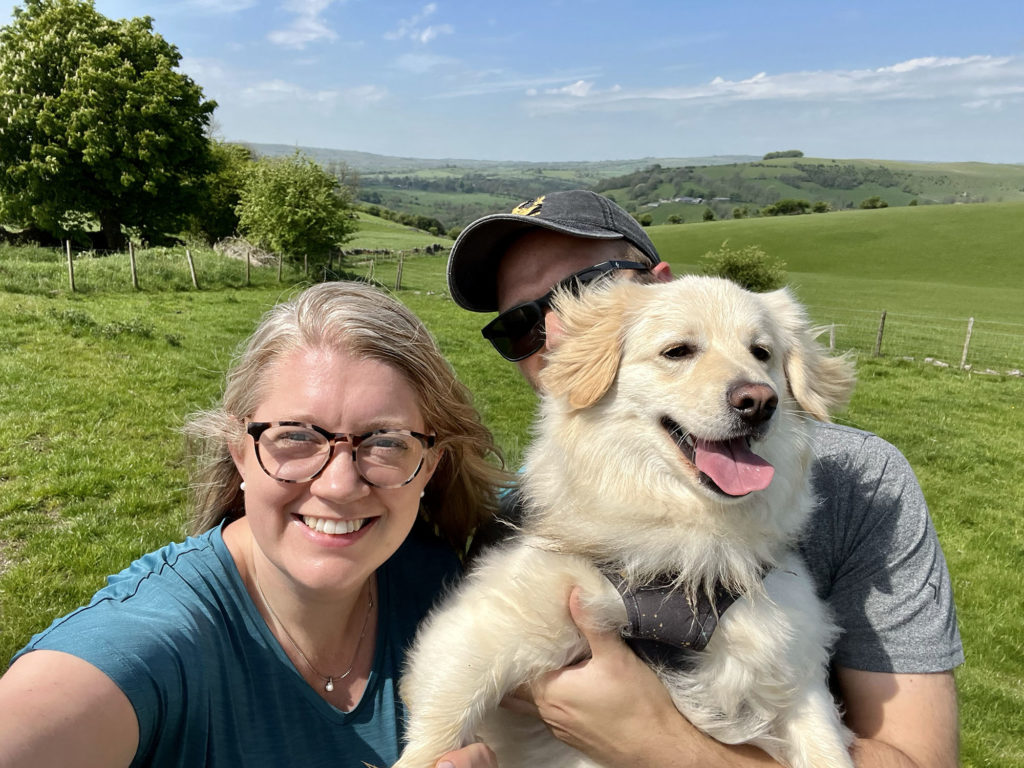 From here we followed the path down, through a gate and along a very stony/rocky path down until we came back out onto the bridal path. This bit of path was definitely quite difficult to walk on, you really need to watch your footing and I would imagine it gets quite wet at times.
Once you reach the bridal path, turn right and follow it back to the car park. Done!
So there you have it, my easy short loop walk near Wetton in the Manifold Valley in the South West Peak. If you're looking for a longer walk if you walk the opposite way out the carpark you can head towards Thor's Cave which is another magical experience in the Peak District.
When you're finished with your walk I recommend a quick drive to Wetton for some traditional pub grub at the Royal Oak pub.
I would love to know if you give this walk a try and what you thought? Is there anything else I should add?
Looking for other walks and things to do in the Peak District?
Here are a few other blog posts you might like