The Best Wild Swimming Spots in Youlgreave, Peak District
If you're looking for where to go wild swimming in Youlgreave in the Peak District I have two of the best spots around.
I often feel there is an unspoken rule that we shouldn't share wild swimming spots, though I feel both of these are relatively well known. Plus, well, noone ever said that rule aloud to me, so maybe I made it up.
It's important to remember the natural world around you when wild swimming and also consider the locals. Both these locations don't have much parking, so visit at off peak times.
I generally go on wet and windy days or super early before anyone else can be bothered to wake up. I often don't wake up either… which is why I don't go as often as I would like.
With all wild swimming please be mindful of the dangers. The water can change at high rainfall and don't go in the freezing water if you aren't used to it or prepared. I would recommend not going alone.
The Best Wild Swimming Spots in the Peak District
There are lots of hidden wild swimming spots in the Peak District, most of which I don't know myself. However these two popular wild swimming spots in and near Youlgreave are popular with kids in the summer or anyone who is ready for a quick cold dip!
You might also like my post all about wild swimming at Three Shires Head in the Peak District.
Wild Swimming in The River Bradford, Youlgreave
There is what almost looks like a swimming pool in the river Bradford in Bradford Dale below Youlgreave. It was originally built for farmers to clean their sheep before sheering. A quick dip before moving on for a trim. Luckily they don't use it for sheep cleaning anymore so you won't find it too dirty.
The stone surrounded pool is part of the river, and is approximately 70cm deep, but that will vary depending on rainfall. It is just about deep enough to actually swim up and down.
Not surprisingly I've heard it gets really busy on sunny days. The area around it is beautiful and if you just fancied a paddle you could walk along the river either side of the stone built swimming area.
I found the water cold but clean and a perfect place for a refreshing and safe wild swim.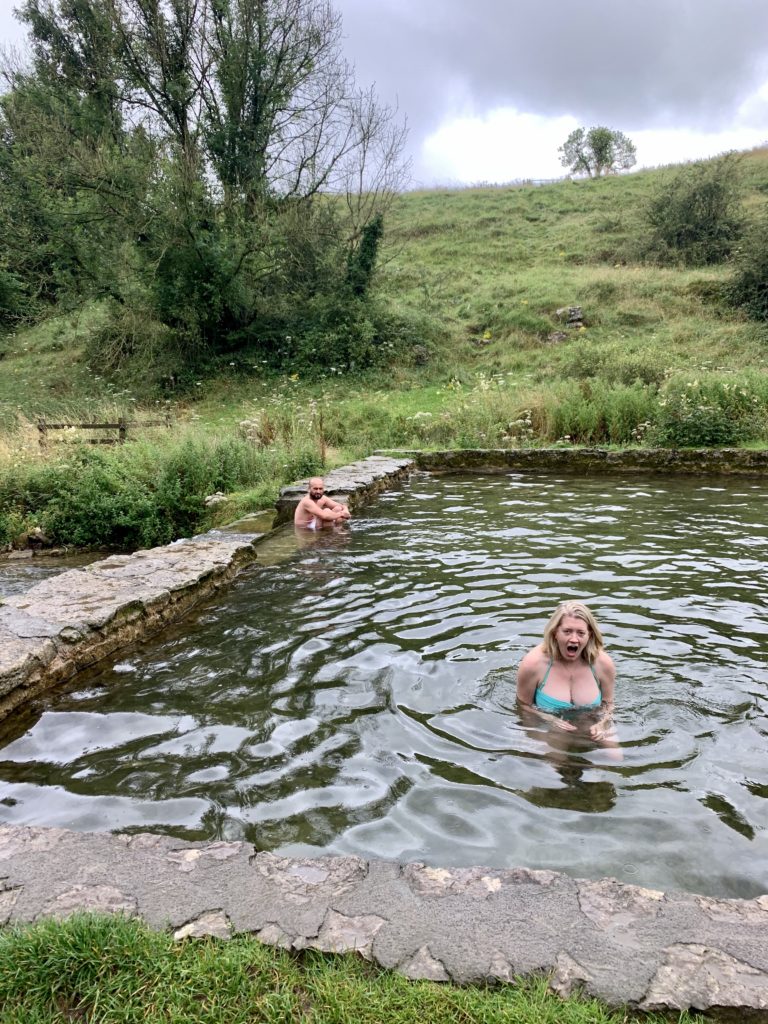 How to get there
Youlgreave is about 10 minutes from Bakewell and 20 minutes from Matlock. There is a bus (the 172) that goes from Bakewell to Matlock via Youlgreave, so if you can public transport is recommended.
Parking in Youlgreave is limited so please keep this in mind and be mindful of locals needing parking and access too.
It is a short walk down the hill from the Main street in Youlgreave. The best way is via Brookleton of Hollywell Lane. At the end of Brookleton there is a small gate and path that leads down the hill to the swimming area.
You can see where it is on the wild swimming spot is on this Google map.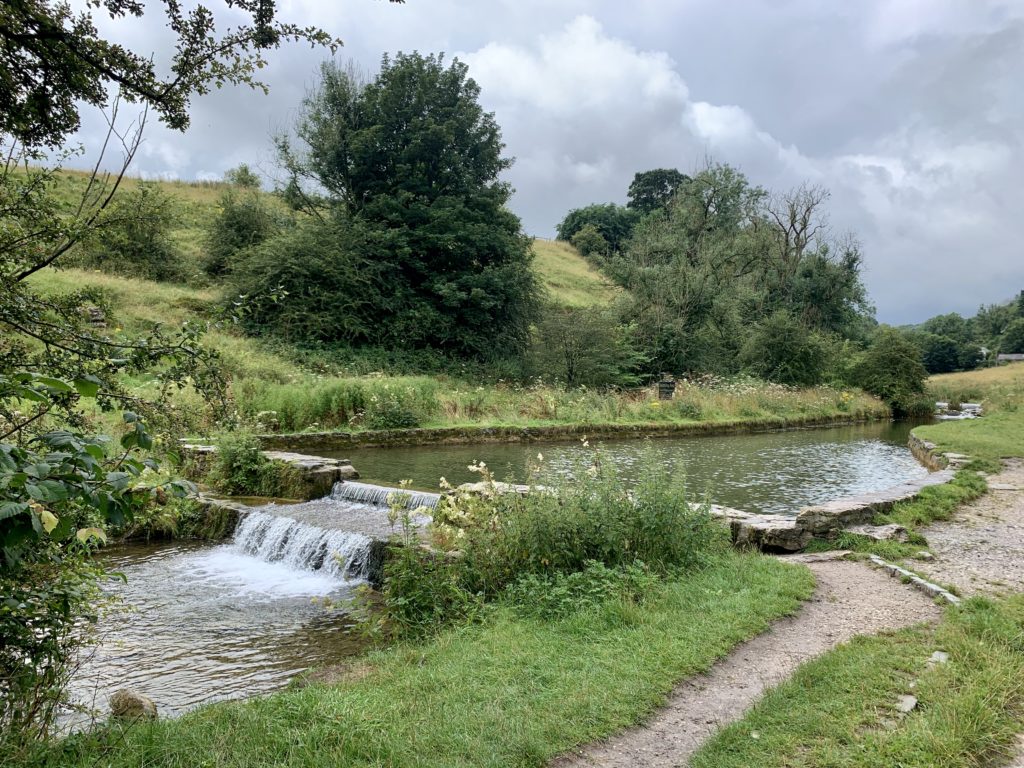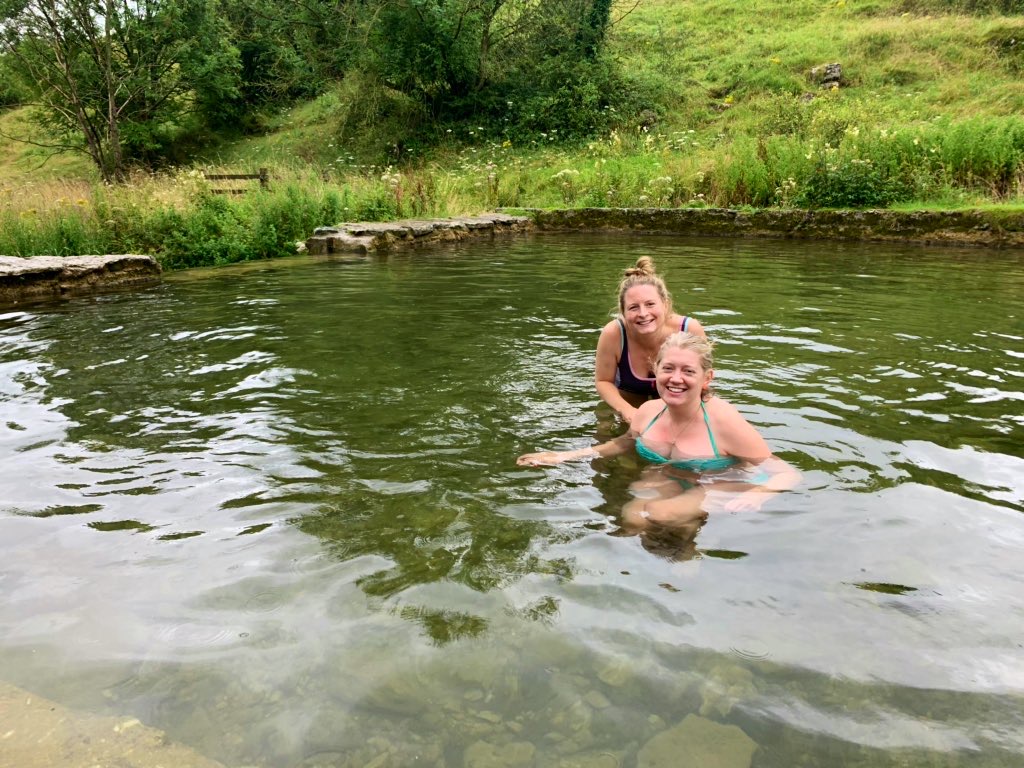 Wild Swimming at Conksbury Bridge, River Lathkill
Please note, since writing this post a sign has been put up saying there are a number of vulnerable native wildlife and aquatic species here and they ask people to not swim. I will not be returning anytime soon. It is important to protect our natural world and beautiful national park.
If you would like to find out more about how you can support the Peak District visit The Peak District National Park Foundation's website. There are lots of ways you can help, big and small.
Conksbury is one of the first places I went wild swimming in the Peak District. I've had two very different experiences depending on the time and weather.
The first time I went was early morning with my sisters. Other than a dog walker we were the only people there. The second time was on a sunny Saturday morning. The places was full of people picnicing, swimming, paddling, having BBQs (please never do this in the Peak District!) and having a great but lively and loud time. I didn't stay long.
Again I reiterate please go off peak to enjoy your wild swimming and not add to overcrowding in certain areas of the Peak District National Park.
There are a number of small wiers on this stretch of the Lathkill which creates different areas for swimming or paddling. Most of the water is relatively shallow, but there is one area a bit further up that is a bit deeper and better for an actual swim. Albeit probably in circles.
There is also a flat grassy area next to the river, hence it being popular for picnics too.
If you keep walking along the side of the river you can walk towards Over Haddon where this is a pub and B&B.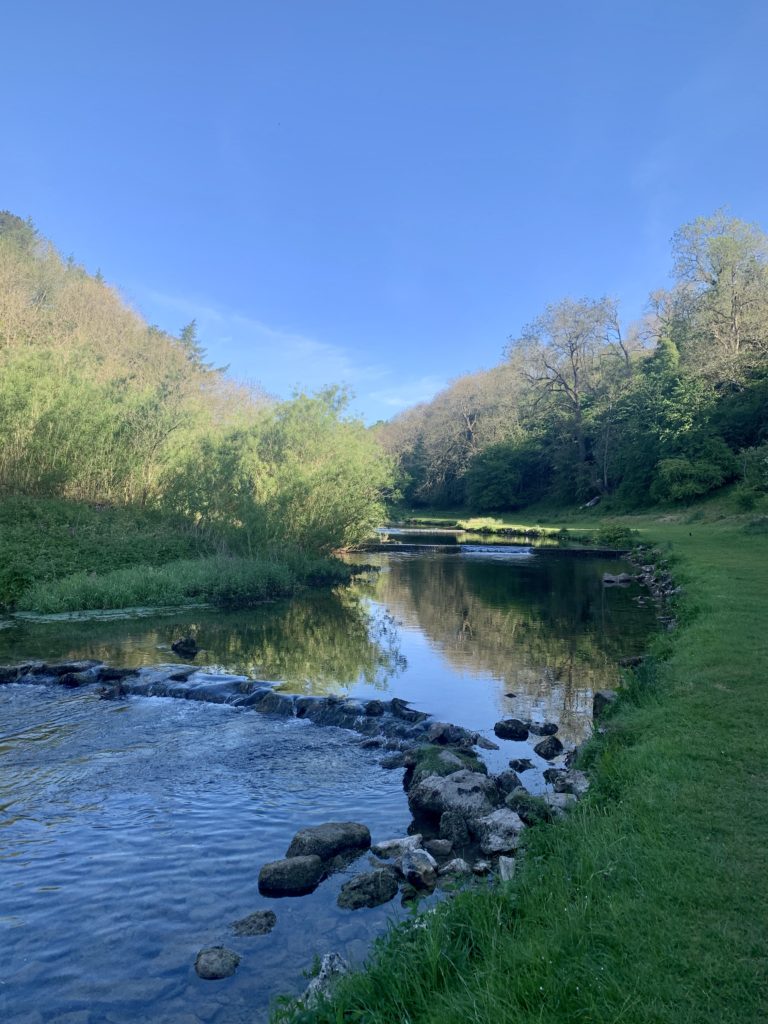 How to get there
Since writing this post the Friends of Lathkill Dale have put a sign up asking people not to swim in this area due to it being a 'Site of Special Scientific Interest' so I have removed the map and how to get there.
So have I tempted you? I can promise you that initial cold dip will be horrible, but give it time and you will feel the intense joy and happiness from a wild swim shortly after!
But to reiterate… go early, go when it's rainy, go when it's quiet!
If you're not ready for a wild swim, I highly recommend the New Bath Hotel Lido! It's still pretty cold and outside, but it's a proper swimming pool.
Looking for more wild swimming inspiration? I highly recommend the book 'The Outdoor Swimming Guide'* with hundreds of wild swimming spots and lidos across England, Scotland and Wales.
*This is an affiliate link, I earn a small commission if you buy via this link, though it won't cost you any extra. You would also be supporting small bookshop owners rather than the big nasty Am**on!
Other posts you might like: