The New Bath Hotel Lido – Everything you need to know
I feel so lucky to have the New Bath Hotel Lido in Matlock Bath on my doorstep. There is something blissfully refreshing about swimming outdoors.
The New Bath Hotel Lido has been part of my memory since I was a small child. Though the outdoor swimming pool has always been connected to the hotel, it used to be open to the public via (I think) annual membership.
I spent many a hot summer's day sat on the grass and jumping in the cool swimming pool. There used to be a small hut selling ice creams and snacks too and my friend Anna and I would spend all day playing in the pool.
Things are different now and kids aren't allowed in the pool at all. It was closed for a long time until the New Bath Hotel reopened the lido in the summer of 2019 after extensive renovation.
Before the pandemic I went to the pool a couple of times with friends, including a very brief swim in January as part of a day trip to the hotel's spa. Since then I have been as often as I can when the pool has been open over the last year. On hot sunny days AND in the middle of winter with snow covering the ground.
I absolutely love the New Bath Hotel Lido and wanted to share a few things you might want to know before visiting.
Everything you need to know about the New Bath Hotel Lido in Matlock Bath
I've done this in the form of a Q and A. Let me know if there is anything missing you would like to know.
How cold is the water in the lido?
Probably the most asked question. 'Is it not freezing?' 'Is it cold?'
The simple answer is yes, but it's not as cold as you think. The average pool temperature is around 25 degrees C. The lido is always lower than this though varies depending on the time of the year. Last week (end of March) it was 18.1 degrees C and in the middle of summer it can reach over 22 degrees.
The pool is geo-thermally heated via natural underground spring water.
Don't get too excited though, it's not like New Zealand naturally heated pools. If you're used to normal swimming pool temperatures it will certainly be a shock to the system. Even in the middle of summer it will feel colder than your average pool. Though probably warmer than the sea.
It certainly feels cold as you get in, but after swimming a length or two it really warms up and you get used to it quite quickly.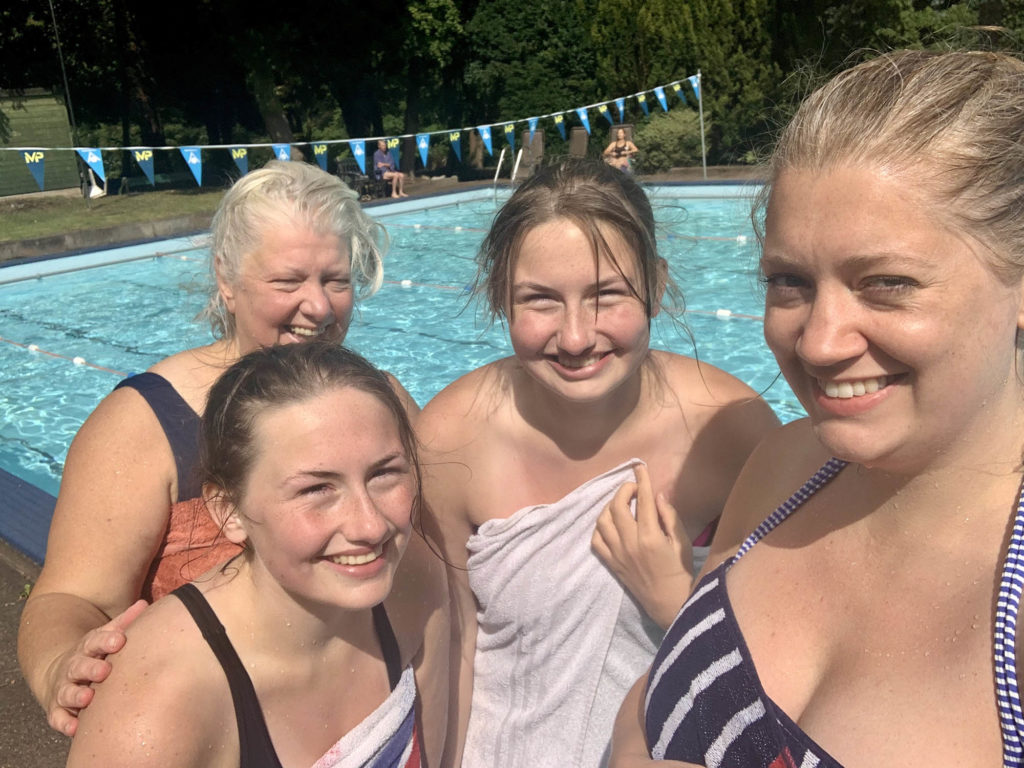 Do I need to wear a wetsuit?
Quite a few people who use the lido wear wetsuits. If you aren't used to the cold water it might be beneficial. I've never used one though and even when swimming in January I've found if I keep swimming I manage fine.
You'll find the pool is warmer in the shallow end where the spring water enters the pool and gets a bit colder in the deep end.
Is it really chlorine free lido?
YES! This is possibly one of the best things about the lido. You don't leave stinking of chlorine like normal pools, as it is completely natural, fresh spring water.
It is mineral rich, pure spring water that has been recently proven to have added benefits to us beyond the usual benefits swimming brings.
It's so refreshing, I love it! They close the pool for a couple of days every month for maintenance and cleaning so you're sure it's always going to be clean and fresh.
Is the lido really for adults only?
Yes. At the moment the lido is for over 18's only, so children are now allowed. This is due to the safety and security measures. There isn't a full time lifeguard at the pool and it is very deep, 2.7 metres at one end.
On their website they say they do allow occasional family swims in the summer, though I am not sure if that would just be for hotel guests.
How do I book a swim?
At the moment due to Covid restrictions you have to book a specific 45 minute time slot. They start on the hour from 9am to 6pm, however some time slots are for members only.
They've recently added the 5pm and 6pm slot which is great for people working, though it's obviously generally colder outside later in the day. However if it's been a warm day the pool may have slightly warmed up.
You can book for a swim online. It costs £10 + booking fee. I don't think it is refundable if you cancel, but you can rebook for a different time. Though I find that is good for ensuring I don't chicken out and cancel last minute.
How big is the swimming pool?
It's pretty long! 40 yards, or 36.5 metres to be precise. It was originally built in 1934 in Imperial measurements. It's definitely longer than your average pool, though not quite as long as an official olympic pool which is 50 metres.
Don't be surprised if you don't do as many lengths as your usual pool, which is likely 25-30 metres.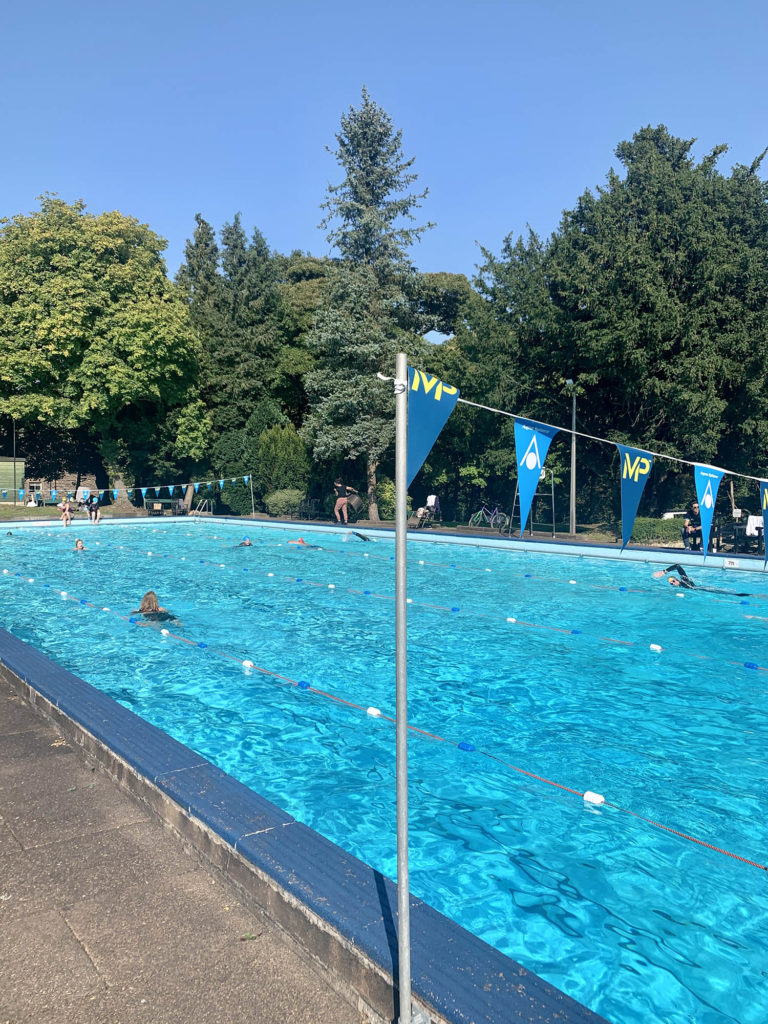 What facilities are at the swimming pool?
They have a couple of toilets and a small changing room beside the pool. However they ask you to come ready to swim and most people just change at the side of the pool.
Olly bought me a big towelling dry robe for Christmas which is fab for keeping me warm when I get out the pool and is big enough to change under. I recommend taking something similar. Some people bring dressing gowns.
There isn't a cafe or ice cream hut like the old days, however one swim on New Year's Day they did give everyone a hot chocolate as you left the pool which was lovely.
Take a flask of tea or coffee to warm you up after if you can.
Can I spend all day at the lido and use the spa?
Not at the moment. The pool is booked for 45 minute slots and spaces are limited due to Covid. You have to swim clockwise around one of three lanes and each lane is limited to 6 people.
I believe before lockdown you could buy a ticket for the day and spend as long as you want, though I'm not sure if many people did. I don't know when restrictions on numbers will be lifted. I quite enjoy the limits as it means there is always space to swim. The Lido at Hathersage (which is heated) gets so busy on warm days you can barely swim at all.
The spa is charged separately. It includes a sauna, steam room and hot tub. They have changing rooms and a place to relax too, and of course various treatments you can book. It is quite separate to the pool, which is the other side of the hotel and involves walking across the garden.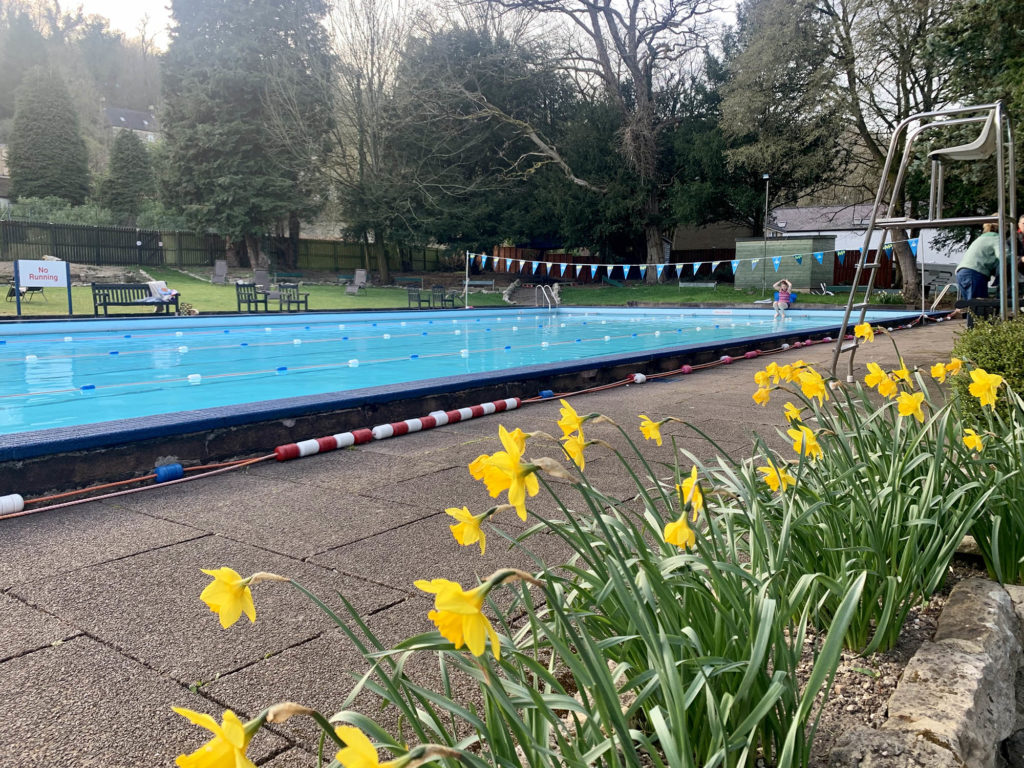 Do you want to know anything else about the New Bath Hotel Lido?
Am I missing anything? If there is anything else you would like to know? Tell me and I will add it to the blog.
I love the New Bath Hotel Lido and having this beautiful swimming pool just down the road from home. It takes me about 40 minutes to walk there (from Matlock) or 5 minutes in the car. It is such a refreshing addition to your day.
The benefits of swimming for our physical and mental health are huge and the natural non-chlorinated cool water just add to the experience. I highly recommend a visit, whether you're here on holiday or a local looking for a new activity.
Other posts you might like