Cheap days out from Matlock for under £40 #Ad
If you're looking for a cheap day out for under £40 for you and friends or family, then here are three ideas for cheap day trips from Matlock.
This post is in collaboration with Stagecoach but all thoughts and experiences are my own.
The cost of living seems to be increasing daily and it is going to affect us all. Petrol prices hit a record breaking price at nearly £2 a litre! I remember when I first passed my driving test and it was about 35p a litre. Those were the days! Add on parking costs and a day out in the car can be really pricy!
I'm a big fan of the train, but Matlock is the end of the line so you can only travel in one direction. So when Stagecoach got in touch asking me to take part in their Bus Trip Challenge, I thought this was the perfect opportunity to try out some different routes from Matlock by bus!
It often can seem easier with a car, but a bus can be cheaper, less stress (especially if you're the driver) and a chance to explore new areas too.
So I headed to the Stagecoach Journey Planner website to see what new adventures I could go on from home.
Three Cheap Days Out from Matlock
The main bus from Matlock goes all the way to Sheffield with lots of places to stop off en route. I found a few different trips and lots of fun things to do along the way.
Stagecoach challenged me to find a fun day out on the bus for under £40, with the cost of living increasing they want to prove you can still have a fun day out with family or friends without breaking the bank.
I chose three different day trips with fun activities you could do on each day. The bus left from Matlock for each one, for my personal challenge I did the first option Matlock to Ashover, but have done some thorough research to see what else you could do.
If you're really up for an adventure you could get a Gold day rider and do all three stops! A day rider costs just £7.80 and you can travel as much as you want on Stagecoach buses in Derbyshire, Nottinghamshire and South and West Yorkshire. You can barely get one stop on the train for that!
It's so easy to get to lots of different places from Matlock, another reason why Matlock really is the best place to live.
So here are my top three ideas for a cheap day out from Matlock for under £40
Bargain Day out from Matlock to Ashover – Walk and lunch
Sometime's day trips take a back burner with me and I find it's either stay at home or go on holiday with little in-between. So it great to have an excuse to take a trip out for the day, and even better I got to bring my sisters along with me too.
We caught the bus at Matlock's main bus station, just a 5 minute walk from my house, Matlock is known for its steep hills, so if you live or are staying near the top of the hill, don't worry you can get on the bus up there too.
The bus was cool and refreshing from the heat, and though Cookie gets nervous when getting on public transport she soon settled in for the journey. We went straight to the front at the top of the bus, like the cool kids that we are! So we got a gorgeous view as we left Matlock into the hills.
We travelled on the bus to Kelstedge and just had to cross over the road to reach a bridleway and the start of our walk.
It was a hot day so with water bottles and a packet of Percy Pigs we were ready for the walk ahead. We walked to visit out Grandma, a 4-5 mile round trip for a cup of tea and chat. It was a lovely surprise for Grandma as we came walking up the drive and great for all three of us to see her together.
The walk took us through the beautiful village of Ashover, past cute little village shops and pubs and across fields and open countryside.
After our walk we had certainly built up an appetite and stopped off at Marsh Green Farm Shop and Cafe for some lunch before catching the bus home.
Bus Trip: £5.50 each return – £16.50
Lunch: £7.95 x 2 for fish, chips and mushy peas, £6.50 x 1 for prawn sandwich & salad – £22.40
TOTAL: £38.90 for 3 people! (£12.96 each)
Not bad considering we each had a very filling tasty meal, a new walk and an adventure out of town. Not to mention quality time with my sisters and Grandma.
A cheap adventure: Matlock to Chesterfield – 1940's Market and Treats
The next adventure I am going to try is a trip to Chesterfield. Parking in Chesterfield can be expensive so a bus trip not only saves on petrol costs, but on parking too.
If you get the Gold Day Rider ticket it's just £7.80 return. They also do a special job seeker single ticket for £2.35. So if you're off to Chesterfield for an interview, bring your JobCentre ID with you.
Chesterfield is a great place for a spot of shopping, but when budgets are tight make sure you go on market day as there is more to do than just spend! I have the Chesterfield 1940's market in October in my diary. A flee market, live music, old vehicle displays and more.
They even encourage you to take public transport to get there as parking will be even more difficult that day!
Gold Day Rider: £7.80 x 2 = £15.60
Snacks and a vintage trinket = approx £20
TOTAL: £35.60 for two people (£17.80 each)
You could even take a pack lunch and just go to enjoy the tunes. I am partial to a 1940's song and jig myself. Who's getting dressed up and coming with me?
I've got lots more ideas for free events happening in Derbyshire this summer!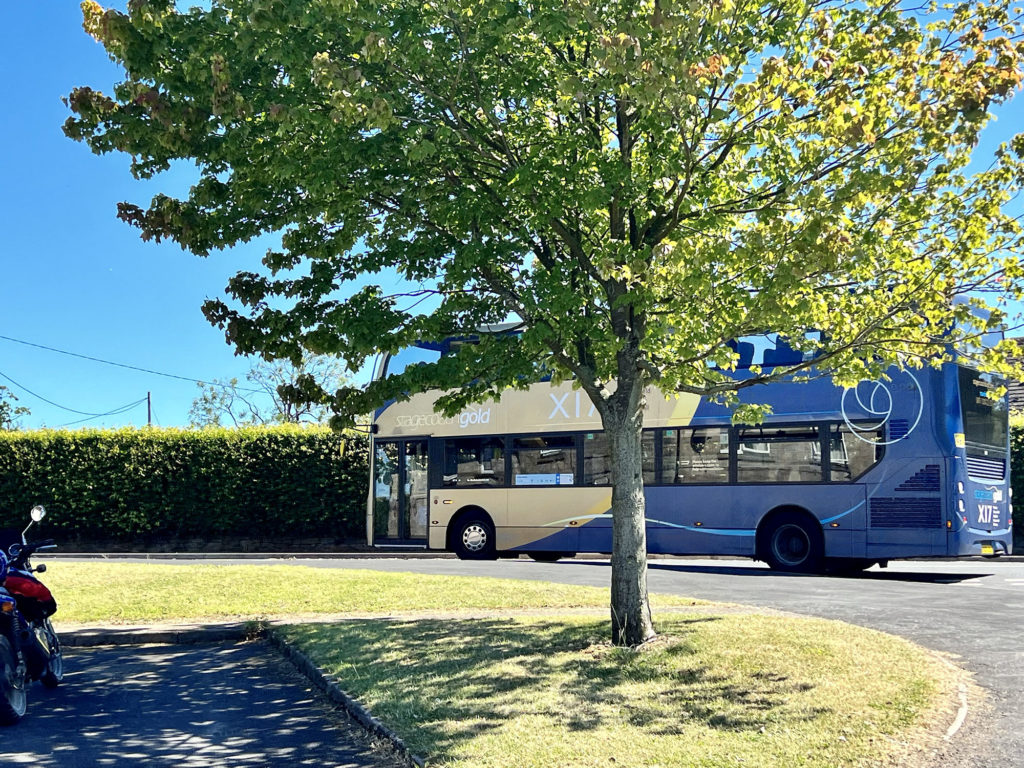 Fun day out in the city: Matlock to Sheffield – Gardens and Street Food
If you want to head a bit further afield then get the bus all the way to Sheffield. With the Gold Day Rider it doesn't cost anymore than heading to Chesterfield and the options for food and entertainment are even bigger in the city.
If I had a day out in Sheffield I would enjoy all the different gardens available for a wander. Take a book and come rain or shine you can enjoy the peace of being surrounded by green, whilst still feeling the buzz of a city around you.
Sheffield Winter Garden
If it's raining then you probably want to spend more time in the Winter Gardens, in the centre of town it is a covered garden with plenty of places to sit and watch the world go by. Grab a coffee from Marmaduke's which is just around the corner.
Sheffield Botanical Gardens
The Sheffield Botanical Gardens are a short walk from the centre of town, behind Sheffield Hallam University, but definitely worth it for the flowers from around the world, and Victorian Glass House. There's also a Grade 2 listed Bear Pit for kids of all ages. Look out for events happening too.
Sheffield Peace Gardens
The Peace Gardens are right in the centre of town and I used them a lot to eat my lunch when I used a different Coworking space in town. Cookie loved them too and it's a popular spot for workers to sit and eat their lunch with friends.
Talking of lunch, stop by one of two 'Street Food Chef' Mexican Cantina's for a delicious burrito for lunch!
Gold Day Rider: £7.80 x 2 = £15.60
Coffee from Marmaduke's = £3.00 x 2 = £6
Burritos from Street Food Chef: £7.45 x 2 = £14.90
TOTAL: £36.50
So there you have it, three cheap days out from Matlock for under £40. Two days out for 2 people and one for three. Bargain!
What adventure would you go on with Stagecoach buses? What other cheap days out do you recommend from Matlock?
Other Posts You Might like