Haddon Hall Christmas Market – Everything you need to know
The Haddon Hall Christmas Market is one of those truly special Christmas experiences in Derbyshire. Whether you want to call it a Mercatum, artisan market or traditional Christmas market, experiencing Christmas at Haddon Hall is something you need to add to your Christmas bucket list.
Haddon Hall is an incredible Tudor House, often used as a movie set, so you really do feel like something straight out of a Jane Eyre novel.
Whatever time of year you visit Haddon Hall, you are sure to have a special time. They do regular artisan markets throughout the year, but the Christmas Mercatum really is my favourite.
If you're looking for all the Christmas feels, make sure you add this to the list. Even better when you visit when it snows!
Mercatum Winter Artisan Market at Haddon Hall
This year's Haddon Hall Mercatum Artisan Market is on for three different long weekends, from Thursday to Sunday each time. It is open 9.30am – 5pm each day, with last entry at 4pm.
17 – 20th November
24th – 27th November
1st – 4th December
How much does the Mercatum cost?
It is £7.50 per person to visit the market. Under 16s go free. This price does also include free parking across the road.
Where is Haddon Hall and where can I park?
The parking is free and is across the road from Haddon Hall, directly off the A6. It is less than 5 minutes outside Bakewell in the Peak District. You can also get the bus from Matlock or Bakewell.
Map and directions to Haddon Hall
They don't have parking directly on site, so there is a short walk to where the majority of the stalls start. Their car park isn't huge, but they do extend their parking into the field, so hope for good weather as though they put down tracks on the grass, it can still get muddy if you are parked on the grass.
Is the Haddon Hall Christmas market dog friendly?
No, unlike Chatsworth Christmas Market, the Haddon Hall market is not dog friendly. This is because a lot of the stalls are inside the Tudor building. There are lots of narrow walkways, stairs and fancy rugs, so you can understand why dogs aren't allowed in.
What food is available at Haddon Hall?
At the Christmas market they have a range of foodie stall holders. One of my favourite is the crepe truck, run by the lovely Kim. She does delicious freshly cooked pancakes, filled Derbyshire oatcakes and mulled wine and other treats too.
There are a range of other food and drink stalls available too. They are generally the first things you come to when you head over the bridge. Cakes, sausages, pastries and gin!
They also have their onsite restaurant which is open and sells a range of sandwiches, jacket potatoes and other light bites.
Is the Mercatum Haddon Hall market worth visiting?
100% I really do love both Haddon Hall and Chatsworth Christmas markets. They are definitely the two best Christmas markets in Derbyshire and perhaps the best in the Midlands!
Where as some markets have lots of the same stalls over and over, more candles, more scarves, more jam. Haddon Hall really does do artisan well and has lots of locally sourced, locally made suppliers who create the most beautiful stalls.
It is also a great opportunity to visit inside the house at Haddon Hall for a fraction of the usual cost. You may not be able to see everything you would see when the market isn't on, but you get to see a lot of the best bits of Haddon Hall.
General admission to Haddon Hall is £24.90, which makes the £7.50 entry for the market feel like an absolute bargain!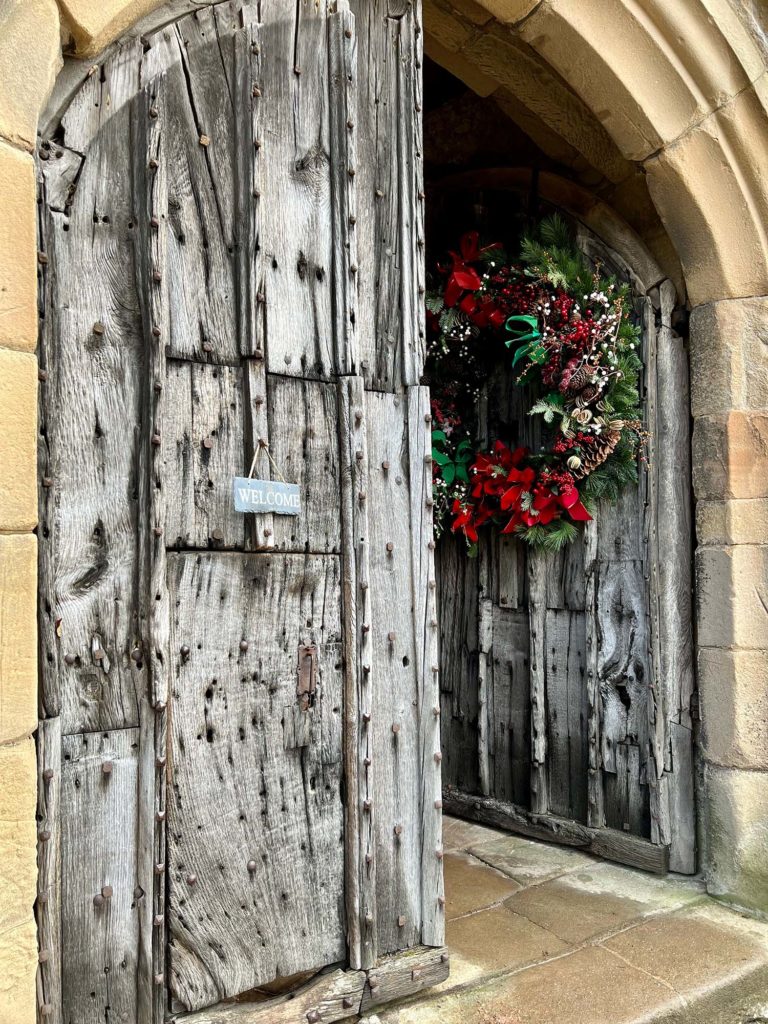 Let me know if you decide to visit and if you enjoy it! Is there anything else you would like to know?
Other posts you might like