8 of the best Christmas markets in the UK
The Christmas countdown has *officially* begun. And so, to get even the biggest scrooges in the festive spirit, we've shared 8 of the best Christmas markets in the UK.
What's the best way to get into the full-fledged Christmas spirit, at the very start of December? A Christmas market, of course.
Opening the advent calendar only reminds you how many days are left – a Christmas market transports you to the atmosphere of the big day itself.
And over the last few years, the UK Christmas market scene has absolutely flourished. Across the country, there are Christmas markets of every shape and size, every vibe and style.
So, how do you narrow it down? When you're writing your Christmas hit list, how do you find the must-visit Christmas markets in the UK?
In this blog post, we've rounded up 8 of the best Christmas markets in the UK. For us, these are the ones that really stand out from the crowd, and tick all our festive boxes. So keep reading, you're about to get your December diary booked!
Our top 8 Christmas markets in the UK
1 Chatsworth Christmas Market
Of course, we couldn't possibly start this list with anything other than Chatsworth Christmas market.
Obviously I'm more than a little biased, but Chatsworth House is home to my favourite Christmas market, of anywhere in the country. 
During the festive period, the entire main courtyard of the house is completely taken over. There's an incredible buzz, as the grounds are filled with stalls and packed full of visitors.
For me, the stalls are of the highest quality that I've seen from any UK Christmas market. These are composed entirely of small independent brands, selling beautifully crafted and premium products. The gift inspiration here is endless, particularly if you're into food and drink. In fact, there's products here that you won't have come across anywhere else before.
What's more, the vibe encapsulates everything that this time of year is about, and my Christmasses have always been marked by that first trip to Chatsworth, with a glass of mulled wine in one hand and a hot sweet treat in the other. 
Top tip: parking is always going to be super busy! So, park up somewhere nearby, and get your walking boots on. Then, you can make a day out of your visit, and bookend your trip to the market with a walk around Chatsworth's stunning grounds.
2 Manchester Christmas Market
Or, if it's the big-city vibe that you're after for your Christmas market, then Manchester's is a must-visit. 
This one has more of your traditional German Christmas market vibe, with the classic wooden stalls, glimmering fairy lights, and plenty of festive drinks. In fact, there's 220 stalls, across nine sites, spanning the entire city centre. So there's loads to explore!
The food here is particularly good too (although that's probably because I have a serious sweet tooth). There's lots of piping hot, treat-yourself foods, and enough carbs to satisfy you till next Christmas.
In my opinion, the market is best enjoyed at night with friends. The city comes alive with a vibrant atmosphere, and the dedicated dancing grottos open up, with fun-filled live music and plenty of festive tipples.
3 Southbank Christmas Market, London
Whatever the time of year, Southbank has a pretty unbeatable vibe. There's always the hubbub of tourists and food vendors selling delicious bites.
But at Christmas, there's few better places to be in London than strolling down the Southbank. 
The stalls on offer are mainly food and drink-oriented, making this market the perfect stop for your dinner plans. Then, you can wrestle yourself a spot at one of the benches, and scoff your food while fully immersed in the vibe of the city.
4 Haddon Hall Christmas Market
Another local favourite, Haddon Hall has a gorgeous artisan market, which is popular amongst festive shoppers from all over the country.
One of the things that really makes this market stand out from the crowd is that it allows you to walk through the actual Hall itself. The market is both indoors and outdoors, snaking its way through both the grounds and the inside of the building. This makes the market the perfect opportunity to explore Haddon Hall, if you haven't already visited.
This beautiful, traditional Christmas market has a brilliant vibe and an exceptionally wide variety of stalls. There's lots of unexpected items on offer, which you wouldn't find in any other markets. Eye spy the perfect gift-buying opportunity.
5 Nottingham Christmas Market
Take note, Nottingham's Christmas market is – as is the case with most of the big city markets – spread out all throughout the city.
So be warned, there will be a lot of walking involved! But, the big plus point of this is that it takes over the whole city, and fills the entirety of Nottingham with a warm and friendly festive vibe. 
It may not be particularly different from the other city markets out there, but its big selling point is its big ice skating rink, which makes it the perfect day out for the whole family. Without a doubt, one of the best Christmas markets in the Midlands.
6 Christmas by the River, London
Christmas by the River is one of London's most popular Christmas markets, and it's certainly one of my favourite festive spots in the capital. 
If you're a tourist, think of this market as your complete all-authentic insight into a very-London-Christmas.
It's set right by the Thames, at the foot of the iconic Tower Bridge. There's a long stretch of stalls, selling festive food, gifts and anything else your Christmas heart could desire. And, at night, you get to experience all the beauty and magic of London in December.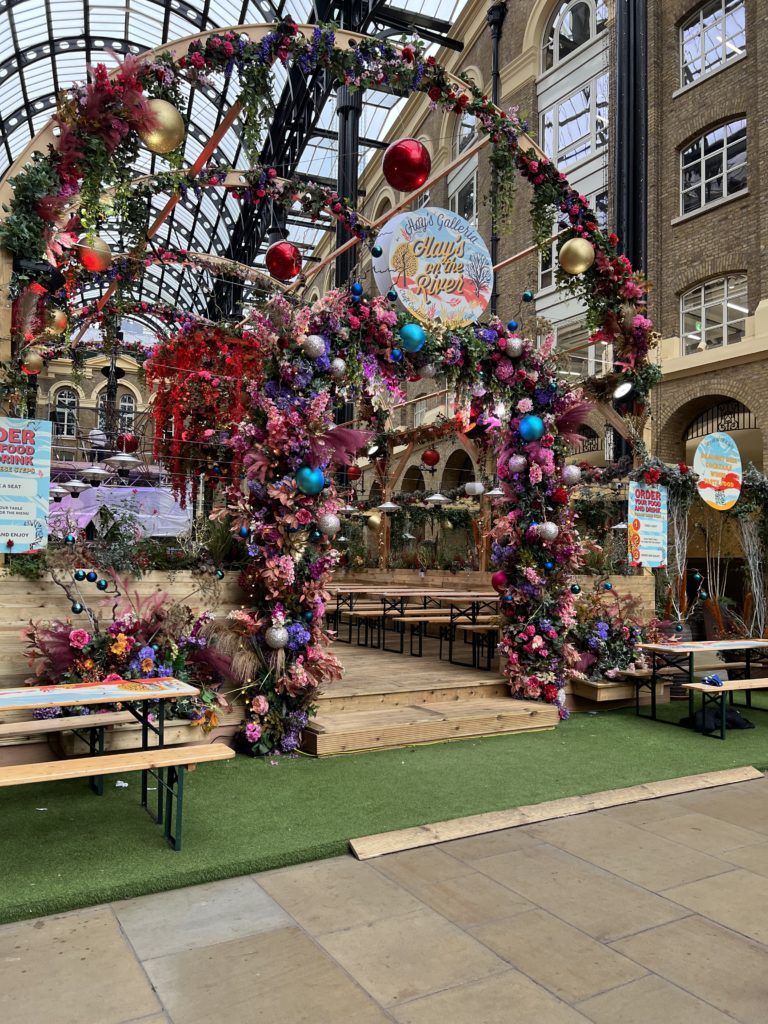 7 York Christmas Market
Christmas or no, York is a wonderful place to visit. 
Across the board, York is at its very best at this time of year. The elegant traditional buildings – particularly the iconic 'Harry Potter alley' – are especially lovely in winter. When the air is cold, the old aesthetic takes on a real other-worldly feel.
The city's Christmas market is brimming with small independents, plus lots and lots of food. Definitely one of the best Christmas markets in Northern England.
Although there's a great variety of stalls, this market is not as large as you'd expect. It's relatively small, so you wouldn't be able to make a full day of the market itself.
But thankfully, York is absolutely filled with things to do. In fact, if you branch out into York itself, you'll find that the shopping there is amazing. There's loads of brilliant, dedicated Christmas shops dotted throughout the city. Nowhere else in the UK is gift buying as easy.
8 Padstow Christmas Festival
Padstow Christmas Festival embodies all of the culinary creativity that puts Cornwall on the map.
Simply put, it's an absolute must-visit for foodies. The festival welcomes in some of the biggest names in food, including Nathan Outlaw, Paul Ainsworth, Phil Vickery, Angela Hartnett, Michael Caines and a sea of other famous faces.
These celeb chefs will be hosting cooking demos throughout the festival, all of which have a brilliantly informal festive feel. Then, if you're not food-ed out, you can explore the vast market, which is – as you'd expect – filled with food and drinks made by some of the most talented independents in the South West.
---
We hope you enjoyed this round up of my 8 favourite Christmas markets in the UK.
Are there any other markets that I've missed on this list? Or, are there any other Christmas markets in Europe that you'd recommend visiting, for readers trying to decide on their next festive holiday?
If you've got any other additions to our list of the best Christmas markets in the UK, we'd love to hear them! Get in touch with us in the comments, or through our socials.
Other posts you might like