London Bridge's Christmas by the River market – an honest review
Christmas by the River has returned to London Bridge, bringing the festive spirit to central London one more. But, is it really worth the money? And, is it any different to the countless other Christmas markets that are happening in London right now? We're here to answer your questions, with a very honest review of London Bridge Christmas Market.
Right now, the UK's Christmas markets are in full swing. And the capital is no exception. 
During the Christmas period, the city is brimming with the festive spirit. In fact, did you know that 23% of Brits plan an overnight UK staycation over the Christmas and New Year period? Turns out, at this time of year, there's no place like home.
London is – in my opinion – at its best during the festive period. And one of London's most popular Christmas sights is the Christmas by the River market. It's one of the city's largest and yet most charming markets, surrounded by panoramic views of the Thames.
But, is it really worth the hype? Well, to help you figure out whether it's really worth a visit, we've shared a very honest review of Christmas by the River.
The best Christmas market in London? – what makes Christmas by the River unique
Christmas by the River takes place in London Bridge, along the Thames. This is one of the most picture-perfect areas of East London, and the market is beautifully framed by the skyline, and pinpointed by the Shard and the iconic Tower Bridge.
One thing's for certain – London has no shortage of Christmas markets. So, what does Christmas by the River have to offer that sets it apart from the rest? 
Well firstly, while there are lots of Christmas markets dotted throughout the city, this is definitely one of the more peaceful ones. Of course, it's still a busy market, but it's infinitely calmer than the packed crowds and hectic energy of the Christmas markets at Leicester Square or on the Southbank. These markets can quickly get claustrophobic, even during a weekday. 
At the risk of sounding like a Scrooge, I could fill an entire blog post with reasons why I don't recommend the Leicester Square Christmas market. Yes, it's great to see the festive spirit light up one of London's most famous areas.
But, I've always found this market to be extremely busy, filled with very generic festive stalls, and very expensive food and drink outlets. It's very small, and it has (in my opinion) a Christmas theme that feels very artificial. Plus, there's nowhere to sit. So, once you've got your food, you're immediately pushed back out into the hustle and bustle of Leicester Square!
So, if you really want to visit a Central London Christmas market, I'd be far more likely to recommend Christmas on the River than the market in Leicester Square. While the Southbank market also has a great vibe and a charming festive feel, it's so packed with crowds, that you can feel like a salmon swimming upstream.
In comparison, Christmas on the River is a lot more spacious, allowing you to breathe easy and browse the stalls at your own pace.
Love that traditional Christmas market aesthetic? Haddon Hall Christmas market is not one to miss!
Secondly, one of my favourite things about Christmas on the River is its aesthetic. These stalls have a charming, traditional feel, and the abundance of fairy lights really sets the whole vibe. It's the perfect family market, and there's definitely something for everyone.
The market is free to enter, and you don't need to buy anything – you can just have a little stroll through, as an extra stop during your London visit. But, I'd be very surprised if you left without being tempted by the food stalls.
The food alone is definitely a reason to visit Christmas on the River. Although there isn't as much culinary creativity as you'd see in Shoreditch, at Camden market or Greenwich market, there is still a great range of festive food outlets here.
A big fan of festive food? Be sure to check out our guide to Chatsworth Christmas Market
You can sink your teeth into all your favourite indulgences, with entire fleets of stalls dedicated to chips, carbs and cheesy goodness. I love dirty fries at any time of year, but there's something great about getting it served from a food truck, on a freezing cold winter evening.
Plus, there's enough sugar to satisfy even my sweet tooth, with stalls selling hot fried cookie dough, fresh churros, brownies, French patisserie, and a huge macaroon stall.
Our 10 top tips for a visit to Christmas by the River
In short, as you can probably tell, we would definitely recommend a trip.
Although cold and busy Christmas markets aren't everyone's cup of tea, we reckon this is one of the best ways to get into the London Christmas spirit.
So, if you're suitably convinced, and are ready to start planning your evening, here are our top 10 tips ahead of your visit to Christmas by the River.
1. Visit the Riverside Lodge
Don't be fooled by the name, this is no ordinary lodge. Inside, there's seats and a bar, plus it's super cosy (thanks to the heating) and you can take food in, too. Although there's not loads of seating – so you'll have to be quick off the mark! – it's a nice break from the cold, and allows you to really savour your edible purchases.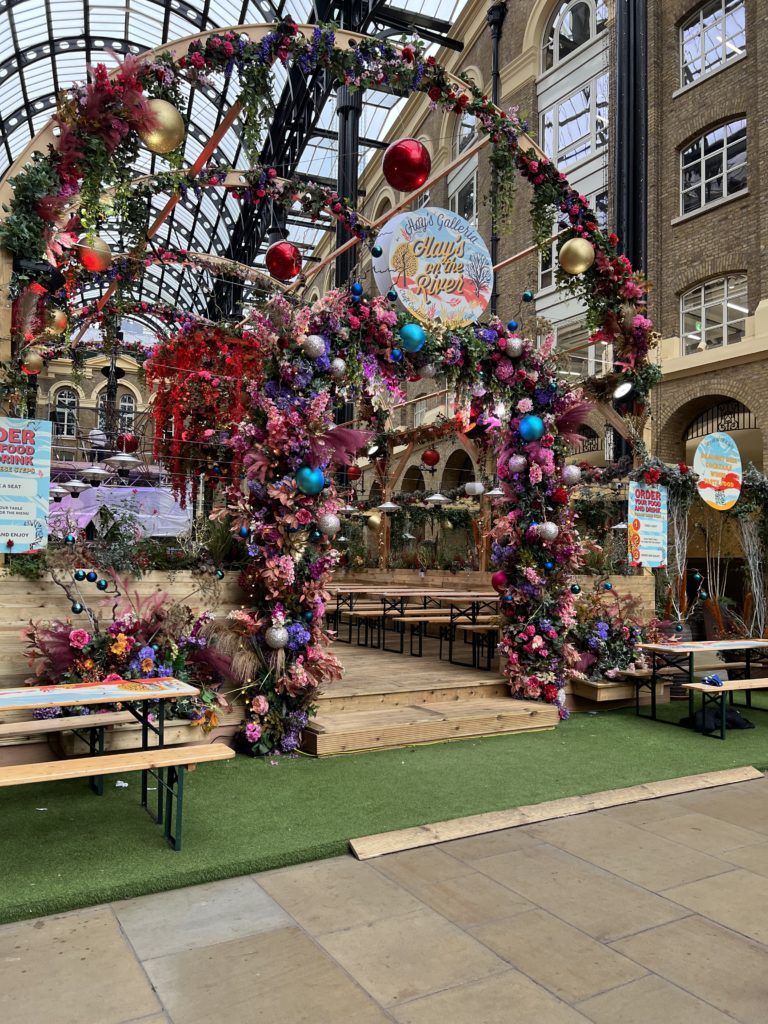 Planning a weekend in London? Check out our guide to the perfect day in London for two for under £100
2. Avoid it in the rain
This might sound picky, but trust us – Christmas markets are no fun in a downpour. Because Christmas by the River is so exposed and open to the elements, it can quickly get miserable on a rainy evening. So, check the weather forecast ahead, and be prepared to reschedule if the weather turns.
3. Best time to visit?
Undoubtedly, the evening is the best time of day to visit the market. Not only is the city skyline its most beautiful at night, but the lights of the market take the atmosphere to a whole other level. There's lots of cute light displays throughout the market, which provide a festive spectacle in-and-of-themselves.
4. Prepare for the cold
At the risk of sounding like your Mum, make sure you wrap up warm. The trouble with Christmas by the River is (as its name suggests) it's right by the river. So you're really exposed to the wind and the cold. If you're umming and ahhing about that extra layer, go for it.
5. Stay for the light show
A little insider's tip, the Tower of London has an evening light show, which it puts on for the visitors to the market. The light displays are projected onto the Tower itself, which makes for a really stunning effect. It's well worth adding to your visit itinerary.
6. Expect standard London market prices
Not a tip par say, but it's always good to have a sense of what to expect cost-wise. The food is under a tenner for a small plate, which is about average for London Christmas markets. So you won't be ripped off, but don't come for cheap eats. Having said that, there's plenty of samples on offer, so you can easily fill up on those!
7. Choose your visit time wisely
Where possible, avoid Saturday daytime (guidance which applies to pretty much any activity in London). If you can go during the week, great. If not, just be sure to mentally prepare yourself – it will definitely be busy.
8. Browse the small shops
We love an independent shop, and there's loads of fantastic small businesses to explore here. Avoid the standard see-everywhere-stalls, and focus your buyer's eye on the things that are out of the ordinary, and the gorgeous gifts and fresh food made by small indies.
9. Carbs, carbs and more carbs
In true festive fashion, this is the place to really treat yourself. While there's not much in the way of healthy, nutritious global food, there are loads of spots to get top-tier cakes, burgers, hot dogs and hot sandwiches.
10. Set aside some time for gift shopping
If you're a TikTokker, you'll have heard loads of hype about the food here. And while yes, there's loads of grub to try, that's only half the story. In my opinion, the gift stalls are equally as good. So, make sure you save time to check those out (before you're tired and ready to head back into the warm).
---

We hope you enjoyed this very honest review of London's Christmas by the River.
Are there any tips or insights that I've missed on this list? Or, are there any stalls that you'd recommend visiting, for readers looking for a review of Christmas by the River?
If you've got any other inside tips that you think we need to add to our list, we'd love to hear them! Get in touch with us in the comments, or through our socials.
Other posts you might like