The Best Bookshops with Cafes in Derbyshire
Who doesn't love a bookshop with a cafe? Is there anything better? Absolutely not. Which is why today I am sharing the best bookshops with cafes in Derbyshire.
As you know from my post earlier this week about the best bookshops in Matlock and Cromford I am a bit of a bookshop fan. Understatement. I LOVE bookshops and books.
I've visited bookshops all over the country and the world, but some of my favourite bookshops are close to home in Derbyshire.
I can't describe how much I have missed walking into a bookshop 'just for a mooch', only to leave an hour later with armfuls of new books. As I write this it is only 3 more days before bookshops and other retail businesses can reopen. I can't wait!
Where are you going first? For me it's a bookshop!
So to help you prepare I want to share some of my favourite bookshops in Derbyshire, but in particular those with a cafe. The cafe's will only be open if they have outside seating for the next month or so, or maybe for takeaway. I will make a note of this under each review so you know if there is outside seating or not.
The Best Bookshops with Cafes in Derbyshire
High Peak Bookstore
Definitely my favourite spot in Derbyshire. High Peak Bookstore and Cafe is at Brierlow Bar just outside Buxton. It is an old converted and extended garage with over 5000 sq feet of books and a cafe.
95% of the books are discounted and you are sure to find some real treasures. They have loads of beautiful art and architecture coffee books, alongside transport books and games and loads of cheap fiction books. The children's area is so fun and well decorated and they have a few local arts and crafts gifts too.
The cafe offers a delicious range of homemade cakes alongside various hot and cold lunch options. It's a lovely friendly atmosphere with mismatched tables and chairs and all the books in view while you sip your coffee.
Outdoor seating available. They are doing everything in takeout packaging until they can fully open on May 17th. They are dog friendly too.
Scarthin Books
I mentioned Scarthin Books in my last blog post and here it is again as it's a firm favourite. At the top of the bookshop you will find their vegetarian cafe. Wind your way up the stairs and try not to get too distracted by the books so you can make it up to the cafe.
Very much part of the shop, you will be sitting amongst all the cookery books. You'll also find lots of subscription magazines you can read while eating a slice of tasty cake.
They have a selection of drinks, cakes and vegetarian meals. There are plenty of vegan and gluten free options too
They don't have outside seating and as far as I can see the cafe won't be opening until May 17th. I imagine it's difficult for people to walk down the many stairs with a hot coffee in hand.
They are sadly no longer dog friendly due to past accidents.
The Derbyshire Emporium (The Bakewell Bookshop)
The Derbyshire Emporium used to be one big bookshop, but become half bookshop, half cafe a couple of years or so ago.
The cafe does a selection of cakes, drinks and nibbles. They don't have a proper kitchen so food is limited.
The book selection isn't huge, but they have some new titles alongside local books and authors. They have a selection of cute local business gifts too.
No outside seating as far as I am aware.
Hassop Station Cafe
The cafe at Hassop Station Cafe is huge! It used to be a massive bookshop, but now is mainly cafe. They do a delicious minute steak with chips. Alongside lots of other hot and cold options.
The cafe sits alongside the Monsal Trail and has a large car park. It is a perfect place to start an easy flat walk along the trail. They also have cycle hire you can use as the Monsal Trail is great for cycling. .
The book choices are small. They have some niche outdoor books on cycling, hiking, maps etc and some classic fiction books. It's more gift shop than bookshop these days, though is a great spot to find presents for outdoorsy people.
Loads of outside seating. I'm sure they will be busy when reopening next week. Quite a bit of their outside seating is undercover too.
Scriveners Bookshop
Ok so Scriveners bookshop in Buxton doesn't actually have a cafe but I just had to put this bookshop in somewhere.
Another mystical magical bookshop you can get lost in. They have lots of hard to find books and specialist books on travel, music, theatre, sci fi and everything in between.
They also have a book binding workshop and can restore your old books to their former glory. They also do bespoke bookbinding for wedding books, menu covers, your own books or whatever else you might want binding. Perhaps I should get my A Level coursework binded, I'm sure I've still got that in mum's garage somewhere.
Chakra Lounge Cafe in Buxton
Not a bookshop at all. A cafe. But if you're desperate for a drink or a nibble after browsing at Scriveners, the Chakra Cafe is just the place.
Delicious Indian inspired food and drinks. Everything I had was so tasty. Chai Milkshakes, Bollywood brunches and fresh curries alongside tacos, soup and samosas. A beautiful cafe with outside seating. Definitely give it a try if you're visiting Buxton.
They have a small amount of outside seating and are very dog friendly. Cookie even got biscuits.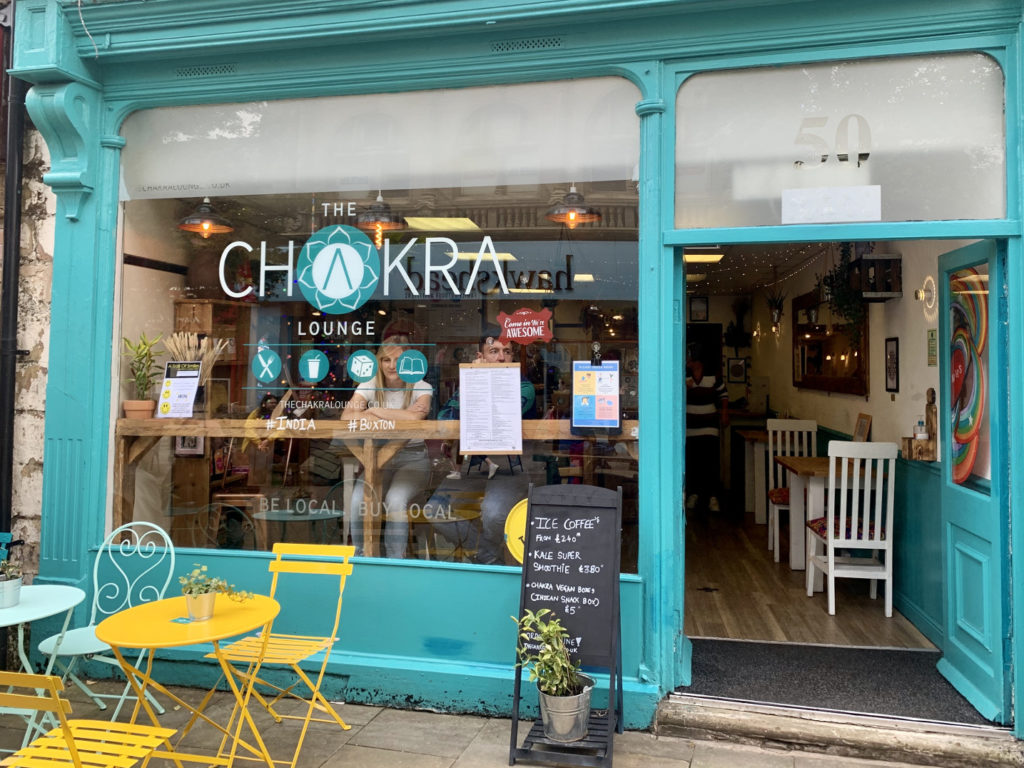 Do you know of any other bookshops with cafes in Derbyshire or nearby? Or perhaps a fab bookshop with a cafe nearby?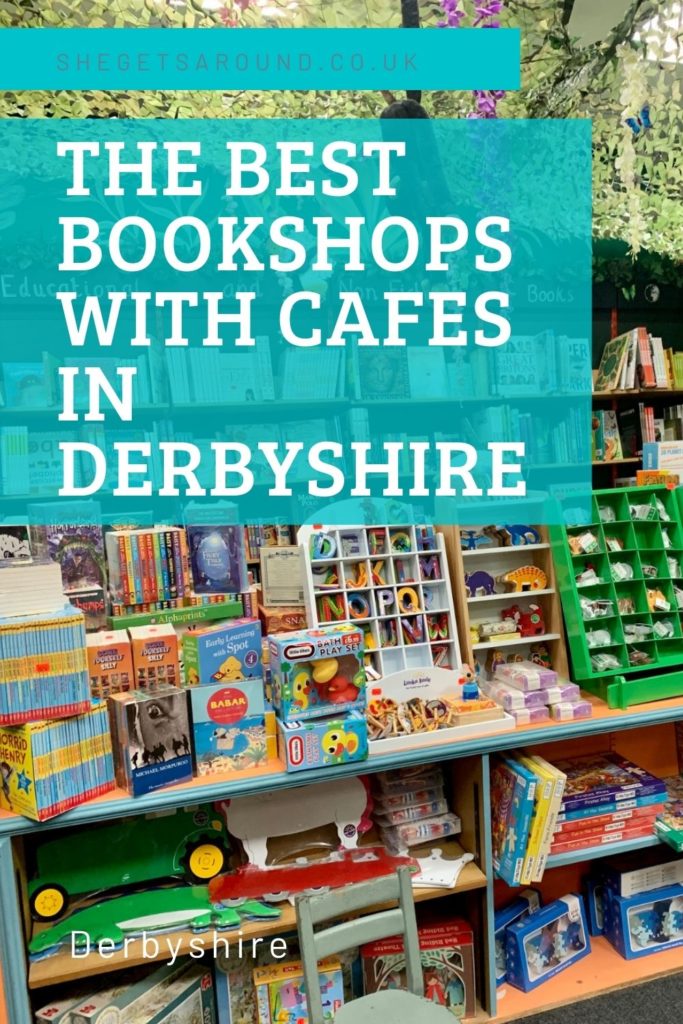 Other posts you might like