A dog friendly weekend in Moreton-in-Marsh, Cotswolds.
If you're looking for a dog friendly weekend away in the UK, The Cotswolds could be the perfect dog friendly holiday location. Picturesque villages, lots of tasty dog friendly cafes and restaurants and some cute dog friendly accommodation too.
We were invited to stay at Experience Freedom's Moreton-in-Marsh site in one of their dog friendly glamping pods. We love exploring the UK, especially when we get to bring Rowland with us, (or Baxter), so we said an instant yes to a weekend away in The Cotswolds.
The accommodation was free (and our visit to the Batsford Arboretum), but as ever all opinions are my own. Everything else mentioned in the post we paid for ourselves.
A dog friendly place to stay in Moreton-in-Marsh
Glamping pods in Moreton-in-Marsh
We stayed in a glamping pod at Moreton-in-Marsh. It was part of a caravan and motorhome park just 5 minutes walk from the centre of Moreton-in-Marsh. The Experience Freedom glamping pods are located at the back of the park and are dog friendly.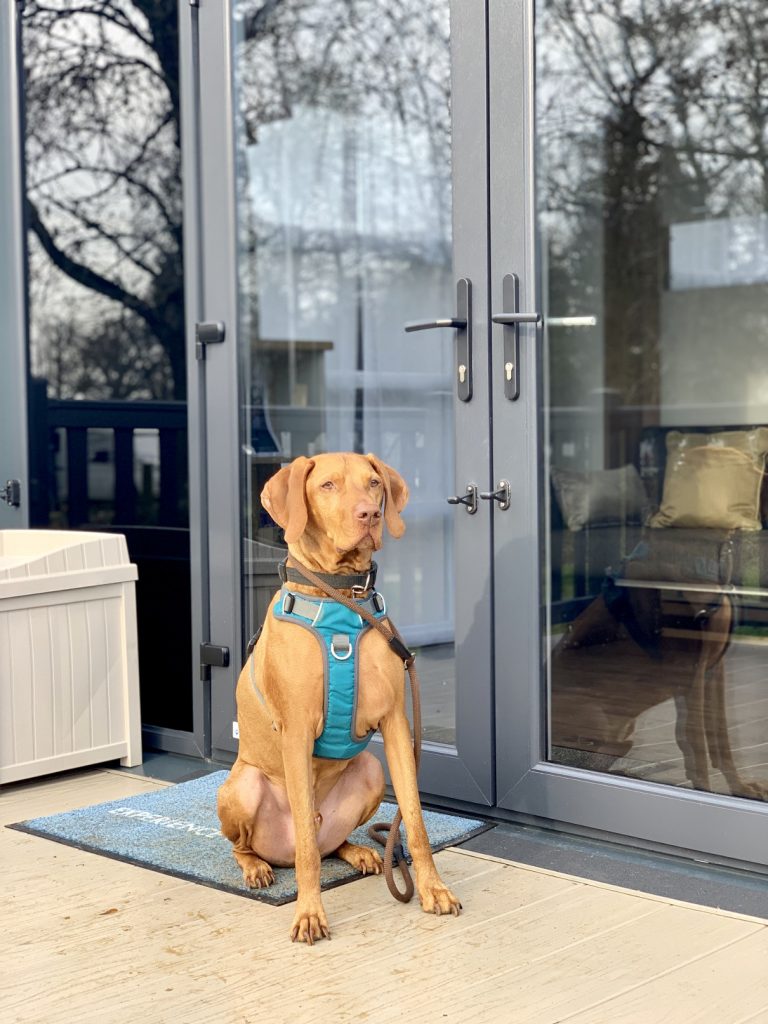 Each of the glamping pods sleep up to two adults and two children, with a fold down double bed and bunk beds for the kids. There is a well equipped tiny kitchen complete with microwave, pots and pans, two gas hobs, kettle and everything else you might need for a weekend away. Each pod also has its own balcony, BBQ and outside table and chairs too, though we didn't make use of these in February.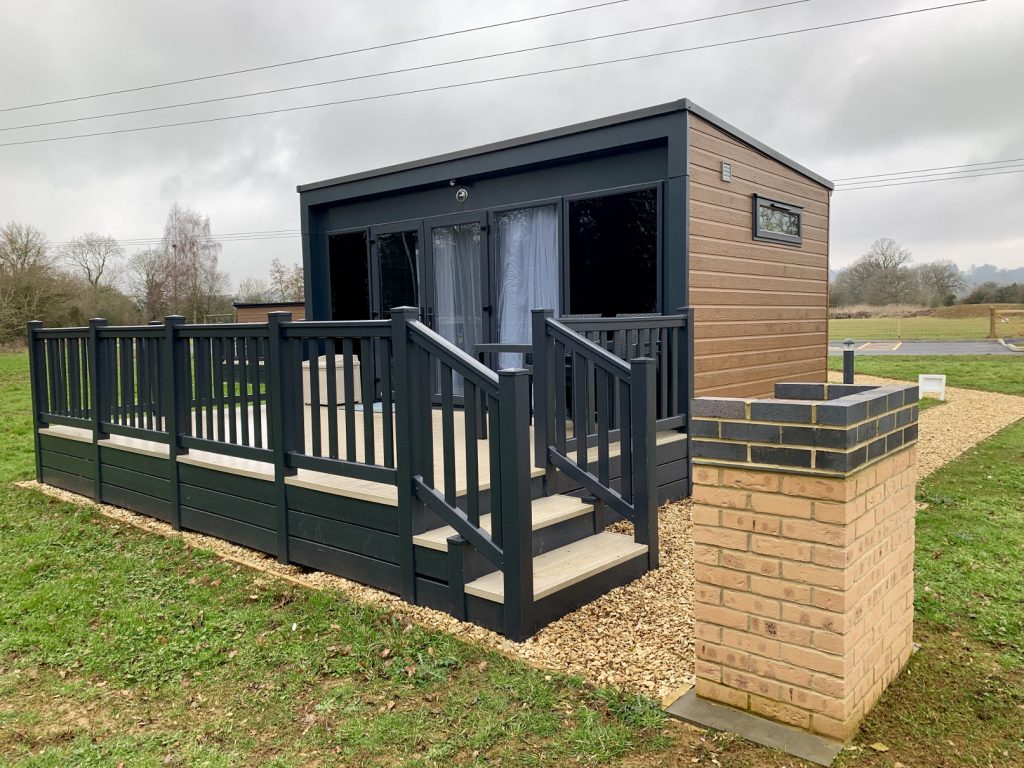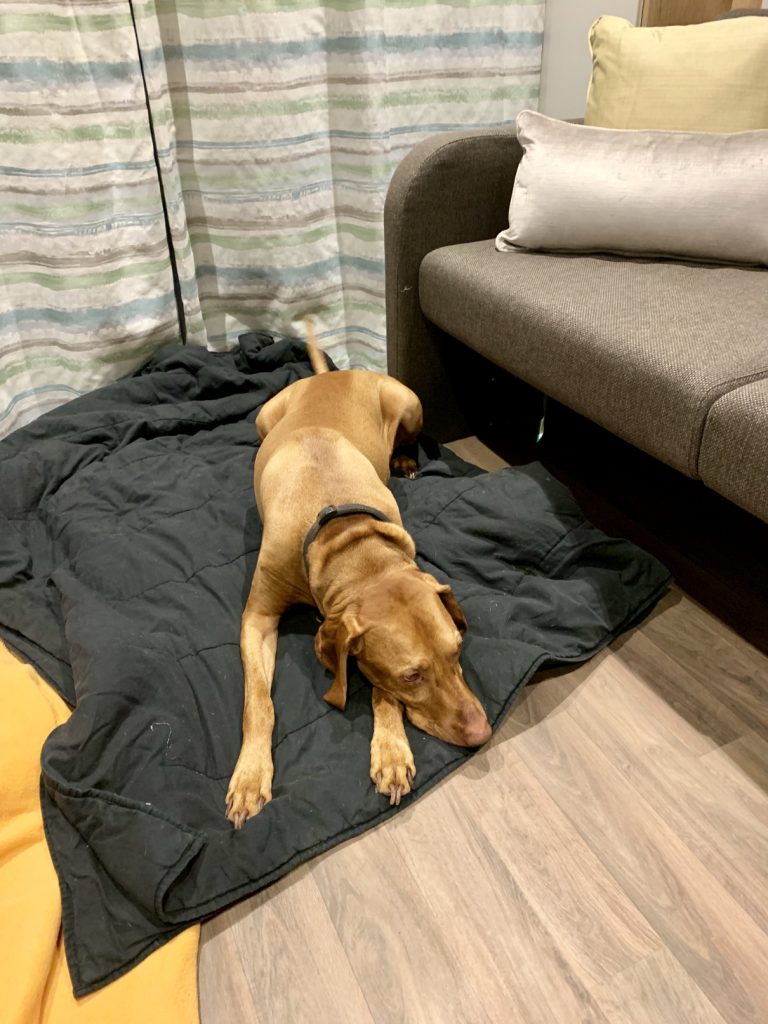 The pods have en suite bathrooms with double head showers (Yes!) and lots of secret cupboards with a table, extra bedding and books and games for entertainment.
I got a bit confused when I first arrived as to where the bed was, but it wasn't long before I realised it was folded away in the cupboard. Magic!
There was a field especially for dogs to run around behind the pods, which was perfect for a spot of 'off lead' exercise. There's also a kids play area and the reception has a small shop that sells a few essentials. They don't accept cards in the shop though so make sure you're stocked up on cash.
The night we arrived was pizza night and there was a pizza truck in the carpark, the next night was steak night. I'm not sure how frequently they have special nights with food stalls on site, but work looking into it as they both looked pretty tasty!
The pods are fully heated, though it's quite noisy when it's on so you might want it off when you go to sleep.
You get a welcome pack in your pod that includes tea, coffee, hot chocolate, biscuits and milk, as well as some playing cards and dice you can even take away with you after.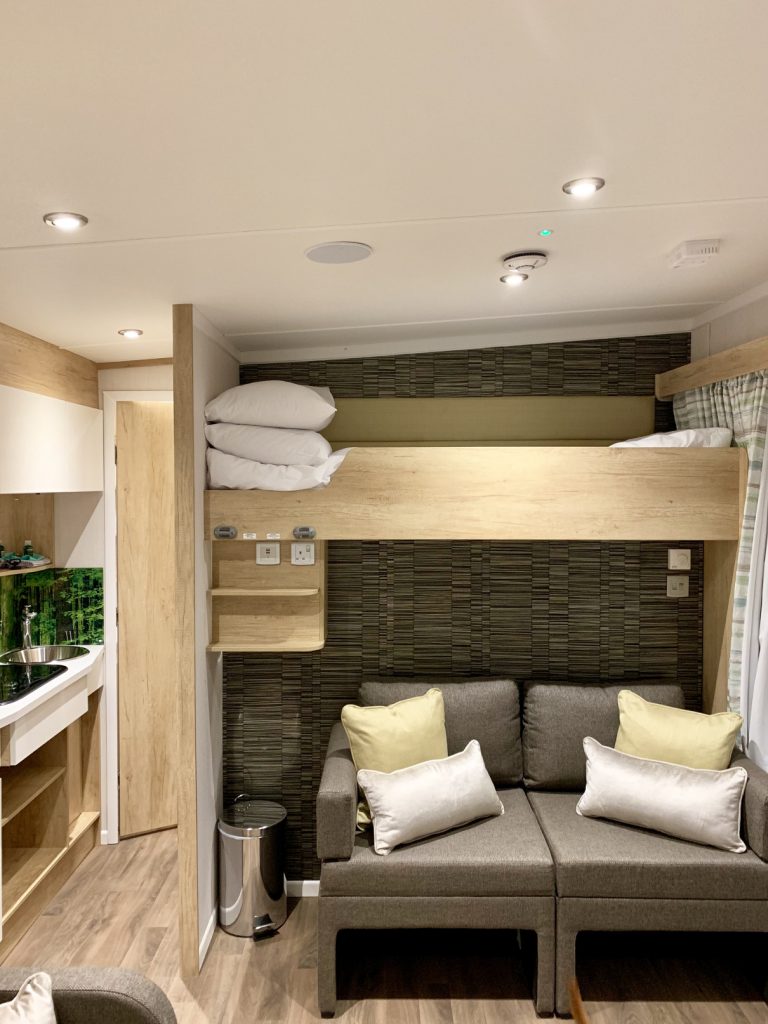 The Glamping pods were perfect for a little weekend away with the dog and Moreton-in Marsh is a lovely little town to base yourself from to explore more of The Cotswolds. Price start from £59 per night.
Dog friendly things to do in Moreton-in-Marsh
Batsford Arboretum
We were invited to visit Batsford Arboretum, a dog friendly large garden filled with unique trees and wildlife. The garden is privately owned and includes small waterfalls, a Japanese rest house and various statues and little bridges.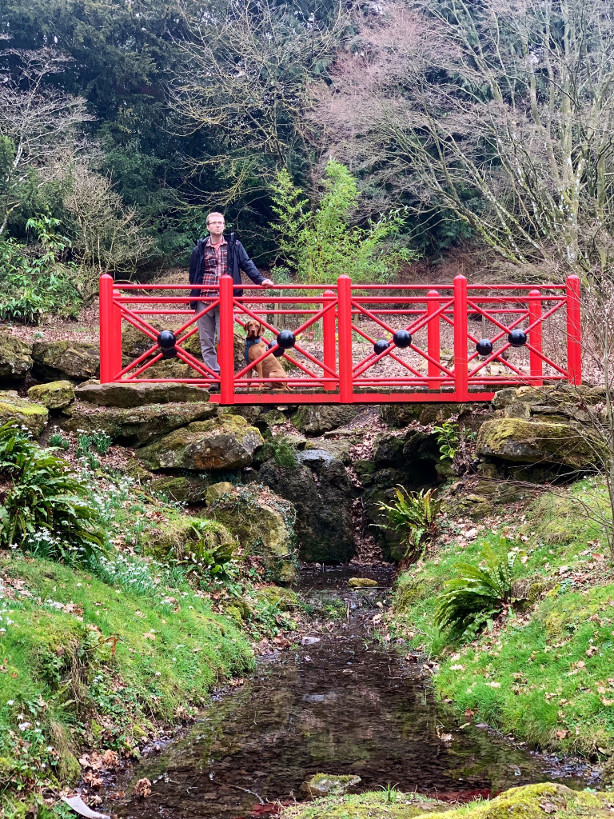 The grounds were filled with snowdrops and daffodils bringing the garden to life as we move into spring.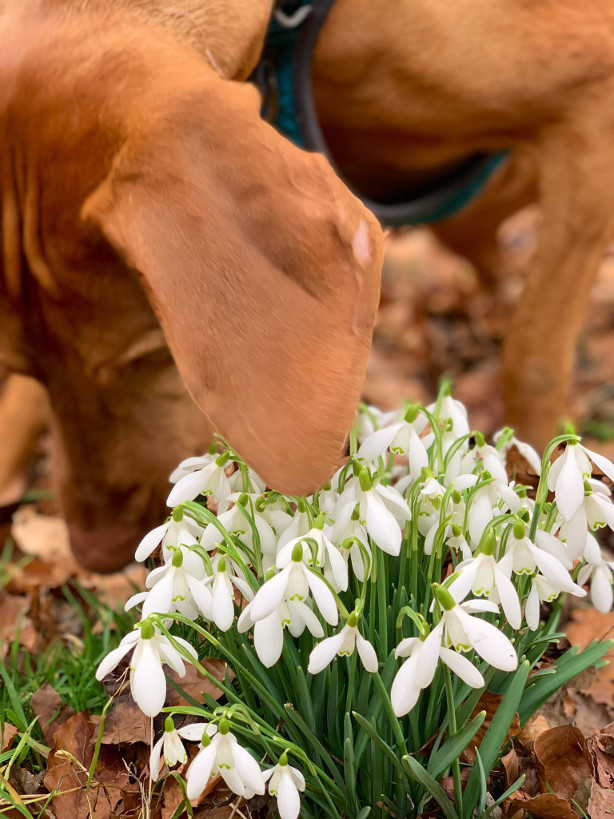 Rowland enjoyed walking around the grounds, rolling in the grass and saying hello to the other dogs out for walks.
The arboretum also has a cafe and garden centre and next door is the Cotswolds Falconry Centre, though we stayed away from there with the dog!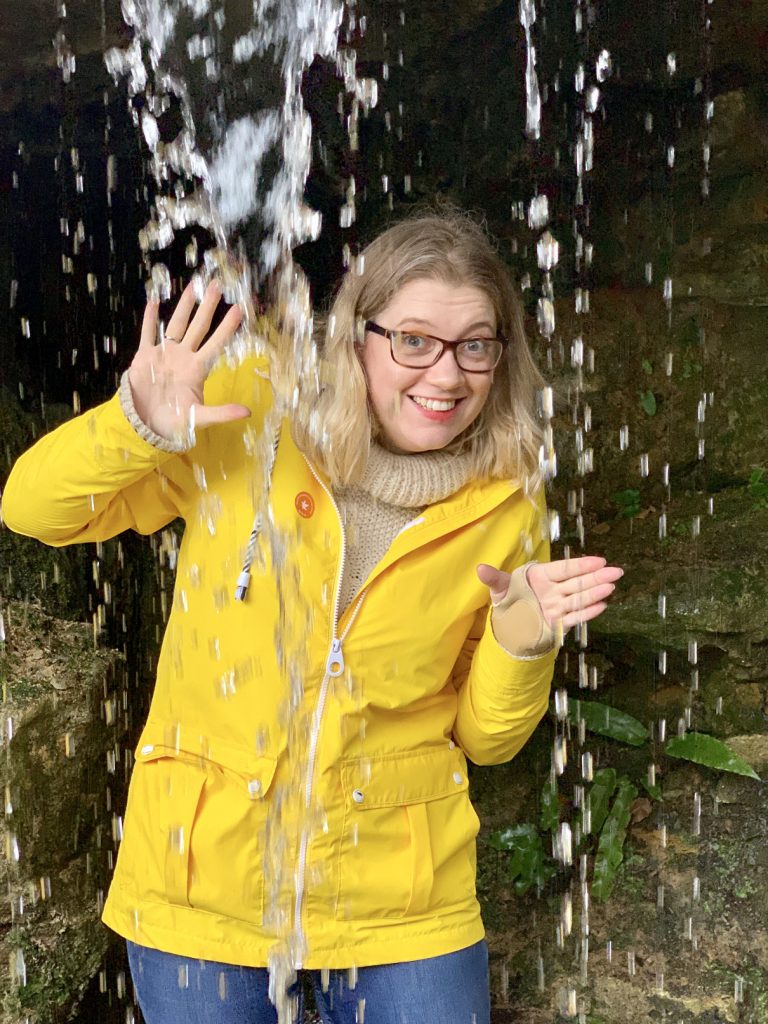 I'd imagine it would be more colourful in the summer months as the rare trees and plants come into bloom.
Country walks
There are some lovely walks around the Cotswolds. Though we didn't do any mega hikes we walked from town to the Arboretum, about a 6 miles round trip if you include walking around the Arboretum too.
We (I) made the mistake of walking along the road most of the way to the Arboretum, but we found a footpath through fields to get back into town. Rowland much preferred being free to roam off the lead. Walking part way on the road meant we did a round trip though, which I think is more exciting than going and coming back the same way.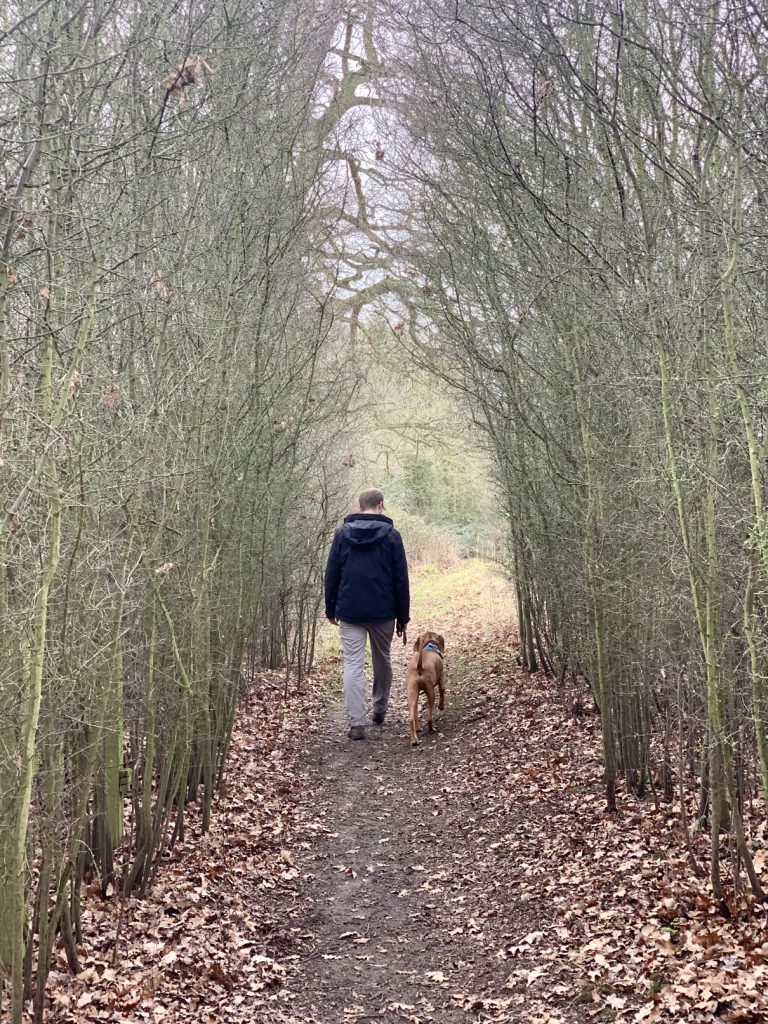 Dog friendly places to eat Moreton-in-Marsh
We tried three dog friendly places to eat while in Moreton-in-Marsh and we would recommend all of them. It seems dogs are 'on trend' and welcome in most places, with eateries often providing water and dog biscuits too.
Victoria Coffee House
Victoria Coffee House had a range of breakfasts on offer, as well as some tasty looking pastries and cakes. We stopped here for brunch and had a filling fry up and eggs benedict. Rowland was a bit grumpy I didn't share my bacon, but otherwise a lovely time was had by all.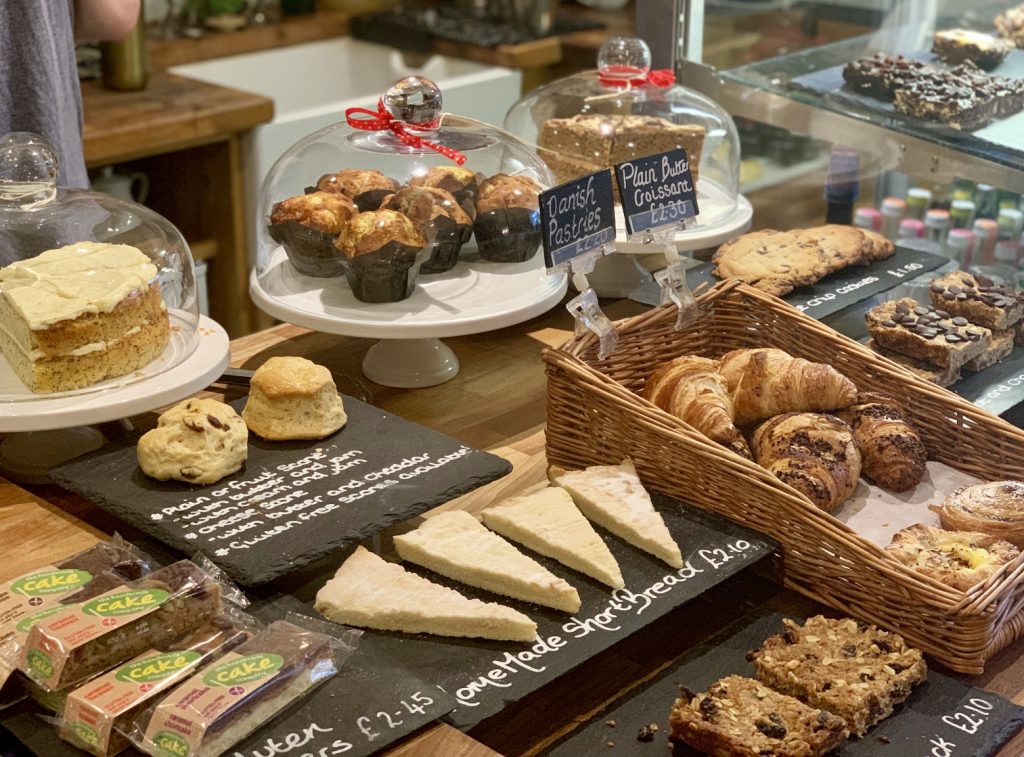 Yellow Brick Cafe
The Yellow Brick Cafe is in a small courtyard off the high street. It's open for breakfast and lunch and has the occasional special evening opening that seem to sell out fast.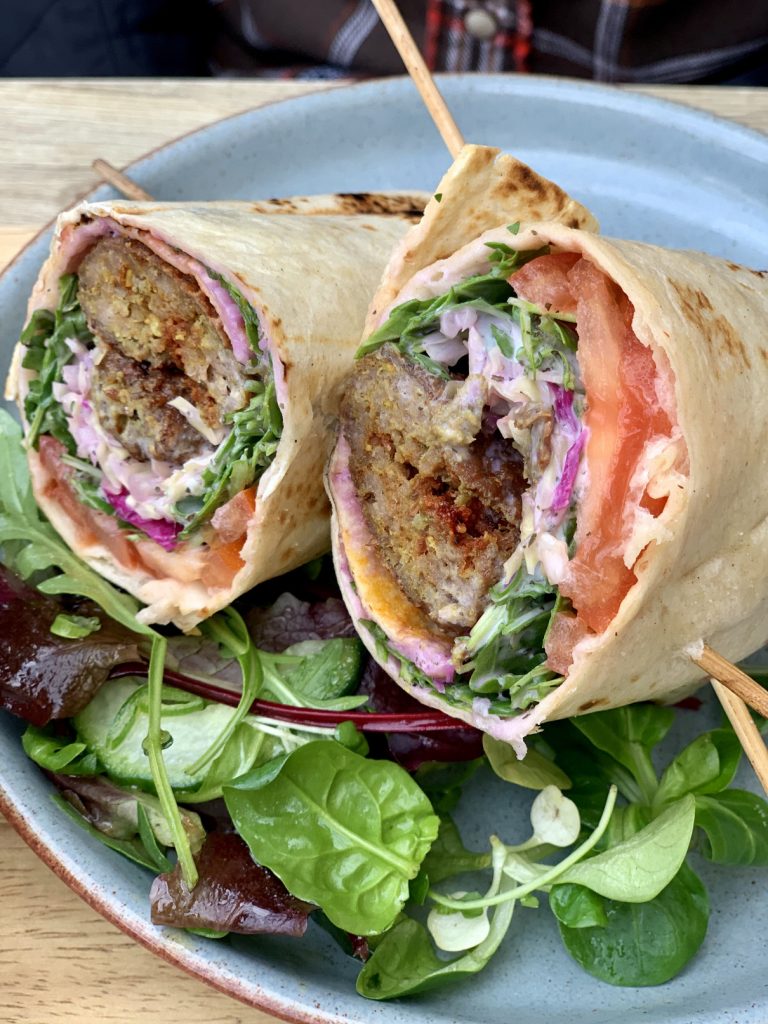 We planned on only having a coffee, but were quickly persuaded by the varied menu where everything is under £10 (though you do have to add extra for your chips and side salads).
The Black Bear Inn
The Black Bear Inn's bar area is spacious and dogs are welcome so we headed there for dinner. The staff were really friendly and the open fire very welcoming.
It was proper pub grub with huge portions that are sure to fill you up. I had a chicken breast with massaman curry sauce and coconut rice and Olly had a huge portion of hake with a chickpea and chorizo stew with a side of chips and veg.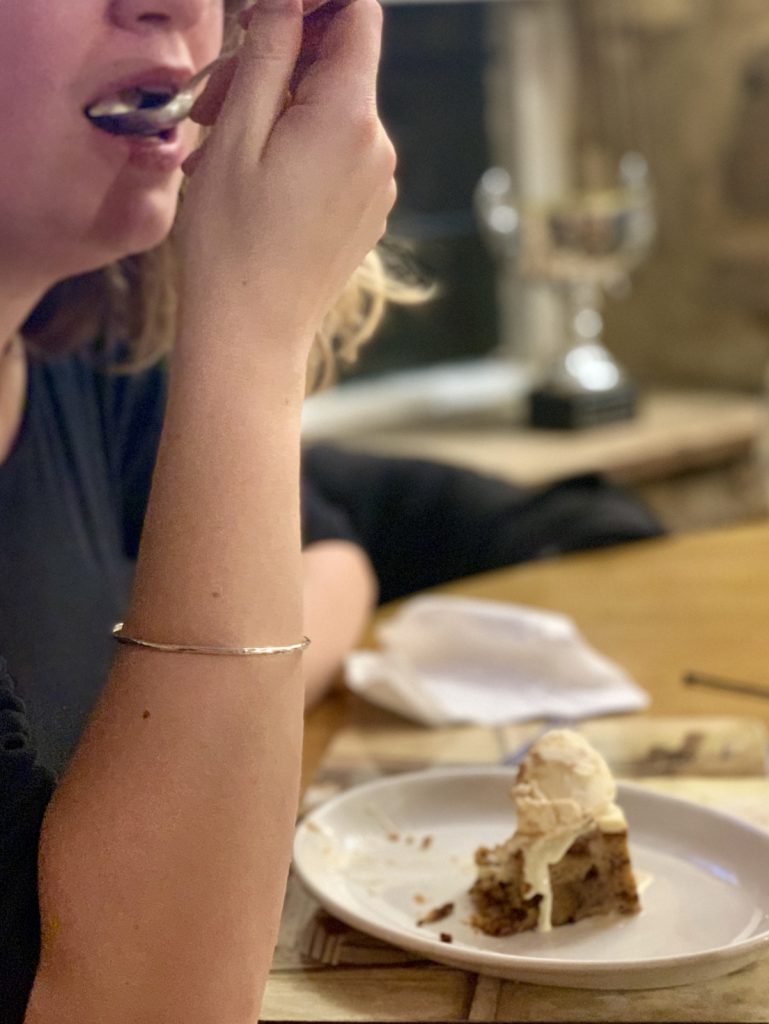 The best bit though… a warm white chocolate blondie filled with Cadbury's chocolate buttons and topped with honeycomb ice cream. D. Licious!!
Places to visit around The Cotswolds
After a day in Moreton-in-Marsh we headed off to explore a few of the surrounding villages before heading home. Here are a few of our favourites
Breakfast at The Hive cafe in Stow on the Wold
Again we planned to only have a coffee in Stow, but after being recommended The Hive cafe we couldn't not order something for breakfast when we saw everyone else's food coming out.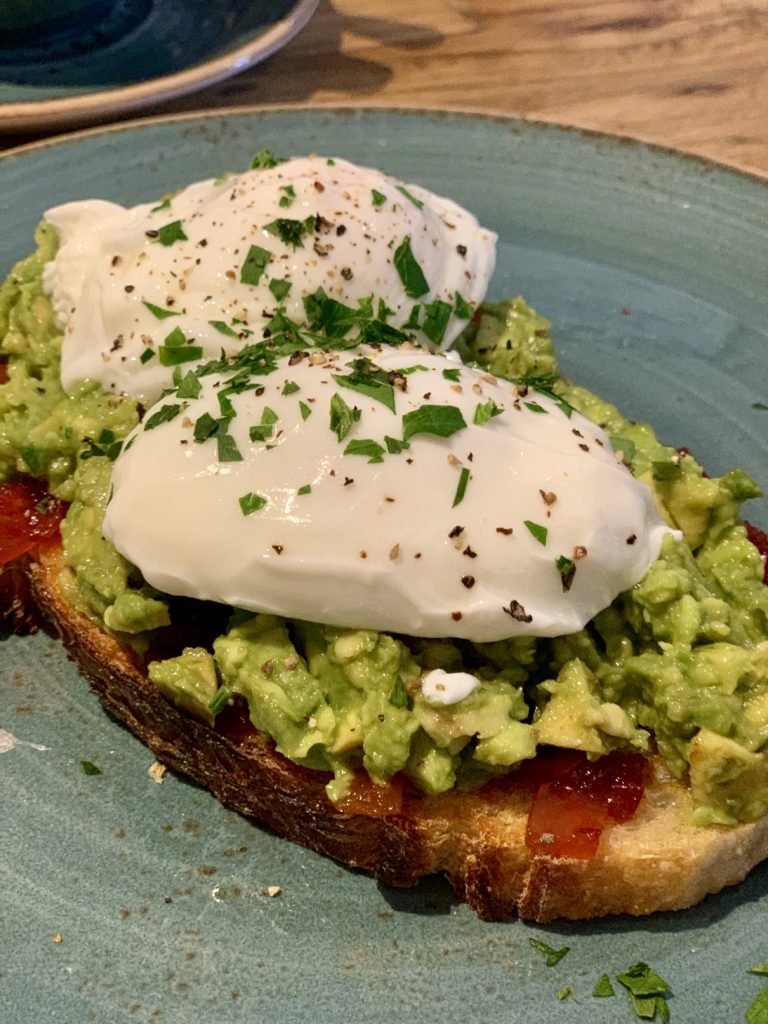 Dogs are welcome at the front of the cafe and again dog biscuits are available on demand. I had a truly hipster brunch… Smashed avocado with chilli jam and poached eggs and Olly had a full breakfast. Both super yummy! If we had any space I would've definitely had cake as they looked divine too.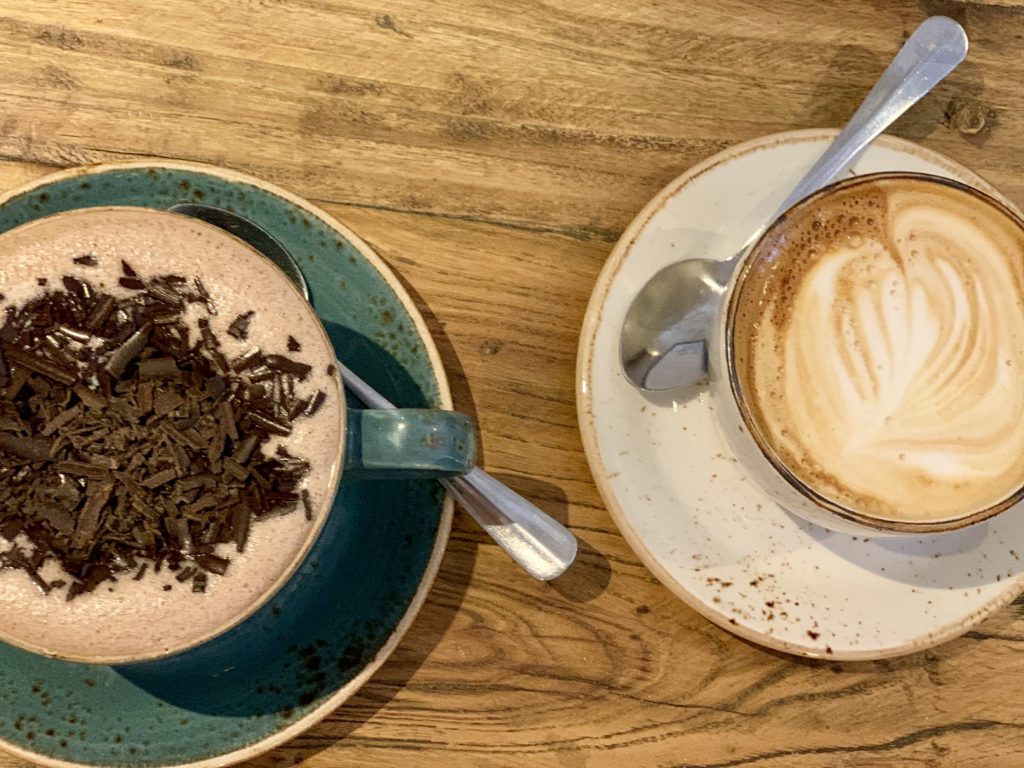 Books and coffee at Jaffe and Neale, Stow on the Wold
A bookshop that's dog friendly and has an in-house coffee and cake shop too. What's not to love?! I certainly loved Jaffe and Neale.
I only planned on a quick browse, but after a 3 mile walk to the village of Broadwell I thought we deserved a sit down and a cup of tea… and a book purchase of course!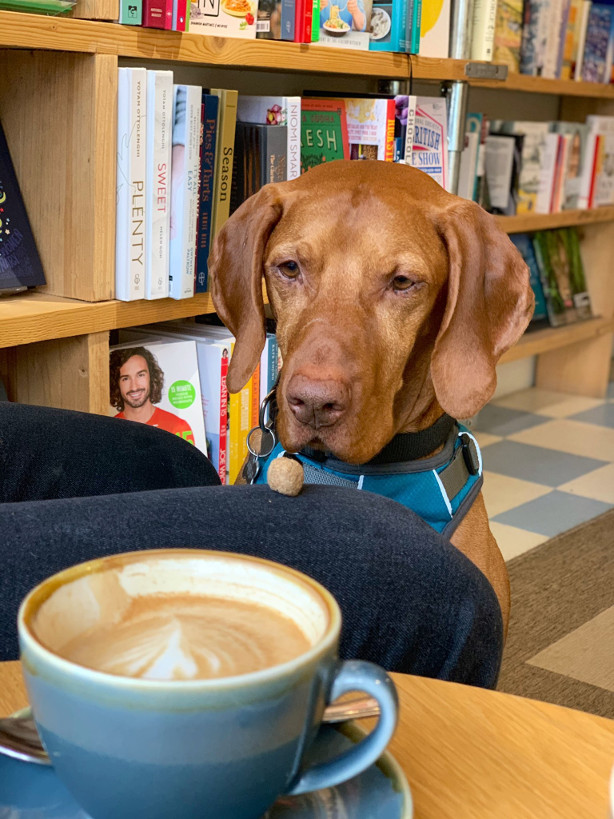 There is something special about independent bookshops and I honestly can't walk in one without buying a book! An addict I think, but as addictions go I think this is one of the better ones.
A wander around Burford
We had planned to have lunch in Burford, but after a filling breakfast we just weren't hungry so had a quick wander along the high street.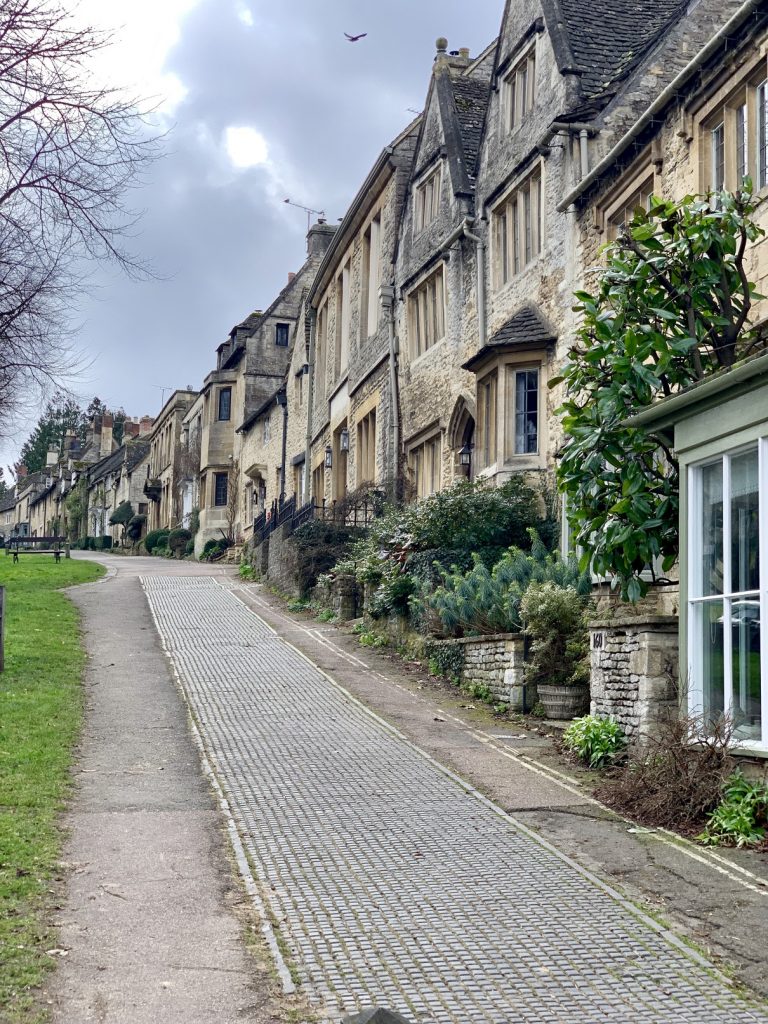 There are so many cute villages and towns around the Cotswolds I could easily spend a couple more days visiting more cafes and bookshops, but with limited time we headed to our final stop.
Lunch at The Kings Hotel in Chipping Campden
We were finally hungry again and stopped for lunch at The Kings Hotel in Chipping Campden. It was the first place we saw as we got out the car and a top choice!
I had the most delicious parsnip soup with truffle oil, followed by roast beef dinner with yorkshire pudding, red cabbage, potatoes and lashings of gravy. I'm not often a fan of having roast dinners out, as they generally don't compare to a home cooked roast, but this one came pretty close! We both highly recommend!
So a fun dog friendly weekend in the Cotswolds was had by all! I'm heading back to the Cotswolds in May for a wedding and have a couple of days to explore while there too. So after exploring areas in the north of the Cotswolds do send me your tips for the south!
Do you have any more dog friendly recommendations in the Cotswolds?