On land adventures in Croatia with MedSailors
A week sailing around turquoise waters in the hot sunshine around Croatia filled me with excitement, adventure and slight trepidation at getting serious cabin fever. Nine people on a small sailing boat for a week sounded intense so it wasn't with some nervousness that I packed the smallest bag I could find and headed off to Croatia for a week with MedSailors.
However a trip with MedSailors is about so much more than life aboard the boat. Each day you will have at least two stops, one to anchor up and spend some time swimming, snorkelling or paddle boarding in the open ocean and another for your evening entertainment and place to sleep for the night (you sleep on the boat but in a different harbour each night).
A MedSailors trip is the perfect way to see so many of Croatia's many islands that you wouldn't get the chance to on normal boat trips, all in the space of a few days.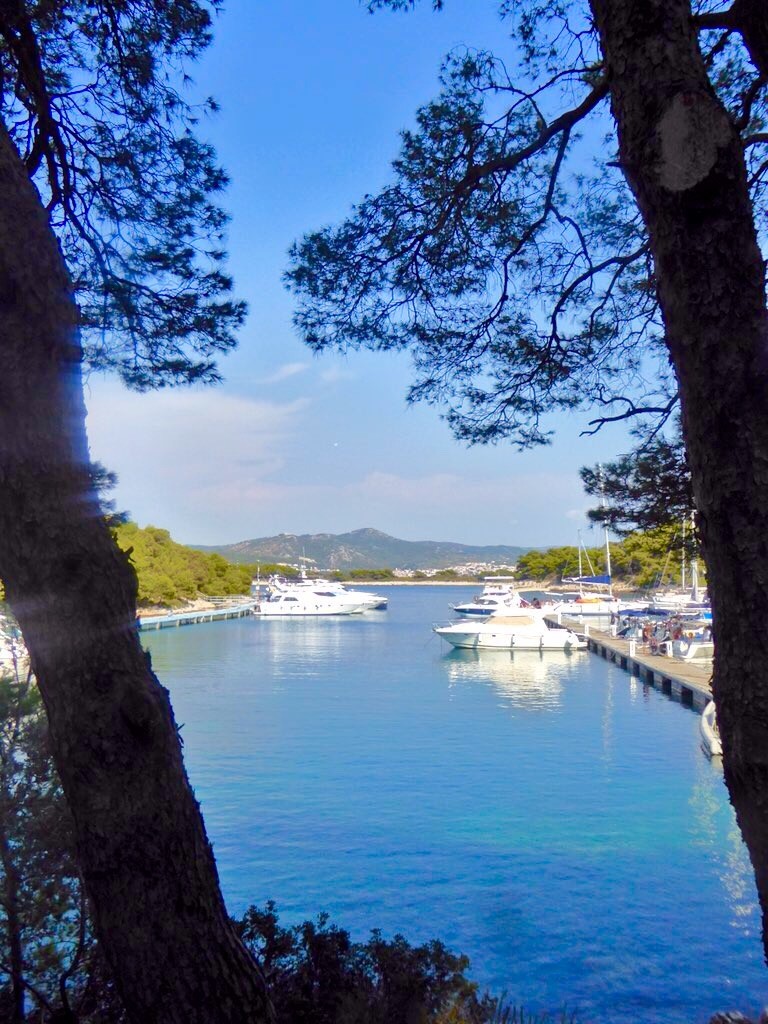 Here are a few of my favourite adventures I had on dry land during my MedSailors trip.
Road-trip in an open top jeep
When you arrive on an island and are greeted with a row of small battered cars, many convertibles, you know your day is set! Being the first of four boats in our group to arrive on the island of Mljet we had first choice of vehicle and instantly gravitated towards the white open top jeep. Who wouldn't?! Now this is what adventures of dreams were made of!
It cost around £30 to hire the jeep for the day from Mini Brum and you pay a few pence per mile for diesel. You are free to go wherever you want on the island in your car and can hire for half a day or a full day.
Now these vehicles aren't top of the range, automatic, all singing all dancing vehicles. In fact our jeep didn't even have a working stereo, let alone power steering. But that all adds to the adventure, right? We made up for the lack of music with our own sweet singing voices?!
After a tricky start stalling as we left the parking lot we were soon on our way, on the great open road and free to explore.
It is a small island and in just a few hours you can see the whole island. We even picked up a couple of German hitchhikers for a short stint. I think they thought we were a little crazy wanting to take so many selfies but we had a great time!
Trek down an 'almost' cliff face to a beautiful cave
This was single handedly one of the most terrifying experiences of my life (except for a really scary bus ride in India). On the same day as the open top jeep ride we stopped off at what was said to be a beautiful cave by the sea. The skippers hadn't told us anything more than it being a short walk from the road.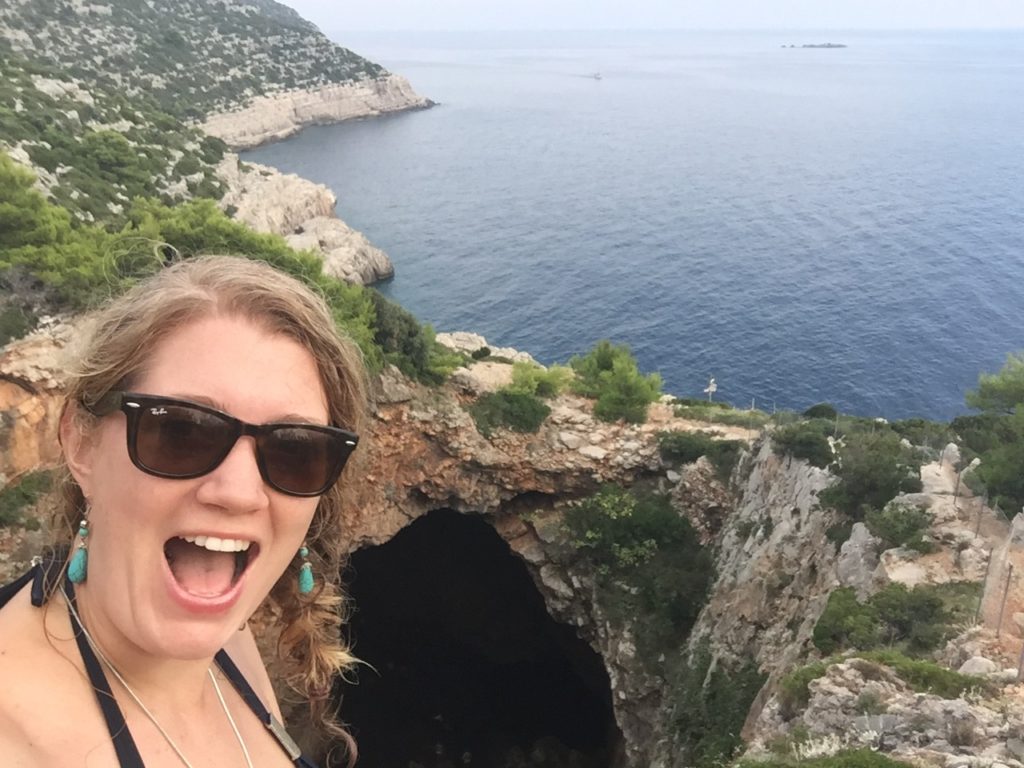 Feeling excited about the journey down… not realising what is in store!
It started with a simple, slightly rocky path, where I started to wish I had worn my trainers not flipflops… but then we got to the cave entrance. Looking down at an almost cliff face with loose rocks we thought surely this can't be the way?! But low and behold there were little white arrows painted on the rocks pointing that way, so down we went.
It was scary, I thought I was going to tumble to the ground, my flips flops kept slipping and I had more than one mini panic attack. However we made it to the bottom and the beautiful turquoise water filled cave and it was worth it.
Only when we swam through the cave to the open ocean did we realise we could have arrived via a MUCH easier route along some ready made steps and even had a drink in a small cafe… whoops!
The swim in the sea was delightful and I was quite pleased with my afternoon… until it came to the return climb! Due to having all our cameras, phones, clothes, etc with us, we weren't able to go the easy route back without getting it all wet in the sea… so climbing back up the terrifying steep slope was the only way out. Needless to say it was doubly terrifying and by the end of it my flipflops had broken, I had a few cuts, I was covered in orange stone dust, my legs were like jelly and I had had one too many meltdowns… but… I made it to the top! We both did and all was right with the world!
*Note to self* don't always follow the arrows!
Swim to a derelict holiday resort
On our penultimate day we stopped in a small cove to anchor up for lunch. We had 45 minutes while our skipper Daan prepared lunch and he suggested we swim over to the desolate hotel. Firstly I'd like to point out that swimming in the sea always appears a lot closer than it is, don't be fooled! I made it, only to remember I also had to swim back soon after… but with all the pasta I had been eating this wasn't such a bad thing.
The desolate holiday park was like something out of a horror movie. Upturned broken tables and chairs, overgrown doorways, piles of empty bottles and cans. It felt quite sad walking around this empty holiday park, individually built lodges each empty and filled with rubbish, broken beds and chairs and empty cabinets.
There was something quite sad about the little empty resort in the bay. Uvala Veliki Jakljan had once been a children's camp, but during the war in 1991/92 it was taken over by soldiers and quickly abandoned. We were told there were many bodies buried here from the war so no one has ever returned to revamp and reopen the resort. Such a sad story and a spooky place to visit… thank goodness we visited during the day.
The bay is still beautiful and the clear water refreshing to swim in… just beware of the sea urchins!
Eat delicious food and ice cream on land
We were lucky to have top chef and captain Daan on our boat cooking up a feast for breakfast each day. My favourite was definitely the last day where we had a scramble of everything left on the boat… yum! However one of my favourite parts of the trip was escaping onto a different island each night to test some of the local delicacies.
Croatia wasn't quite as cheap as I remember, which is partly due to the immense tourism that comes from Game of Thrones being filmed there (I think). It has definitely become a more popular destination since I visited 6 years ago. Each stop meant a new local cuisine or more of the tourist favourites, including mine…chicken and chips 😉
Fresh fish, steak, giant pizzas and delicious ice cream. My favourite being the ice-cream man that was made for me on the island of Sipan. Child at heart.
Walk up high for sensational views
Hvar is probably the most famous island in Croatia, the place famous for its parties, but an island that is so much more than just its nightlife.
Hvar Town has gorgeous soft cobbled stone squares, old and new boats bobbing side by side in the harbour, market stalls and many cute clothing and craft stores selling locally made products. There are loads of restaurants offering deals to give them a go, but I find it is always worth getting away from the main square for the best food.
VickyFlipFlop and I feeling pleased with ourselves at the top of the big steep hill 🙂
Before we stopped for dinner, our boat crew made the walk up through the steep town and winding walkway to the Hvar Fortress. We made the mistake of choosing to not pay to go inside, as the views were pretty spectacular from the edge, but were later told we missed a treat.
Walking up to the fortress I had to stop every 10ft to take another photo of the cute town and water below. It certainly helped me built up an appetite for dinner walking up and down the hillside. Mljet views where we did our open top jeep drive came close but nothing was quite as spectacular as Hvar. I can see why it is a favourite for so many.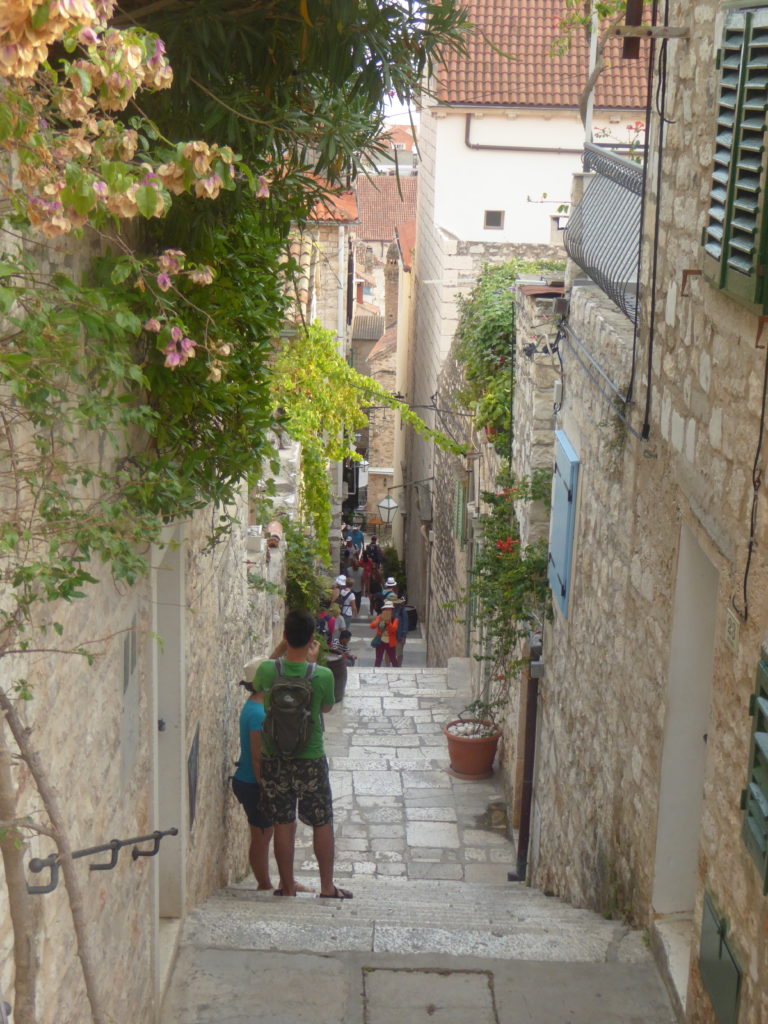 There were many more adventures on our Medsailors trip, but these were probably my favourite, not to mention all the adventures on board our boat… like where was the best sunbathing spot or learning to sail. More about life on board our boat coming soon.
I was invited on a MedSailors cruise but as always everything I write is my 100% true opinion 🙂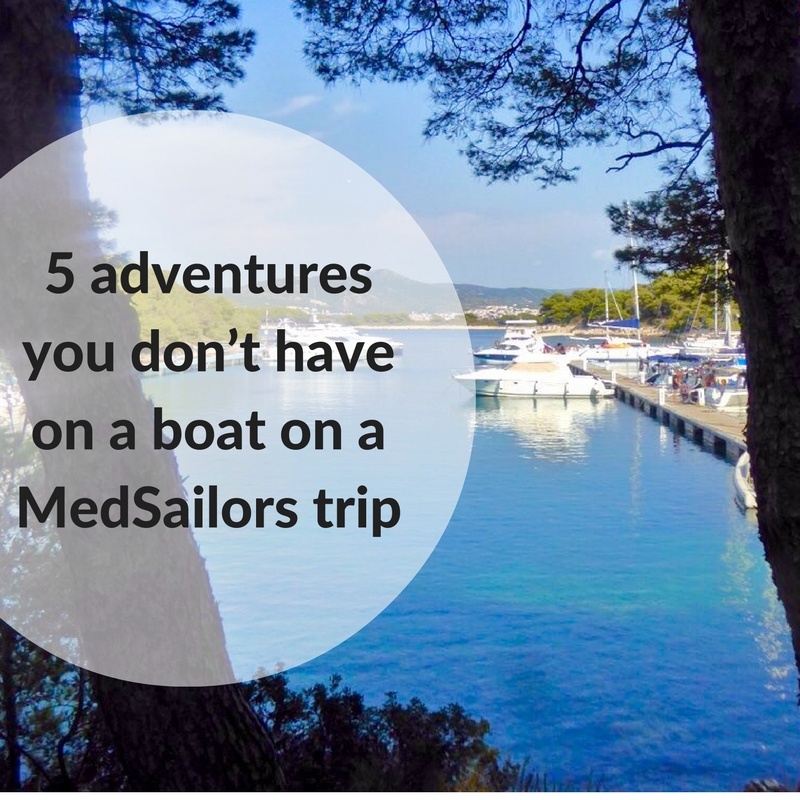 Other blogs you might like: