The Best Brunch Places in Derbyshire and the Peak District
I love a good brunch. Brunch is easily the best meal of the day if you ask me. So I have put together a list of the best brunch places in Derbyshire and the Peak District.
I will continue adding to this list as I try more. Do let me know if you have any favourite brunch spots in Derbyshire or the Peak District I should add to the list.
I am going to start with the place I know best, Matlock. My post on the best places to eat and drink in Matlock includes most of these, but the top three are the places particularly good for brunch in Matlock. When I say brunch I am talking about a proper full English or lashings of avocado on toast, maybe a poached egg or a waffle menu.
I'm not just talking a coffee and a croissant. Don't get me wrong croissants have their place, but for a proper brunch we want something hot and substantial.
The best brunch places in Derbyshire and the Peak District
So here they are the ultimate list of where to eat brunch in Derbyshire!
Kefi Cafe in Matlock
Kefi has only been open a few months in Matlock, but I've already been numerous times. They have a wonderful brunch menu with lots of different things on toast, including French toast, smoothies and cakes too.
They also have lots of veggie and vegan options on their menu AND they are dog friendly! What's not to love. They have a cute little courtyard at the back too, which I enjoyed for a couple of late morning brunches at the tail end of summer.
Cool River Cafe in Matlock
Cool River Cafe is probably mine and Olly's favourite brunch spot. They do an amazing bacon and egg cob on a big Ciabatta roll that is delicious. They also do a scrummy eggs benedict and full English. Olly is a fan of their croque madam with a poached egg on top too.
Cool River also do the best hot chocolate in town too! I've tried them all and can confirm theirs is the best.
I love that they have a small book collection on offer too, as we all know I love a book shop cafe.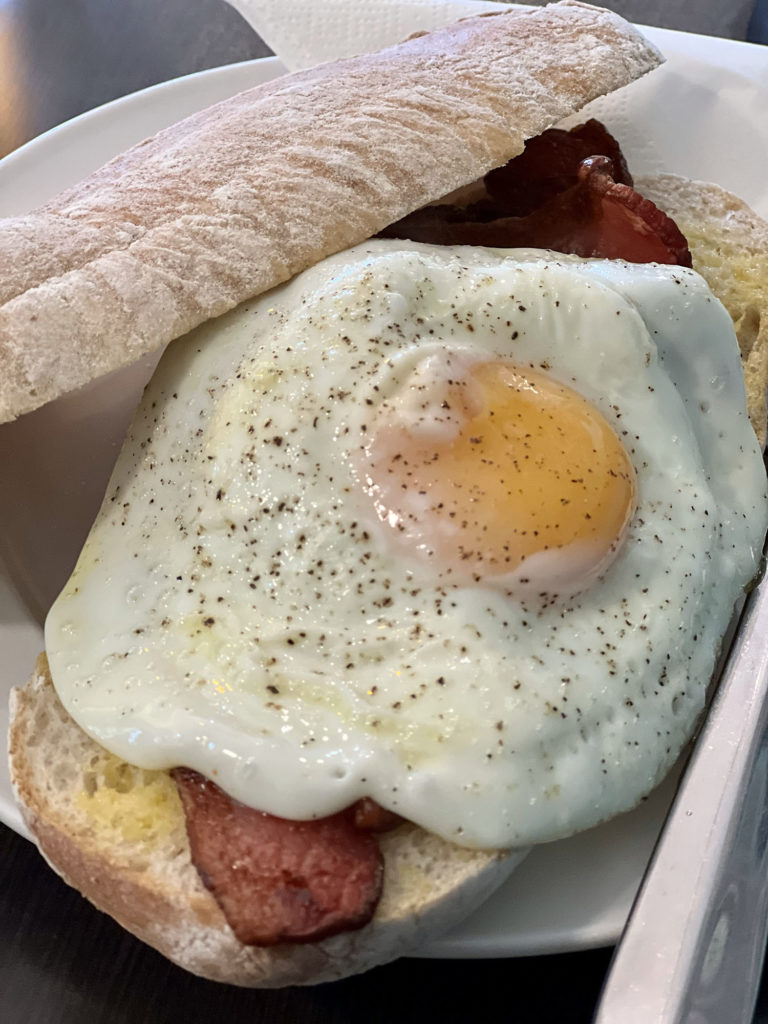 Remarkable Hare in Matlock
The Remarkable Hare is a great shout for a big breakfast. They do all the traditional breakfast with a few waffle type specials too. They have big comfy chairs and lots of space too, though despite all the space they get really busy so book if you can!
Basilia in Langley Mill
OK so maybe I am biased as I used to work here, but Basilia food is fabulous! They are open early for breakfast and brunch and will not disappoint! Alongside an epic fry up they have granola and yoghurt and fruit bowls which won't leave you hungry.
They softest bread rolls means a crispy bacon and egg cob might be top of my list at Basilia. Great coffee too!
The Pickled Pear in Darley Dale
The Pickled Pear do a yummy brunch, with a full English, lots of toast with stuff on and pancakes too! There is always plenty of avocado and they recently opened an outdoor seating area too.
Parky's in Cromford
The food is always delicious at Parky's and served with a smile. I haven't actually had brunch here but it is on my list and I've been several times for lunch and dinner so I know it will be good.
Parking can be a pain in Cromford, but if you can't park on the street, you will be able to get a space at one of the carparks near Arkwright's Mill.
The cafe at Libby's in Chesterfield
Libby's are renowned for their incredible scones, but their brunch is pretty tasty too. Served until 12pm they have the cutest garden for a warm morning and plenty of seats inside too.
With bacon and egg cobs, alongside porridge and waffles with granola and yoghurt you will definitely find something to enjoy.
The cafe is connected to Libby's gift shop which is a lovely spot for some present and card shopping all year round. For you or others!
Bottle and Thyme in Chesterfield
I have only eaten lunch at Bottle and Thyme, but am desperate to go for brunch. The brioche French toast with banana, crushed hazlenuts and salted caramel sauce is what's tempting me.
They also have all the usuals, including a full English, meaty, veggie and vegan! The eggs florentine looks tasty too. My mouth is watering, who fancies brunch this weekend? 😉
Chatsworth Estate Farm Shop Cafe in Pilsley
Chatsworth's Estate Farm shop cafe is one of my favourites. With views across the Peak District, a large outside area and a brunch menu that includes Derbyshire oatcakes it is a tasty filling brunch. They also do a yummy avocado on sourdough brunch and you can add extra eggs, bacon or whatever takes your fancy, to anything on the menu.
Brunch is served 9am to 11.30am so get there early!
Nourish at 44 in Belper
I have only had a takeaway cob from Nourish@44 during the pandemic, but the breakfasts do look yummy. The brunch menu isn't huge with a full English, bacon and egg cobs and a Benedict Royal. However it is served all day, which is always a bonus when you're craving bacon in the early afternoon!
Grasshopper Cafe in Hope
Grasshopper Cafe is another one I haven't been to as Hope is just that bit too far for a quick trip for brunch. I will make it there eventually though. I have been following them on Instagram for a while and some of the cronuts and sweet treats they post look epic!
Their banana bread brunch also sounds delicious. Chocolate and Banana bread topped with yoghurt, fruit and granola… yes please! Extra chocolate too?
High Nelly's Cafe in Tideswell
It's been a while since I visited High Nelly's, but it is a lovely cute cafe in the heart of the Peak District, Tideswell! They do an amazing waffle menu that is served all day and a tasty looking Derbyshire oatcake menu that is part of their brunch menu served until 11.30am.
The Yondermann Cafe in the Peak District
If you want a substantial greasy spoon style breakfast that is going to sustain you for a long day's hike in the Peak District then look no further than Yondermann Cafe! You can choose from the small, big, bigger and biggest fry up with lots of added extras available and a selection of waffles too.
It is far better than your average greasy spoon and set in the valley near Tideswell right in the middle of the Peak District. A perfect stop part way through a hike or cycle.
So there you have it, lots of brunch options, are these the best brunch places in Derbyshire and the Peak District?
Do tell me if you try any and what you think and if I've missed any give me a shout and I will add them to the list.
Other Posts you might like