A Perfect Luxury Adventure Retreat in Yorkshire – Emma's Dale
There is something about a luxury retreat that excites everyone. My favourites are luxury adventure retreats. A bit of luxury, a bit of adventure and lots of tasty food… you can't go wrong!
But a retreat can mean so many different things! Will you be sleeping on a yoga mat and being woken up at 6am for a sound bath? Could your phone be taken off you for the duration? Might you be expected to eat vegan food for a week? or are you just going to a luxury hotel and working on your writing or poetry skills? Retreats vary, from business retreats to yoga retreats, to health retreats and so much more.
At the tale end of summer 2021 I went on a retreat with Emma's Dales and I absolutely loved it! The perfect mix of luxury, lie-ins, great food and adventure!
I met Emma when travelling around Nepal at the start of 9 months backpacking around Asia. We have stayed in touch over social media and during lockdown I ran some happiness and productivity sessions at her online retreats.
Fast forward a few months and Emma was able to do in person retreats again and I knew I needed to book on. I asked my reliable adventure buddies Aletheia and Swatee if they fancied joining and in no time at all we were booked for Emma's 'Nature, Gorges and Gourmet Retreat'.
Emma offers a range of 'Experience retreats' in the Yorkshire Dales (where she is born and bred!) and the occasional pop up retreat elsewhere. They really are the perfect mix of luxury and adventure, what all retreats should be!
If I was to describe my travel style 'Luxury Adventure' would be it. I love going on a hike, trying a new sport or going scuba diving, but afterwards I want to take my creaking bones back to a big comfy bed and warm shower and eat some delicious food. So, when I read the itinerary for Emma's retreats they sounded right up my street.
What to expect from Emma's Dale Retreats in the Yorkshire Dales
Here are a few things you can expect to find and experience on one of Emma's luxury adventure retreats.
Luxury Accommodation
The accommodation varies on the different retreats, some are in self catered accommodation, however ours was in a luxury yurt.
When you think of a yurt you don't always thing super luxury, but these really were. A four poster bed, sofa, log fire and dining area were inside, alongside a kettle, fridge, toaster and luxury food items. The bathroom was outside, but was lovely inside, with quality products and a big warm overhead shower.
To top it off each yurt also had its own private wood fired hot tub. This is what made it. Emma and the team at Cherish Glamping had made sure the hot tubs were already heated up when we arrived so we could hop straight in after a long journey up to the Yorkshire Dales.
The yurts are perfect for 2, but we had two camp beds in ours so we could sleep three of us and there was plenty of room in the tub for the three of us too, complete with somewhere to put your wine!
As well as your personal hot tub there was a communal hot tub, cold tub and sauna just a few yards from the yurt. The sauna was something special with incredible views through a round glass window.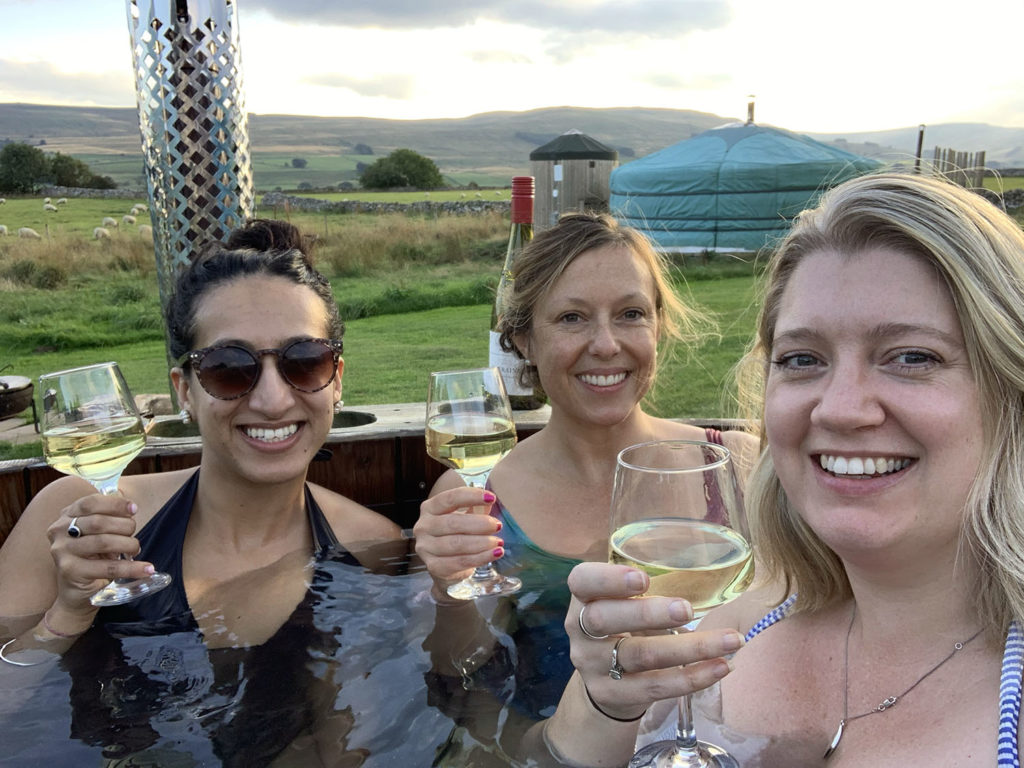 Delicious Food
Emma is an amazing cook, so the food definitely won't disappoint. Everything Emma cooks is Vegetarian or Vegan, though it wasn't a completely veggie vegan retreat, with a full English delivered to your yurt for breakfast and meaty wood fired pizza options on the second night.
Emma's food stole the show though! Everything was homemade from the yummy bean burgers cooked on an open fire, to the incredible mix of different delicious unique salads. Not to mention home baked bread too! It really was delicious.
Interesting Adventures
Each of the retreats is a little different, with different adventures, from yoga, to paddle boarding to wild swimming.
Our retreat included alpaca walking, gorge walking and gin tasting.
The gin tasting was lots of fun, they were certainly generous gin portions and Emma did a pop quiz to win some gin at the end, just to see if we had been listening to her gin facts!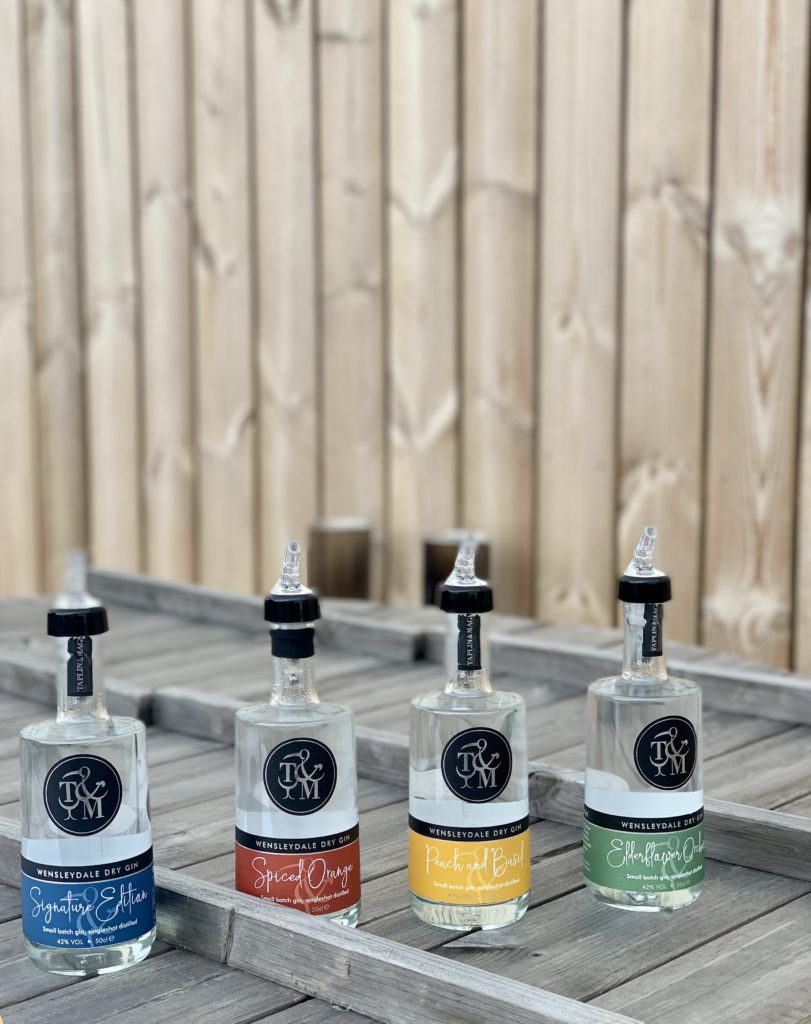 The gorge walking wasn't quite what I expected, but so much fun! With full wet suits we walked up a couple of hills to start the trek back down via a gorge. This including walking in waste deep water, across boulders and at points jumping into dark deep water, before coming out back at the bottom and returning for warm showers, thick homemade soup and hot tub time! It really was so much fun!
The alpaca walking was the opposite of the adrenaline filled gorge walking, a calm, slow walk down to the lake with gorgeous friendly alpacas, a beautiful peaceful experience.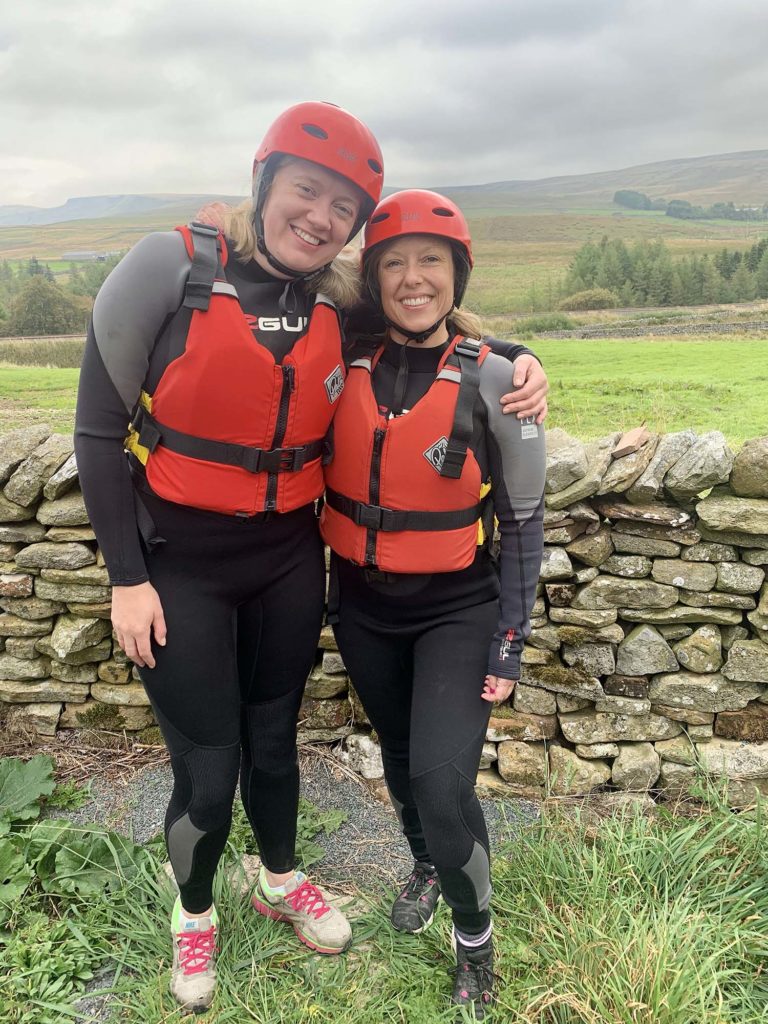 New Experiences
Alongside the adventures above we also did some forest bathing and a reiki drumming session. Forest bathing was in one of the very few, tiny, forests in the Yorkshire Dales, but it was great to take a moment to be close to nature, stop and look or close your eyes and really listen. I recommend a bit of forest bathing to anyone.
The reiki drumming session was a new experience too. After a busy morning of gorge walking we came back to the yurts and lay on mats on the grass with blankets over us as our reiki drummer moved around us drumming. It really was a bit of an out of body experience, I thoroughly enjoyed it and could have laid there for much longer… if I hadn't needed a wee!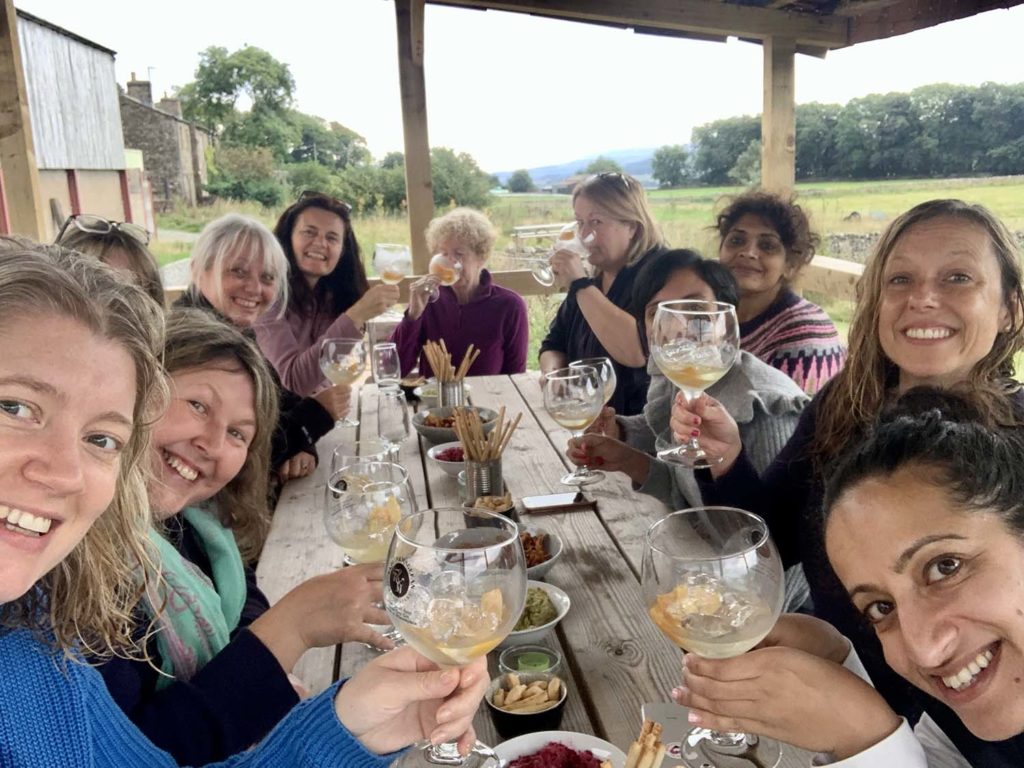 So what are you waiting for? If you're looking for a luxury adventure retreat, then look no further than Emma's Dale. There are lots of different options and they all take place over a weekend in the Yorkshire Dales. There is even a special pop up retreat to Italy this year too.
Find out more about Emma's Dale Experience Retreats.
Other posts you might like