An itinerary for a weekend in Belgium – Bruge, Brussels and Ghent
Three cities in three days! It might sound hectic but it was a great way to get to know Belgium and its really easy and cheap to get between cities too. I'm excited to share my itinerary for a weekend in Belgium… and you get the chance to win an awesome Belgium Beer scratch map too! Woo!
There was no need for any stress ahead of time with planning for this trip, as I didn't even know where I was going until I got the airport thanks to WowTrip and The Blogger Course.
I had seen a few surprise trips advertised before and thought they sounded right up my street. People often ask me where I want to go and my answer is always EVERYWHERE! Yes I have places I am more interested in visiting than others and certain places that are better to visit at certain times than others, but I can honestly say there isn't anywhere I don't want to go to.
So a surprise trip with WowTrip sounded right up my street and when Monica invited students from her Blogger Course to join her on a WowTrip I jumped at the chance.
We picked our dates and airport we wanted to leave from and the rest is left up to WowTrip. You are able to pick places from their list that you definitely don't want to go to or can just leave it 100% up to them.
I was so excited it was Belgium when I found out as despite it being so close, its a country I've never been to. Add in lots of lovely blogger buddies, sunshine and last minute adventures to not one, but three cities in Belgium and you have the recipe for a fab weekend.
My itinerary for a long weekend in Belgium
Day 1 – Brussels
We left early from Manchester airport and arrived into Brussels around midday. We made a small mistake leaving the airport and instead of getting on the bus that takes you into the city centre got a local bus which took us to a train station near the airport where we then had to get a train. There wasn't much in it time wise or cost. You can also get a taxi if there's a group of you that doesn't work out much more.
We were staying at the Hilton Brussels City which was great for a weekend break. Big modern communal areas and clean rooms. Mine was a bit small but as we didn't spend much time inside it was just what we needed. I always find Hilton have the most comfy beds too.
(Thanks to Monica from The Travel Hack for taking lots of photos of me on this trip)
I hadn't heard great things about Brussels so wasn't sure what we were going to do with three days there, but when day trips were suggested I got very excited. That said what we did see of Brussels was beautiful.
Here are my top three things to see in Brussels: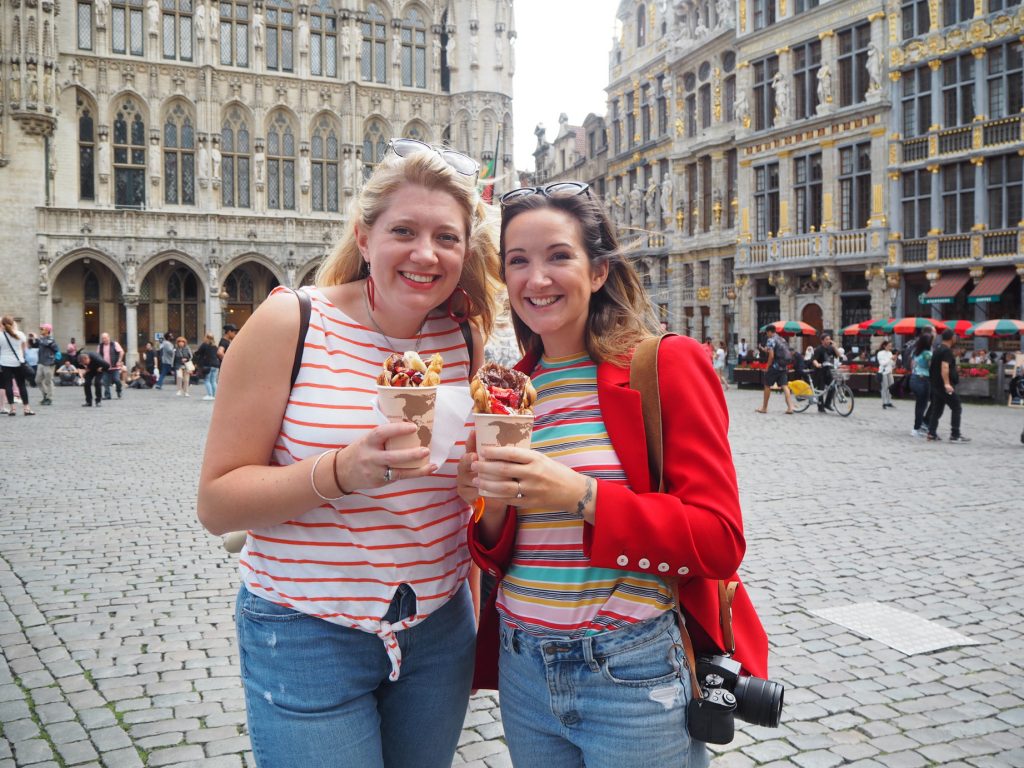 There is so much more to see in Brussels, including the Atomium, mini Europe and the Royal Palace of Brussels. There's loads of great places and things to eat too, from bowls of piled high mussels with frites, to creamy chicken filled vol au vents and fresh warm waffles.
Day 2 – Bruge
On the second day we decided to head straight to Bruge in the morning. We got the train from the Brussels Nord station which was just 5 minutes from our hotel. Trains were very regular and took only an hour. The train I got on was pretty packed and I ended up standing most of the way, but for 16Euro return I couldn't complain too much.
As soon as I arrived into Bruge I fell in love. As soon as you cross the road from the station, following the church tower (and the crowds) for reference you are instantly transported to another age, with cobbled streets and cute terraced cottages at every turn. The Old Town seems to stretch so far and we could have easily spent more than a day wandering the adorable old streets.
Obviously I spent much of my time moving from one chocolate shop to the next and even found a make your own hot chocolate shop where you choose which flavour chocolate drops you want and they quickly turn it into a delicious melty hot chocolate. You can mix and match, so imagine chocolate orange with dark and white and milk or whatever you fancy all mixed together. Delicious. Anyway enough chocolate chat…
Here are my top 3 things to do in Bruge.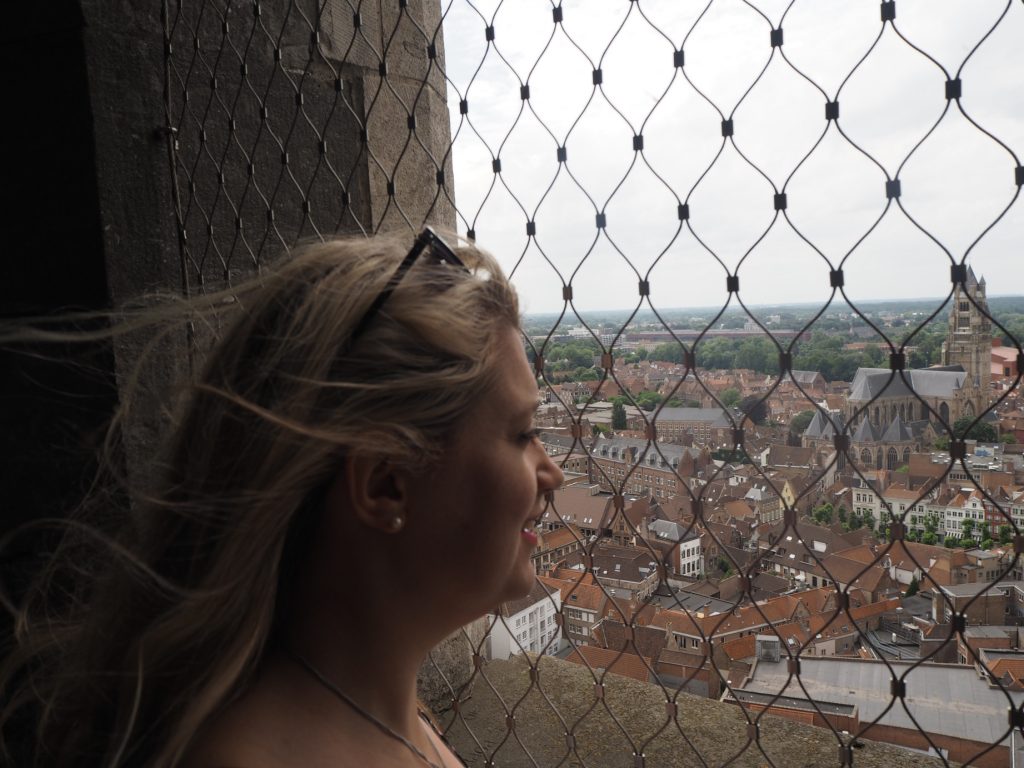 While wandering around the town make sure you add in regular beer and wine stops. I'm not a beer drinker myself but legend has it the beer in Belgium is pretty good (see competition below). I can tell you sitting at a bar on the river front as the sun sets is an experience not to be missed though!
Day 3 – Ghent
Originally we had planned to spend the final day in Brussels as we were flying out that evening, but our flight wasn't until the evening and Ghent is only half an hour by train so we thought why not?! The trains were still very regular for a Sunday so it's easy to get there and back and just spend a few hours in city number 3.
I didn't love Ghent as much as Bruge, but there were still lots of pretty buildings and some cool places to eat too.
Here are my top 3 things to do in Ghent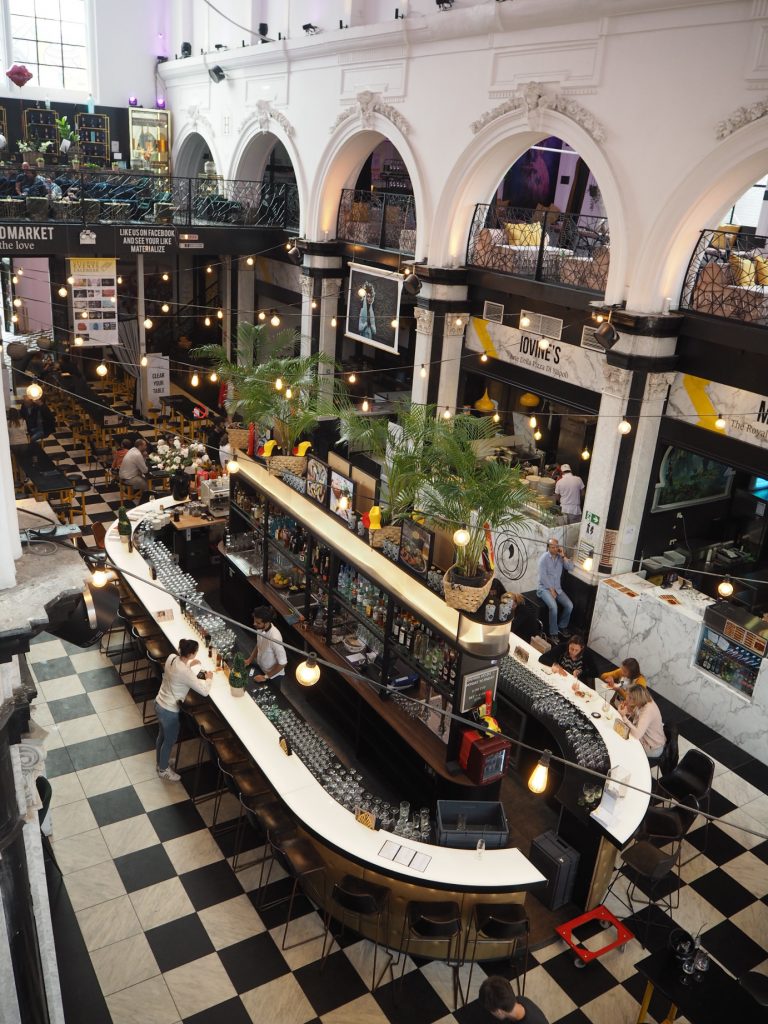 So there you have it. My little itinerary for a long weekend in Brussels. Three cities in three days, lots of food, booze and sites. What more could you want?
Win a Belgium Beer Scratch the World Map –
this competition is now closed. 
I may not have drunk any Belgium beer myself, but my blogger buddies certainly did and there is plenty of different beers to choose from. So if you're a beer drinker say a big thank you to Maps International who have given you the chance to win one of their new Scratch the World Maps.
We've all seen the traditional Scratch the World maps, but they've now brought out a new range of maps, including a Belgium beer one, a European wine one and some Alpine Climbs and skiing maps. I have just received the European wines one and can't wait to start scratching them off. Any excuse for a glass of wine right?
This competition is now closed. Congratulations to our winner Linda G.
Have you been to Belgium? I'd love to hear any more tips you have for how to spend a day in each city.
I was invited to Brussels (well on a surprise trip) by WowTrip and The Blogger Course (<- affiliate link but the course is awesome, I even got an awesome trip to Brussels!!). I didn't HAVE to write anything so all words and opinions are my own as always 🙂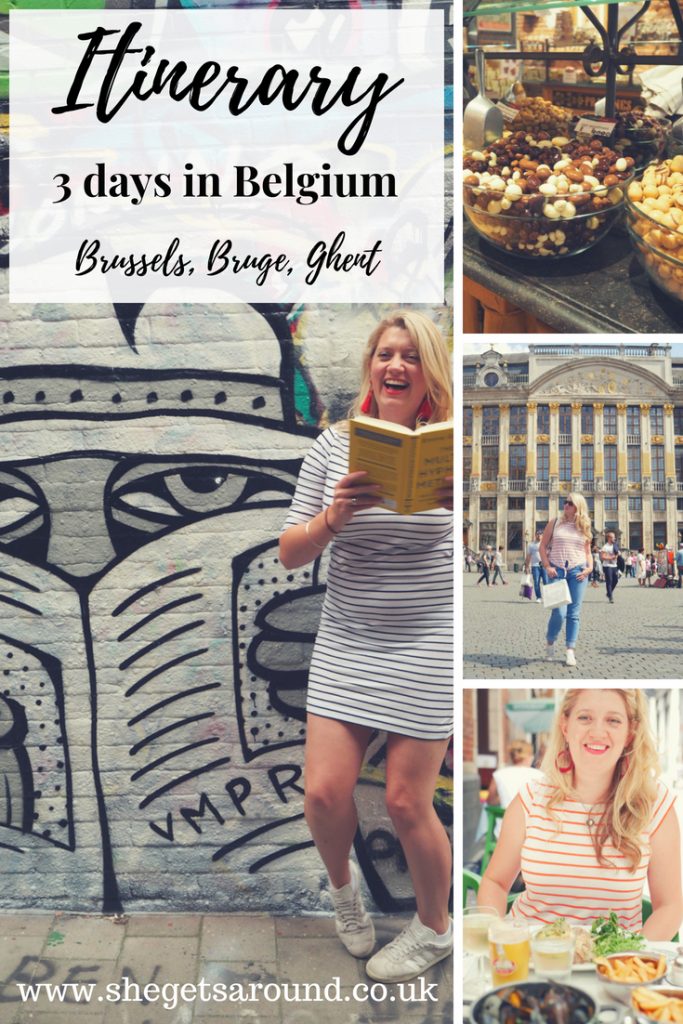 Other blog posts you might like: