18 Amazing Things to Do in Matlock, Derbyshire
Whether you are visiting Matlock for a holiday or have lived here for years, here are my favourite amazing things to do in Matlock.
Matlock is my hometown and where I grew up, as a kid my mum had a delicatessen in Matlock, so I would be in town after school every day. My dad lived at the top of the big steep hill and I went to 'Brownies' in Matlock every Tuesday night! Though I moved away for a few years, I returned 5 years ago and have always called Matlock and its surrounding areas home.
There are always more things for me to try and see, but I think you will agree I am quite well placed to share my favourite and best things to do in Matlock. I am focusing on Matlock and this post includes things to do with kids, with friends, with family and everyone in between. I will write another post on Matlock Bath, a very different, but also amazing place.
Matlock has my heart and honestly feel it is on the up and up. I wrote a post about why Matlock is a great place to live and from that blog was recently asked to be the Matlock expert on 'Escape to the Country'! On my fun BBC1 debut I shared just why Matlock is such a brilliant place with their millions of watchers! Do you agree?
Nestled on the edge of the Peak District National Park, Matlock is an old spa town in the Derbyshire Dales. Set in a valley it is surrounded by beautiful Derbyshire countryside and lots of steep hills! It's ok though, much of the town is flat at the bottom of the valley.
It is a small town with a population of about 9500 and home to an award winning park, waterfalls and many independent shops.
Pssst… If it's food and drink specifically you're after I have a blog just about the best places to eat and drink in Matlock!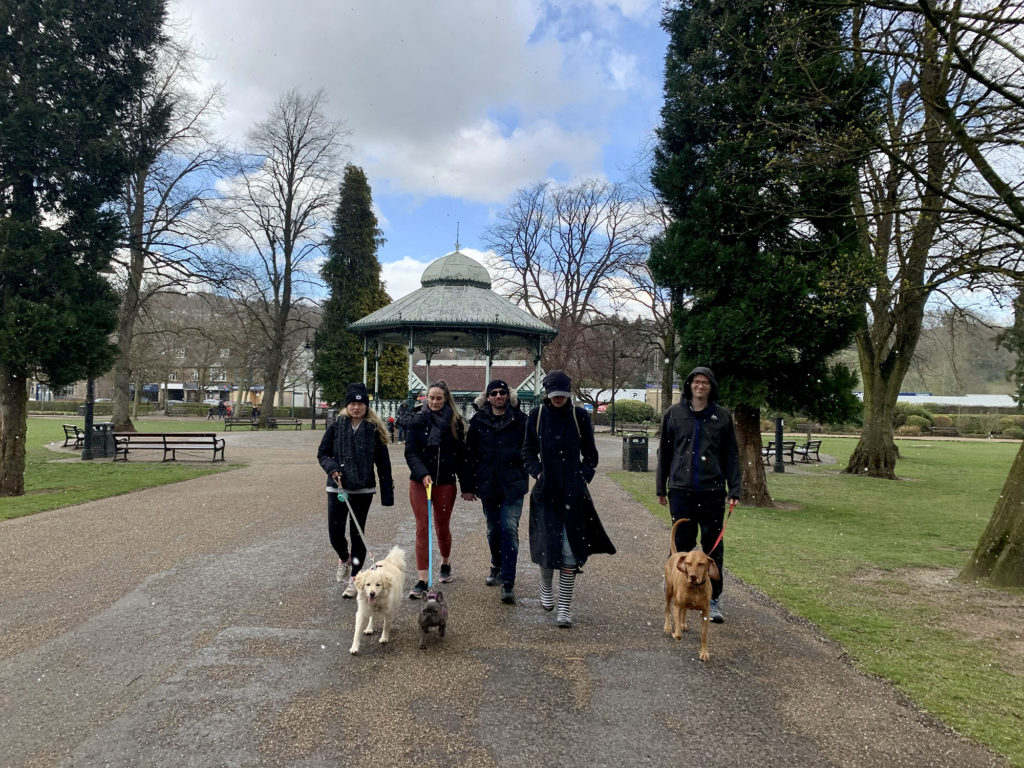 18 Amazing Things to Do in Matlock
If you're visiting Matlock or looking for something new to do here are some of my favourite things to do in Matlock.
Visit Deception Escape Rooms
If you like escape rooms then make sure you visit Deception. It is at the top of Firs Parade in the centre of town. They have four different themed escape rooms including the scary room and a special Christmas themed room.
They also have an online escape room and escape board games to play. It really is a magical mystery place once you walk inside the door and definitely worth a visit with friends or family.
They also do corporate escape rooms for a different kind of away day too.
Find out more about Deception Escape Rooms
Walk to Lumsdale Falls
People seem to drive from far away to visit the beautiful Lumsdale Falls and Bentley Brook. It is a beautiful walk along a steep sided gorge, previously used as a form of power and water for Arkwright's Mill. Much of the falls were closed and fenced off during lockdown due to overuse, but most of the area has been reopened now.
It is worth the trip to the top of the falls to see the ponds and you can do a circular walk from Matlock Green and back down the big steep hill. All in all it takes about 1hour and 15 minutes. There are various different routes you can take, including a fairly easy walk along a path and then the road to get to the falls.
Make sure you make a visit to Bentley Brewery if you're visiting at the weekend for a pie and a pint!
Take a boat or train trip on Matlock Boats and Trains
If you've been to Matlock before you will probably know about Matlock Boats and Trains. Something you have to do if you have kids and maybe give it a go if you don't too!
They recently converted the boats and train to electric, so they are more environmentally friendly too. The train is only £1 and goes up and down the park, lots of fun for the little ones.
The boats are great and is a go to when I have friend's kids visiting. They are both closed in the winter though and often the pond is emptied out, so don't be disappointed if you are visiting off season.
Find out more about Matlock Boats and Trains
Go on a steam train on the Heritage Railway
This is one thing in Matlock I still haven't done! I regularly see the steam train at the station in Matlock. It goes up the heritage railway track to Rowsley and back. You can get a regular seat or include food and drinks too.
They have some 'kids go free' days and also special trips for occasions such as Mother's Day or Christmas. They have evening do's too, including Pie and mash evening and a murder mystery evening! What fun!
Find out more about Peak Rail Steam Train
Visit our award winning Hall Leys Park
Hall Leys Park is award winning. Multi Award winning! Every year for over 12 years it has won the Green Flag Award from Keep Britain Tidy and continues to add to its vast array of things to do.
You can play tennis, play in a skate boarding area or even have a game of table tennis on one of the tables in the park. There is a bowls lawn with a friendly league you can join or watch on a summer's day.
There is the previously mentioned train and boats and a fully equipped kids playground too. Not to mention the cafe, amazing flower display, bandstand and big expanse of grass for picnics and ball sports. It really is a park that has everything and it is bang smack in the centre of town too. I feel so lucky and proud to have such a beautiful and well kept park in my home town.
There are also toilets! Very important.
Take a walk to Pic Tor and High Tor
I found so many new walks around Matlock and Derbyshire during lockdown and will be writing some more detailed posts about the circular walking routes around Matlock soon.
Pic Tor is a short walk that takes around 30 minutes or less for a round trip. It has great views across the town and you can come back down through the churchyard and down Stoney Way, a steep cobbled street. I regularly do this loop for a reasonable dog walk.
High Tor is a longer and higher loop. You can include Pic Tor at the start and end, but you need to go slightly back down to go up again the other side. The views from High Tor are incredible. You can see down into Matlock bath or across the whole valley. If you want to make the walk longer you can come down through the woods and into Matlock Bath by the cable cars and walk back along the road. The top of High Tor is a great place to let the dog of the lead too for a run around. Cookie loves it!
Visit Matlock Farm Park and bounce on the giant pillow
I wish I hadn't waited until I had friend's with kids visiting because I had SO much fun on the giant bouncy pillow at Matlock Farm Park. It is literally exactly that, like a giant pillow and bouncy castle rolled into one and somehow you don't easily fall off the edge.
There is much more to do at the farm park other than the pillow. A whole range of farm animals to pet and feed, small tractors to race on, a regular bouncy castle and a couple of cafes and drinks stall to keep your belly full too.
The farm park is a drive out of the town and costs around £10 for adults and under 2s go free.
Find out more about Matlock Farm Park.
Have a cocktail at Monk Bar
If you're here for the drinking then Matlock doesn't disappoint. There are lots of cocktail bars and pubs for a drink with lots of locally brewed ales on offer.
My favourite though is Monk Bar, who do the absolute best Porn Star Martinis! They used to do 241 cocktails from 5-7pm every day, but that has ended so it's just 242!
You don't need to book and can see the full Monk Bar Cocktail menu here.
Treat yourself to cake from Butterfingers
Oh Butterfingers! Beware the cakes here are amazing and you will definitely want to go more than once to give a few different ones a try. Don't worry they do takeaway too.
Butterfingers is on Dale Road and has a couple of outside seats and a few inside. They are dog friendly and offer some lunch options alongside the cakes too. The waffles are yum!
Get an ice cream and pet the cows at Matlock Meadows
We have not one, but two farm parks in Matlock. Matlock Meadows is a bit smaller and includes a lovely cafe with homemade ice cream. They have a cafe, kids playground and farm animals to pet too.
It is is just a short walk up the hill from Sainsbury's. They close in the winter, but open from February half term.
Shop at some of the independent shops
Matlock has so many lovely independent shops, Dale Road in Matlock is full of independent shops and a great place to busy yourself for an hour or more with some retail therapy.
There are antique shops, clothes shops, interior shops and more. I love that there are a mix of gift shops that are perfect for present buying to shops with all the random things you might need at home.
My favourites are Toy Stories for beautiful children's books and presents, to Matlock Antiques and Collectables which you can get lost in for hours.
Walk up the big hill for micro pubs and beer gardens
Make sure you save some time to head up the big steep hill (Bank Road) too. There are quite a few independent pubs and micro pubs that are worth the trek up and also a beautiful clothes shop called Bella Figura.
I would definitely recommend visiting The ThornTree Inn which has incredible views across the valley. Same with The Laburnum Inn, which has the best beer garden in Matlock. Especially if you want some early evening sun in the summer. Nowhere at the bottom of town gets any evening sunshine.
Wine tasting at Bradman's
So I am not actually sure if Bradman's do wine tasting yet, but I know they have talked about doing it soon. You can also just do your own wine tasting from the extensive menu of tasty wines.
They have a great balcony on the river which is a perfect spot to enjoy an afternoon glass of wine.
Eat a Stone Baked Pizza at D'alessandro's
Honestly, D'alessandro's pizzas are incredible! They are only open Thursday to Saturday, but oh my goodness when they are I want one every night.
They make their own cheese and honey and honestly they are baked to perfection. You can even order a pizza and they will deliver it to the micropub next door for you!
Walk along the river
We are so lucky to have the River Derwent running through the centre of town. You can walk along parts of the river in the park or continue round and back towards the road towards Matlock Bath.
You can also head down to the river across the road from the train station and walk all the way along to Darley Dale. The footpath goes up and over a small bridge that crosses the train track about ten minutes down from town and then turns into the walking and cycling path that goes all the way to Rowsley. The first part is beside the river and then it moves to being beside the train track. It's super flat (except for crossing the bridge) so a really easy walk.
Go swimming or do some sport at The Arc
If you're looking to to get in some exercise while you're in town or wanting to tire out the kids then visit The Arc sports centre and swimming pool. It's a brilliant pool with views of the trees through the big windows and a kids pool too. The changing rooms are spacious and clean and there are lots of classes to enjoy, a gym and other sports facilities.
Go Wild swimming!
I am yet to write about wild swimming in Matlock, but I will be doing this soon. If you fancy a short drive there are a couple of excellent wild swimming spots in Youlgreave I have a detailed blog about.
I've been told about the Matlock Swoosh in the river, only suitable during low rainfall that is a lot of fun so I am going to give that a try soon. Plus there is a pond towards Darley Dale I need to try. Watch this space for more info.
Get some work done at Coworking Corner
OK so maybe you didn't come to Matlock to work, but workations are definitely the new way to travel, so perhaps you did?! Coworking Corner is a new(ish) friendly and cosy coworking space in Matlock. You can book just for the day, for a week, a month or whatever you need.
We have a friendly dog, unlimited hot drinks and homemade cookies, not to mention fast wifi!
Find out more about Coworking Corner or follow all their fun reels on Instagram.
So what have I forgotten? Is there anything else you think should be on my list of the best things to do in Matlock?
Other posts you might like