Helping from Home – Radio Free Matlock Keeping us Together
Welcome to the first instalment of Helping from Home! Where I interview brilliant people doing brilliant things to help others from their home.
There is so much positive stuff happening at the moment amongst the not so positive things. I want to help shine a light on some of these wonderful people and how they are helping from home.
Our first interview is with our good friends Lucie and Ash from Radio Free Matlock. We love these guys and when they said they were going to do a daily lockdown show we got very excited! Its such a brilliant start to the day and they're really bringing the Matlock community together via Radio 📻
I sent Lucie and Ash a few questions to learn more about their show and share some of the positive things they are doing right now for our local Matlock community. It's so great to wake up each day with friends on the radio, with different inspiring, motivating and informative interviews, alongside top tunes! Love them!
Interview with Lucie and Ash from Radio Free Matlock
1. Who are you and HOW are you doing/coping/surviving?
We are Lucie De Lacy and Ashley Bird, Matlock residents and presenters/co-ordinators on Radio Free Matlock – an online radio station based in the 'cultural heart of Derbyshire'… as we call it.
We're doing okay – our work is on hold for a while, but we both normally work from home anyway so it's not a drastic change on that front.
One major shift has been that we decided to launch Radio Free Matlock's 'lockdown schedule' at the start of this (March 23), which has meant we've taken our evening programming to morning hours, and tweaked our shows to be more accessible to daytime listeners.
Weirdly this has ended up being really important for us to keep up a routine. We look after the Daily Jam, which is broadcast every weekday from 9-10am, so prepping and planning every day has helped us get up and moving!
2. Tell us a bit about Radio Free Matlock in 'normal' times – why did you take it over, why do you do it?
Radio Free Matlock started life as a smaller station called Radio Free Smedley Street (RFSS). It used to do brilliant little shows for the community of Smedley Street, and helped to host events too. However, as with all of these things, it's a difficult slog and the amazing original team who set it up felt ready to hand it over to someone else to keep it alive.
We moved to Matlock in 2016 and wanted to get involved with the local community. After a meeting with Amanda Penman, who runs Artsbeat magazine, we were pointed in the direction of RFSS, and we started making shows and getting involved with planning.
Some conversations were had about how few listeners the station had at that time, and as a result we decided to expand the station's remit so it was slightly less niche. With the name changed to Radio Free Matlock, we expanded the station with a brilliant team of volunteers who create a mix of weekly, monthly and occasional shows. We have a core team looking after the technical side of things, marketing and managing each day's schedule. We mainly look after RFM's Mondays.
We've hosted big community events, supported other events in the area, done specialist programming and created an album of independent artists – and now during lockdown, we're providing local, ad-free company for people all around Derbyshire… and the country for that matter!
3. What made you decide to do more during Coronavirus. Tell us more about your daily morning show and how you're helping from home.
The idea was simple: we can broadcast from our homes without the need for a studio, so we can provide friendly, local voices to those who need a pick-me-up during this time, we can help people find a daily routine, and we can provide an hour of respite from the news, while also sharing in the ups and downs of everyone's experiences.
RFM has always been about sharing a love of music, and building a community around this – so during a time when we can't be together physically, this idea of virtual sharing becomes even more important.
We decided right at the start of this that the Daily Jam was never going to be another radio show that regurgitated bad news – there's enough of that at the moment. Instead we have taken the approach of giving everyone a break from the news to start their day.
We play music that isn't strictly 'commercial'. We want people to discover something new! And our conversation, while a bit silly in parts, comes from a drive to create great company and community spirit with everyone who's listening.
We've had an amazing response so far – across the station our unique live listener numbers have quadrupled. From around 400 per month to well over 1,600. Listeners to our catch-up service on the Mixcloud website have also grown hugely, our shows have had over 2,500 plays in the last month!
4. What are the best bits about your new radio show, what are you enjoying?
Lucie: "The best bits for me are definitely the interaction we're having with people online, and the fact we're introducing some of our favourite artists and tracks to a new audience! Radio is a really special communication tool, it feels personal but then also broad enough to bring people in – plus, you can listen in your pants and no-one's going to judge you!"
Ash: "One of the things I've loved is that we've developed a group of regular listeners who all seem to be giving different kinds of music a chance on our show. There's a sense that our listeners are enjoying each others' company on social media too, and when it gets to our break at the weekends, I actually miss them all! I've also loved interviewing so many key people from the Derbyshire scene – musicians, mental health experts, the Highfields School headmaster… we've had great people on the show."
5. You have lots more additional shows on at the mo, tell us more about those.
The lockdown has obviously presented us with an opportunity as the amazing musicians we play now have time on their hands! So we've received shows from the likes of singer-songwriter Katie Spencer, folk musician Joe Danks and electronica artist Many Elephants. Plus, two of the Radio Free Smedley Street founders have made their first show in three years for us, so it's a great nod to the station's past.
Our regular evening presenters have also used the lockdown as an opportunity to broadcast during the daytime or switch up their shows to indulge their other musical tastes. Every weekday from 10am, there's an amazing show packed with listenable tracks.
We've never had so many great shows! We hope the momentum can continue when the lockdown is over.
6. What's next for Radio Free Matlock when life goes 'back to normal'?
We're just in the process of talking this through with the wider team at the moment – so we're not quite sure just yet! It will depend on just how much time people have to commit to RFM once everyone is back at work. What we do know is that over 1,000 new people have just discovered the station and we're excited about what the future holds for us and hope we can continue 'helping from home'.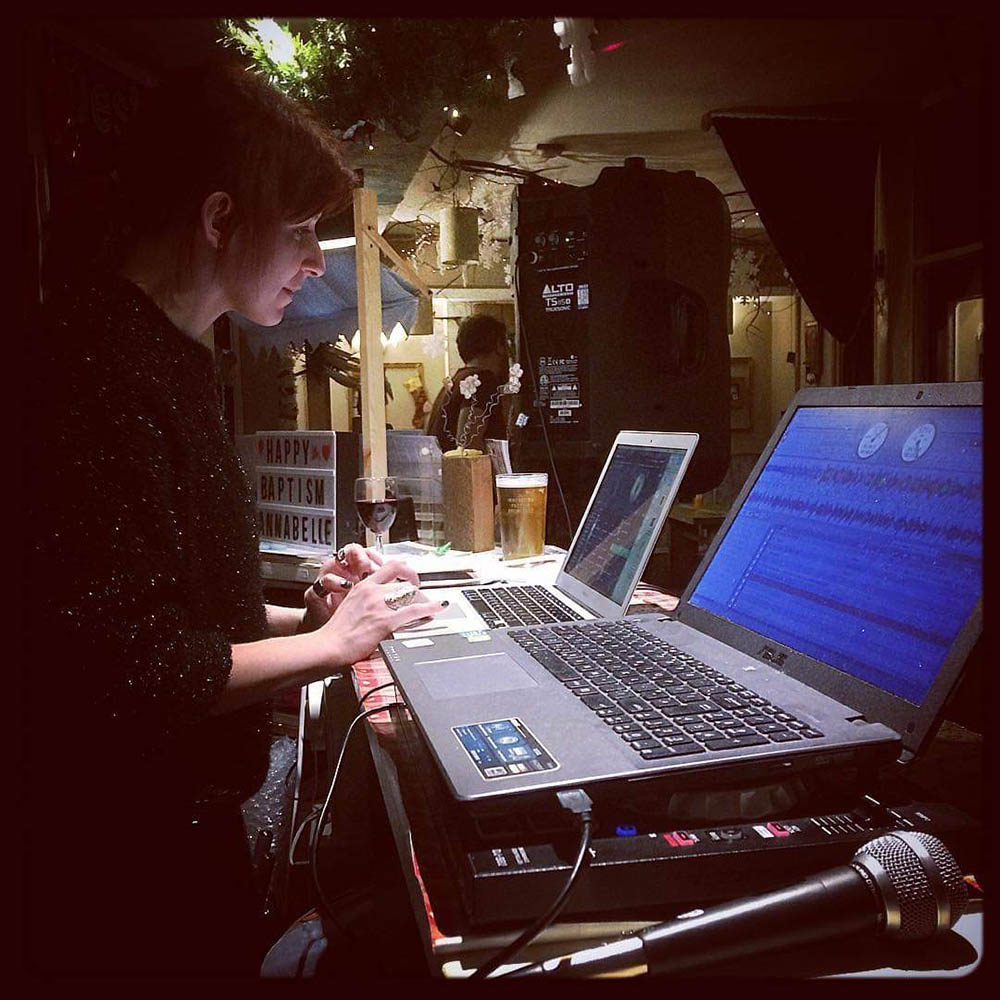 How to listen to Radio Free Matlock
Listen live on the Radio Free Matlock website. You can also listen to shows you've missed on MixCloud on there too
Follow Radio Free Matlock on Twitter or Facebook and join in their daily online chats.
I highly recommend tuning in, there's a variety of shows to suit every music taste! Thanks Lucie and Ash. Rockstars! 😊
If you have a Helping From Home story then get in touch I'd love to share it on my blog. #HelpingFromHome