5 Best Dog Walks in Derbyshire
If you're looking for some of the best dog walks in Derbyshire, here they are. Though we only recently got a dog of our own, we have been walking other people's dogs in these spots for a while.
We are so lucky to live in such a beautiful part of the world. Derbyshire is filled with amazing dog walks wherever you are. A large part of Derbyshire is also in the Peak District, so with a National Park on your doorstep too, you can't really go wrong.
We live in Matlock, so all these dog walks are a short drive away and one a lovely circular walk from Matlock. Most are relatively short walks that take 30 minutes to 2 hours. Though they can be extended to make them much longer and they all have lovely spots for a picnic too.
This post is in partnership with Bite Away.
Bite Away is a chemical free medical device to treat itching, pain and swelling caused by insect bites and stings. It easily fits in your handbag or day pack and instantly relieves itching from any bee stings, midge bites or other insect bites and stings. Something you probably want to keep to hand during the summer months.
5 of the Best Dog Walks in Derbyshire
Monsal Trail Dog Walk
The Monsal Trail is a really popular dog walk, child friendly walk, friends walk… a walk for all!
For a short loop, park near the Monsal Head pub and head down into the valley, past the actual Monsal Trail and further down to the river, before crossing the river and walking alongside it and back up to the trail.
You can easily extend the walk by heading along the Monsal trail which is 8.5 miles in total. You can head towards Bakewell or the opposite way to Chee Dale.
If you do the short circuit make sure you stop at The Packhorse Inn down the road for a pint of local ale or for lunch or dinner. The food is always delicious and they're dog friendly!
This walk takes you down to the River Derwent where there is a small bridge over the river and then a flat area which is perfect for picnics and dips in the river on a hot day! Beware of bugs though, which always congregate on the river. Keep your Bite Away close in case of stings and bites to relieve the pain and itching. I'm sure dogs tend to attract more bugs at times too.
Bite Away works by concentrating heat at 51°C on the affected area which decreases the itching and reduces swelling. It's really light and the battery lasts forever so keep it with you on warm days in case of stings and bites! You can buy in on Amazon Prime for next day delivery.
Chatsworth to Baslow Dog Walk
Walking around Chatsworth grounds is a walk in itself and one of the most famous spots in Derbyshire.
You can walk along the river, looking over at the incredible 15th Century stately home. Chatsworth has a cafe and shop and you can also look around the gardens and inside the house.
We don't often go inside, but walk through the grounds before heading along the river towards the local village of Baslow. The walk isn't far, but when you get there I still think you deserve a G&T at The Devonshire Arms pub. The bar area is dog friendly and they serve food there too.
You can continue your walk through the village and onwards to Curber and Calver or head back to Chatsworth along the same route.
Stanton Moor Dog Walk
Stanton is an old favourite and my local walk growing up. I would walk here with my childhood dog Milly and more recently with Rowland and our little Cookie.
Stanton Moor is again in the Peak District and has gorgeous views over Derbyshire. It is popular at Midsummer due to the 9 ladies stone circle and many illegally camp there.
I don't recommend camping (though if you do remember to Leave No Trace!), but it's great for a dog walk. We went here just last week before visiting my mum's for dinner and did a short loop to the Nine Ladies and back. It's an easy, mainly flat walk that is great in all weathers.
If you're feeling adventurous you can try climbing the cork screw. I recommend heading into the local Village of Birchover afterwards for a drink at The Red Lion.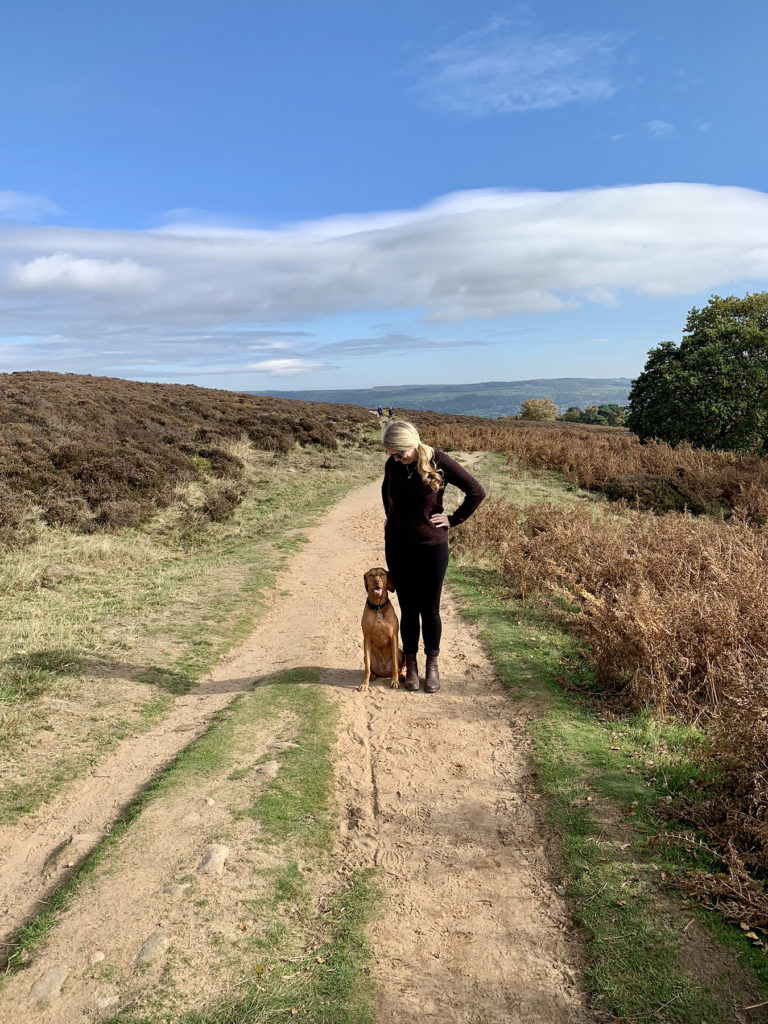 High Tor, Matlock Dog Walk
We do this walk almost every week as it's a great one from home. Head up from Matlock town centre, past Pic Tor and up to High Tor. At the top there are views of Riber Castle and down into Matlock Bath.
There are some steep drops so be careful!
Once at the top you start heading down into the woods where there are various different paths. Left takes you to Starkholmes and then back into Matlock or Right takes you down into Matlock Bath and you can then walk along the road back into town.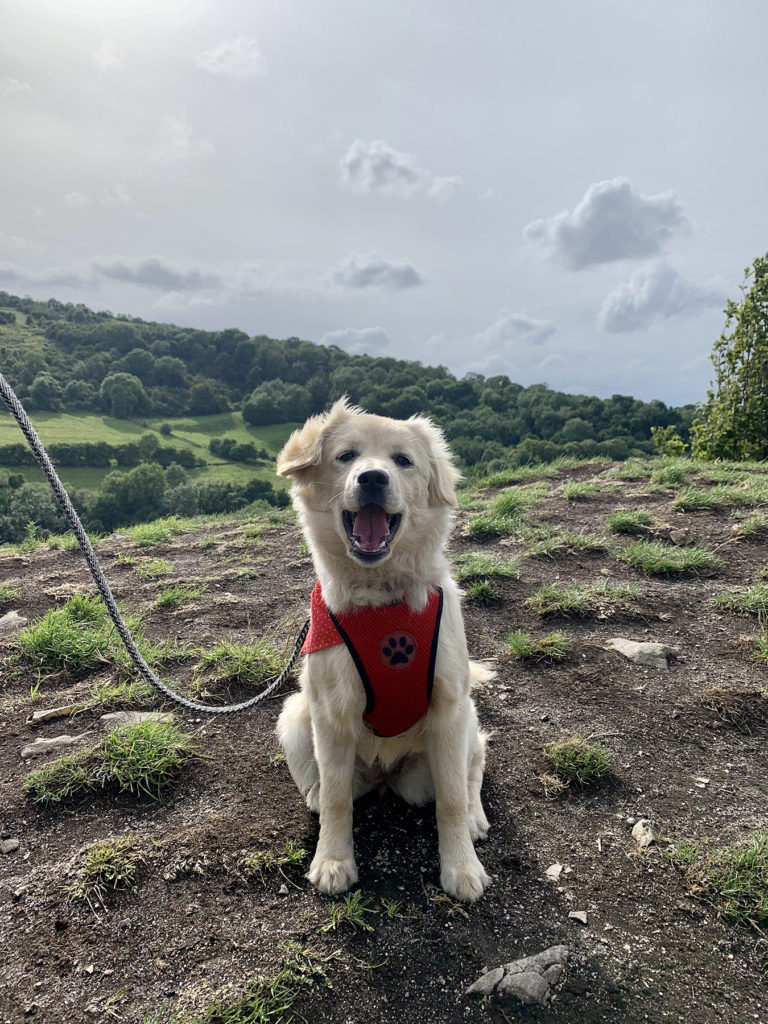 Bottom Moor, Matlock Dog Walk
Love the name of this walk, we've done it loads and I had to look it up to find out what it was called. It made me chuckle… Bottom Moor tehehe!
We drive up to the road by Bottom Moor, though if you wanted to make it a longer walk you could walk up from Matlock. There are a few option from the Ordnance Survey walks.
We often stop here on the way home from somewhere for a quick walk with the pooch before getting home for the night. There are various short circuits you can do from the road, into the wood and back again.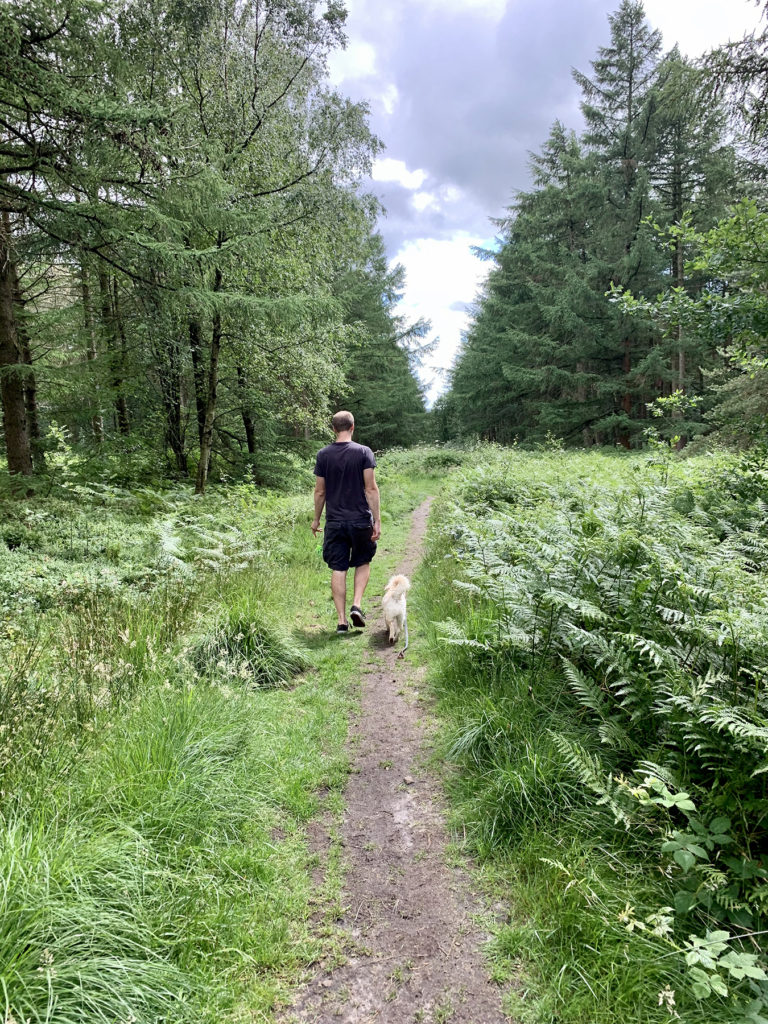 So there you have it my top 5 best walks for dogs in Derbyshire. There are probably about 1000 more great walks, but I thought I would share the ones that we regularly do.
Thank you to Bite Away for sponsoring this post.
Other posts you might like: