A Cosy Stay in the Cotswolds – The Plough, Cold Aston
The Plough in Cold Aston was such a unique and cosy restaurant and hotel in the Cotswolds!
Our luxury weekend in the Cotswolds was our last holiday before lockdown! Finally, as things start to reopen again and we start to think about booking another little UK trip away, I thought it was time to share my experiences.
This was a press stay and dinner and the hotel was gifted in exchange for a review. Everything is of course 100% honest and true of our stay at The Plough at Cold Aston.
We arrived to The Plough at night after driving down on a Friday after work. The village was quiet and dark, but as soon as we walked into the pub we were welcomed by a warm roaring fire and a friendly smile.
The manager was super smiley and friendly and ready to help.
Our room at The Plough, Cold Aston
The rooms are in the same building, but you walk outside and through another door to reach them. They have just 3 en suite rooms, but each are uniquely decorated, stylish and cosy.
They are in the attic, with slanting ceilings, though even with 6ft 3 Olly by my side we managed just fine. Our Super King Sized bed was exceptionally comfy and our bathroom had both a big bath and power shower.
They provided local bathroom products as well as a selection of fancy coffee, tea and biscuits. The wifi wasn't the best, but to be expected in a small village in the middle of nowhere and I had enough 4G to get my Instagram fix!
After settling into our room we headed back downstairs to that cosy fire that was calling our names. Honestly, a log fire on a cold February evening is exactly what you need. That and a large glass of white wine!
The Restaurant and The Plough, Cold Aston
The Plough is one of those pubs that has got the right balance between locals enjoying a drink at the bar and tourists (like us) feeling welcomed for dinner or just a drink. They have a wide selection of local ales alongside gins and wines, so both Olly and myself were spoilt for choice!
There are various different sections in the pub with the bar in the middle. Lots of window seats and of course, that sought after spot by the fire. There are original open walls separating certain seating areas so I imagine it is perfect for the new Covid way of life! We ordered from our cosy seats at the fire before moving to our table for dinner.
The pub is dog friendly as I remember two very cute pooches sat at a nearby table. We might have to return with Cookie one day soon!
The menu all sounded delicious, with fresh fish specials, linguini and steaks, alongside pub favourites like burgers and fish and chips. They use mainly local sourced ingredients and they say they do 'classic pub food exceptionally, as well as interesting premium dishes'. I'd say they have summed it up perfectly and do exactly what they say on their website!
I went for a fancy mushrooms on toast, followed by a fillet of Stonebass and of course… a dessert of sticky toffee pudding!
All the food was delicious and exactly what we needed after a long drive down south. It had been a while since I had a break from work and was honestly the most perfect relaxing evening and a lovely atmosphere. Everyone was really friendly and helpful and I couldn't have asked for more.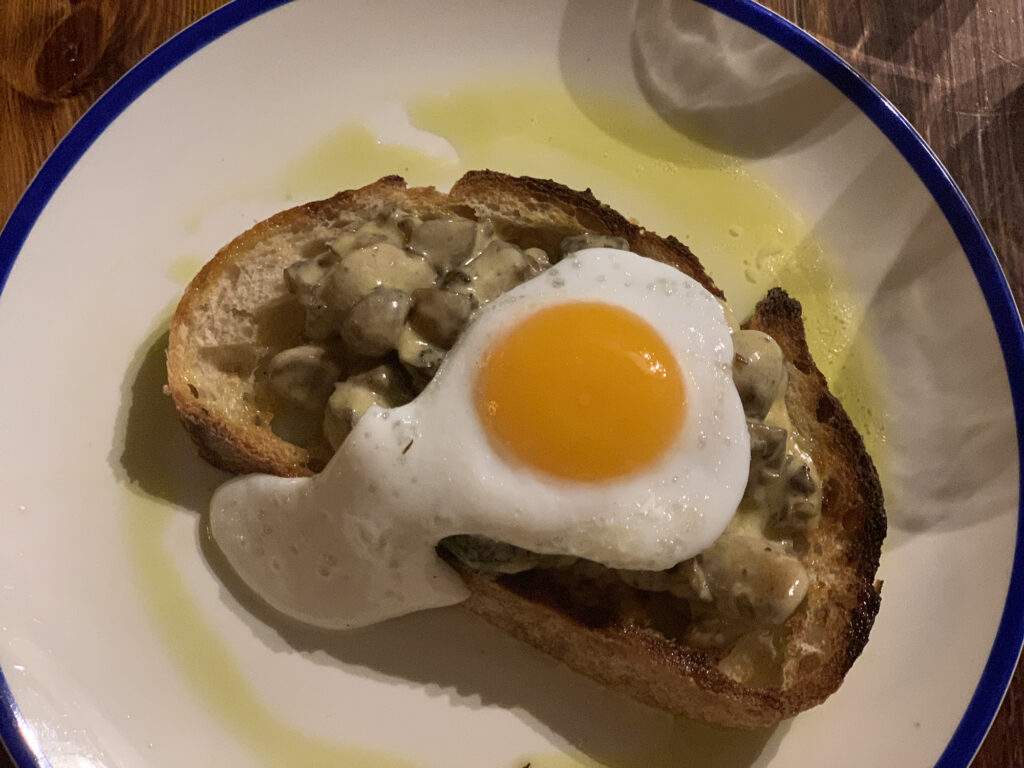 Breakfast at The Plough, Cold Aston
After a blissful night's sleep we headed down for breakfast. The sun had come out and was shining through the full length windows as we ate our tasty full English breakfast.
There was plenty of tea, coffee, juice and pre breakfast, breakfast. You know what I mean, cereal, fruit, toast, etc.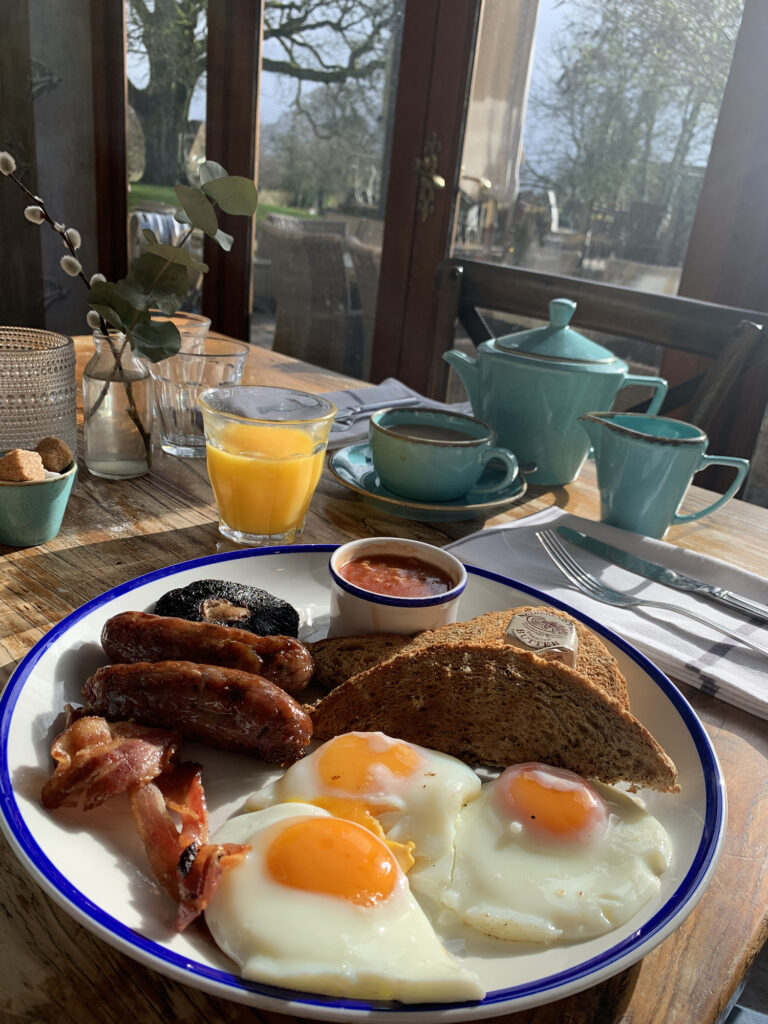 The Plough at Cold Aston was exactly the kind of place I like to stay. A small business, focusing on local delicious food and a perfect cosy and stylish atmosphere.
If you're thinking of heading to the Cotswolds I highly recommend this pub for a night or two away.
Other posts you might like