The Best Spa Hotel in the Cotswolds – Calcot Manor Review
If you're looking for a luxury spa hotel escape from the city, Calcot Manor Hotel and Spa i the Cotswolds is just the place. The best spa hotel I have perhaps ever stayed in, I couldn't fault this place from start to finish.
My friends got married in the Cotswolds at the end of May and we (my friend Swatee and I) decided to treat ourselves to a couple of nights in a fancy hotel while the wedding was on.
I did get a discounted stay on one of the two nights here and a free dinner, but I contacted them, chose to stay here and every word is the truth.
Seriously this place was the best spa hotel ever!
I get nervous to tell you somewhere was the absolute best, as going with high expectations often means you are more likely to be disappointed. Well, I feel so confident about this hotel, I just don't think you will. You will LOVE it!
The bedrooms at Calcot Manor
Swatee and I arrived at Calcot Manor just in time for a quick change before the wedding and were instantly excited by our adorable room complete with plush beds, sofa, magazines and books, huge bath and separate shower in a gorgeous bathroom and all the trimmings you might want in a luxury room. … quality coffee, snacks, big bathrobes, etc.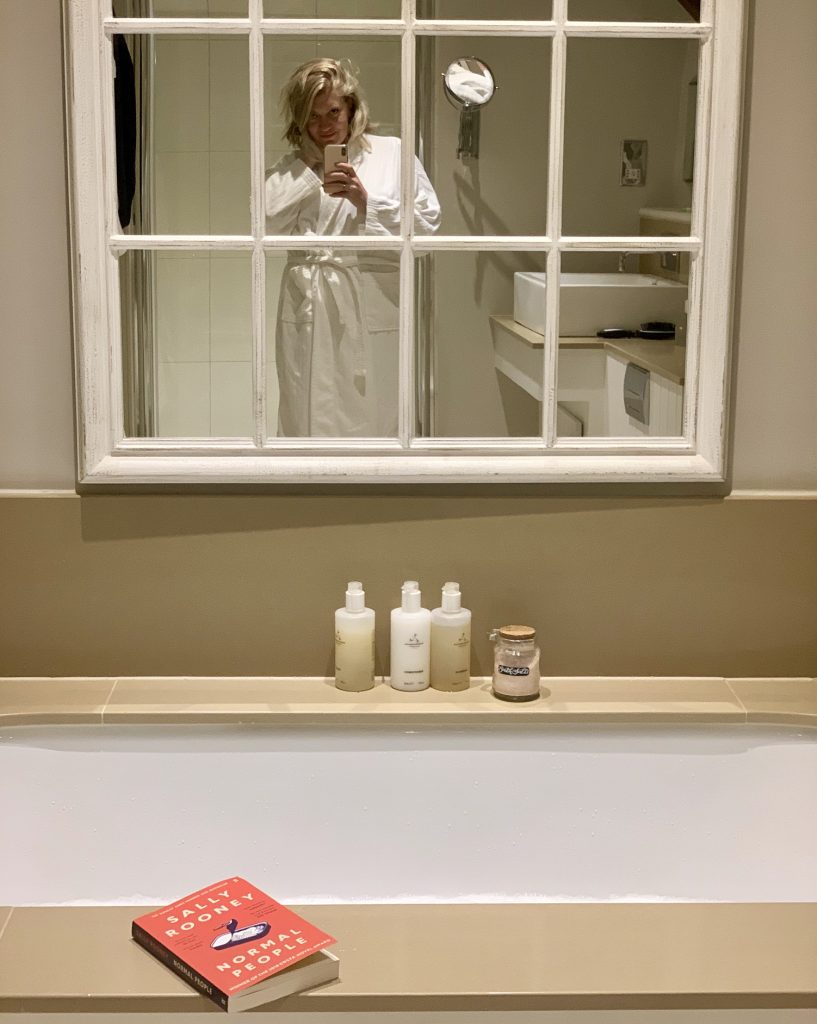 Each of the rooms at Calcot are individually designed with their own unique character, like original beams from converted barns, bespoke furniture or small alcoves filled with little treasures.
Our room also had two umbrellas outside our door in case of rain, and the hotel entrance even had numerous pairs of wellies in different sizes you could borrow for a walk around the fields.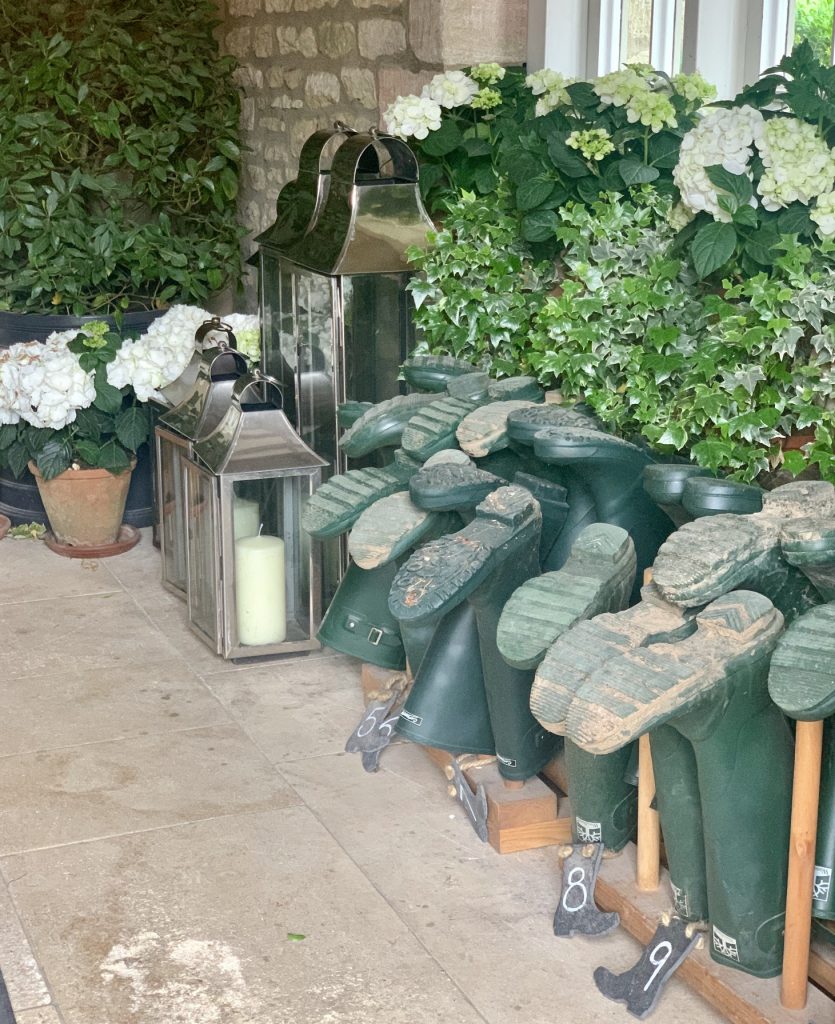 The Restaurants at Calcot Manor
There are two restaurants at Calcot and both are delicious. The first morning (after the wedding) we woke up too late for breakfast, but they let us run in and eat a few things from the buffet and brought fresh tea and coffee to liven us up after too many Proseccos the day before.
We ate in the Conservatory Restaurant for dinner, enjoying a delicious Ox Tail Ravioli and Smoked Haddock Risotto to start. Followed by Carver duck and Cornish Cod chowder for main. Dessert was all things chocolate.
The staff were lovely and food was delicious, served in the light and airy conservatory (also where breakfast is served).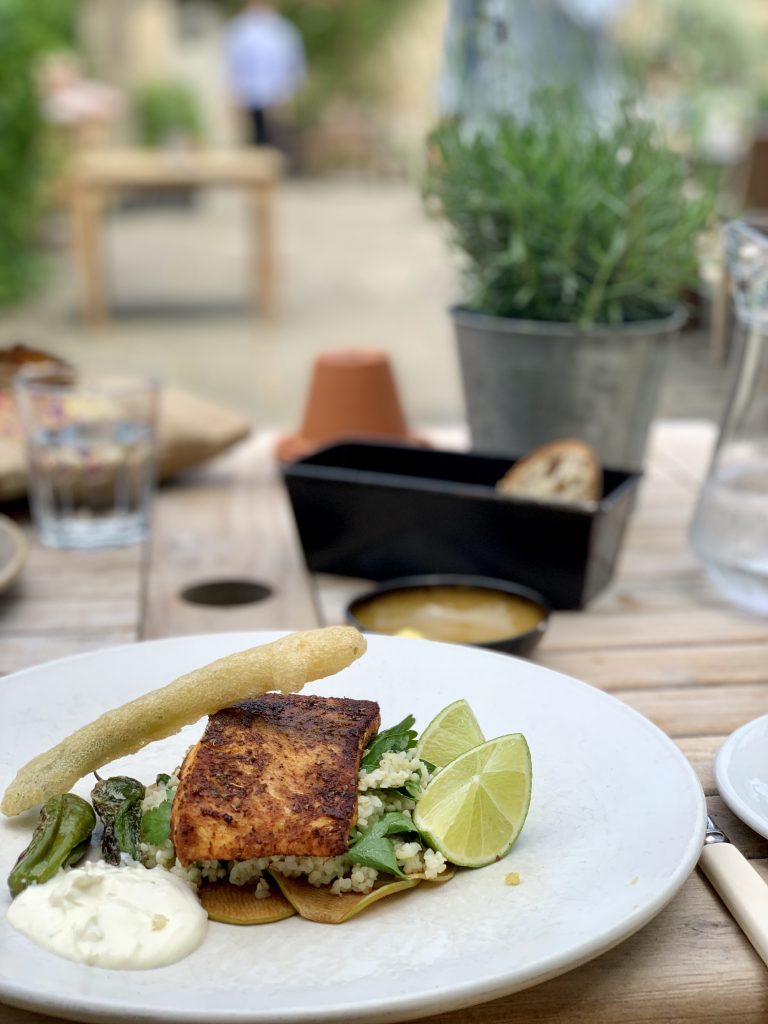 The second day we had lunch at The Gumstool Inn, their onsite country pub. Though a little cheaper the food is equally tasty and the wide choice means there is something for everyone. They are great with allergies too, my friend is gluten free and they always had gluten free bread and options for gluten free versions of most meals.
The Spa at Calcot
I've been dreaming of a lovely spa day for so long and having stayed at a couple of other spa hotels that just didn't hit the mark I was pleased to say that Calcot certainly did.
We managed to book in for a couple of last minute massages at the spa, followed by an afternoon relaxing in their outdoor jacuzzi and indoor pool and relaxation room.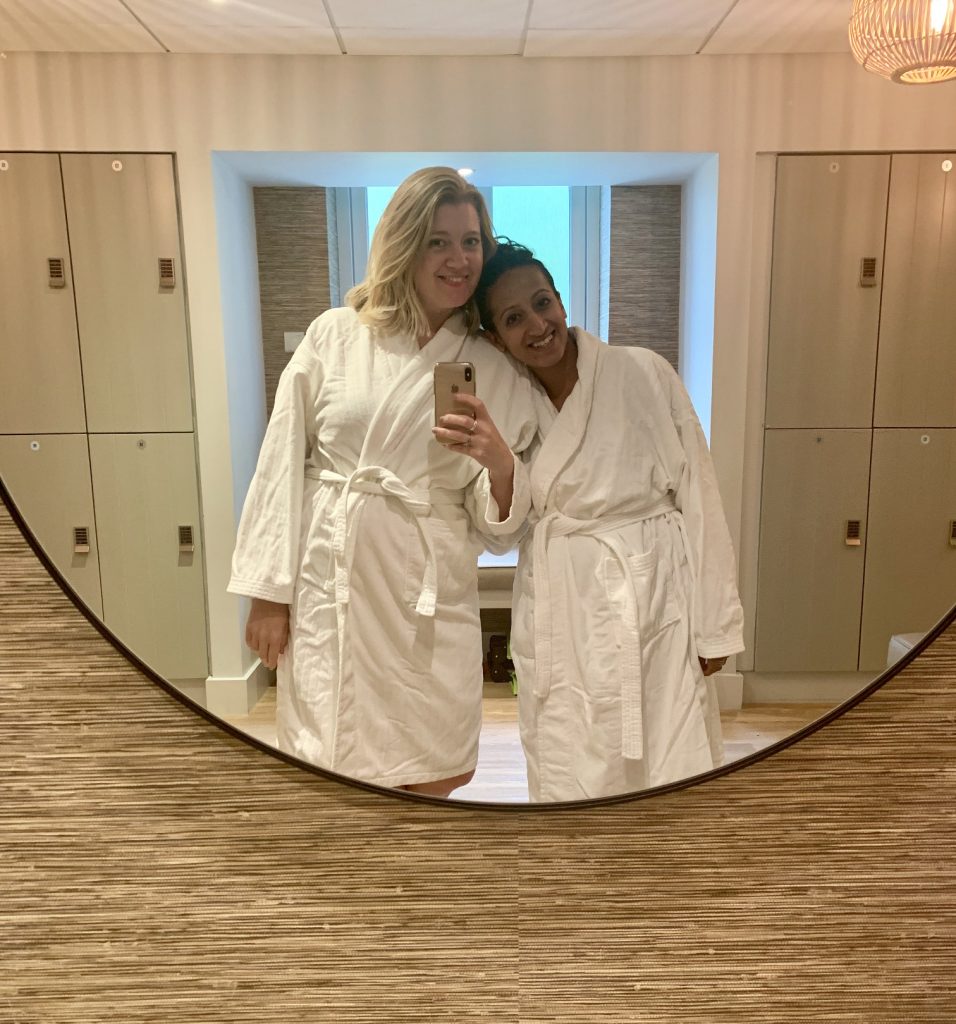 We were greeted with fluffy robes and flipflops and with changing rooms filled with deodorant, straighteners and hair dryers they provide everything you might need.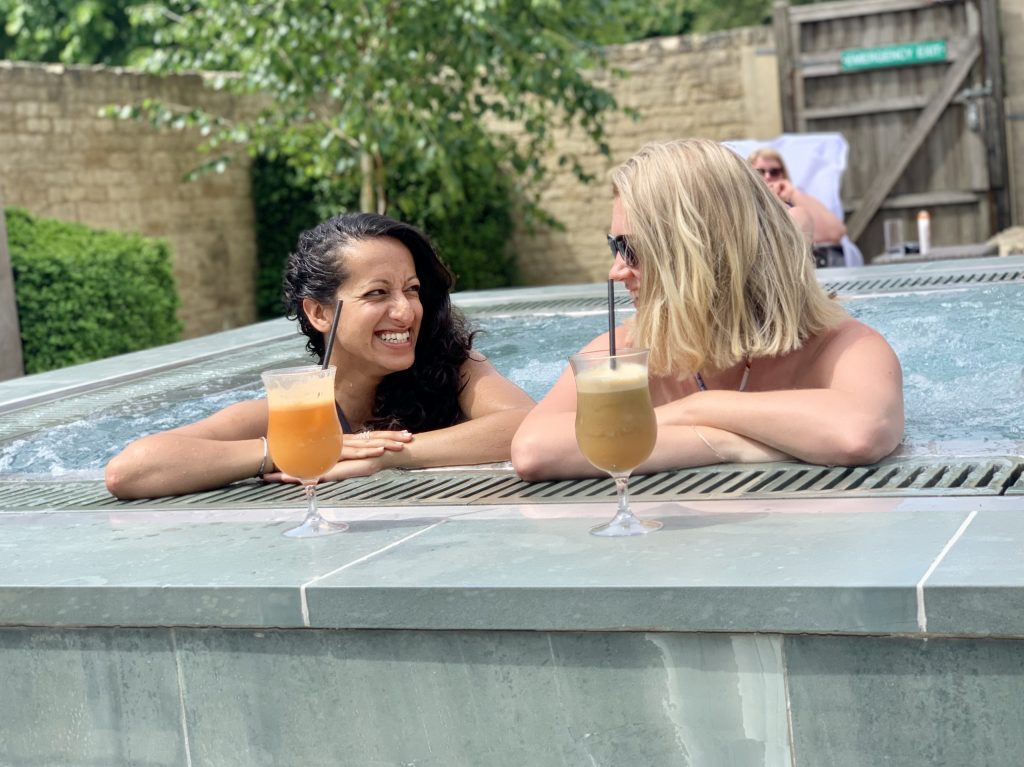 The outdoor jacuzzi is blissful and we were blessed with perfect weather too. I can imagine it still being very special in the winter keeping warm in the jacuzzi or sitting by the outside open fire with a hot chocolate.
You could easily spend a day at the spa for complete relaxation, they have a bar and a few healthy treats on the menu too. We loved it there so much we went back again before we left the second day.
The whole hotel is surprisingly child/family friendly, and though I am not always the biggest fan of children being around when I'm relaxing I really didn't find them a problem at all. They have certain times of day when children are allowed in the indoor pool and they have a separate outdoor pool and play area they can spend all day in.
Activities at Calcot Manor
Alongside the spa and indoor and outdoor pools there are a number of other things to keep you busy. Each of their living room spaces have piles of beautiful books for you to enjoy, there are board games dotted around and as mentioned an outdoor play area for kids.
They also have some beautiful short (or longer) walks around the estate and bikes you can borrow. Maps are available with directions for different walks and there are some outdoor games you can play on the way around.
Calcot Manor also run a series of events including talks, cinema nights and gin workshops. They have fun activities for kids on most days too.
I honestly felt like this hotel had thought of everything! If I had to find something that could be improved it's the wifi. It wasn't the fastest when I was there, but that only helped me switch off and not work! They do have a business area though and I am sure that has faster wifi.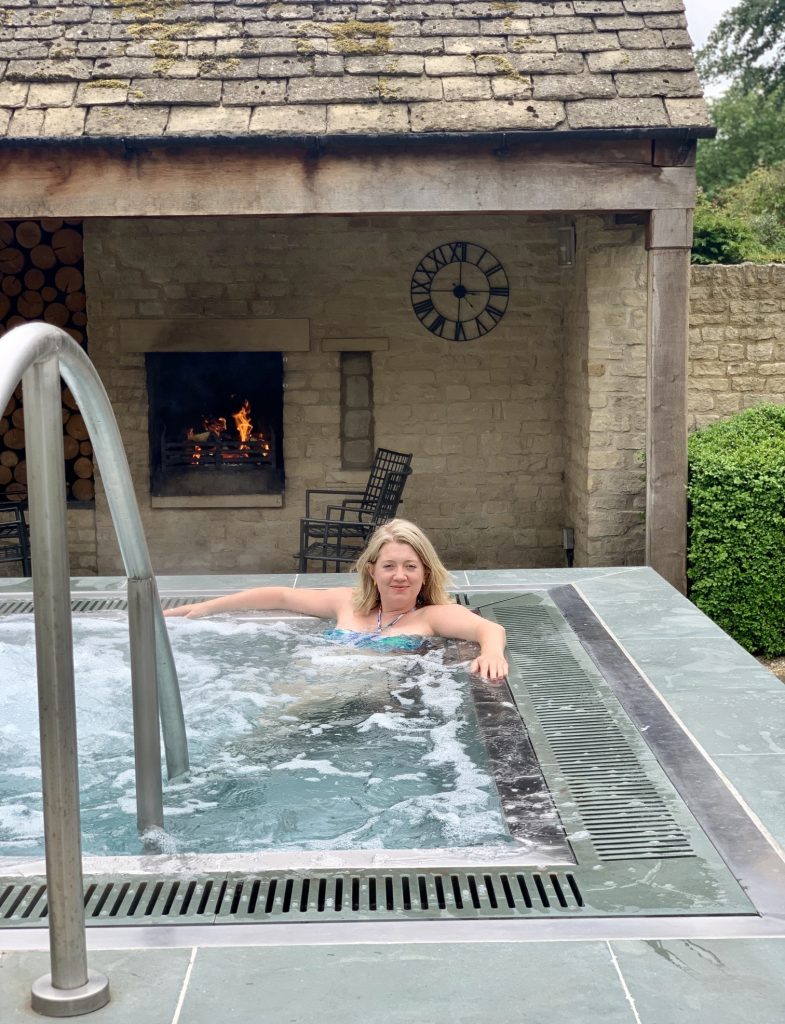 So do I recommend Calcot Manor and Spa?… YES YES YES! It might not be the cheapest hotel, but oh boy it's worth it. If you're thinking of heading to the Cotswolds, Go book your stay, switch off and enjoy complete luxury for a couple of days at Calcot Manor!