Breakfast at Tiffany's at the Blue Box Cafe – Is it worth it?
When my friend Charlotte told me you can now have Breakfast at Tiffany's I jumped at the chance, 'and I said, what about, Breakfast at Tiffany's?!'
Who doesn't want to let out their inner Holly Golightly and live the high life with Breakfast at Tiffany's??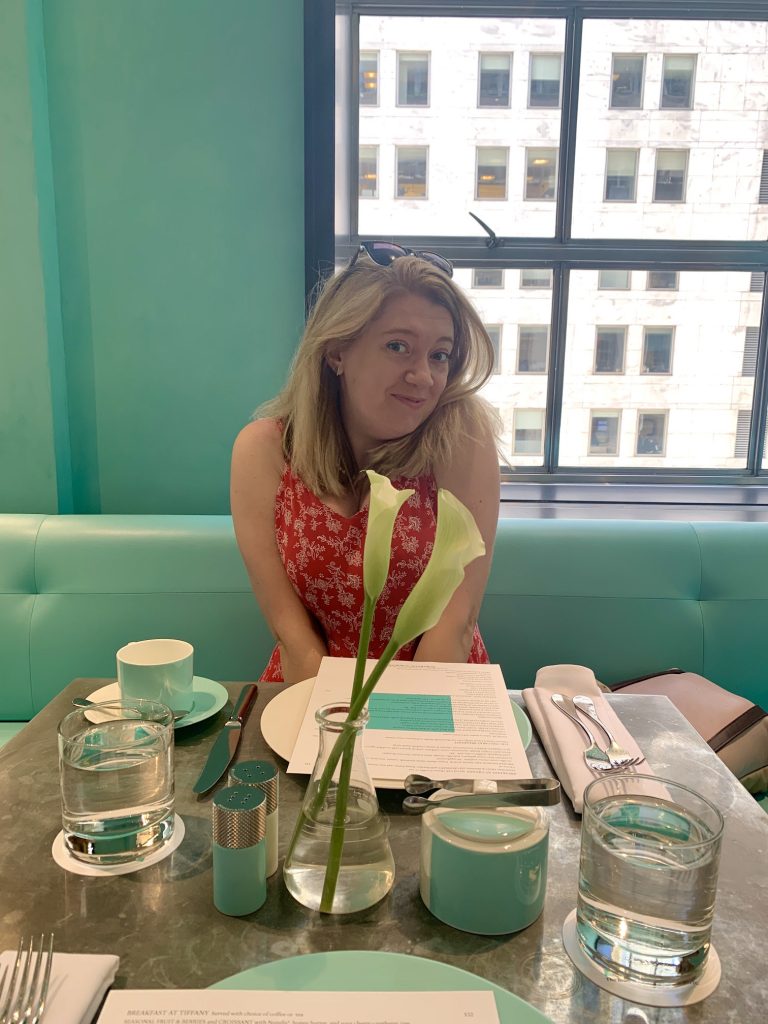 The Blue Box Cafe in Tiffany's opened in November 2017, how it took them this long to think up such a genius, money making idea I do not know?! Perhaps there's less profit in coddled eggs compared to 5 carat diamonds?
You can book Breakfast at Tiffany's in their Blue Box Cafe up to one month in advance. Spaces fill up fast and we were on the wait list until the day before when a last minute spot opened up.
And so on our first morning in New York City I donned my pearls and we headed to Tiffany's flagship jewellery store for breakfast.
We arrived on time and were quickly seated in the turquoise (or is it blue?) cafe, filled with blue (turquoise!) crockery, walls, chairs and pepper pots. I felt a mix of incredibly sophisticated and horrendously touristy. It felt good!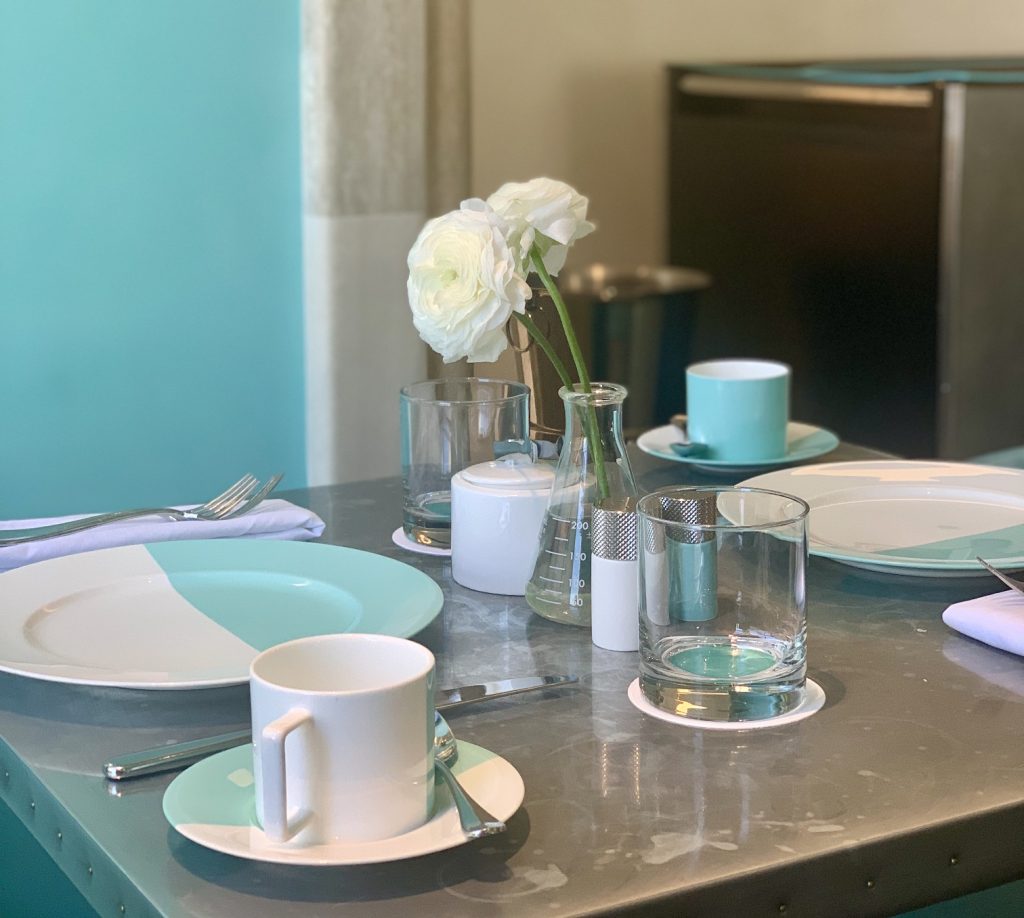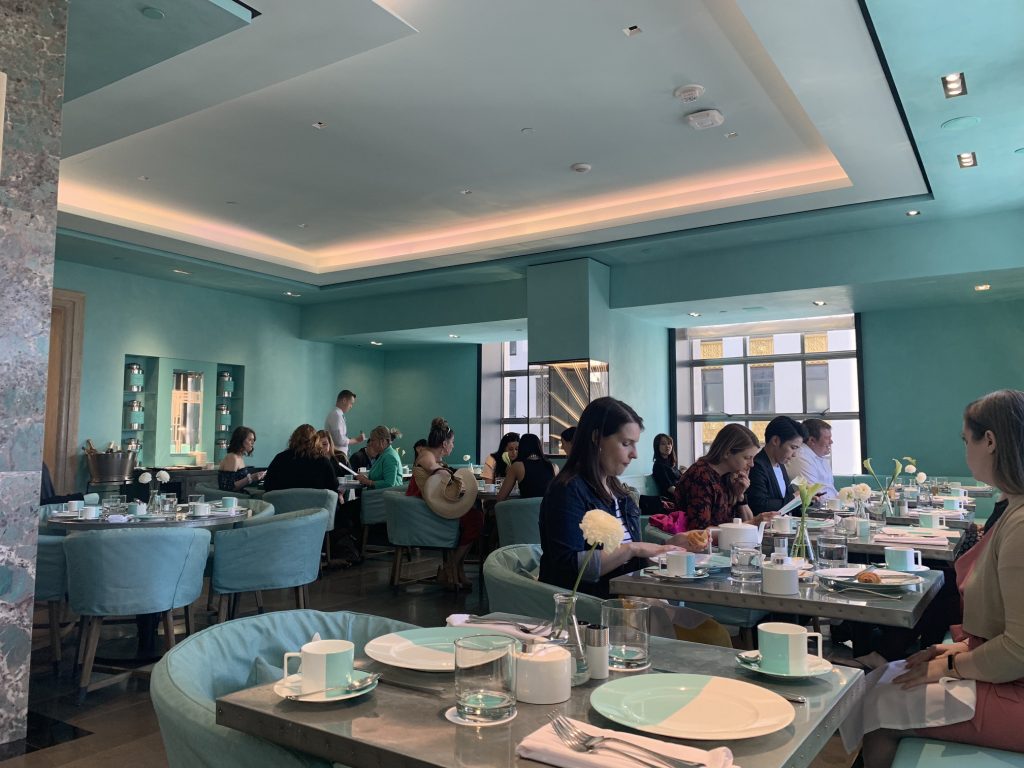 You can choose between the breakfast, lunch or afternoon tea menu. Obviously we chose the breakfast menu.
It starts with tea (or coffee), mini croissants, a small bowl of fruit and various spreads, followed by a choice of three brunch options. I had the avocado on toast with a coddled egg. Not really knowing what a coddled egg was, I wasn't overly impressed. My toast was cold and chewy, the egg weird and slimy. Charlotte's salmon bagel looked more like a crostini, but seemed to go down well. My croissant was tasty… if not a little small!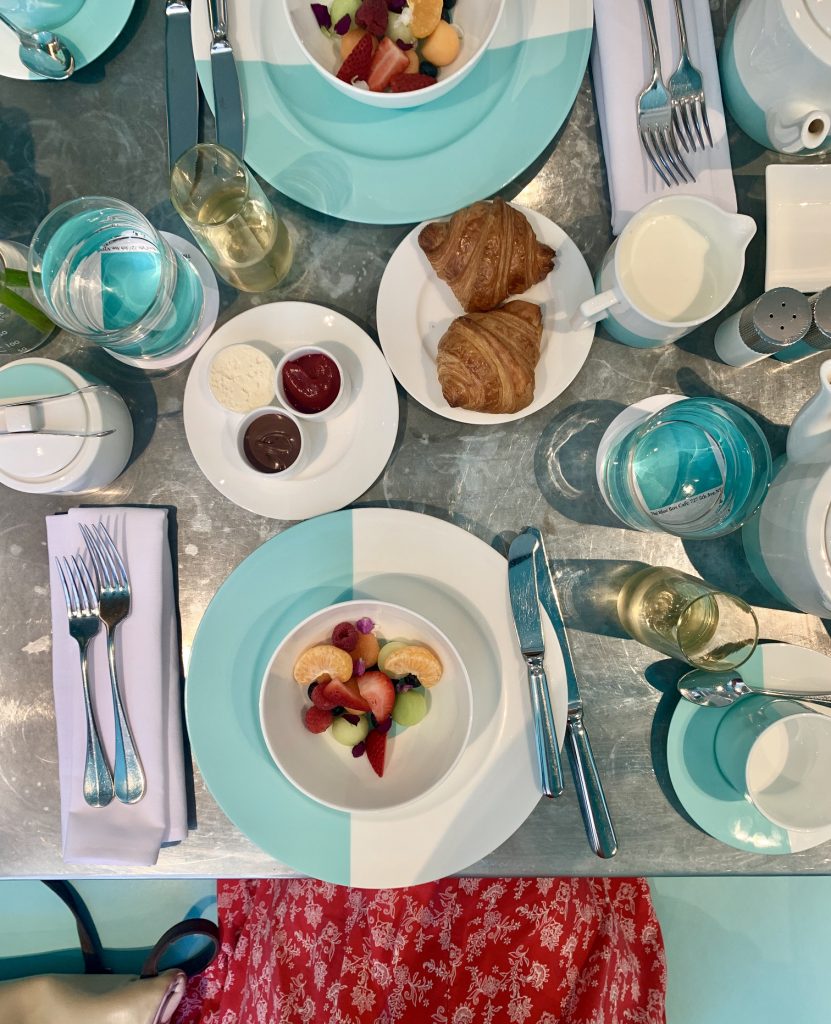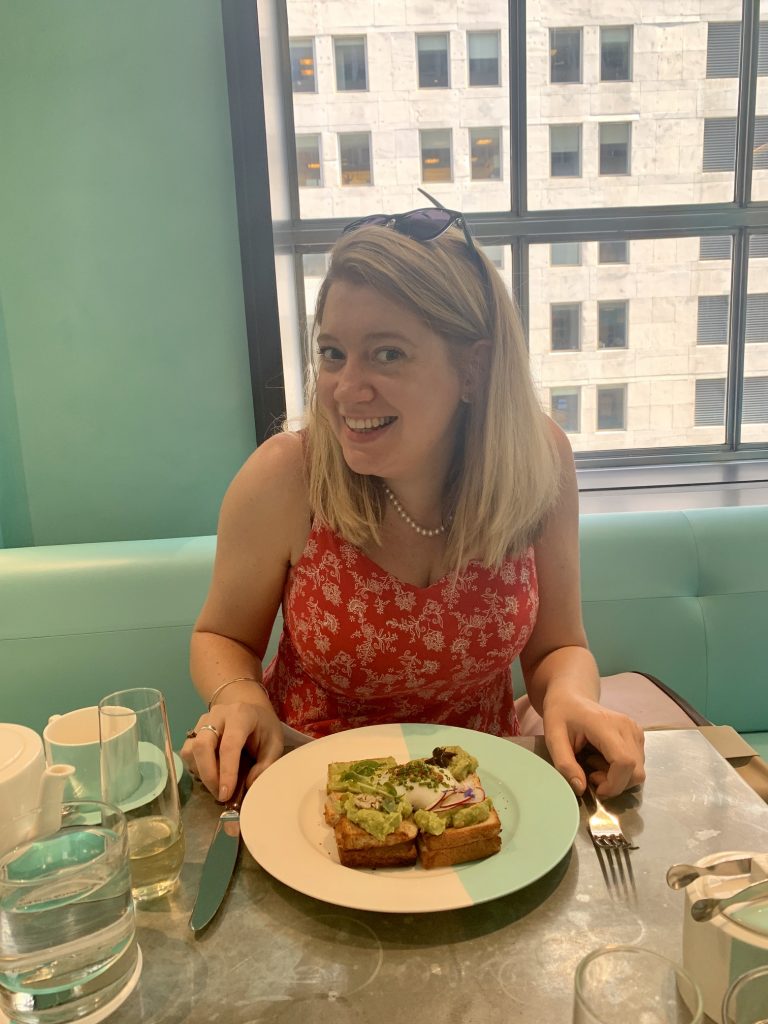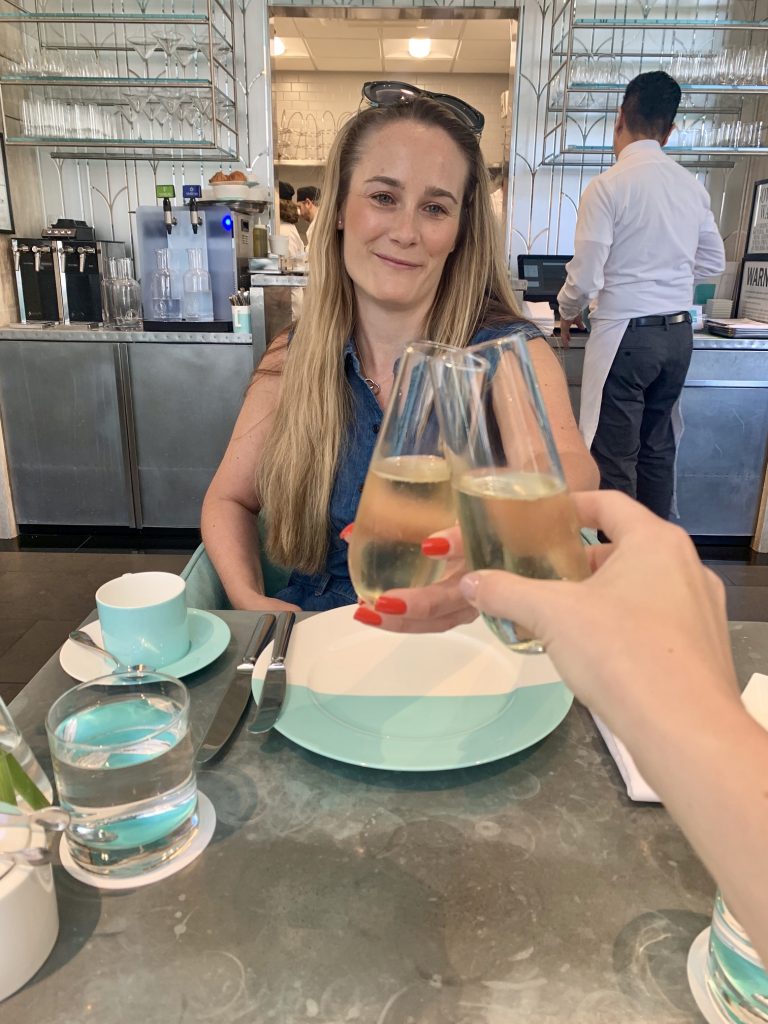 I had to send my tea back… because I'm English! … and it was both weak and lukewarm. They brought another pot, double bagged and with actual boiling water. I started a trend and the English couple sat next to us sent their tea back too. I heard the chef (is he a chef if he makes the tea?!) complain and smiled sweetly at him from my chair.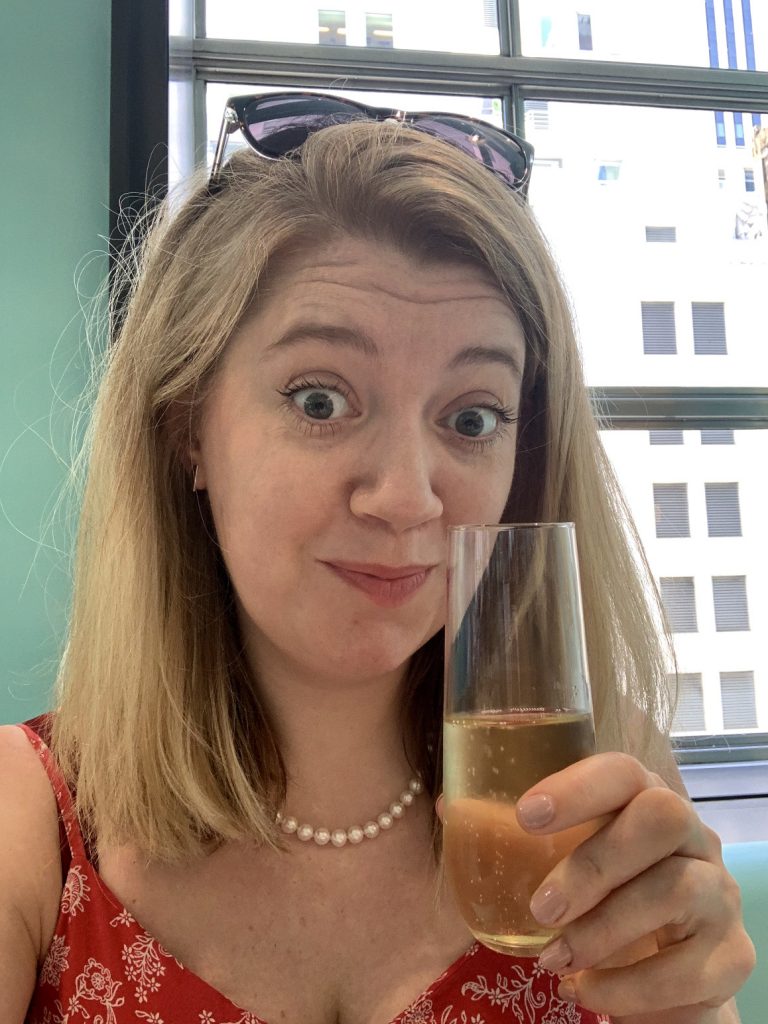 After breakfast we had a wander around the 'affordable' floor, I got close to treating myself to a $200 pair of earrings but stopped myself just in time… Charlotte 'wasn't' so lucky, but she did get a turquoise (blue) bag to carry around her treasures in so it was worth it! (and some pretty jewellery inside!)
Before we left, having drunk copious amounts of mediocre tea, I nipped to the loo, expecting them to be faaabbbullloouus, only to find they were pretty mediocre too. I guess they didn't have many people in need of a toilet before they opened the cafe. Clean yes, but I was expected diamond encrusted taps and a chez long!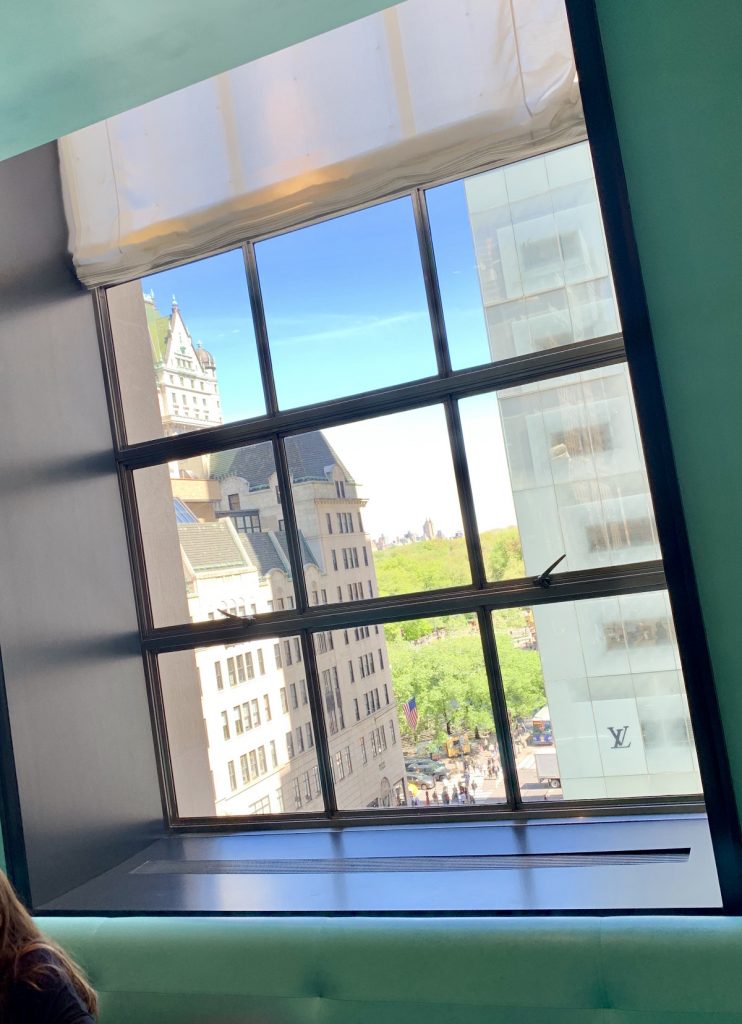 Would I recommend it? Absolutely YES! Purely for the ability to say 'I'm having Breakfast at Tiffany's' and in all honesty the $32 price tag I thought was quite good for the experience. Let's be honest you don't really go for the food!