Rome on a Budget – Itinerary for a day in Rome for under €30
If you're thinking of visiting Rome, and you're on a budget then check out Jose's itinerary for a day in Rome for under €30!
Rome has firmly secured itself a spot on my top 10 favourite places to visit in Europe.
Amongst the obvious plus points – stunning architecture, rich history and unbelievable food – there is another big benefit, which is ideal for the Gen Z who has just started renting their own home. It's surprisingly cheap to spend a day there.
I visited for a city break recently (which, after COVID meant that I hadn't been abroad for over 2 years, was surreal to say the least!). And at one point during the trip, I was amazed to see that it was halfway through the day, and we'd only spent about €5. Bearing in mind, that wasn't at all planned. It was just a lovely, happy accident.
So, that got me thinking, what would an itinerary for a day in Rome on a budget look like? If we were challenged to keep the pennies (or cents, in this case) down, could we still enjoy a busy day of touristing?
I set myself a budget of €30, while trying to keep the day as fun and fast-paced as possible.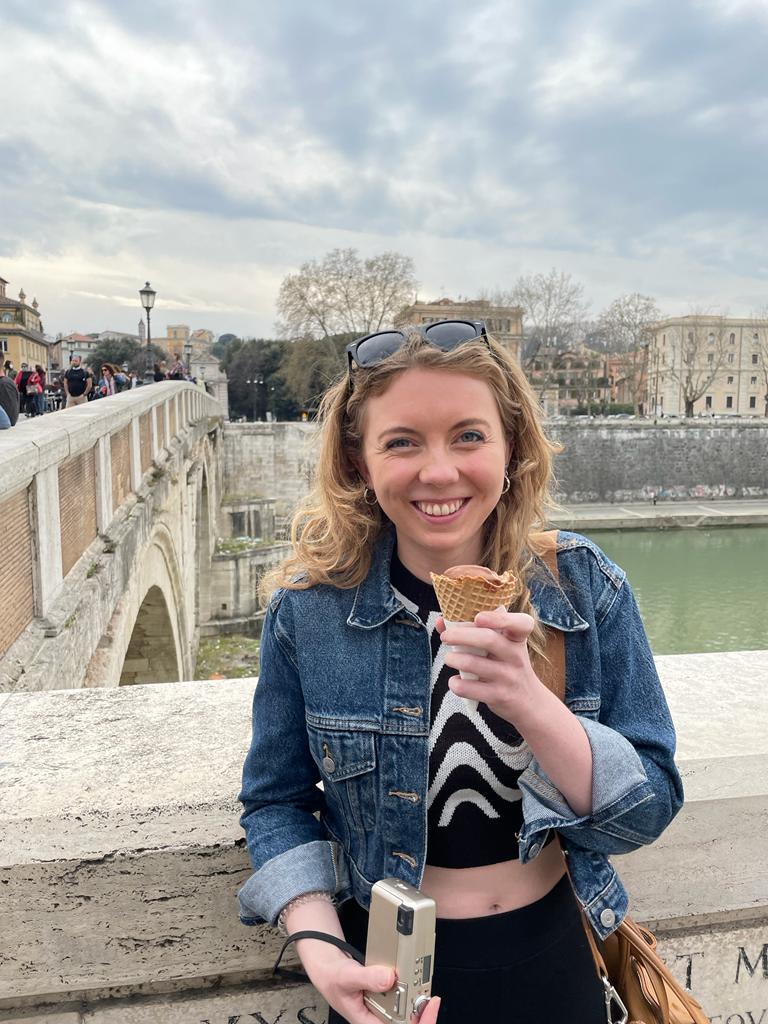 In this blog, I've shared my itinerary for a day in Rome. This is my full breakdown of this jam-packed day in sunny Roma, all for just €30. Keep reading to see whether or not I met my target budget!
Itinerary for a day in Rome for under €30
Morning itinerary for a day in Rome
Budget breakfast ideas in Rome:
At the risk of sounding like an old woman, I really enjoy visiting other countries' supermarkets.
I just think there's something so fascinating about seeing what's on the shelves, which products are the same and which are completely different. I also like seeing the differences in different countries' approaches to fresh food.
In Italy, the fresh food sections are really pretty spectacular (you'd expect nothing less from a country that's so famed for its food).
You can pick up fresh seafood, ham cut to order by a butcher, a wide range of cheese and (my personal favourite) your choice from a huge variety of freshly baked treats.
At the bakery counter, most larger Italian supermarkets offer savoury bakes and pizza slices, sweet croissants and breakfast pastries, and a selection of superb patisserie classics. All of these for a very reasonable price.
So, to start the day, we stopped off at our hotel's local supermarket, and picked up a couple of items from the bakery. These averaged out at about €1 each (so €2 per person).
Breakfast total: Approx €2
Our free morning in Rome:
Once we'd secured our snacks, we walked over to Rome's famous Colosseum.
On another day, we paid to go inside the Colosseum and take a tour.
But, while you do have to pay to go inside, you can still see the majority of the exterior for free. This a great option if you're not a big history buff, or are trying to keep your budget down.
Simply follow the directions to the Colosseum, and you'll see the giant structure emerging on the horizon. You can find a number of beautiful, strategic viewpoints, where you can see the Colosseum in all its glory. You can even descend right down to the base of the Colosseum and walk around the area between this and the Roman Forum without any ticket required.
Once you've seen the Colosseum, follow the main road towards the Roman Forum, and you can enjoy a series of impressive views extending across the famous historic site. What's remarkable about Rome is the way that its architecture all blends into one. Ancient and new sit alongside each other, so that the rich history still feels like it's a part of the thriving modern city.
On a sunny day, this is a wonderful way to explore Rome's history.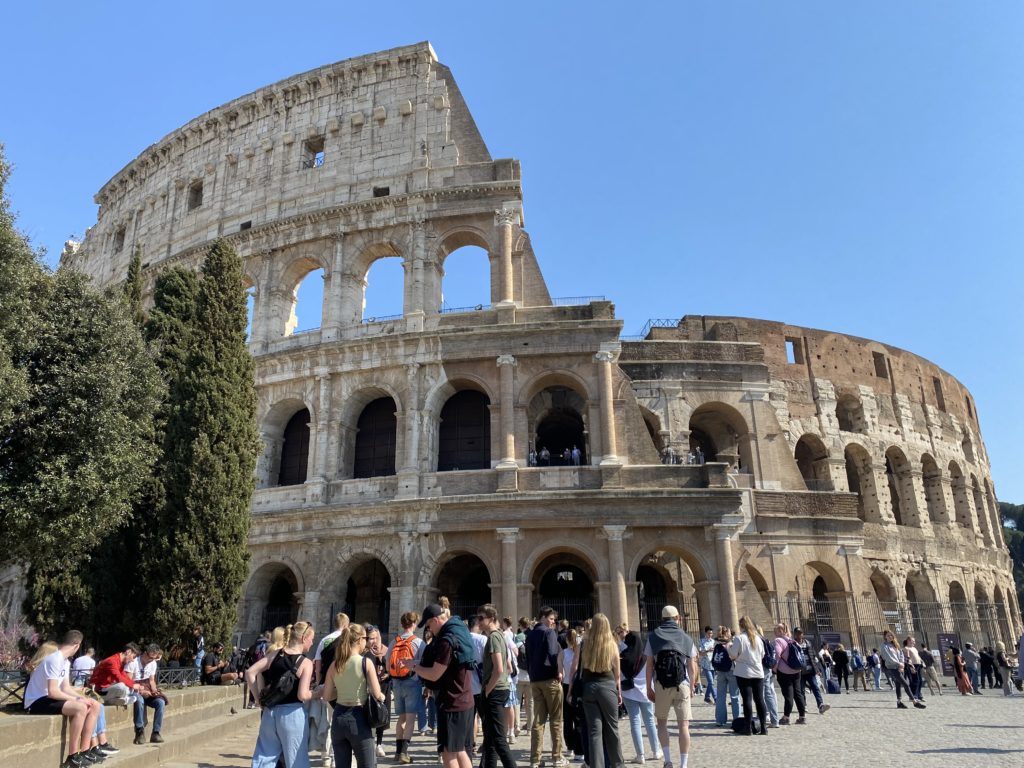 Morning total: Free!
Our favourite ice cream in Rome:
Of course, we couldn't spend a day in Rome without an ice cream!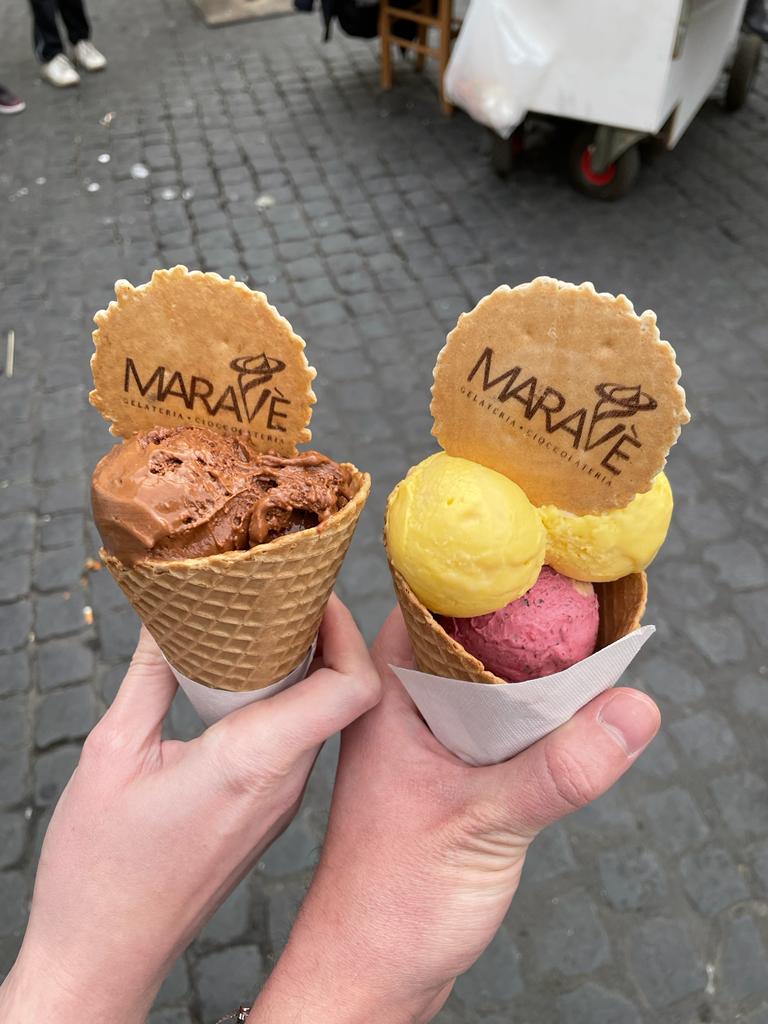 For the morning's snack, we went to one of Rome's many, many gelaterias.
There's a huge amount to choose from, but we highly recommend MARAVE (address: Piazza Campo de' Fiori, 51, 00186 Roma RM). This was a particularly delicious gelato, which tasted authentic and of a very high quality.
Then, once you've chosen your ice cream, walk over to the Trevi Fountain.
The Trevi is one of the most famous fountains in the entire world and, when you're staring at that mass of white intricate marble, it's easy to see why. It is an absolutely magnificent structure, always surrounded by a thrum of excited tourists.
Relax, listen to the water, and savour your gelato. Then, once you're done, follow the old tradition and throw a 5 cent coin into the fountain. Remember, you have to do this standing backwards, and throwing the coin over your shoulder (and make your wish as you do so, of course).
Snack total: Approx €4.05
Our cheap lunch in Rome:
Rome's streets are a testament to the country's immense culinary talent. Everywhere you turn, there's an independent shop selling fresh food.
So, on your search for a cheap lunch, we highly recommend stopping off at an Italian bakery. You'll see rows of thick focaccia, stuffed with traditional Italian fillings (for me, mozzarella and tomato is always the top choice).
Grab your sandwich to go, and then find a seat in the Parco del Colle Oppio. This is a huge public park, situated in between the Trevi Fountain and the Colosseum. Enjoy your lunch lounging on the grass, basking in the Italian sunshine. Bliss.
Lunch total: Approx €6
Our afternoon itinerary for a day in Rome:
If you feel ready to do a bit more exploring, then we'd suggest making the Pantheon the next stop on your list.
This structure has remained almost entirely unchanged for two thousand years. Step inside, and it gives you a true, awe-inspiring sense of who the Romans were, and how advanced they were for that period in time.
And, many people aren't aware that the Pantheon is absolutely free to enter. It's remarkable that this is still free for people to visit. There's a bit of a queue, but it moves quickly – promise!
Afternoon total: Free!
Our espresso stop in Rome:
If you're a coffee fan, then an espresso will certainly be on your Rome bucket list.
Along with gelaterias and pizzerias, Rome is home to a seemingly endless number of cafes – you'll never be far from a coffee!
So, to give our feet a rest, we stopped for a little espresso at a classic Italian cafe. Be prepared though, they're seriously strong!
(Tip: don't try and order an americano instead, turns out this is a name for a VERY boozy cocktail).
Espresso total: Approx €2
Our cheap evening meal in Rome:
At the end of this packed day, we'd certainly earned our dinner.
We'd been recommended this particular restaurant, and it was conveniently located close to our hotel, so we visited the Leon Bistrò (address: Via Messina, 17, 00198 Roma RM).
What we loved about this restaurant was the laid-back bistro vibe. The lighting was soft and the place was always busy with people chatting. The pizzas are served sharing-style, chopped into slices and served on large wooden boards.
And, not forgetting the pizzas themselves – the food was absolutely delicious. The pizza bases were fresh and flavourful, and came with a range of authentic toppings.
It's the perfect place to chat, drink and keep nibbling at food throughout the evening.
Evening total: Approx €15 per person
The day's total: €29.05
We hope you enjoyed our list of cheap activity ideas for a day in Rome!
And this is just a starting point – if you want to keep the cost of your trip lower, you can always swap lunch for another option bought at a supermarket, or swap the ice cream for a McDonald's alternative.
Would you add anything to this itinerary for a day in Rome? If you have any places or stops to add to our list, we'd love to hear them! Share your recommendations with us in the comments below, or on our socials.
Other Posts you might like