Oh Man! A Musandam Fjords Cruise in Oman.
Little did I know I would be visiting Oman on this immense journey across Africa and the Middle East, but visit Oman I did, on an exciting cruise through the Fjords.
I have visited Oman once before, but not been further than the airport on a 6 hour layover on my return home from India. I still don't know if I can count it as 'ticked off' the bucket list but I saw a beautiful part of a new country and am so pleased I got the opportunity to visit.
The tour started at 8am with a pick up and drive to the Oman boarder.
A new stamp, a new adventure.
I was instantly excited by the chatty Americans and British couples on my tour and knew it was going to be a fun day. We drove along the coast the whole way, with beaches and blue ocean to our left and desert mountains to our right. The scenery doesn't change much as you move from UAE to Oman. The part of Oman I visited was a small peninsula that is locked by the UAE and the ocean, separated from the rest of their country.
After an hour long journey, we arrived at the small port town where we boarded our Dhow boat for the day's cruise. The large wooden boat is traditional to the area. You can't believe these boats are still used to bring legal (and illegal) imports to the mainland. If they were good enough once why aren't they good enough now?!
The area of Musandam has 30,000 inhabitants, a small portion of the 3.5 million people across the whole of Oman. A few of those who live in Musandam live in one of five tiny remote villages in the fjords which can only be reached via boat. They don't have to pay for water or power in an attempt by the Government to not lose this part of the country's heritage and history.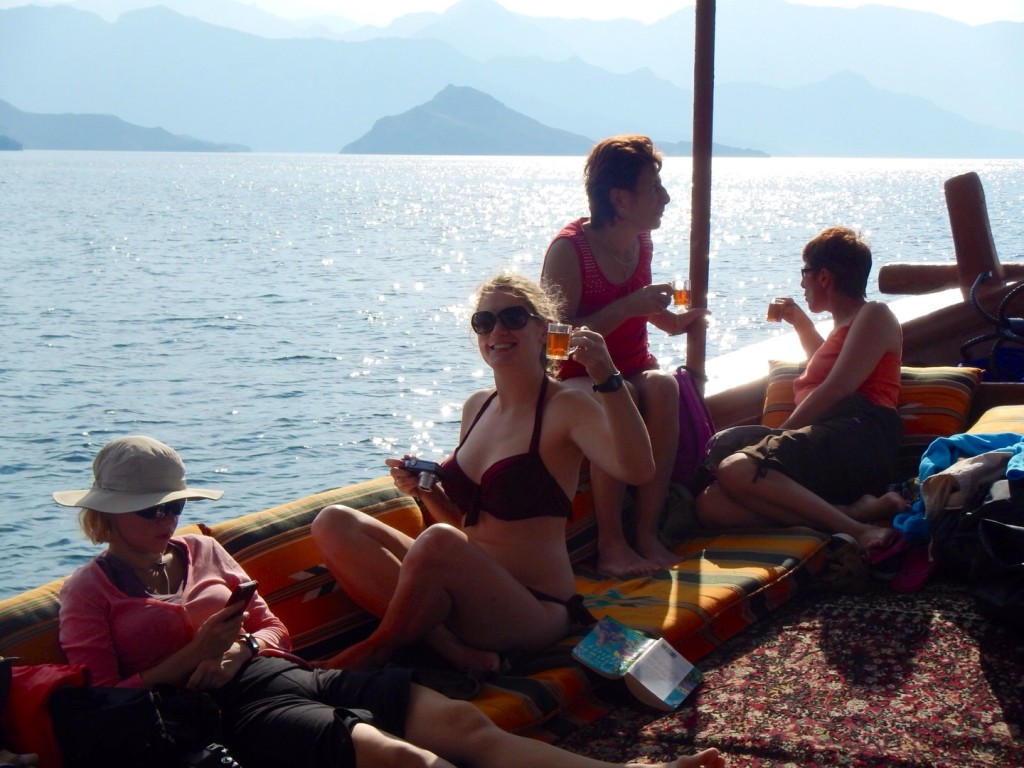 We were sat on cushions on the floor of the boat, water and fresh fruit passed around as soon as we were onboard. We sailed past beautiful landscapes and only a few minutes into our cruise we spotted dolphins.
There is something about dolphins that really excites me and makes me smile. They are easily one of my favourite creatures and like elephants I could watch them all day. I think it is their human tendencies and the way they followed the boat, jumping up and under the water. I was enchanted.
We moved around them for a while before they got bored or tired and moved away, but I was so pleased we were able to be so close, instantly the day was a success!
The day was a relaxing mix of soaking up the sun as we bobbed along the water and two pit stops for snorkelling at Telegraph island and Seebee island. Throwing bananas and chicken into the water meant I was surround by hundreds of colourful hungry fish, an amazing spectacle.
The lunch they served was really tasty, homemade curry, rice, salad and hummus. I had been told to save myself for my meaty dinner back at DoubleTree, but failed massively and went back for seconds.
The staff on the boat were really friendly, very helpful throughout the day and offering us cheap frankincense and saffron, brought over illegally from Iran (yup they told us that, that's why it was so cheap) only 65km away.
On the route home we stopped off back in the UAE for some local street food. A mixture of dishes from rice, pasta, porridge like chicken dish and the best tasting sweet dough balls smothered in honey and date sauce. Mm Mm I could have eaten those all day.
Thank you to everyone at Khasab Travel and Tours and our driver Muhammad for a beautiful day. One of my highlights of my #DTour for sure, not sure if it was the dolphins or chicken eating fish that made it, but I recommend this tour for anyone visiting UAE… or Oman!
Oh Man, Oman is awesome!
*sorry that joke will never get old* 😉
My #DTour is sponsored by Double Tree by Hilton. Though I have been asked to write blogs about my trip it is 100% my decision what I write about and I will be writing my personal opinions on the hotels, excursions and restaurants. Promise!