The 8 best places to eat and drink in Falmouth
Jose share's her best places to eat and drink in Falmouth, Cornwall. Jose Walbank is our new guest writer who will be sharing some of her top tips of things to do in and around Falmouth. Jose was at university here for 3 years so is well placed to share some of the best things about this beautiful part of England. 
When you think of Cornwall, the obvious attractions that pop into mind are the seaside, the Eden Project and pasties (naturally).
But, if there's one thing that I've learned from my time studying down there, it's that people go to Falmouth for the sea, and they stay for the restaurants.
Far from the classic beach hits of a Mr Whippy and a chip butty (as good as those things are), Falmouth is home to a rich food and drink culture, with a diverse culinary scene, spanning the globe.
So, if you're looking for Cornwall's best restaurants and cafes, you can stop your search! Whatever your budget, and whether you're feeling a thick burger or a traditional South African dining experience, Fally has got you covered. 
It may not be central London or vibrant Manchester, but boy for a little town, Falmouth will give them a run for their money with some of the best restaurants and eateries around. 
Below, I've shared my ultimate Falmouth eats hit list. To help you find the perfect fit for what you're fancying this evening, I've broken up my picks of the 8 best places to eat and drink in Falmouth into different categories. And there's no need to travel – they're all within walking distance of the town centre!
So, without any further ado, let's get started.
The Best Places to Eat and Drink in Falmouth
The Best Cafes and Cake in Falmouth
If you're just after a quick piece of cake or a hot drink to warm you up after a wild swim in the sea, here are some of the best cafes and cake places in Falmouth.
Gylly Beach Cafe
Any Falmouth regular (whether you're a tourist, local or student) knows that no list of Falmouth must-eats would be complete without Gylly Beach Cafe.
This stunning beach cafe is renowned for its panoramic ocean views. With its glass-fronted patio, diners can enjoy a VIP view of Falmouth's famous coastline.
Plus, if this mesmerising backdrop wasn't enough to tempt you, Gylly's food, drink and entertainment sure will. Don't visit without trying one of their hefty hot chocolates; it's just the thing to warm you up after a sea swim!
Gylly also has a busy entertainment calendar, hosting regular foodie events and live music nights. 
Swanpool Cafe
Naturally, we can't stop at just one of Falmouth beach eats.
It may only be small, but Swanpool Cafe is an essential addition to any classically Cornish Falmouth holiday.
Set on the picture-perfect Swanpool beach, the cafe sits in a renovated beach shack, right on the sands. It serves up hot food and drinks, as well as their fabulous traditional clotted cream ice creams.
These vanilla ice creams come with an indulgent centre of thick clotted cream. And then, they're piled high with toppings of your choice. 
A classic Swanpool ice cream (post-sea swim!)
If you want to spend a day cafe-hopping, you could follow the beach walk from Gyllyngvase to Swanpool, following the coastal path.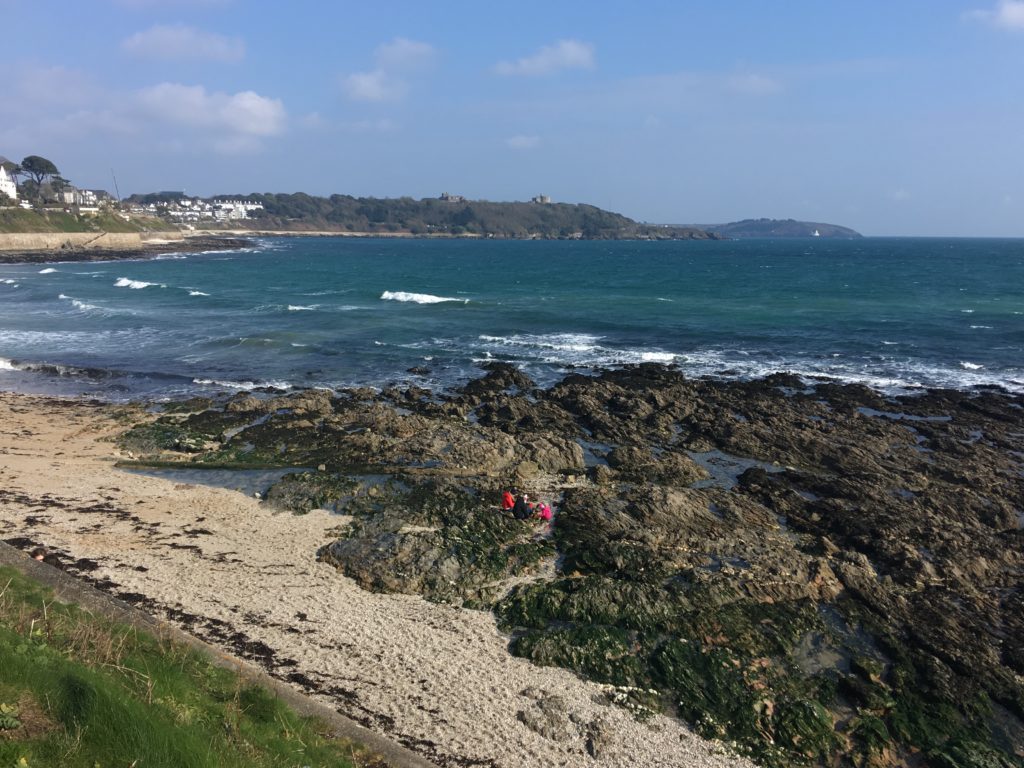 Throughout the walk (about 15 minutes long) you'll see the azure sea at its most majestic. Plus, you can reward yourself with plenty of treats along the way! 
Beacon Coffee
The South West has a rich and exciting speciality coffee scene, and we couldn't write this list without a mention for one of Falmouth's most sought-after coffee stops.
Perched in the heart of Falmouth's sloping old town, Beacon Coffee is renowned for its expertly crafted coffees, and it's chic minimalist interior.
The cafe was founded by Sam and Alex, who have 9 years speciality coffee experience between them. They pride themselves on Beacon's range of premium quality coffee, which has been carefully selected from some of the top producers and roasteries in the world.
The menu board is a simple solution of classic coffees, made with an exceptional attention to detail.
The Best Fine Dining Restaurants in Falmouth
If you're after something a bit fancier on your visit to Falmouth, here are my top fine dining restaurants to try.
The Star & Garter
This charming seaside eatery has tradition and elegance in spades. The Star & Garter is one of Falmouth's most popular high-end restaurants, and it's easy to see why.
The old-timey, sailing-themed interior has all the feel of one of the OG Falmouth pubs. In fact, it's actually a famous old local pub, which Chef Patron Elliot transformed into a highly acclaimed posh-pub dining venue.
In an intriguing combination, this vibe is fused with a modern nose-to-tail approach to sourcing. The Star & Garter spotlights all of the incredible local produce that the Cornish countryside is so revered for.
The restaurant is absolutely decked in awards, receiving praise from all over for its Mediterranean inspiration, the dreamy ocean views, and the skill of Elliot's open-fire cooking techniques.
Amanzi
From France to South Africa, Falmouth definitely isn't short of opportunities to expand your culinary horizons.
When eating out, there's something inherently pleasing about knowing that you've tried something completely new. Call us food snobs, but we think that's half the fun of eating out in the first place.
If you share our ethos, then Amanzi will deliver on all fronts. This striking restaurant immerses diners in an authentic experience of contemporary South African interior design, food and culture.
Amanzi's menu features an intriguing range of fresh and flavourful food, including classic dishes like its Trinchado Bunny-Chow, to clever fusion twists on British restaurant staples like 'Catch of the Day'.
And a quick insider's tip for you – on your visit, don't leave without trying Amanzi's famous fresh, homemade biltong.
Cribbs
What I love about Cribbs is that it gives you the chance to try fresh seafood in Falmouth (at it's finest), but see what a Caribbean twist brings to the dish.
Cribbs is a Caribbean restaurant, serving up rich and hearty classics, in a laid-back setting. It's a delightfully informal venue; the perfect place for a chilled evening with friends.
Owner John originally comes from St Vincent, and created this colourful, exciting restaurant to give Fal a taste of an authentic Caribbean dining experience.
There are options for breakfast, lunch and dinner, with the latter menu featuring dishes like Jamaican ackee & salt fish, pineapple & coconut janga, and herb baked snapper.
Plus, the cocktail menu is just as enticing – the bar is renowned for its excellent run, so you can't go wrong with a Pina Colada or two. 
The Best Restaurants in Falmouth
If you're after something simple or traditional then here are a few more of my favourite places to eat in Falmouth.
The Stable
If your vision of a dream restaurant visit is big portions, a quality pint and a chatty, laid-back vibe, secure your spot at The Stable.
The Stable blends all the fun of a pub, with the food of your favourite, hearty restaurants.
Guests come for a taste of Cornwall's famous ciders, and stay for a thick, steaming hot pie. As you can see, The Stable knows its USP, and does it perfectly – the finest local ciders, and satisfying carby dinners.
The menu is filled with fresh pies and pizzas, with plenty to cater to all dietary requirements. These are served up on chunky wooden tables, with a pint at the ready (or, a full flight of Cornish ciders, if you're keen to do it justice!).
The Meat Counter
Or, if you're not in the mood for an evening of fine dining and dressing up, The Meat Counter is sure to hit the spot. It's proper good grub, which leaves you feeling full and sleepy in the best possible way.
This high street dining spot has a classic chalkboard menu of homemade burgers, piled high with fresh toppings and rich sides.
It's a family run affair, serving up hearty and handmade classics. It's the perfect combination of quality, local produce, and indulgent American-style burgers. And, with everything from The Bad Muthaclucker to the vegan Hail Seitan, you'll feel pretty spoilt for choice.
Be sure to keep an eye out for the weekly special, and the Mates Rates Monday deal (where you and a pal can enjoy two burgers for just £14).
Falmouth tourist attractions certainly don't have to stop at the sea.
From Falmouth restaurants on the water, to some of the most sought-after high end restaurants in Cornwall, you'll never be short of dinner spots to try. But we think our list above really is the cream of the crop and best places to eat and drink in Falmouth.
If you've got any restaurants, cafes, bars or takeaway locations to add to our list, please do let us know in the comments – we'd love to hear your recommendations!
Other Posts you might like