May madness and plans for the summer
Oh hey June, you came around quick. How exactly are we almost half way through the year already. It feels like only last week I was packing away the Christmas decorations and wondering when is a suitable time to start planning my summer holidays.
Answer: always now!
So with the year whizzing by I thought it was about time I did a little catch up. I've been a bit quiet on the blog front for a while, firstly because I've been, well, busy! I know lame excuse. Secondly, because I am in the midst of redesigning my blog, I have a lovely new logo and new plan for the layout and also mixing things up a bit with my categories and what I write about (don't worry there will still be plenty of travel). However, due to reason 1, things are taking a little longer than I had hoped, so rather than ignore you all for any more weeks I thought I would say hello.
Hello 🙂
What I've been up to in May.
So May has been quite a busy month, also known as Media month for me I've had quite a variety of different opportunities come my way.
Random recordings and filming fun
I was interviewed for BBC Five Live as their Digital Advertising expert talking about those crazy Geordie Shore guys who are posting on Twitter encouraging people to sign up to various online betting schemes. I'm not a gambling fan at the best of times but these guys are making money every time someone who signed up via their affiliate link loses(!) on the gambling sites. Utter disgrace! Anyway its clear what side I was on. You can listen to the 5 live interview here if you're interested. (forward to about 1.05)
I was then interviewed about the same topic for BBC Radio Derby and appeared on the news a few times throughout the day. They've also asked me back to be one of their 'loudmouths' reviewing the news live on radio later in June. Loudmouth? Me?! Follow along on Twitter to find out when that will be on.
Later in the month I headed to a digital agencies offices to film a video for my upcoming partnership on volunteering safely with migrants and refugees. The first in a series of 3 posts is going live tomorrow.
Earlier this week my kitchen was turned into a TV studio to be filmed for a new show coming out on Channel 5star about holiday nightmares and delights. It was great fun talking about the best and worst of my travel adventures on camera, though I'm a little nervous at what the final show will look like.
To top off all my recording and filming this week I am recording some voiceovers for a client for their management training videos for students. Oh I do love a varied life.
Travels
Other than going to London and back for my main client EVERY. WEEK. I haven't done much in the way of travel this month. A weekend in Scarborough before dad rents out their flat there and a weekend at my dad's new house in Cumbria. The garden is sooo pretty.
Oh and I almost forgot… there was that 'tiny' trip to New Zealand and Singapore Olly and I did earlier in the year for 3 weeks. THAT was fun! Sooo many blog posts and photos to share with you so look out for more info on everything you need to know about holidaying in New Zealand.
Work
My business continues to boom and things are as busy as ever. Alongside my main contract I've had quite a few small projects I've been working on too, which has meant, well, quite a lot of working! I haven't quite figured out the four hour workweek yet that's for sure.
However I have a tonne of new plans and ideas I am slowly working on. All working towards that golden aim of always doing what you love and having fun in the process. Oh and enough to be able to afford that barn/farm/country house renovation I dream about daily 🙂
Can we just take a moment to appreciate my beautiful desk area, with drop down desk. Built and designed by my fabulous Jolly Olly…
So what else have I been up to in May?
Well in the quick fire round I have:
eaten my body weight in tacos from Homies on Donkeys when working at Waltham Forest. Sophie wrote an awesome post about it.
Drank far too many Gin and Tonics in the sunshine, ideally with extra strawberries
Had an afternoon off to wander along the Southbank in London
catered for 35 at my stepmum Karen's 60th party
Finished my working area (see above)
Spent a lot of time snuggling either Baxter the Legend or Rowland the viszla wondering just when we can get a dog of our own?!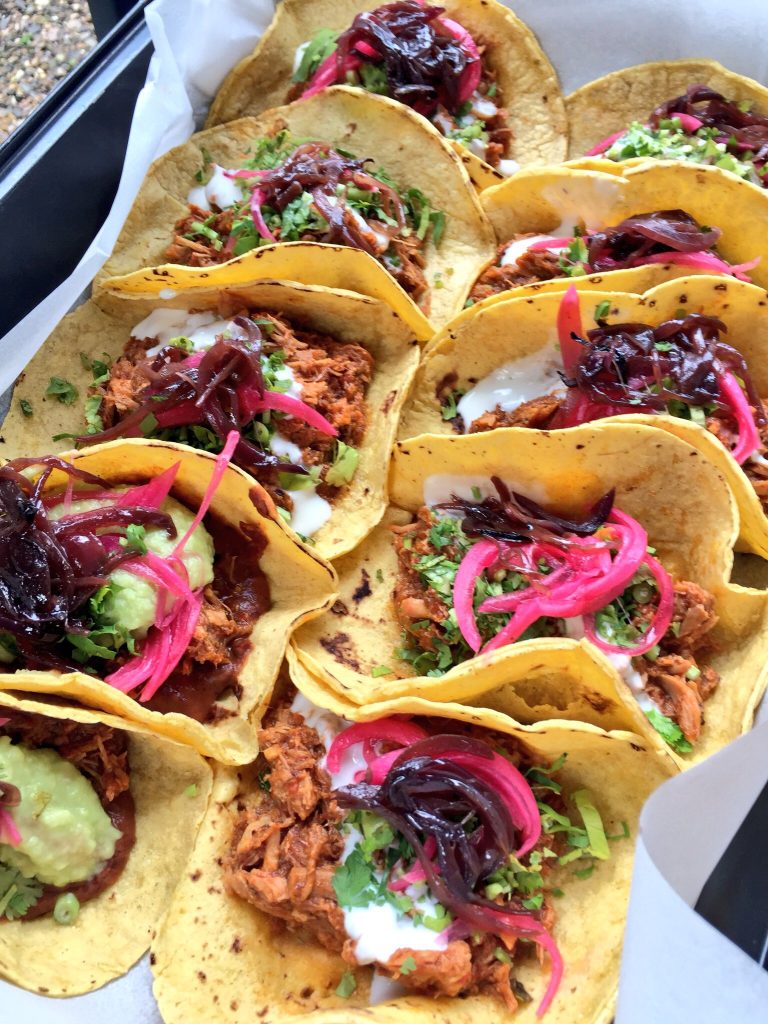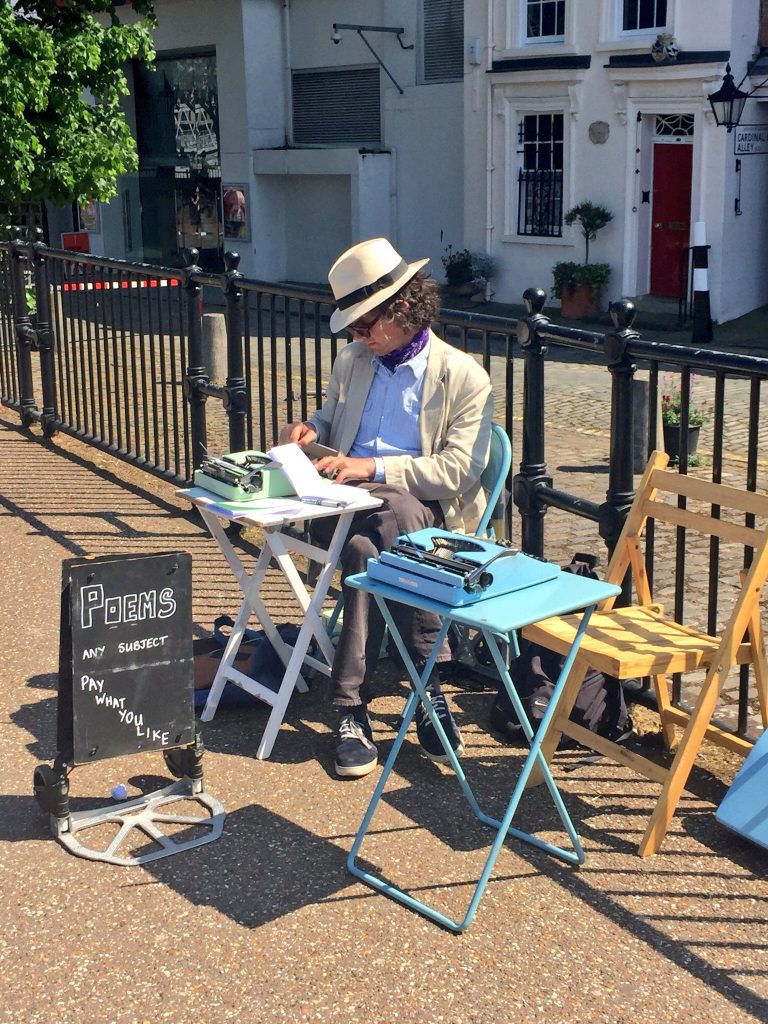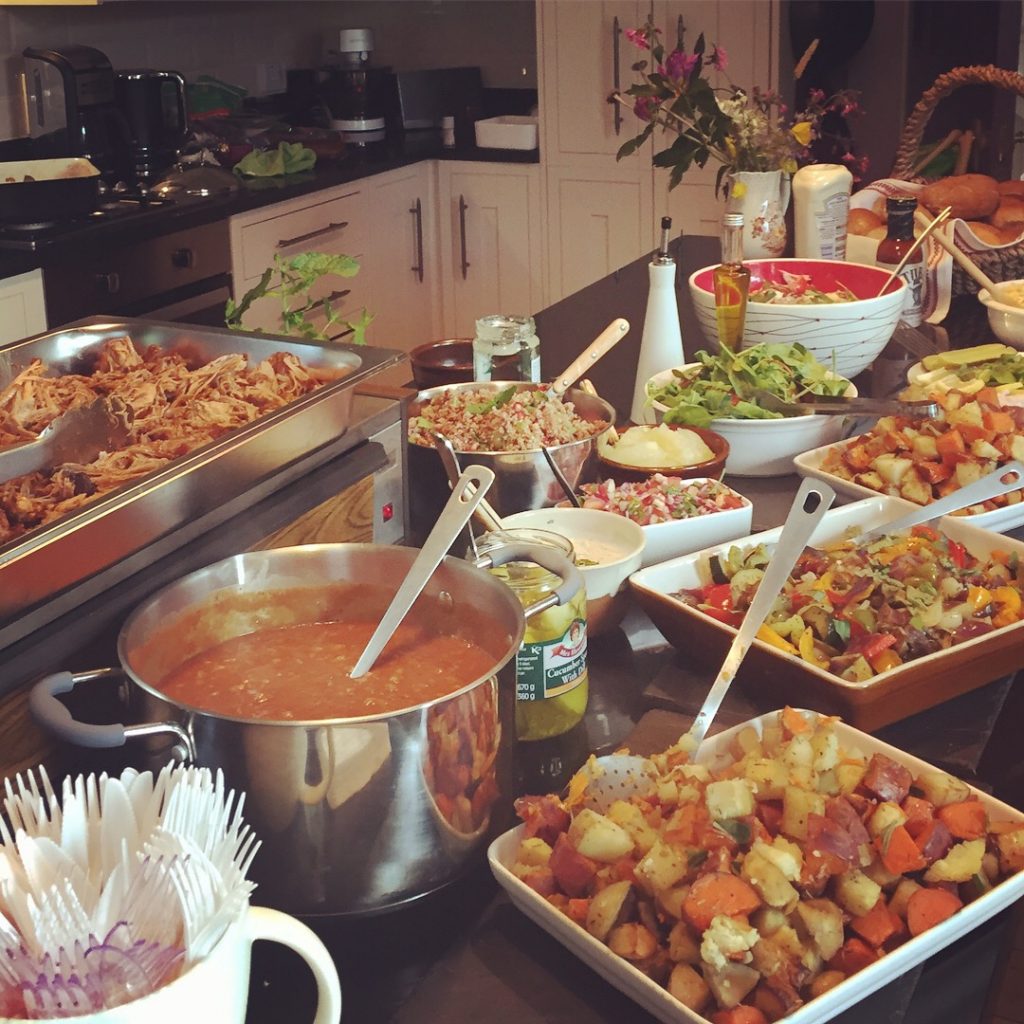 Plans for June and beyond
Things are picking up this month with a couple of weekends away booked in and it's MY BIRTHDAY month! So yes June is going to be a great month.
As I write this it is June 1st and my Grandma's 90th Birthday. She is a true inspiration to me having been an entrepreneur herself since her 20s and succeeded in building herself a passive income to see her well into older life! If I can live to even close to 90 years old then I will be happy.
Next weekend I'm off to Dublin with my stepmum, Karen and brother to be shown Karen's favourite sites, eateries and of course Guinness drinking spots!
The following weekend I am off on my first press trip in a while with WowTrip. Organised by Monica from The Blogger Course, (affiliate link) I am going with a group of 6 who are all part of The Blogger Course Facebook group. Monica has been so awesome to organise this trip for everyone and I can't wait, mostly because I get to spend the weekend with Mon, who I haven't seen in AGES!
WowTrip organise holidays away where you don't actually find out where you are going until the day before or when you get to the airport. Eek! So excited and can't wait to see what adventures are ahead. Any guesses where it might be?
Then the weekend after that its my birthday and other than a morning lido swim and brunch with my birthday twin Charlotte I'm not sure what my plans are yet. Though I am certain it will involve lots of cake and gin!
Once June is over I've got more holiday plans including reviewing one of these absolutely gorgeous villas in Greece, thanks to Heliadas Villas and a long weekend away with the girls in Lisbon, which is somewhere I have been dying to visit for ages! I feel its the trendy place of the moment and everyone is talking about it. So watch this space to hear me rabbit on about the best things about Lisbon too!
So there we have it… finally back ON IT and ready to get back to this blog, continue building the business empire and fit in plenty of travelling adventures too! Hurrah! Life is good.
Oh and PS I am back using Instagram and instagram stories.
What are your travel plans for the summer? I would LOVE to hear.
Other posts you might like: