And then there were two – Welcoming Sophie to the team
Last month I started recruiting for a Digital Content Consultant to help me with both my blog and my digital marketing business. I was overwhelmed with how many applications I got. Thanks so much to everyone for taking the time to apply. The job of shortlisting was no easy task as I honestly had so many great applications from bloggers, freelancers and digital marketers. 
However after shortlisting, interviews and a writing task I found my girl and couldn't be happier. Sophie started working with me today and I already feel like a weight has been lifted off my shoulders. Sophie is going to be working on both my blog and client projects for She Gets to Work, so hopefully it will be a fun and varied role.
Anyway what better way to introduce Sophie then to let her do it herself…
Hiya! So, Jen is expanding her team and I'm so happy I made the cut! I've been blogging about food over on www.sophiesscran.com since 2014. It's a colourful a mixture of my quick and easy recipes and restaurant reviews in the Manchester and Cheshire areas. Plus food adventures from my travels beyond the UK. In my personal life, I champion living a balanced and healthy lifestyle and often blog about these topics. Come take a look at my healthy recipes if you need a bit of inspiration!
Joining the She Gets Around team as a Digital Content Consultant, I'll be helping out in all areas. Content writing, social media activity (mainly over on Twitter and Pinterest), analytics, reporting and some client projects too. Also, just generally helping keep Jenny's blog organised and up to date with all her awesome content.

From desk-job to blogging full-time
Since quitting my digital marketing job last year in pursuit of six months of freedom travelling Southeast Asia and India; I also have lots of fresh travel knowledge to share. Over on my blog, things are staying strictly food and fitness. So, writing on She Gets Around will see me branch out into travel topics and all things FUN.
As I sit here in sunny Cheshire, my big trip seems like a lifetime ago, though I only got back in May this year. Taking six months off to re-evaluate my life has so far been the best decision I've ever made. Not only did I get to experience total freedom, encounter some of the most vibrant and colourful cultures I could ever dream of and make some unbelievably cool new friends… I also had time to consider in which direction I take my career. Having worked in IT and digital marketing for some years, I decided it was time to make a go of it on my own. And so my freelance career began!
Sharing my best travel tips and stories
Some of Jenny's adventures are hard to compete with, like her jet ski safari in Zanzibar or Everest base camp trek.  But, I have plenty of my own to share and look forward to doing so. Some of my articles will be close to home; best places to eat out in Manchester, anyone? Whilst others more adventurous; like the lowdown on swimming with whale sharks in the Philippines. Or even my ultimate female solo travel tips!
One of my fondest travel memories to date? Spending the Holi Festival of Colour in Pushkar, India, earlier this year. What a crazy, magical experience that was! We decided to stick to the unwritten rule that everyone wears white; so that when the colour 'play' began we could really see the impact and extent of it on our dazzling white clothes.
As Pushkar was full for the busiest duration of the festival, we stayed in neighbouring Ajmer in a hotel (complete with pigeon in the bathroom, ah India, I miss you!) As we got ready, the excitement was building, it was a beautiful day in India's northeastern region of Rajasthan and everyone (and I mean EVERYONE) was heading out to 'play'. Adorned in white and armed with brimming bags of colour powder ammo, we hopped on our scooters and rode into Pushkar.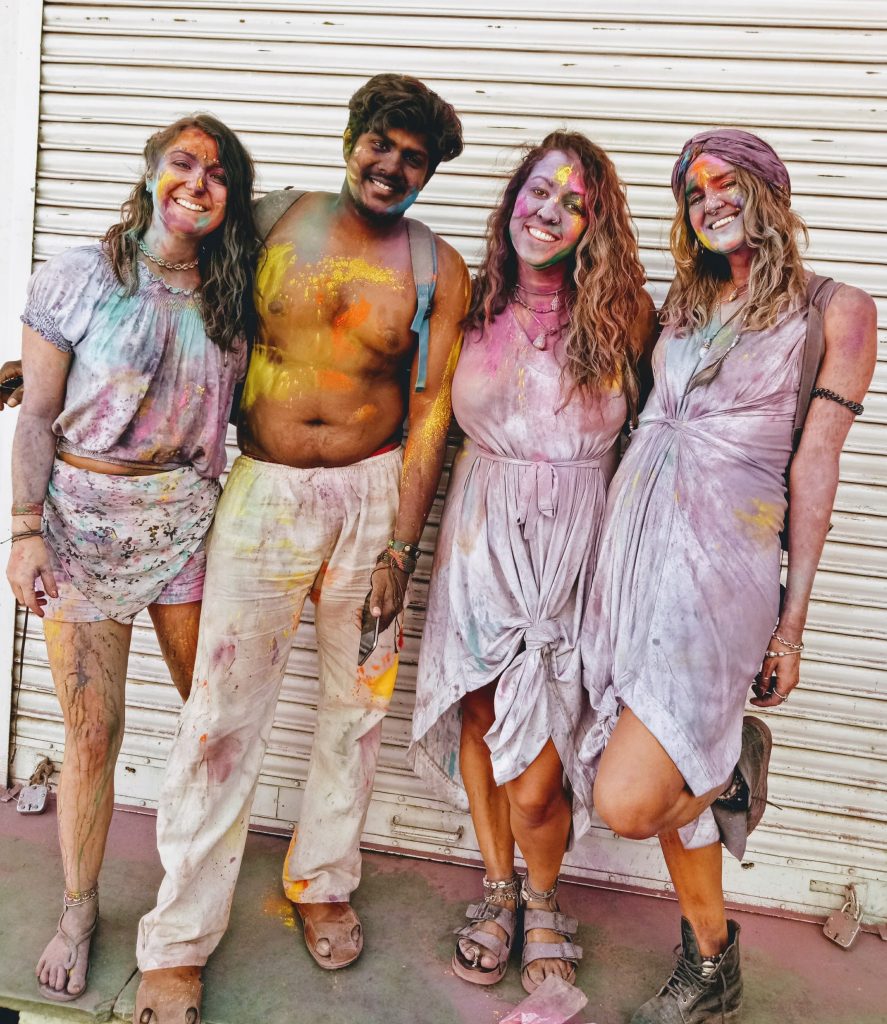 Surviving the Holy Colour Festival in Pushkar, India
We'd not even made the first left turn onto the main road from the hotel, and already locals were splashing us with colour from their bikes to ours. As we arrived into the town, it was heaving with people – all ready to 'attack' with fuchsia pinks, turquoise blues and my favourite bright emerald-greens. At times, honestly, it does get intense. You have to have your wits about you, and since alcohol consumption is forbidden in this Holy town that's not too tricky.
Excitement consumes the local people. You're Western, and they're happy to see you. It's also a very male-dominated environment. But as long as you stick with your friends, politely decline if you've had a little too much colour, take regular breaks to sit in the shade and drink water (as it's an extremely hot time of year!) and enjoy the utterly electric atmosphere, you'll have the time of your life.

Come and say hello!
I hope you're looking forward to me sharing my travel stories, tips and advice as much as I'm excited to write them for you! For now, here are some of my favourite travel snaps. Feel free to come say hello on Twitter or Instagram @sophiesscran, I'd love to hear from you!