24 Hours in New York City with the New York Pass
Though you can easily fill weeks, if not months, if not a lifetime in New York with interesting and new things to do. There is a lot you can do in 24 hours in New York City if you plan your time efficiently.
I've been to New York many times before but will never get bored of this incredible city!
I was in New York for 3 days earlier this year with my friend Charlotte and we did so much, most of which was on the day we each had a New York Pass for 24 hours free access to loads of key attractions in the city.
Though there are plenty of things you can do for free in New York, like wandering around Central Park or walking the High Line, America doesn't give you the luxury of free museum entry like we have in much of the UK. Costs quickly add up so if you plan on doing a lot in a day then a 24 hour New York Pass is just the ticket.
I was gifted two 24 hour New York Passes to enjoy as much as I could in one day so Charl and I decided to save up as many of the paid activities for this day. There are over a 100 activities to choose from, including the Empire State, walking tours, museum entry and cycle hire.
Usually I like to learn from the locals and live as if I am one, but this trip was all about maximising being a tourist for 24 hours in New York City!
What you can do in 24 hours in New York City
Brooklyn Bridge Bike Hire
We started our day by getting the metro downtown to hire bikes to cycle across the Brooklyn Bridge. It was harder than it looked with a slight incline that felt hard work for my non bike worthy legs, but great fun and what fabulous views!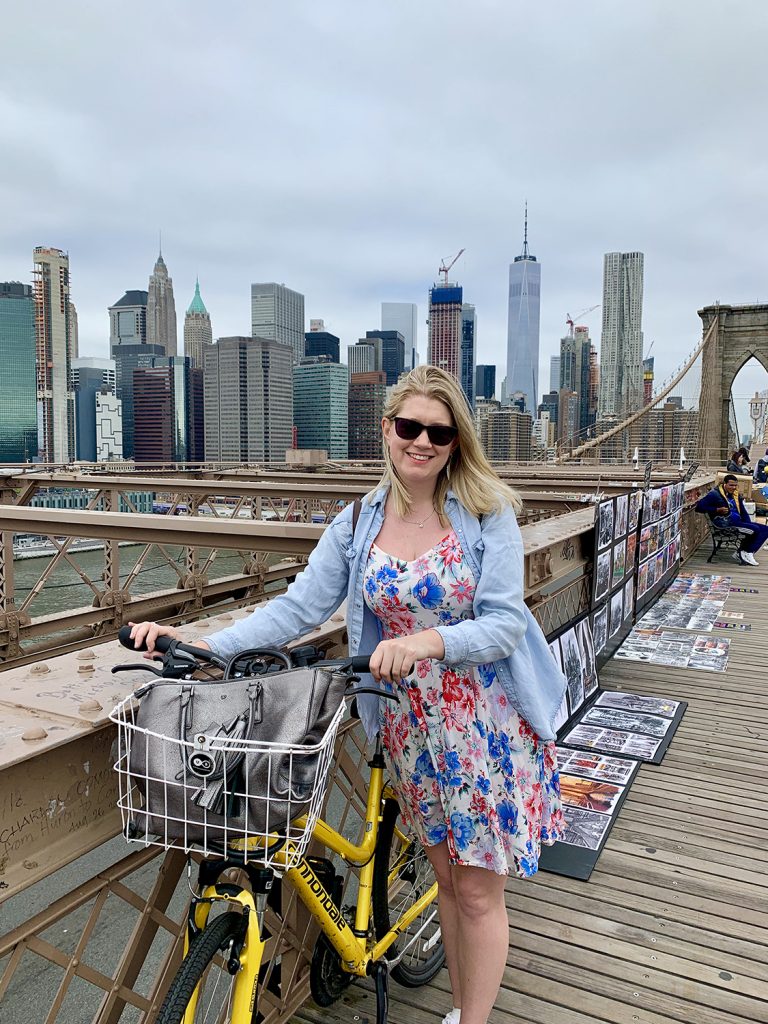 On the other side of the bridge we headed down to Dumbo in Brooklyn for some brunch. We cycled around the Main Street Park, before doing the full loop back across the Manhattan bridge and into the city.
We lost track of the cycle paths and ended up walking our bikes the final bit for fear of cycling on the busy roads. Though I think you're probably ok if you're careful.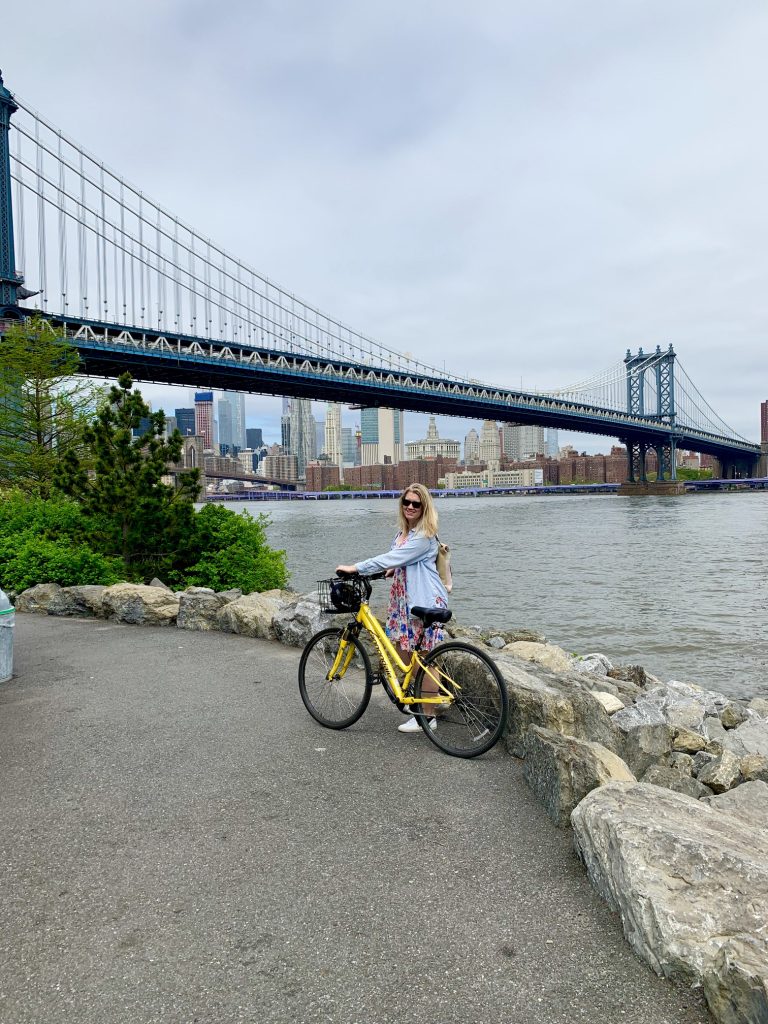 9/11 Memorial and Museum
After dropping the bikes off we walked up town to the 9/11 Memorial and Museum. I had visited the memorial before, but never the museum.
Now almost 18 years ago the stories of that horrendous day still leaves you silent as tears fill your eyes as you walk around.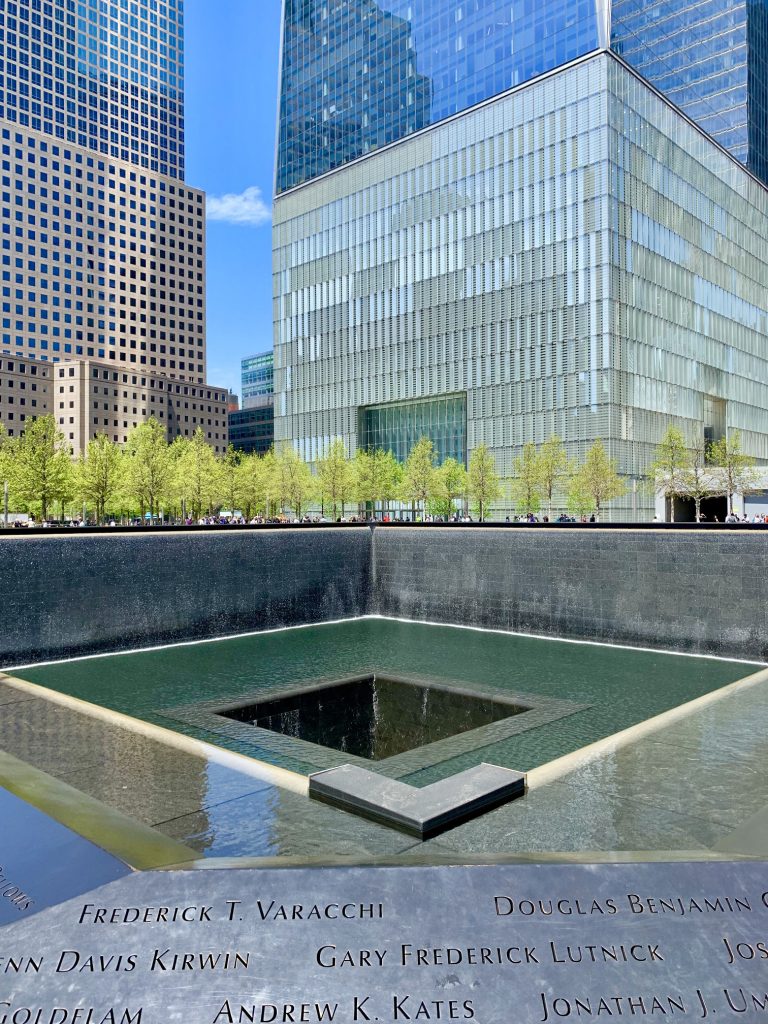 It is a somber museum with TV news stories, crushed fire engines and photos of everyone who lost their life in the 9/11 attacks.
After the museum we walked around the memorials outside (free to anyone) before heading off to our next stop.
Statue of Liberty Ferry and Ellis Island
We probably took a bit too long cycling to Brooklyn and enjoying brunch when we should have been hopping on our bikes and grabbing a croissant to go.
Therefore it was suddenly afternoon and we had to run for the last ferry to see the Statue of Liberty up close. Our 24 hour pass in New York City was almost up!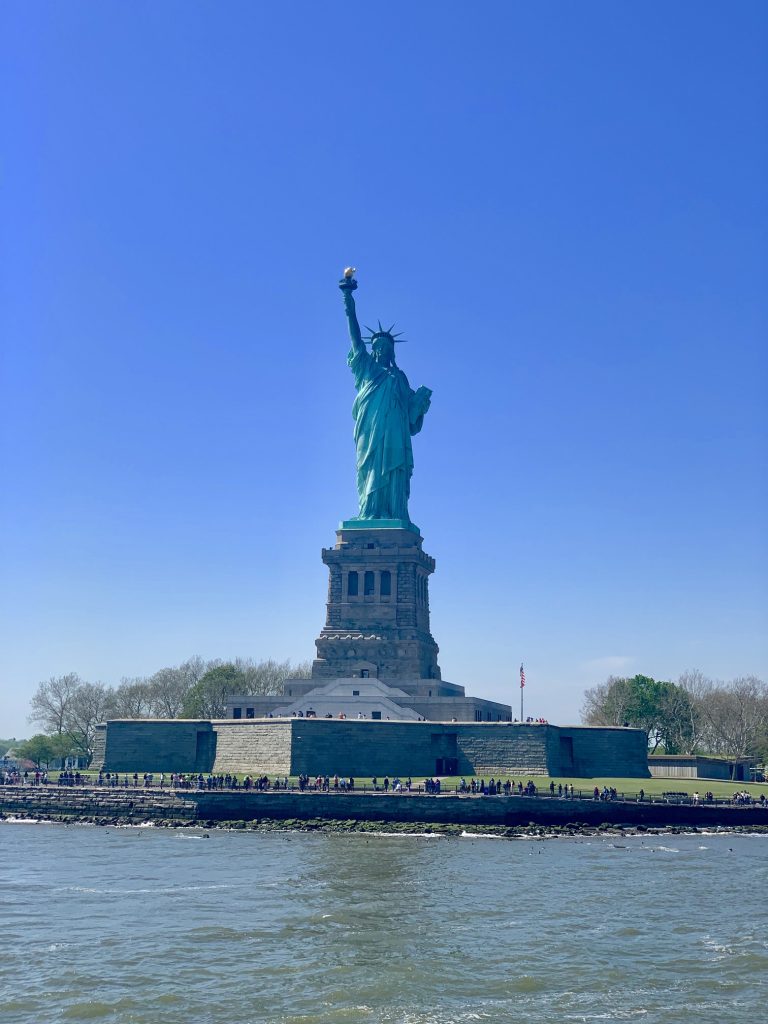 With a bit more time we could have hopped on and off to visit the island, but instead we opted to stay on the boat and enjoy her from the water.
Empire State Building
After Lady Liberty we headed up town to the Empire State Building for those famous high views across New York City.
I think coming in May meant we missed the crowds, it wasn't quite summer and neither was it Christmas or 'sales' season so we didn't find big queues anywhere we went.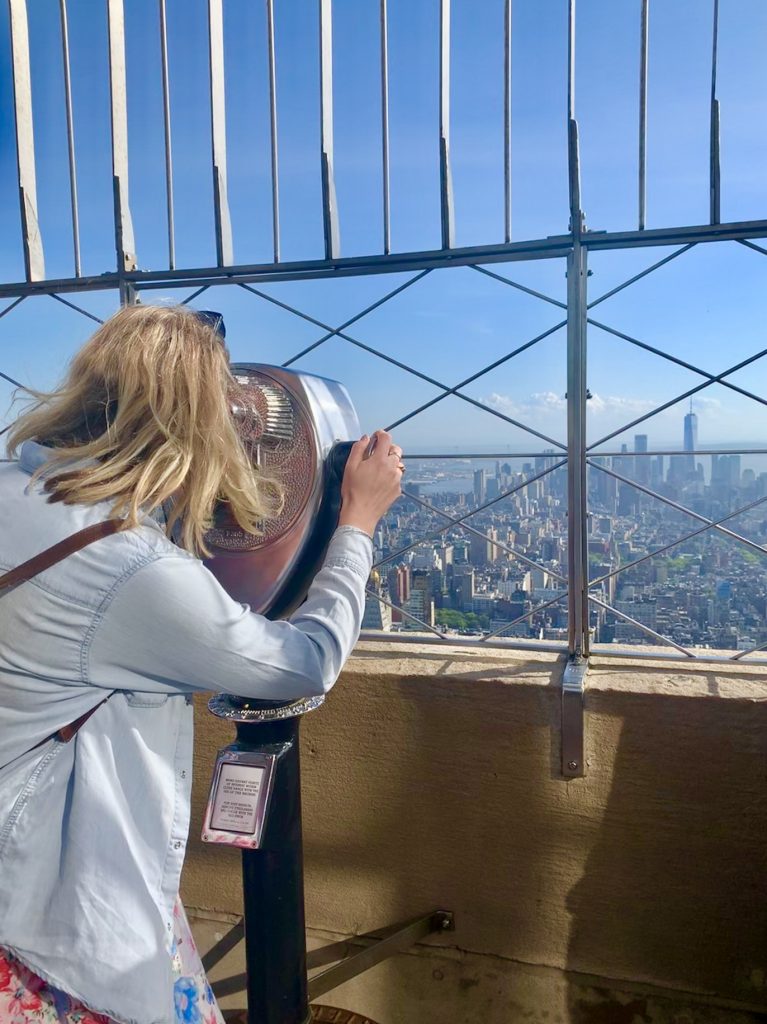 The views were as I remembered them, breathtaking, and we were blessed with clear skies and sunshine. After 101 photos we headed back down to walk back to our hotel for a quick change before dinner.
Rockefeller Centre
After meeting a school friend from Lawrenceville for dinner we headed to the Rockefeller Centre for drinks in their Bar 65 at the Rainbow Room on the, you guessed it, 65th floor.
We were planning on making final use of our New York Pass with a free trip to the 'Top of the Rock' but the weather turned and so we decided there wasn't much point as the view would be near enough non existent.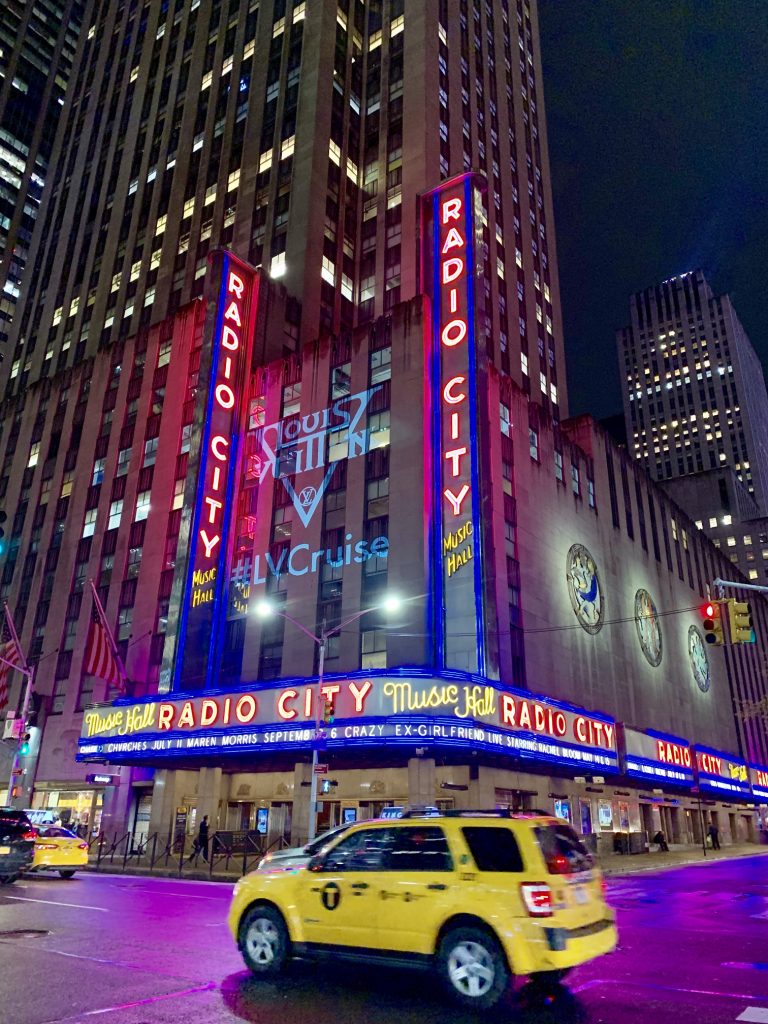 Instead we headed to a Cheese and wine bar recommended by my friend, before retiring for the evening to rest our weary legs! Boy do you walk a lot in 24 hours in New York!
Is the 24 Hour New York Pass worth it?
We barely scratched the surface on everything available with the 24 hour New York Pass with what we did, but it was still great fun and a fab way to see lots of the city's best sites and save money too.
To make the most of the pass you really need to plan your day or even better get a two day pass so you can have a day seeing everything up town and day catching up on everything downtown to make the most of it.
I would definitely get one again when I'm ready for a busy site-seeing day in New York!
Have you been to New York? What are your favourite things to do?
I was gifted a 24 Hour New York Pass for myself and a friend but everything in this post is honest and true.
Other posts you might like: