What to pack for a trip to Scotland in the Summer
Thinking of taking a trip to Scotland this summer? Here is everything you need to pack for a holiday in Scotland in the summer.
As the UK and even the world starts to open up again people are starting to book holidays again, though mainly UK based breaks. One newspaper reported Brits were booking a UK holiday every 11 seconds! Wowee!
I haven't booked a trip away yet, but we are looking at booking a weekend away towards the end of the summer and perhaps a trip further afield to Scotland later in the year.
For those of you who follow me on Instagram you will know we recently got a new addition to the family, so for now holidays are likely to be closer to home and it will need to be a dog friendly holiday!
Olly and I went on a trip to Scotland last Autumn, to stay in Knoydart, which is one of my favourite places on earth. Though I've also been to Scotland a lot in summer and winter over the years. From the Outer Hebrides to Edinburgh and many places in-between, Scotland has been a favourite destination since a child.
If you're thinking of heading to Scotland this summer, I have made a list of the essentials that you need to pack for a trip away.
This post was in partnership with Bite Away, a chemical free, medical device to treat itching and swelling caused by insect bites and stings. Believe me with the midges in Scotland in summer this is exactly what you will need!
Everything you need to pack for a trip to Scotland in the Summer
I'm not going to include the obvious, like pants, clothes (in general), your toiletries, etc in the list. Instead it will include the more specific things that you want to make sure you don't leave behind when packing for a trip to Scotland!
Clothes to pack for Summer in Scotland
Layers
Whatever the weather might say, layers is the secret to dressing for the changeable Scottish weather. Depending where you are it can change in an instant, especially if you are hiking up mountains. Take plenty of different layers, especially quick dry clothing.
A swimsuit for wild swimming
It's likely to still be very cold, but if you're brave and fancy a wild swim there are some incredible lakes and rivers to swim in up north. There's always the sea too. Be careful though and make sure there is someone with you and you have checked it is a safe place to swim first.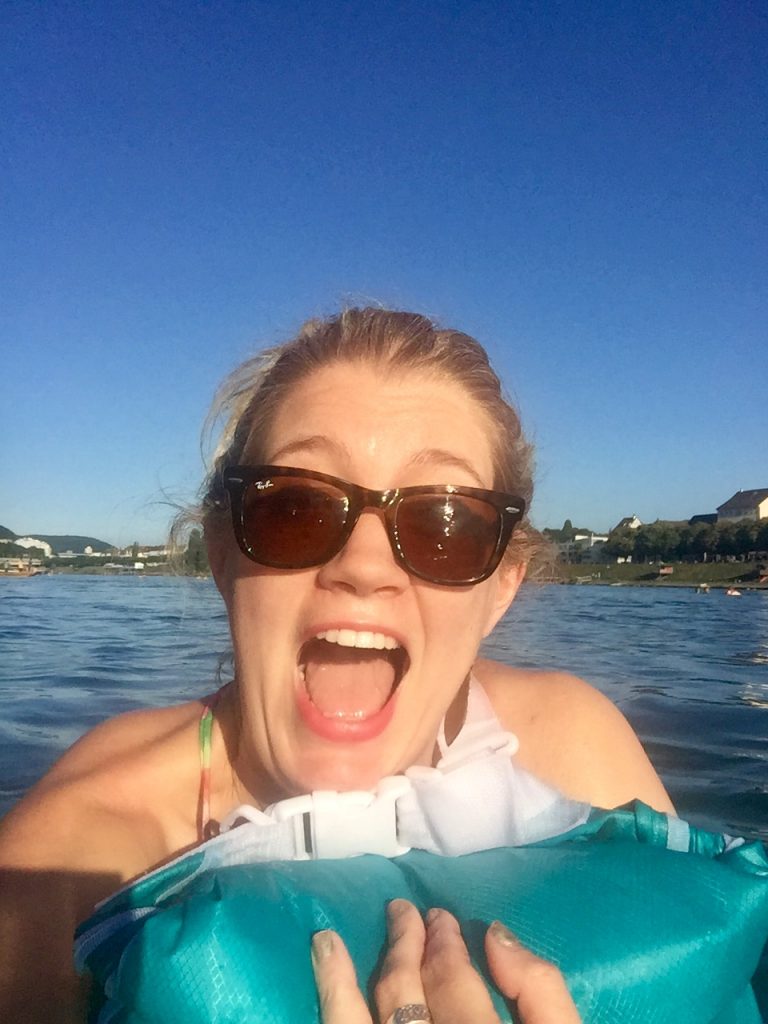 Hiking Boots
Have you even been to Scotland if you haven't been for a hike? There are so many incredible walks for all abilities across the country. Make sure you take a sturdy pair of waterproof boots. I solid pair of sturdy hiking trainers could also work if you aren't doing any mega hikes!
A windproof waterproof
Chances are it may rain at some point during your stay, I mean it's the same anywhere in the UK to be fair. So make sure you take a decent waterproof that is windproof too. On a hot day you could be wearing a light strappy top, but take your waterproof to help shelter you from any wind or rain.
Solid sandals
If you aren't going up mountains and can be sure of the weather, pack yourself some solid sandals to walk around in the heat. Even better if they are waterproof and you can wear them for any wild swimming you do too.
Everything else to pack for a Summer in Scotland
Once you've got all your clothes and shoes packed it's time to pack the rest. Again obviously you need toiletries and your phone and chargers etc, but here are a few other important things to pack for a trip to Scotland in the summer.
Bite Away
Scotland is FULL of midges in the summer. Tiny little insects that can bite you to pieces if you aren't careful. They are known as the Highland midge and are more prevalent in spring and summer across Scotland. Bite Away is your answer to any insect bites or stings you get while travelling.
Bite Away gives you fast and effective relief from itching, pain and swelling. Bite Away works by concentrating heat at 51°C on the affected area, which in turn decreases the itching and reduces swelling. Perfect for stopping you from scratching your skin to oblivion like I usually do, ending up with seeping bites and small scars!
Though you of course want to start by preventing midge bites in the first place, there are certain areas of Scotland that will be swarming with them and no matter what you do you are likely to get bitten more than once.
If you remember one thing when packing for a trip to Scotland in Summer, Bite Away is the thing to remember!
You can purchase Bite Away on Amazon Prime for next day delivery. Just in time for your holiday!
Camera
You're going to want a proper camera to remember some of the incredible scenery and architecture you see in Scotland. From tall mountains, to rolling coastlines to castles. Scotland is one beautiful country!
Waterproof Daypack
You're going to want to head out on day adventures so a small but sturdy day pack, that is lightweight and waterproof is what you need. Enough space for layers, your camera, Bite Away, water and maybe a few snacks too.
Water bottle
We should all be used to taking our water bottles everywhere with us now. For Scotland you might want to get one with a built in filter, so if you run out of water in the middle of nowhere you can try and find a steam or somewhere to refill.
Coronavirus things to pack on holiday
Sadly we are currently in the age of Coronavirus/Covid19 and though places are opening and we are allowed to travel again the rules a still strict and we need to pack accordingly.
Make sure you pack you mask (or several), some gloves, antiseptic gel and some antiseptic wet wipes. Though I know lots of holiday rentals are doing extra cleaning measures it might be worth giving some of the surfaces an extra wipe down when you arrive. Especially the toilet, door handles and light switches.
Where to stay on a Summer trip to Scotland
So now you're all packed, where are you going to stay? Well you might already have your trip to Scotland in Summer booked, but if not I highly recommend Knoydart.
Knoydart is a small secluded village on the mainland not far from the Isle of Skye (another great place to visit!).
Knoydart is special, because though it is on the mainland, you can only access it via boat. The population isn't much higher than 100 and there is one incredible pub, a couple of small cafes and a post office shop. Otherwise there are some holiday stays and not a lot else.
It's secluded, quiet and oh so beautiful.
When we visited we stayed at Camusblathen, which was a short drive outside of Knoydart. The cottage was dog friendly and you get use of the cottages car during your stay to get in and out of the village, if you don't want to walk!.
So are you all packed and ready to go?
Let me know if there is anything else I should add to the list for what to pack for a trip to Scotland in the summer?
Other posts you might like