The best dog friendly holiday in Knoydart, Scotland
If you're looking for a UK escape where you can bring your dog(s) and relax in a remote wonderland I have just the place…
I'm sat looking out at the wind moving the waves faster and fiercer as the dogs snuggle beside me on the floor. Olly is snoozing on the sofa having fallen asleep reading a book and I am sat with a big mug of tea, a couple of tasty cookies and my laptop feeling the need to write.
I've put my phone away, the wifi is turned off and I have no distractions but the occasional weird song that comes on my ipod on shuffle. No Eminem 'The real slim shady' does not suit my mood right now… skip!
I've been in Airor in Knoydart, Scotland for three days now and I am feeling completely and totally relaxed. I set no expectations for this holiday, no work to do lists, no minimum social media requirements, no plans!
It's perfect.
I'm staying at Camusblathen, a small holiday cottage sat less than 100m from the sea, looking out to the Isle of Skye in the distance. I've waited 5 years to return to this little slice of heaven in the UK and I finally made it.
I first came to Knoydart in 2013 with my dad and brother and instantly fell in love.
We were staying in the Knoydart Bunkhouse and my brother and I did some walks through the hills while my dad met with some of the locals about sustainable woodland management. I was only here a couple of days but knew I had to return one day, I can't believe it's taken 5 years, but here I am.
This time the cottage I am staying in with Olly, Rowland and Baxter is in Airor, a small hamlet about 7 miles from the main village of Inverie. Though Knoydart is on the mainland of the UK, you can only access it via boat or by walking quite a few miles from the nearest road. The boat that travels over from Mallaig about 3 times a day in the off-peak season doesn't even allow cars, not that there are many places to go.
This holiday was always to be a holiday with no plans… and with slow wifi, the only pub closed for the season, and being 7 miles from the lone shop and two cafes, there is little to do but relax.
So far I've drunk about 20 cups of tea, cooked and eaten numerous meals, been on 3 walks with the dogs and read 1.5 books. Hygge at its finest!
The views here are exceptional. Last time I visited I saw basking sharks and porpoise on the boat over and this time we've seen stags, a pinemartin and many local sheep.
With post only leaving 3 times a week and little more than a small post office shop to get supplies you need to bring everything you need with you, which means packing light wasn't so easy this time. Especially with two dogs!
Camusblathen, Airor
The cottage we are staying in sleeps 7, with three double beds and one room with an extra single bed.
It's well equipped with all the cooking utensils you might need in the kitchen, including a dishwasher, two log fires, three comfy sofas and a big dining table that easily fits 7.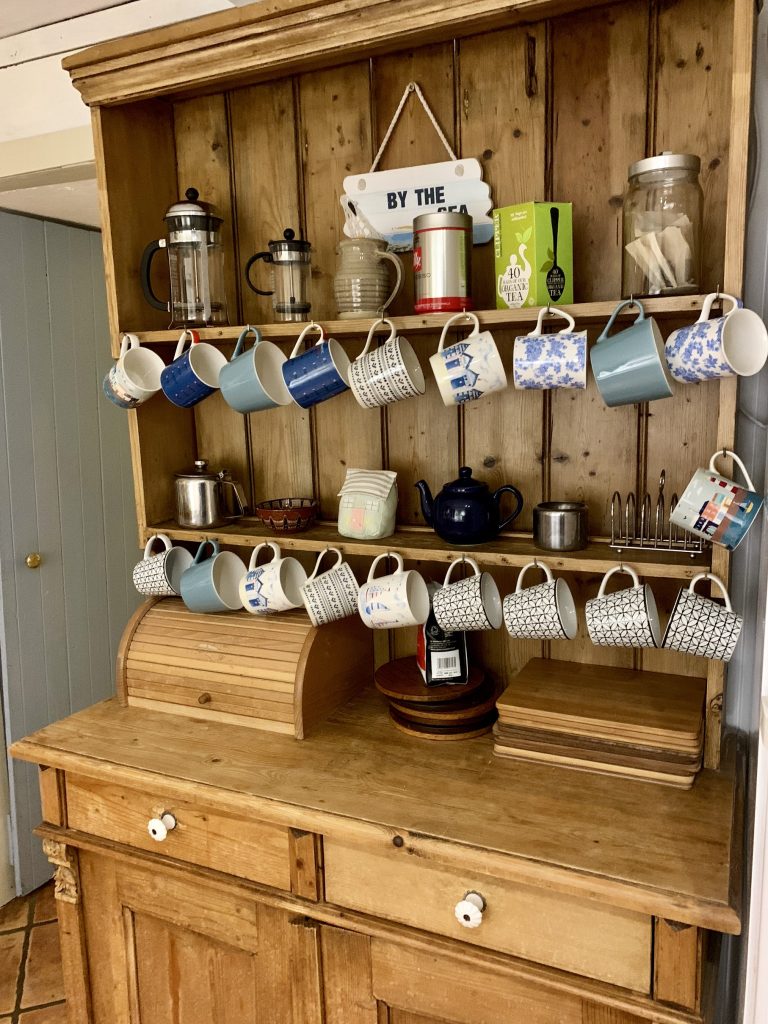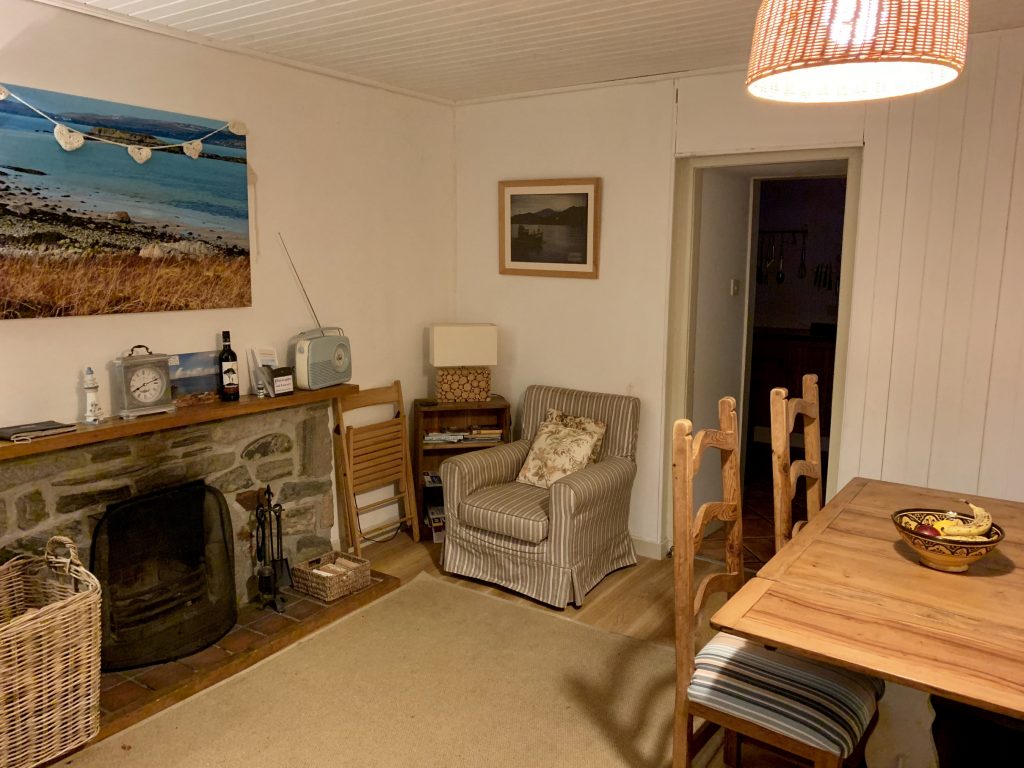 David the owner has renovated this property into a cosy, comfortable seaside home. Lots of local photos and paintings adorn the walls and beach related trinkets and pebbles add to the décor. There are plenty of books, DVDs and board games to keep you entertained for more than a week. We attempted a 1000 piece jigsaw, but didn't get very far!
Most importantly you're only seconds away from a brisk walk along the beach or a longer hike into the hills. The house is dog friendly, with a porch to clean muddy paws before coming inside and any dog would be happy snuggling up in front of one of the fires on a cold day.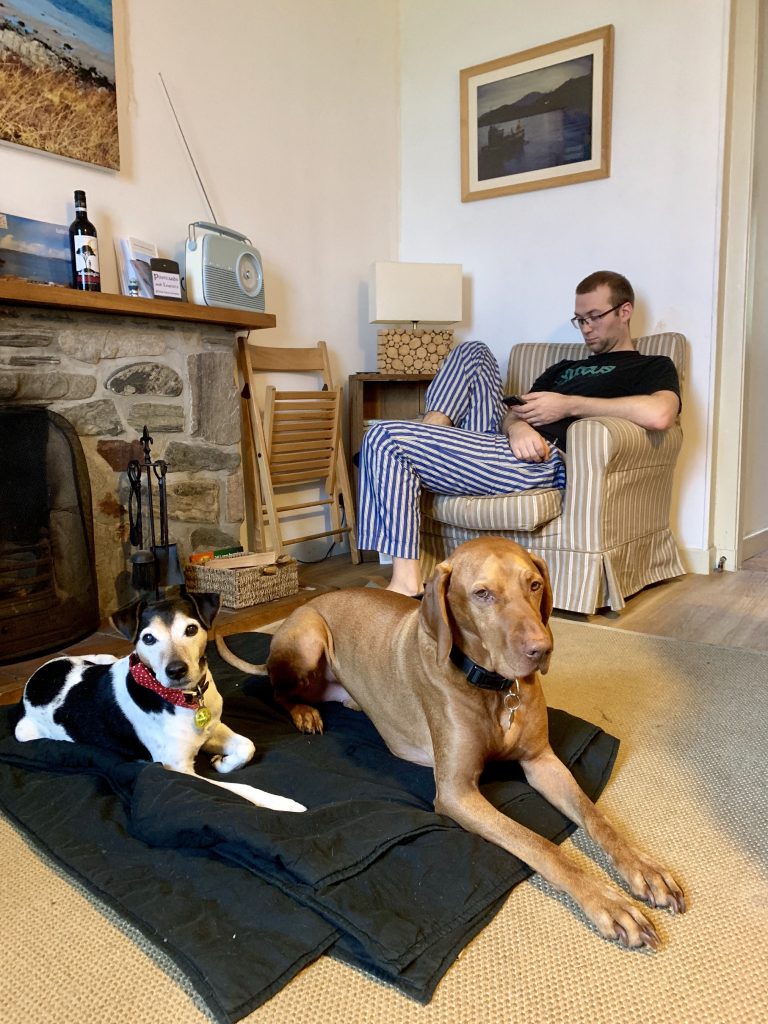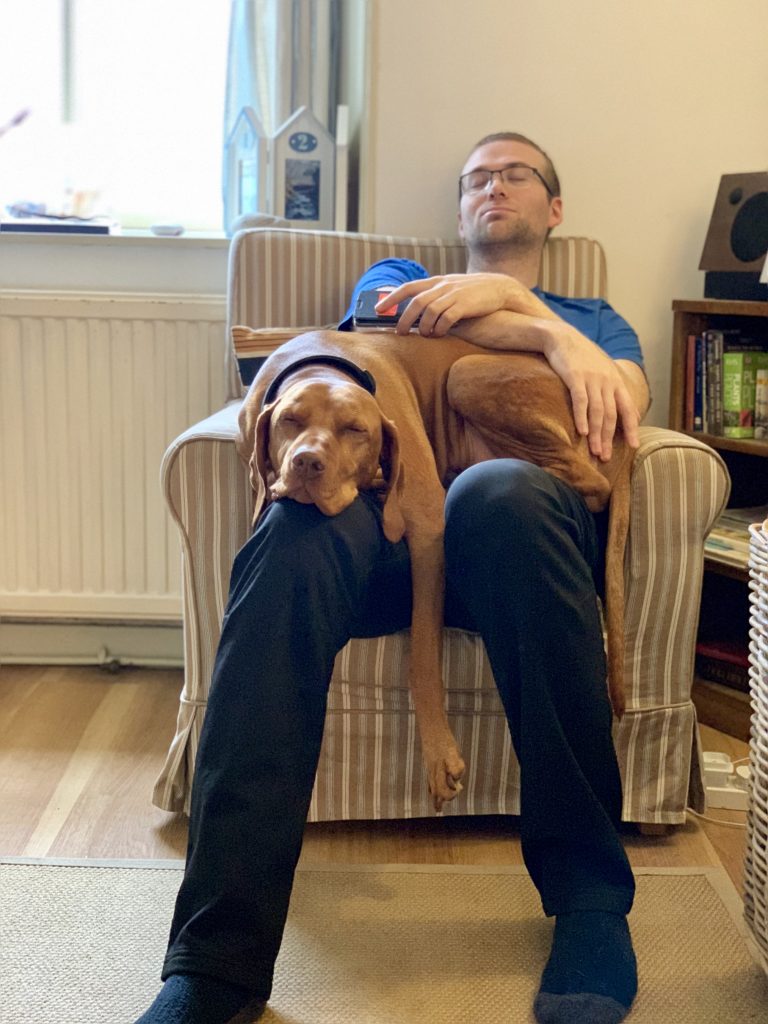 There are lots of local dogs who are happy to join on a walk, and though there a few areas with sheep where dogs should be on leads there are many walks where your pooch can roam free.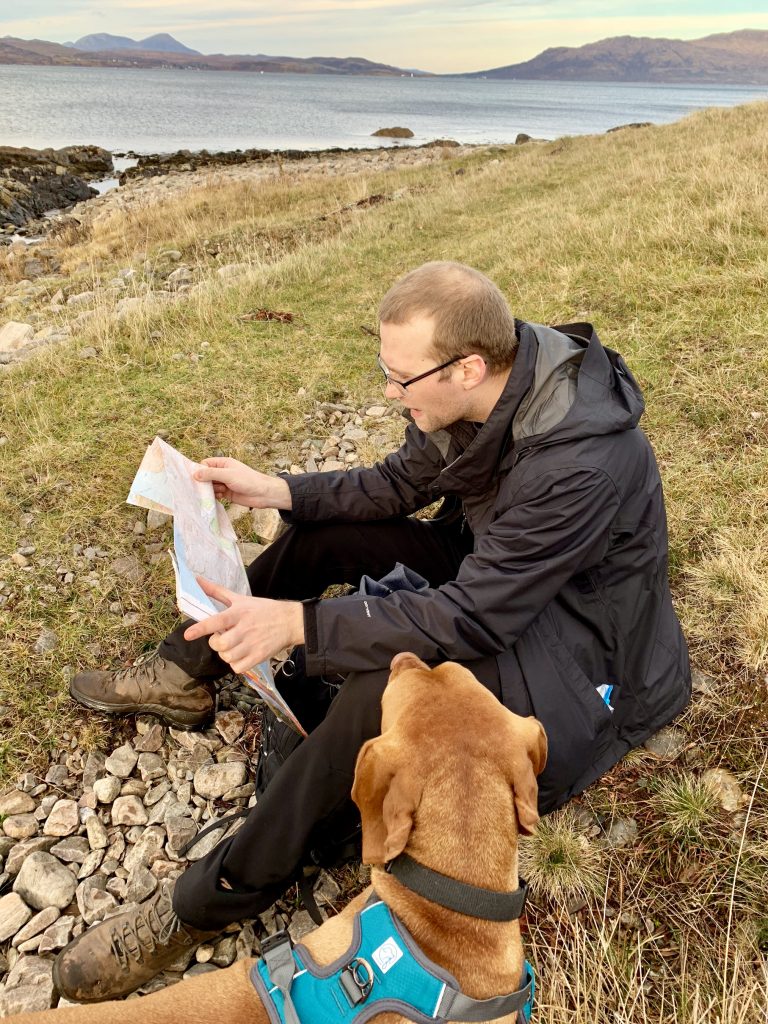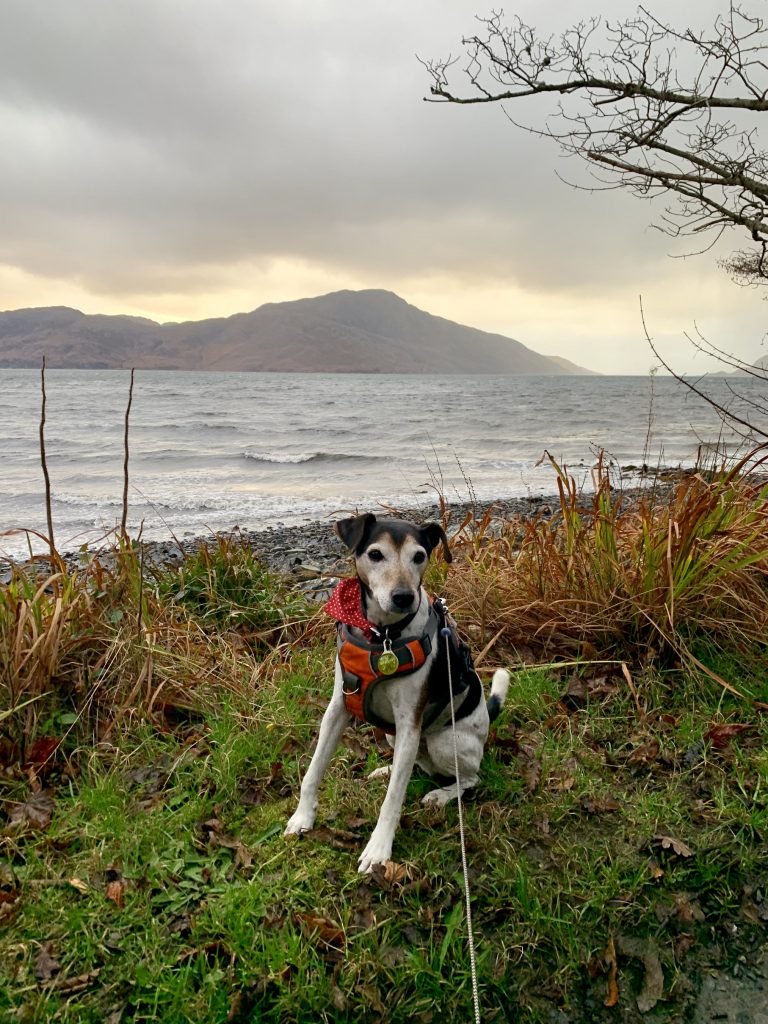 It's hard to capture the peace of this place, but hopefully my photos start to do it justice.
The locals are all super friendly, always looking out for each other and the locals that visit.
Inverie, Knoydart
David lends whoever is staying his 7 seater Toyota Landcruiser for your use during the week to get from the village and back. It takes about 40 minutes to drive the 7 miles from the cottage to Inverie on a single track lane (with a few passing spots).
We are here off season so the pub that's famous for its fresh fish is closed, but there are a couple of cafes open during the day, the post office shop and the local community shop.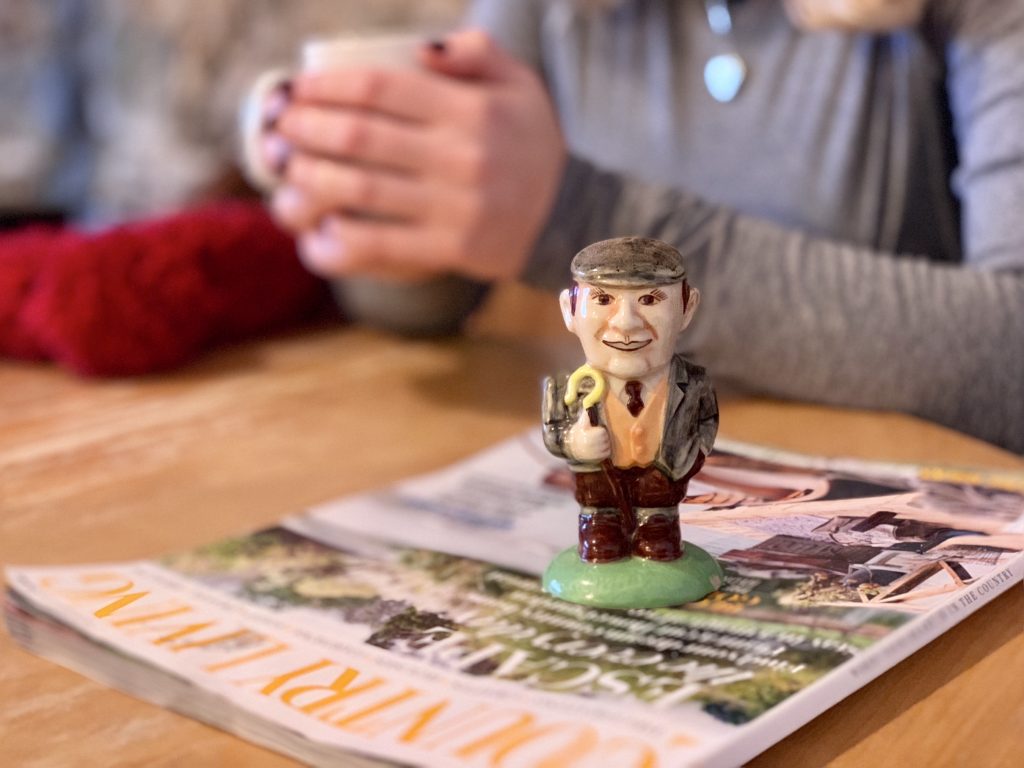 Tomorrow night we are off to a drop in at the local wood workshop, with mulled wine and locally made woodland gifts. It's the only night we're heading out as sadly we're missing the music night in the village hall as have to leave before Saturday evening.
For a small community there seems to be something happening every week, everyone supporting each other's local businesses as much as they can. I was surprised to learn that most people actually work in one way or another in Knoydart, with very few getting the boat across to Mallaig for work. There's always plenty to do and many people do 'skill swaps' too. 'I'll build your garden shed if you help with my electrics'. Love it!
It makes me wonder just why we don't make more of an effort with our neighbours back home, perhaps when Olly and I find our country home and move to a smaller village or hamlet?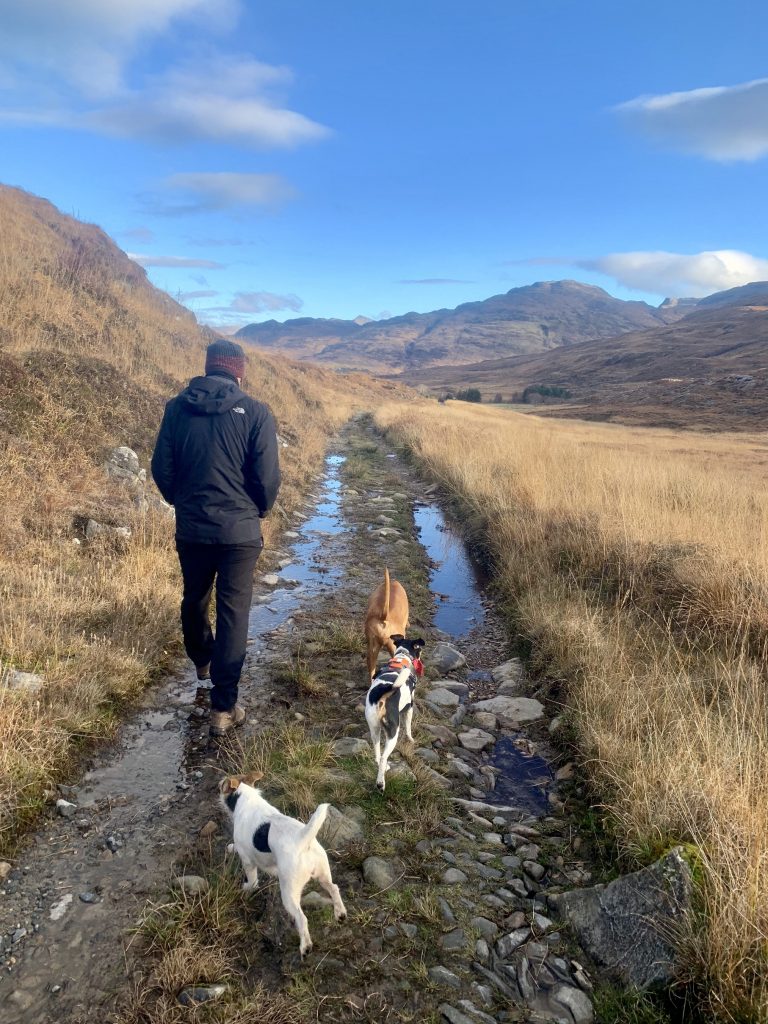 David's house is available to rent throughout peak season from March to October at £750 a week (every week, no extra charges for school holidays). This includes use of the 4×4 vehicle, unlimited logs for the fire and all the essentials you might need in a house like toilet roll, kitchen foil, oils and spices and bedding and towels. You just need to bring your own food and drink and whatever else you might pack for a holiday.
There are limited accommodation options on Knoydart so places book up fast for the year ahead, but you can see availability at Camusblathan on the website.
Wherever you stay a week or a weekend in Knoydart won't disappoint!
On my next trip to Scotland with the dogs I'm going to visit Dog friendly Dumfries and Galloway, doesn't it look amazing!
I chose to visit Knoydart and stay at Camusblathen and was offered a discounted rate by David to cover his costs, though as always views are 100% my own and true.
David is going on a big adventure of his own this year spending around two years walking over 6000 miles across the UK and stopping a every Samaritans branch fir a day of listening and volunteering. You can find out more about David's listening walk on his Facebook page.
Feel free to drop me a line if you have any questions or David is always super helpful too.