An October stay at a luxury Travelopo villa in Mallorca
Last week I had the very tough task of staying at one of Travelopo's villas in Mallorca… I know *really* tough! I was asked if I would be interested in a stay at one of their villa's in exchange for a review. Not wanting to be rude, I accepted (duh!) and I definitely don't regret it.
Villa Aina Francisca Juanita (that's quite a long name) is in northern Mallorca just outside the town of Pollenca, nestled between another villa and wide open fields. You definitely need a car to stay here, but I recommend hiring a car anyway so you can explore the island.
I arrived at the villa to bright blue skies and shimmering sunshine and wanted to instantly don my bikini and jump in the pool. However I then dipped my toes in and realised it was rather chilly.
The October sun was bright but not quite as hot as the summer months, so it took a lot of strength and squeals to get in the pool.
Enjoy the sunshine
This villa was definitely made for a party. There is a fully equipped outside kitchen, complete with dishwasher, microwave, oven, BBQ and enough crockery to feed about 40 people.
Outside alone there are four sets of tables and chairs to choose from and another two dining tables inside if it gets too cold.
If my photos aren't enough there are loads more photos that will make you book a trip to Mallorca right now on Meldrum's blog post
The pool is the main centre piece of the garden and is surrounded by various indigenous plants, including cacti of all shapes and sizes and a cute little pond with numerous fountains.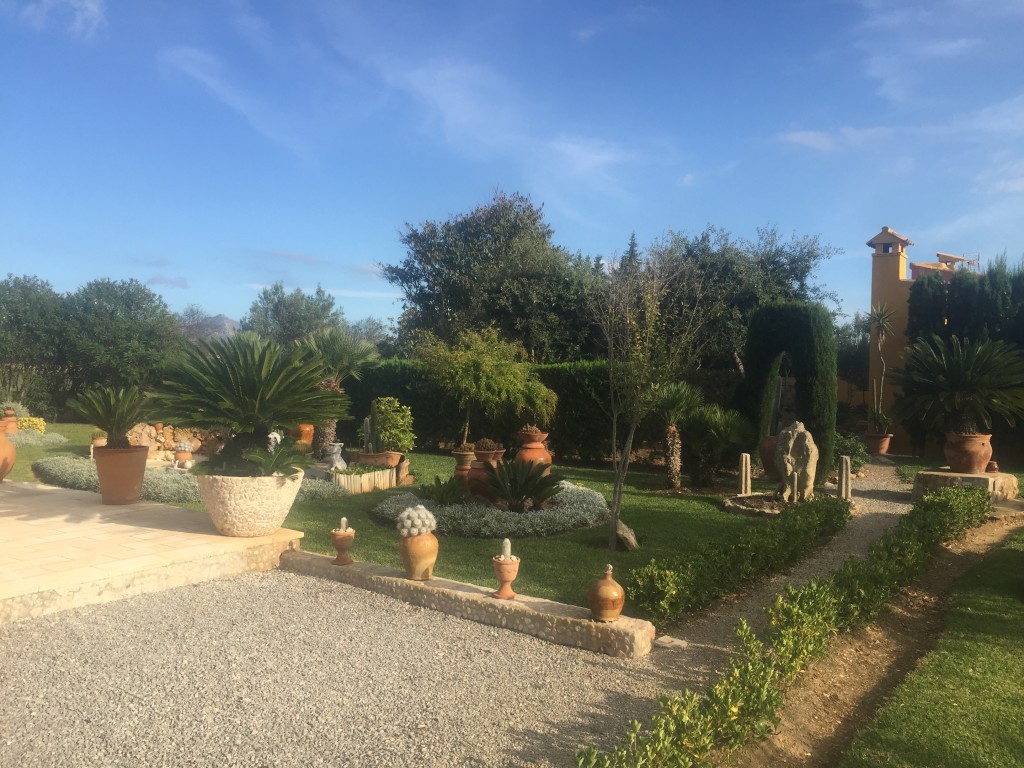 Top all that off with table tennis and €1 bottles of Sangria brought from the local supermarket, some fresh nibbles from one of the local markets and you are set up for a perfect villa party.
Cosy up inside
If you aren't the party type then this villa can be a cosy getaway too. In October the weather drops cold in the evenings so we had a couple of nights enjoying the comforts of a log fire and making use of the inside kitchen which is as well equipped as the outside kitchen.
Aina Francisca Juanita has three bedrooms, including one double and two twin rooms. Each are decorated with dark woods and bright white fabrics and are well stocked with extra blankets and pillows for the colder months.
We started the week off in the double bed, but it was a bit hard for our liking (I'm a squishy bed lover) so we moved to one of the twin rooms and made an uber double bed by pushing them together. It was great to spread our things out across the three rooms, though there was plenty of space in each room to comfortably fit 6 people in the villa or even a couple more if you had a blow up bed or two.
There are two bathrooms, both with powerful showers and lovely hot water and we had fresh towels delivered half way through the week.
I met the gardener who appears most days and though he doesn't speak English he was clearly a very sweet man and we were able to have a fairly lengthy conversation in Spanglish?! He told me how to make the bubbles work in the swimming pool, which has a built in spa in one corner. Heaven.
Getting around
The villa is about a 5-10 minute drive from either Pollenca, Port de Pollenca or Acludia and I recommend visiting all three.
I visited Pollenca's Sunday market, wandering through narrow streets and round corners with new exciting stalls at every turn. The main square is where you will find all the fresh fruit, vegetables and olives and then wander a bit further and you will find more quirky crafts and local delicacies.
For beachside fun you should visit Alcudia or Port de Pollenca. All areas have the more traditional eateries and places that cater for tourists of all varieties. I recommend trying to get off the beaten path for a more authentic Mallorcan feel.
The details
I loved my stay at Villa Aina Francisca Juanita and would definitely return, next time filling it with friends and family. My only suggestion would be to leave a few essentials for visitors. I had to buy everything from salt to dish clothes and a few bits and pieces would have helped me settle in on my first day. Though everything is super cheap in the local shops and I did enjoy a sweep through the local supermarket.
You can book this villa or a number of other villas in Mallorca through Travelopo. Prices vary depending on the time of year. For an October stay it costs £673 for the week, but if you want to go in high summer it is closer to £2000.
Flights to Mallorca can be really cheap, especially in low season. I flew with Thomson for £166 return from London Stansted, including the cost of hold luggage.
As already mentioned I was invited to stay at the Travelopo villa, but I have of course been nothing but honest in my review.