Three short walks around Chatsworth: Waterfalls, Towers and Rivers
If you're thinking of visiting Derbyshire or the Peak District, the chances are you will be visiting Chatsworth. There are so many beautiful walks in the Peak District and today I want to share three easy short walks around Chatsworth to try on a day trip.
I've been visiting Chatsworth since I was a small child. I spent many birthdays enjoying a picnic by the river, playing at the Adventure Playground and saying hello to the animals at the farm park.
Chatsworth House is an iconic building and park on the edge of the Peak District. The drive through the park that takes you from Rowsley or Beeley to Baslow is an adventure in itself. You're almost certain to see deer and sheep as you drive through.
If you're not into walking there is plenty to see at Chatsworth without having to walk far from the car. (In normal times when everything is open) The garden centre, the farmyard, the shop and cafe, the Christmas market, Chatsworth Country Fair, and of course the magnificent house which I learnt this week has over 350 rooms! Woa!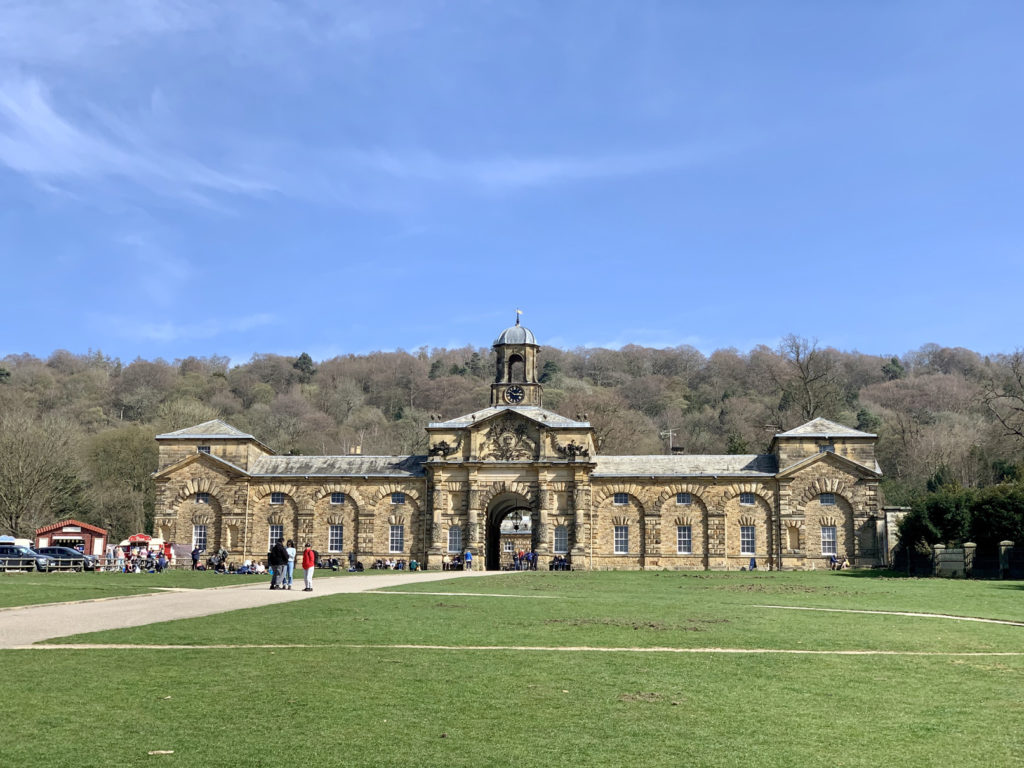 With so much to do beyond walking I thought I would share a few of my favourite short walks around Chatsworth for next time you visit.
The Best Short Walks Around Chatsworth
All these walks are short and easy. One includes a steep hill, but it doesn't last long so still relatively easy.
Baslow to Chatsworth
There are a few popular pubs and restaurants in Baslow so it is a great spot to eat near Chatsworth. We often park in Baslow, where there is more free or cheaper parking than at Chatsworth.
It is a short walk, about 1.5 miles, from the centre of Baslow, near the bus stop to Chatsworth house. Importantly it is all flat too, or near enough. There is a slight hill if you want to walk up to the cafe at the stables.
When facing The Devonshire Arms pub in Baslow walk to the right over the bridge and then take the first right. From there you just follow the path all the way to Chatsworth. It's hard to get lost.
You will go through a circular kissing turn style as you move into the Chatsworth grounds, which is unique and lots of fun. The turn style is wheelchair friendly too, as is this whole walk.
If you want to do the full loop you can walk straight until you get near the house then walk up to the house and then back along the tops before returning back to the turn stile.
It a great relaxing walk, perfect for catching up with friends.
Things to look out for
The circular kissing gate / turn stile that is wheelchair friendly. I haven't seen anything else like it before
The coffee and bacon sandwich trailer often open along the route
Chatsworth Hunting Tower
You can stay at Chatsworth's Hunting Tower, but it is often booked up well in advance. Looking up to the Hunting Tower from the house it looks to be really high, but you can get up there pretty quickly.
This short walk can be just over one mile long or a lot more depending how many of the different bending paths you take.
You walk up from behind the stables, passing by the adventure playground and farmyard. You can wind your way up to the tower via the tarmac road or take a more direct, but steep route, up the stone steps.
When you reach the tower, walk to the back and keep right along the path. There are lots of different paths you can take up here, though I recommend looking out for the water pool on your right which is the start of a beautiful waterfall heading down into Chatsworth's gardens.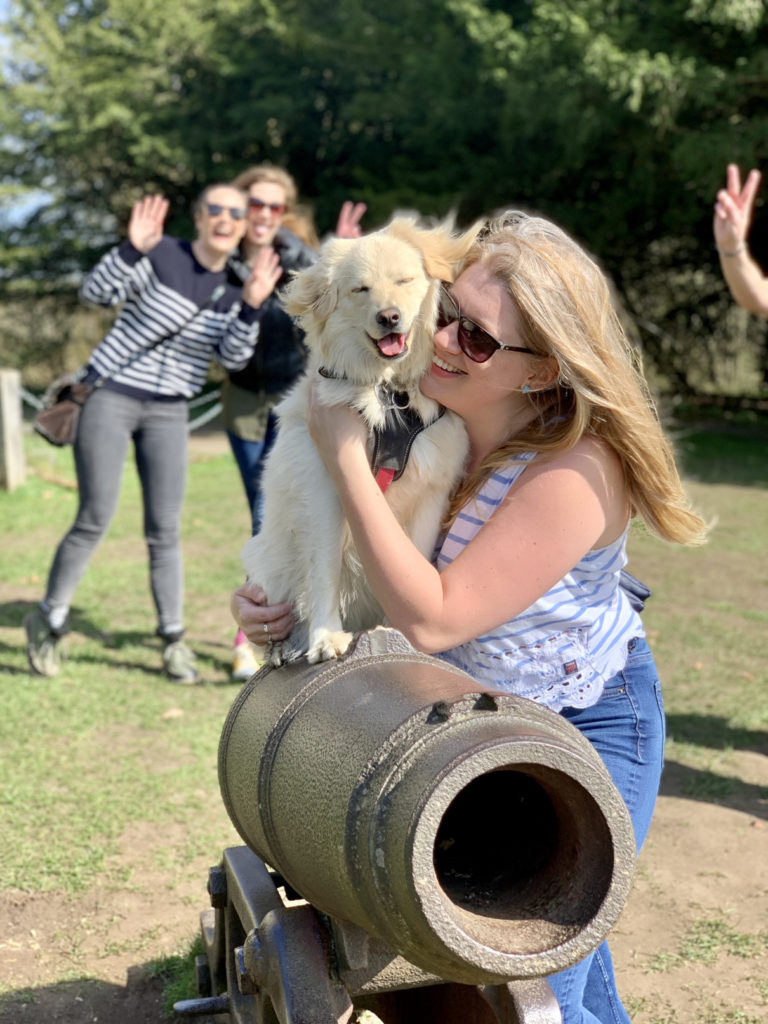 I can't believe I haven't done this walk a million times before, but think now I have found it I will be up there on every visit to Chatsworth. So much beauty, incredible views and beautiful waterfalls.
You can also link the two walks together which is what we did this weekend. Walking from Baslow, up to the tower and back to Baslow. The walk was 4.5 miles in total. You can see our route from Strava below.
Things to look out for
The waterfalls, ALL the waterfalls. There are so many, small and large so always be on the lookout or listen out for falling water.
The Aquaduct, four huge arches with water running across and down from them. A magnificent sight, even better if a rainbow forms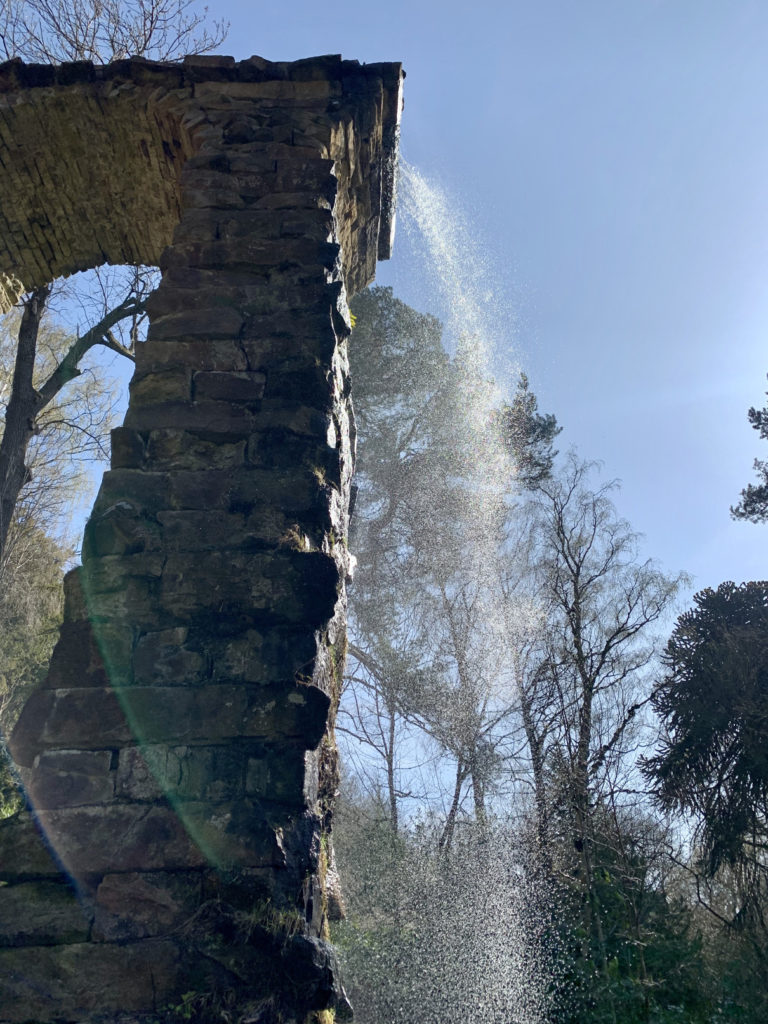 Along the River Derwent
This walk is kind of obvious but worth noting as an easy stroll from Chatsworth. In the summer months you will find lots of people picnicking by the river and even swimming in it.
Stick to the south side of the river in front of the house and you won't go wrong. There is only so far you can walk before you come to the road again near the garden centre so it really is a short walk.
Along the river look out for the weir, I always used to swim around here as a kid. You could also stop at the garden centre for a drink at the cafe or mooch around the shop before you head back.
If you want to keep going and make it longer you can head back up to the road and cross over the bridge you come to. Then rejoin a footpath across the road to walk towards Rowsley or Beeley.
Things to look out for
The weir. A nice spot for a paddle, but be safe.
Sheep poo! There is a lot of it, especially in Spring and summer when all the lambs are around. Watch where you walk.
So these are just a few short walks around Chatsworth I hope you can try. Let me know how you get on and any recommendations en route.
Other Posts you might like