I am a dog lady… one day I may be a crazy dog lady, but for now I am just a girl who loves dogs. I don't technically have a dog of my own as my lifestyle doesn't allow it, I think my dog would hate me for leaving it all the time, so instead I regularly visit or dog-sit other's canine friends. Most notably Baxter the Legend who I mention on here quite a lot.
When I was invited to visit Chatsworth Country Fair I knew I was going to have a good time… because it is a dog lovers dream. They are everywhere!
Chatsworth Country Fair holds a special place in my heart as I spent so much of my childhood both at the fair and celebrating birthdays and holidays in the gorgeous Chatsworth grounds. As a youngster my dad ran a fencing company and each year would put up the temporary fencing for the different events and arenas at the show. We would have a caravan and a stand at the show and so I wouldn't just spend the three days the fair is on at Chatsworth, but a few days either side setting up and taking down the fencing.
I remember passing dad the nails needed for the fences, my favourite job and occasionally attempting to knock the posts into the ground. It was one of my favourite times of year and when the actual fair opened I would invite friends and we would have a great base to then explore everything the show had to offer.
Back in the day we did have dogs… two Dobermans called Odin and Tila, they were the most loving, yet most ferocious dogs you can get. As soon as dad would shut the gates at night they would be on duty and good luck to anyone who dared try to go near them. When they were off duty though they were the most loyal, docile dogs around. I would ride on their backs, pull on their tails, play with their ears and spend hours snuggling with them. They were always very well behaved at the fair.
Anyway I digress… back to the fair! I was pleased to see when I returned that not much has changed at Chatsworth Country Fair and in most parts it has stuck to its routes as a true country day out. Stalls full of Barbour jackets, Hunter wellingtons and wax hats. The traditional carousel, and helter skelter and an arena filled with entertainment all day long, from dog and duck shows, to motorcycle acrobatics and hot air balloons.
This year Jessica Ennis-Hill was the President so I had the honour of meeting her on the first day of the show. A true inspiration to so many and still so humble and kind, there was certainly no fanfare and she seemed to giggle when she had to pose for the many paparazzi there to take photos. My small Panasonic Lumix seemed quite meagre in comparison.
Chatsworth Country Fair is £22 to get in if you book your ticket in advance and I think it is worth it for a day out with family or friends. Once you get in the food is of course quite pricey as all these fairs often are, but with all the performances on offer, the antique cars and war time vehicles to admire and fun rides and shooting opportunities it is definitely worth it.
Obviously the weather can make things less enjoyable and it rained the Saturday I visited with my family, but we bought ourselves a couple of wax hats (you've got to look the part!) and happily wandered around in the rain before scurrying up to the café for a bit of respite and a cake before returning to watch some of the arena performances.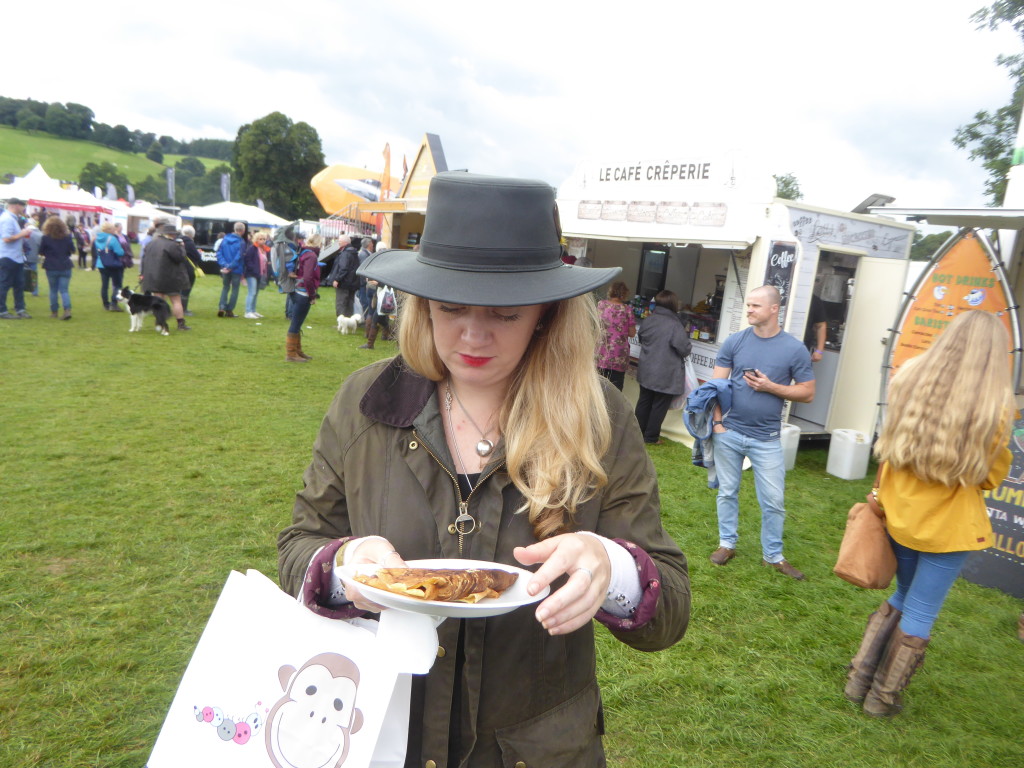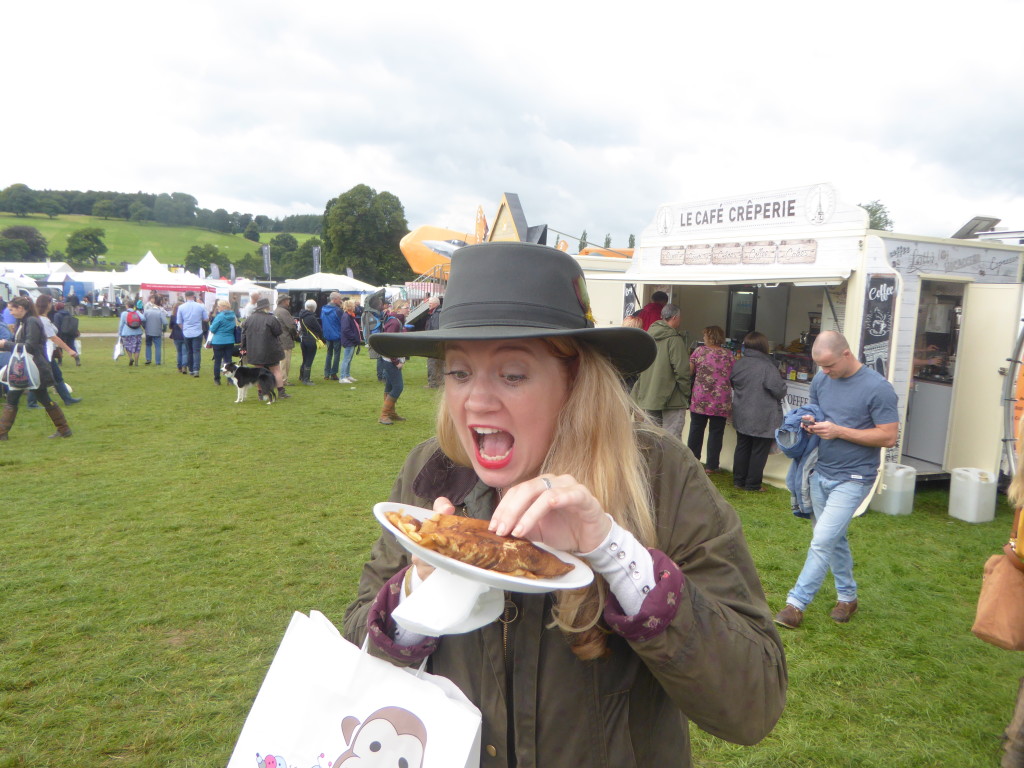 If you have a dog then you can enter them into various competitions including 'best trick' 'best condition' and 'prettiest bitch'. My friend Marvellous Millie the Whippet won two rosettes in the dog arena… look at her! Now that is a winning face.
Everyone takes their dog to Chatsworth, puppies, old dogs, big dogs, small dogs… there is every shape and size and I loved it.
I definitely want to return next year… but for now please excuse me while I consider a career change to dog walker, dog owner and dog sitter!
Other blog posts you might like