The Best Summer Sandals for all Occasions #Ad
Are you looking for some summer sandals to suit all your holiday or summer needs? If yes, I have my top three sandals that cover all occasions.
This post is sponsored by Sandalshop.co.uk. I was gifted three pairs of sandals as part of the sponsorship and promise everything I say is true and honest.
Scroll down to see how you can win a pair too!
I have worn nothing but sandals since SandalShop sent me some pairs to try. It was one of those perfectly timed partnerships where I was just about to buy some new sandals, so this came just at the right time.
They have such a huge range of summer sandals there is sure to be something you like on there. However, I have done the hard work for you and picked the cream of the crop for summer sandals.
Having been stuck at home for months, (Thanks Covid) and after a long old winter I honestly think I had forgotten what it was like to wear sandals. They can be the best or worst shoes you own.
Uncomfy sandals that squeeze your toes or flipflops that rub between your toes are no fun. But choose the right ones and you won't take them off. I can confirm I haven't taken mine off since they arrived. I've even been wearing them in the house… naughty!
You can win your own pair of sandals from The Sandal Shop. It's super easy to enter!
The best summer sandals for all occasions!
The best summer sandals for every day wear
The Barbour Gabbie Sandal might be my all time favourite shoe! I have been looking for a pair of sandals like this for months and just haven't quite found the right fit or style.
These sandals are the absolute dream. The soft leather means they are instantly comfortable with a cushioned foot bed and slight platform so you don't feel any of those rocks under your feet!
I honestly absolutely love them, which sounds excessive but I haven't taken them off and out of the three these are definitely my favourite. They look cool with jeans, shorts, dresses, anything. I wear them to Coworking Corner, out to a fancy dinner and to just nip to the shops. I will continue to wear them until my toes are close to frostbite!
The Gabbie Sandals are £69.99 and worth every penny. If they ever wear out I think I will buy a new pair. I have been debating buying them in black for smarter occasions.
The best summer sandals for orthopedic support
You can't go wrong with a pair of Birkenstocks. I had a pair of Birkenstocks I wore almost daily when I was travelling across South East Asia, but after years of heavy use it was definitely time for a new pair.
Birkenstocks are much better for your feet than most flat sandals. They mold to your feet and can also help heal common foot problems thanks to the orthopedic insole.
Even if you don't have foot problems now, it's worth ensuring you're looking after your feet to prevent any future problems. There are so many different Birkenstock colours and styles I am sure there will be a pair that suit what you're after.
I went for the Yellow Vegan Nubuck Classic Birkenstocks and love the pop of colour they add to an outfit!
The best summer sandals for the beach or long walks
I wanted a pair of sandals that I could wear on the beach or even wild swimming that don't fall off like flipflops. The Original Teva Universal were exactly what I needed.
I've seen a few people wearing something similar over the years but hadn't known the brand, but I'm glad I finally figured it out.
I haven't worn the Teva sandals as much, but know I will get a lot of use out of them when on a beach holiday or going for summer walks where trainers are too much. They are perfect for getting wet and I am most excited about wearing them wild swimming!
Perhaps with the upcoming rain they will become my sandals for day to day wear until the sunshine returns! Which it definitely will!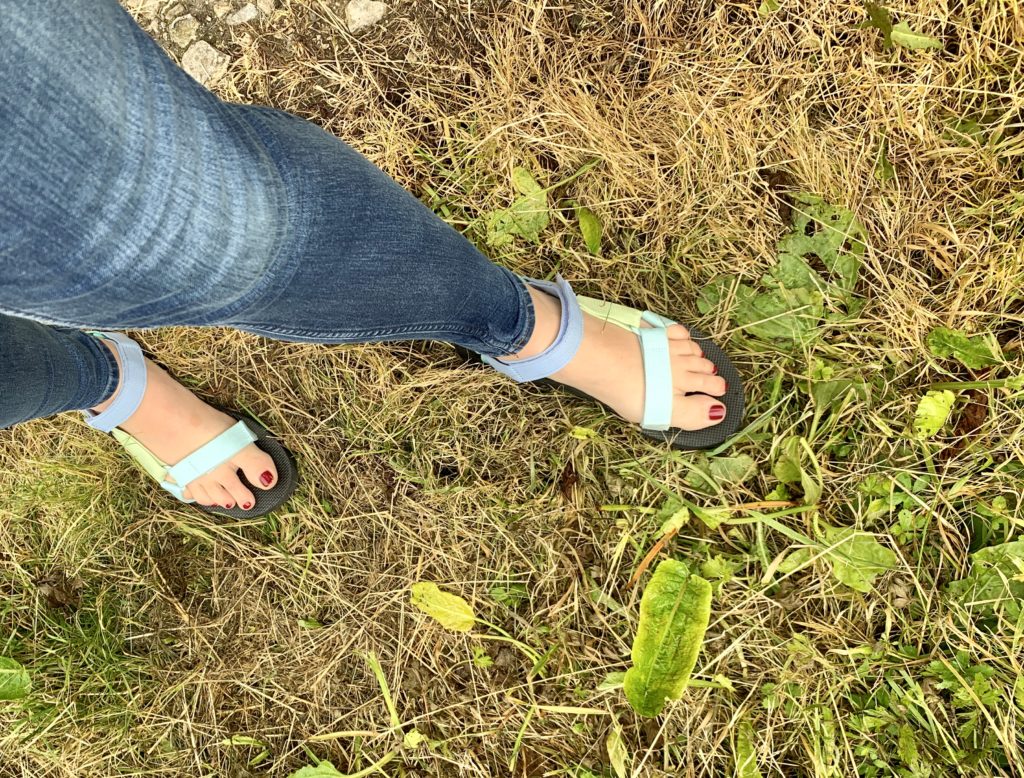 So which pair are your favourite summer sandal? Well exciting news, you could win your own pair of sandals. Sandalshop are doing a giveaway and you could win one of three pairs of sandals.
Win your own pair of summer sandals!
It's super easy to enter and you can win your choice of sandals from the sandalshop. You don't need to pick one of the options above. There are hundreds of sandals to choose from for men and women.
ENTER THE SANDALS COMPETITION HERE
Other Posts You Might Like