I WENT SKIING…
For the first time in 14 years!
After spending my childhood skiing twice almost every year I haven't been since I was 13! A combination of breaking my neck  (kind of ruins the fun) and realising how many places there are to visit in this vast world meant skiing hasn't been at the top of my list for a while. But it is back!
This year I hit the slopes in Austria with boyfriend in tow… in the main to help with the tumbles, in case skiing wasn't like riding a bike as everyone promised. 😉

We stayed in a really small resort called Axamer Lizum but hired a car and bought a pass which allowed access to 9 different resorts around Innsbruck. The Olympia SkiWorld pass was great to try out new places, we would have definitely got bored staying in our local resort for more than a couple of days.
We skied at three resorts within the Olympia Ski World and on our last day headed to a completely different resort an hour and a half from Innsbruck where Phil's family were staying. Here are my thoughts on the four resorts we tried.
Axamer Lizum
This was the first place we skied and wasn't bad for a first day after 'some' time off from the slopes, but was by no means a resort for first timers as it was sold to many. Even the blue slopes were filled with moguls and the often narrow, steep or windy pistes were not always the easiest to navigate for newbies. I followed a snow plough guy all the way down to the bottom one day only to see him fall every ten yards or so… well if nothing else it made me feel better 🙂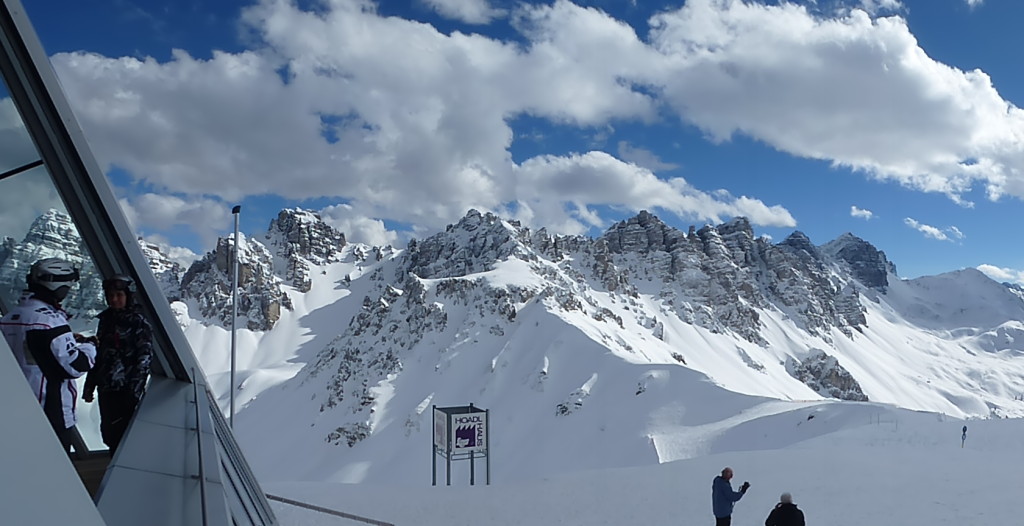 The views from the highest point were incredible and we enjoyed lunch with a view on the two days we spent at Axamer Lizum. If you like going off piste there was always plenty of fresh snow to enjoy without having to go into the wilderness where no one could find you.
Muttereralm
This resort was small and had little to keep you entertained, even for a day. Going late in the season meant the final stretch of the piste was slushy and not fun to ski down. It was useful to ski down closer to our hotel at the end of the day, but the two resorts were only connected on the way back so you couldn't start here and head to Axamer Lizum.
We did stop in a really cosy, friendly restaurant to shelter from the snow falling and I had a huge schnitzel and chips for lunch, which made the rest of the day we spent here in a snow storm not seem so bad.
Stubai Glacier
This was my favourite of the three resorts within the Olympia Ski World, for one there was a lot more choice in routes and in two days there we still found occasional new runs. Depending how you like to end your day, there is an off piste run that goes all the way to the bottom of the mountain. I opted for the cable car back down so I could sit and sip a Gluhwein or hot chocolate while I watched for Phil making his way down the mountain.
Again the food was brill, a homemade pasta bar, more huge schnitzels and enough strudle to keep you going for weeks.
Obergurgl
I LOVED it here!
We decided to spend our final day skiing in Obergurgl, meeting up with Phil's parent's who had spent the week just down the road (1.5 hours away). It wasn't part of the Olympia SkiWorld, but the long drive and extra lift pass needed was well worth it. The pistes at Obergurgl were wide, smooth and well connected. It was like I hadn't been skiing until this day. While around Innsbruck I had been worried I didn't enjoy skiing anymore and was already starting to dread the thought of another ski holiday next year… but never  fear, we just hadn't been in the right place.

The town was like those ski towns I remembered in France as a child, filled with restaurants, shops and apres ski bars and there was enough runs to keep you entertained for a few days without being bored. In fact one run we loved so much we did it 3 times in close succession. Skiing was FUN again!
Want to see how much fun? Check out this fab video Phil made for me with his dad's (the infamous Graham Norton) Go Pro.
…
Thanks to Phil and Graham for helping to film and edit this video and for a fabulous holiday in Austria.
If you are planning a holiday skiing in Austria next season… Obergurgl definitely wins, hands-down!
Have fun on the slopes folks. x