An evening with Jane Eyre at Chatsworth House
Afternoon tea and a play at Chatsworth, how very civilised. Jane Eyre, as is Pride and Prejudice, are books many of us have grown up with, whether it was Mr Darcy or Mr Rochester there isn't a girl who didn't grow up daydreaming of these grumpy yet charming, sullen yet handsome characters. Last weekend I was lucky enough to watch a performance of Jane Eyre by The Chatsworth Players within the magnificent Chatsworth House. A house I grew up close to and have spent many a day walking the grounds, playing in the adventure playground and picnics in the gardens.
From the moment Rochester first walked in the room and demanded the stage with his strong will and tall stature I was hooked. I've always been more of a 'Team Darcy' girl, but since last week's performance my day dreams have been filled with thoughts of a strong, powerful and abrupt yet passionate man. 'Oh Mr Rochester…'
Only in 2005, staff at Chatsworth House came across numerous sets and artefacts which had been gathering dust in the old ballroom which had been used as a theatre in the past. There were several sets which had not been used since the last performance in 1910… quite a find.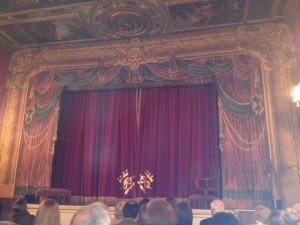 Since 2007 The Chatsworth Players have been lucky enough to put on several performances over the years, including 'The Importance of Being Earnest' and 'The Crucible' in this traditional old family stage, in one of the country's most magnificent old homes.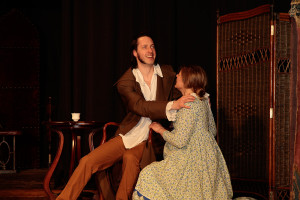 I was truly inspired after the performance. As an amateur dramatics show I wasn't sure what to expect, but the acting had me nodding in agreement, crying, laughing, I was on the edge of my seat the whole way through, mesmerised by the relationship developing between Jane and Mr Rochester.
I applaud all the actors who were part of this show and their wonderfully positive Director Sylvia Jackson… a character herself who can't help but make you smile. "I expect you all back in October for our next performance ladies and gentlemen, I have a brilliant memory I will be looking for you' Sylvia demanded as we left the theatre.
I for one already have the next performance in the diary and am even considering auditioning for a part in 'Pygmalion' myself.
A truly inspiring evening, I thank everyone involved for making my week!
See you in October Sylvia, I promise 🙂 x