7 mood enhancing things to do in Brighton
January. A month of cold weather, dark nights, failed resolutions and large bellies. Anyone else agree? I've really struggled this month to get my mojo back and find inspiration for the year ahead. Hormones have got the better of me and to be quite honest I have been a bit of a grump!
So when ibis Hotels got in touch inviting Olly and I away for a weekend of fun to beat the January blues in Brighton I knew it was just what I needed.
Brighton was voted Britain's Happiest City, and certainly lives up to its BRIGHT name, so what better place to giggle and enjoy a weekend by the sea?! ibis organised an itinerary of fun including laughter yoga, a burlesque cabaret and a relaxing stay in their ibis Brighton City Centre hotel.
I've been to Brighton a few times before and it never fails to cheer me up. Perhaps it's the fresh sea air, the colourful graffiti covered buildings or all the fun things you can do there.
So to pass on my Brighton knowledge here are my top 6 mood enhancing things to do in Brighton.
1. Sleep in and have a lazy breakfast at the ibis Hotel
There's nothing I hate more than a hotel breakfast that ends at 9am meaning you have no choice but to get up early and rush down for a few last scraps of bacon as they start clearing away.
Well you don't have to worry about that at ibis hotels. They have a hot breakfast on offer from 6.30am through to 12pm. So you can sleep in to your heart's content (almost) and mosey on down for a full English any time before midday.
What better way to let go of the week's stresses and start your weekend off as you mean to continue… relaxing!
The breakfast was great, and the hotel has a great bar and restaurant area too, for a relaxing G&T before a night out or quiet afternoon coffee.
2. Wake up early and swim in the sea
OK, so I didn't manage to do this whilst in Brighton. The plan had been to wake up early and head for a swim before breakfast, but well option 1 got the better of us and we opted for a lie in and a cooked breakfast instead.
I did however manage it in Southsea the next day though and highly recommend it for an invigorating way to start your day.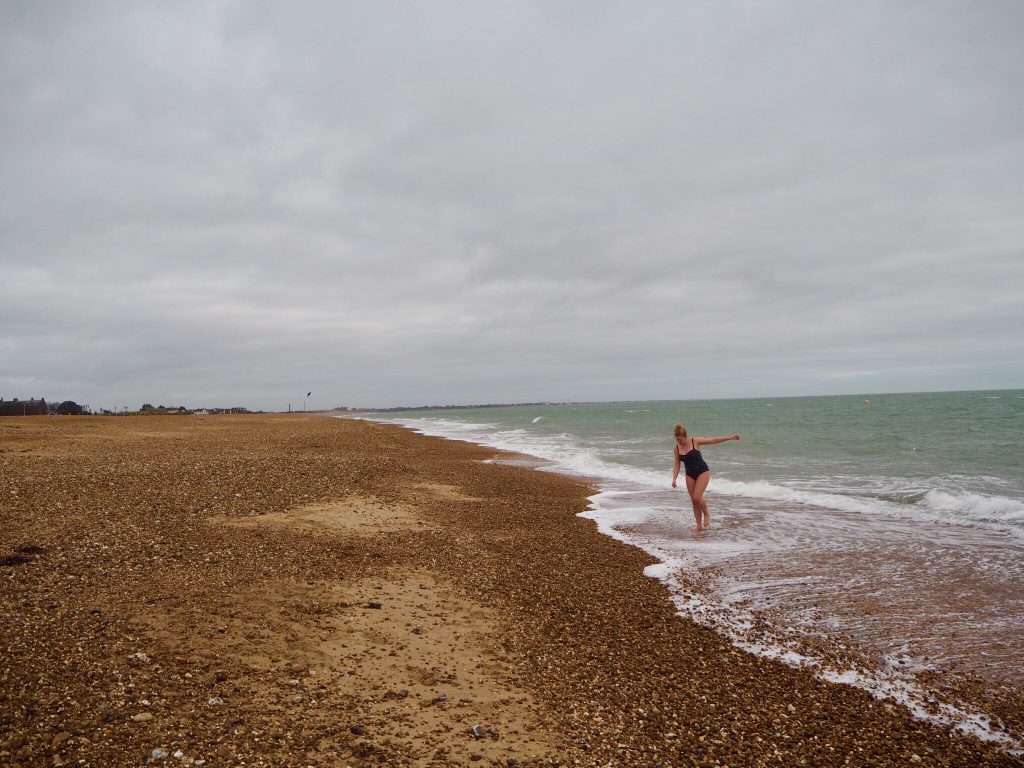 It's cold, really cold and you need some serious will power to get out of bed and strip down to your swimsuit to walk in the cold ocean in the middle of winter… but when you do it is such an incredible feeling.
Your body tingles all over, parts of your feel cold, whilst other parts feel like you're burning and you wonder what the hell you are doing this for?!
But well, if you can jump in the freezing cold sea at 8am on a Monday morning in January you can do anything… right?!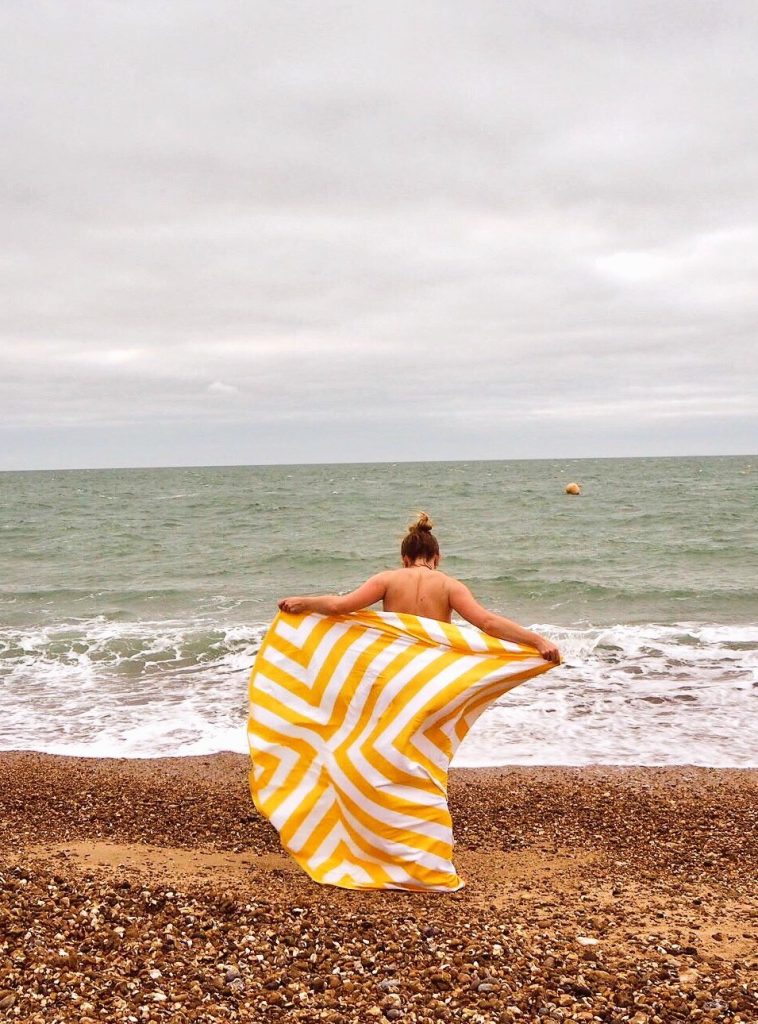 I got this towel after attending an awesome launch event for Dock and Bay. They have the BEST competition live now called Colour of Summer to win a week in Bali with your best mate! I am most definitely applying myself too!
3. Try a laughter workshop at the Purple Turtle Wellbeing Centre
As a group of 8 there were mixed reviews of the laughter workshop. I was definitely a fan and loved the 'enforced' laughter and learning how much even forcing the process of laughter can release positive endorphins and is a great form of exercise.
I was always sure I had a toned stomach as a teenager because I spent most of my time at school giggling and Amanda who ran our workshop may have proven me right.
Olly said he ran out of forced laughter after 10 minutes or so, but I'm pretty sure there were some real giggles coming from him when we were all lying in a circle on the floor laughing at anything and nothing, just because we could.
4. Get dressed up and party the night away at Proud Cabaret
Working from home most of the week means I can regularly go days without putting any makeup on or progressing my outfit choice much beyond pyjamas to leggings.
So it is a refreshing and exciting change to get dressed up in my glad rags and go for a proper VIP night out.
We had the Proud Cabaret VIP package for the evening which included champagne on arrival, half a bottle of wine each, a three course dinner and a cocktail, on top of the live cabaret performance and after party.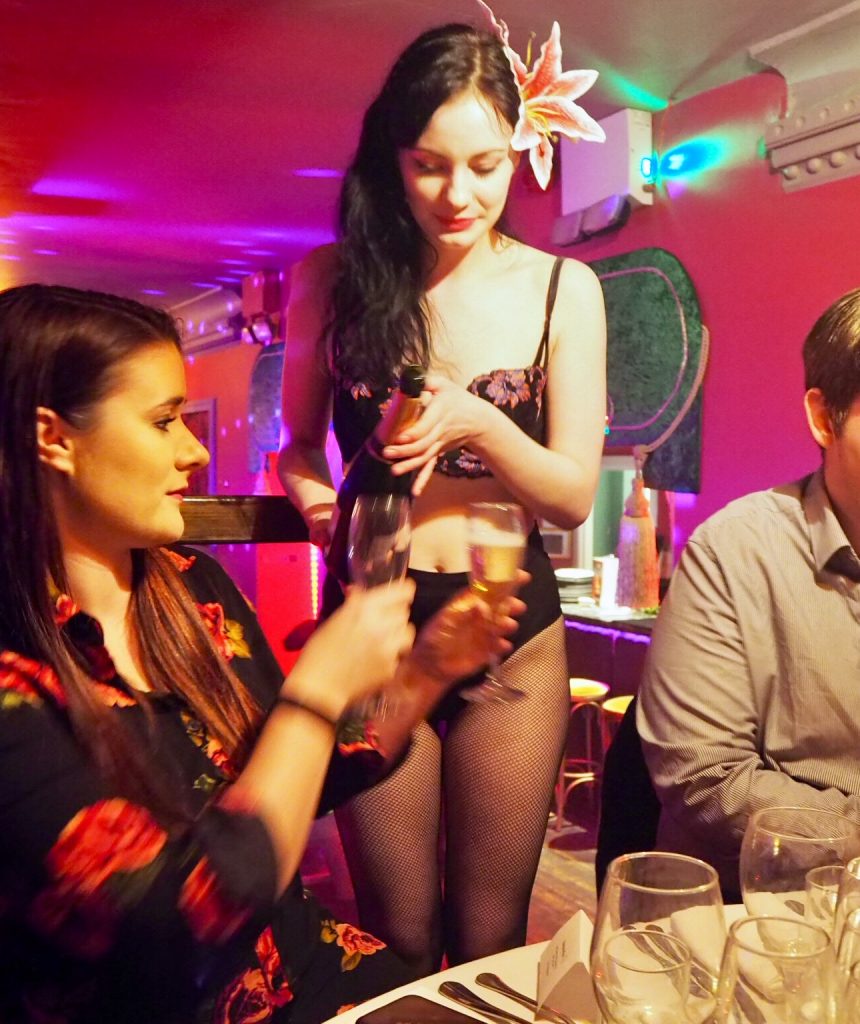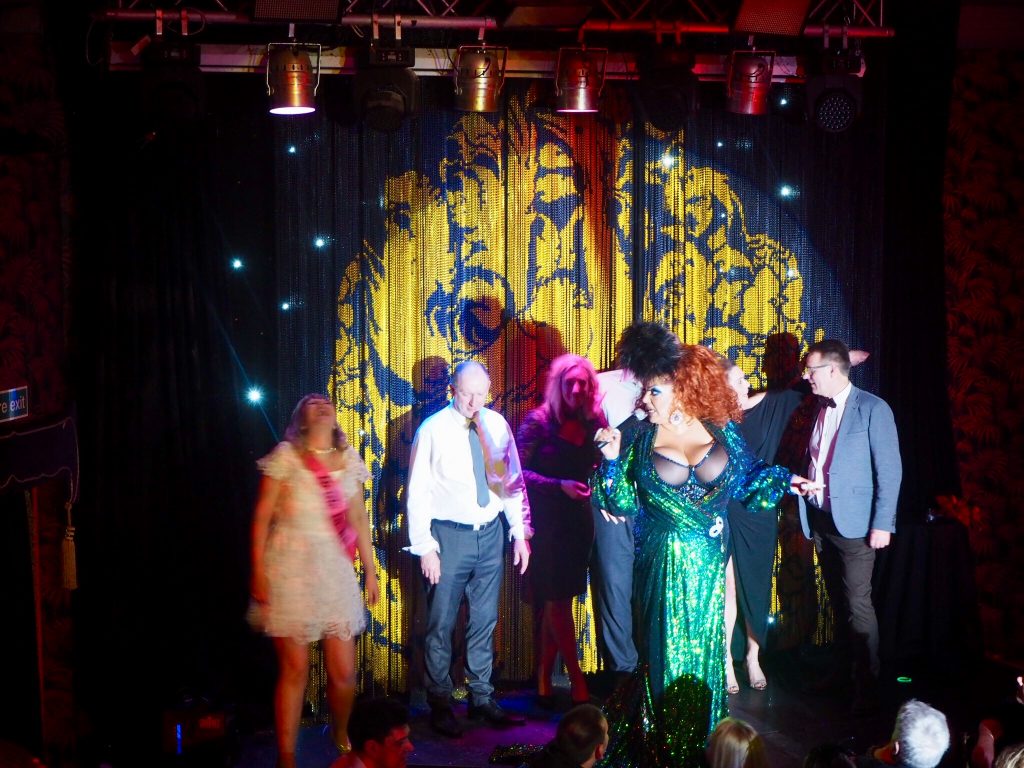 We were both disappointed with the food at Proud and would have probably been annoyed if we had paid the £90 each for the VIP tickets ourselves, however the performance was great fun and made our eyes pop a couple of times as Sherry Shakewell spun her nipple tassels to the tune of Goldfinger. I'm pretty sure Olly enjoyed it too 😉
We recommend getting the lower priced tickets that includes the show and some drinks, then you get the best bits!
5. Wander around the North Laines and grab a bargain!
The North Laines has always been my favourite part of Brighton. Wandering down the brightly coloured streets, window shopping and perhaps some actual spending too.
Nothing like a bit of retail therapy to brighten your mood, right?! I found a little gem of a clothes shop called SugarHill, with discounted last season's clothes from top department stores. 3 dresses and a jumper for £45, now that's a bargain!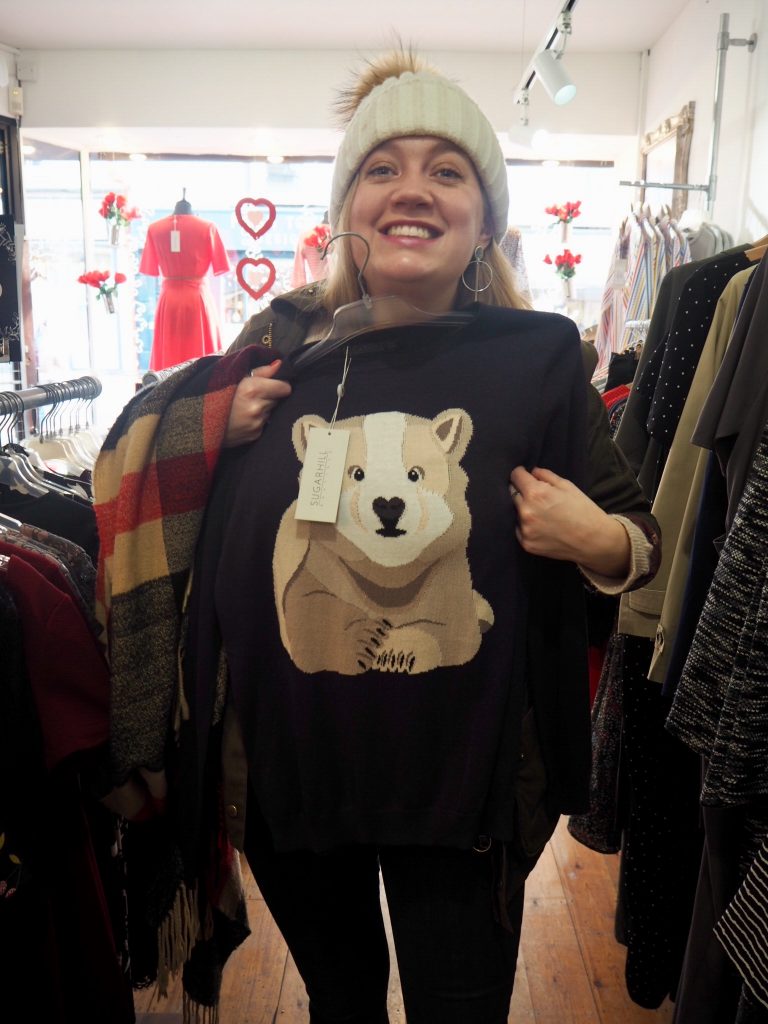 Apparently there are more independent shops in the Laines than any other town or city across the UK, so if you want to support small business owners, Brighton is the place to go!
6. Dance with the staff and eat authentic tapas at Casa Don Carlos
You know when you do a quick google of the best tapas in Brighton and it actually takes you to the best tapas in Brighton. Casa Don Carlos was exactly what we wanted after a long drive from Derbyshire.
Late night orders, the most delicious tapas and friendly staff.
We certainly stuffed our faces with chorizo, honey Aubergine and patatas bravas, washing it all down with a bottle of wine. As we left I danced my way out the restaurant to the Macarena with the staff. It certainly started off my weekend in Brighton well!
7. Release your inner child on Brighton Pier
Penny arcades, hook a duck, the Mighty Mouse roller coaster and even the dodgems. If you want to release your inner child, this is place to go.
Stuff your face with donuts and ice cream while you try your hand at winning a giant cuddly toy, you really don't need, while you battle the seagulls away from your chips!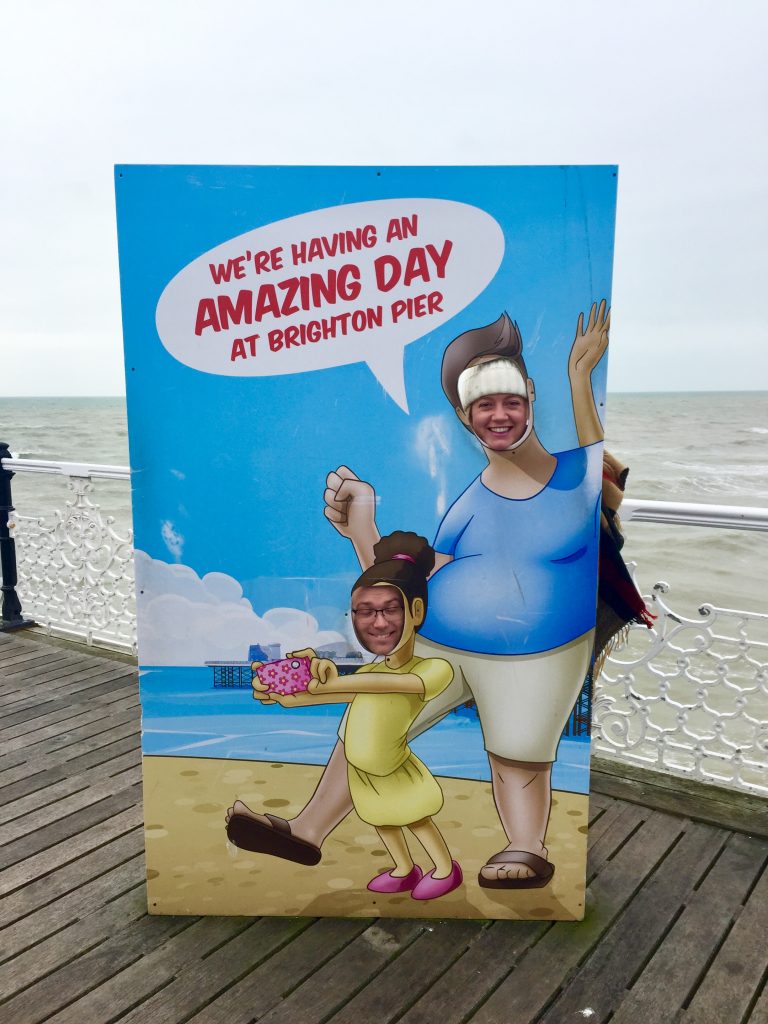 The arcade has many a two pence and ten pence slot machine alongside air hockey, racing games and toy grabbers, though don't be fooled because you can only win tickets that can be exchanged for toys and sweets. You will never make your money back! But that's not what it's all about anyway right?!
You can't visit Brighton without visiting the pier!
So if you're looking to boost your mood and be cheery for the year ahead then get yourself to Brighton for a weekend of fun and laughter. Even just some fresh sea air is enough to perk anyone's day up!
I was invited to Brighton by ibis Hotels who organised the hotel stay, laughter workshop and cabaret, however as always it is up to me what I write and I have been 100% honest!
Other posts you might like: