Thailand Lovers in London
In Thailand I had the time of my life! So much so I almost never left.
I danced
I sunbathed
I swam
I drank buckets
I laughed
I danced some more
and best of all I met my lovely man.
So YES I would LOVE to return to this gorgeous, fun-filled, sun-soaked country, but for now I am happy making do spending time with my favourite souvenir from Thailand, Phil,* in London.
If you can't make it to Thailand here is the perfect way to spend a sunshine filled** day in London Town.
London is filled with secret passageways, quirky cafes, unique shops and beautiful parks, but to find most of these hidden gems of London you need to walk there. It is so easy to hop on a tube to move from one spot to another, but without using those walking feet, you will miss so much of what London has to offer.
After a leisurely wake up and quick cup of coffee it's time to leave. I live in North London so the day starts with a stroll through Alexandra Palace to take in the magnificent views of the city… keep on walking, heading south towards Upper Street in Angel. (hop on a bus if your feet are already tired, you need those soles for later!)
Walking down Upper Street can take anything from 10 minutes to several hours, depending how many of the unique shops you get pulled into. It's alright though, take your time and stop off for some brunch… There is plenty to choose from. My favourites are Ottolenghi and The Blue Legume.
Had a nice rest? Good! Now get back on the road and walk south to the river, it's a weekend and there is so much going on at the Southbank you just have to join in.
After reaching the bottom of Upper Street just keep moving South… no set route, take that little road, turn left, turn right, whatever you want, this is an adventure, you never know what you might find.
Assuming you eventually make it to the river (don't worry this is London you're never really that lost or far away from a rescue tube) head across the nearest bridge and have a drink.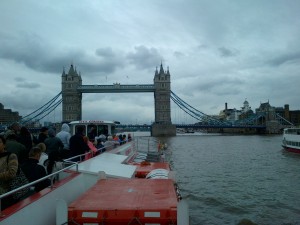 You're probably around Waterloo so nip down to the Southbank Centre… it will be buzzing with people, performers, book stalls, ice cream. Can't find anywhere to sit? Just grab a drink at the bar and sneak upstairs to the top floor… there is a beautiful balcony up there you can take in the gorgeous views of The Thames and people watch the crowds below… but Shh don't tell anyone, most people think it is a private members bar. (our little secret).
If you have any energy left it's time to walk again, head East along the Southbank before heading back across the river and up towards Shoreditch. The sun is starting to set and you need to get to The Queen of Hoxton for a quick Pimms before settling down to an outside movie on the roof. Put your feet up, relax, snuggle up, enjoy!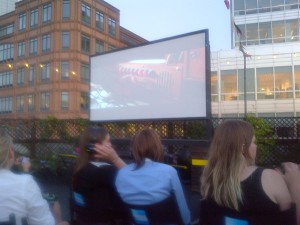 I hope you've had a lovely day, now go home, relax, and have a peaceful nights sleep … go on you can get the tube home, you've deserved it. Phil and I are shattered after our London Lovers day together, time for bed. 😉
Let me know what special spots you've found, I'd love to know your secrets too.
*Not actually from Thailand.
**Rarely happens.