The ultimate guide to travelling in a campervan with a dog
Have you ever thought about travelling in a campervan with your dog? Picture the scene – the sun is setting, the stars are beginning to shine, the bonfire is roaring, and you're about to start roasting marshmallows.
The only thing that could make this day more perfect? Having your pup by your side.
If you're anything like us, no holiday will be quite complete without your dog.
And, beyond the fact that you'll be missing them like crazy, there's also the matter of arranging their care, paying for shelter costs, or hoping someone in your family will be available to care for them while you're away.
All of these worries and extra preparations really take away from the spontaneity of an impulse staycation.
But, what if you could reclaim this? What if, you could plan a jam-packed adventure holiday, where you can take your dog with you every step of the way?
Campervans are the best, most underrated holiday to take with your four-legged friend. There are endless fun-filled outdoor activities for you to try, your dog will ADORE all the fresh air and walkies, and the humans can enjoy quality time together, away from their devices.
Plus, have you ever heard of dog-friendly campervans? If you haven't already got a travel vehicle, we'd highly recommend hiring a campervan that's specifically designed for dogs.
For this post we have partnered with Goboony who allow pet owners to hire a state of the art dog-friendly campervan. The website has sizes and budgets to suit everyone, with campervans available to hire from vetted renters, located across the country. No doubt about it, with Goboony, you and your pup will be travelling in complete luxury.
If you're already planning your campervan holiday with your dog, you'll definitely want to keep reading.
Below, you can find our top tips for travelling in a campervan with a dog, including things to pack, things to do, and our favourite product recommendations, to keep your pup safe and happy throughout the holiday.
10 top tips for travelling in a campervan with a dog
During a campervan holiday, there will (obviously) be a lot of travelling involved.
While some dogs are perfectly comfortable with travelling and life on the road, some dogs might get travel sickness, struggle to settle, or feel frightened easily.
So, our first (and most important) tip would be to make sure that this holiday is not your dog's first ever car journey.
Even if it's just for an hour or so, be sure to take your dog out in the car before you head off for your holiday. That way, you can get a sense of how well they cope in a car, what (if anything) they struggle with, and whether you need to bring any other equipment to keep them comfortable.
For instance, if you find that your dog gets particularly restless when in a car, you can learn from this journey, and be sure that you tire them out before you start on any long trips.
Cookie was a really bad traveller the first 6 months we had her and would be sick almost every time. We used to make sure we didn't feed her within a couple of hours or more of a car journey. Luckily she seems to have grown out of it and loves a trip away now.
Our 10 top tips for travelling in a campervan with a dog
1) Pet passports
If you're travelling abroad, make sure your pet has their own passport. We also recommend storing it with the rest of your family's passports, as this is a very easy thing to forget!
2) Tire them out before you travel
Humans are used to car journeys and, since we know that it'll only last for a couple of hours, we find it a lot easier to settle down and get comfortable. For a dog, however, it can be very difficult to relax when there is so much going on. So, we'd recommend taking your dog out for a long walk before your journey. That way, by the time you start driving, they'll hopefully be ready to doze off!
3. Plenty of toilet stops
Whether you're human or animal, there's nothing worse than having to hold it in for ages. To prevent any accidents in the back seats, we recommend scheduling plenty of toilet stops in your journey. Look ahead at your route, and try to find areas of grass or outdoor space, where your dog can feel comfortable going to the toilet.
We find most service stations have a grassy bank nearby, so you can tie it in with a coffee and nibbles stop too.
4. Secure them in the vehicle
Before you start moving, make sure that your dog is firmly secured in the vehicle. The best way to do this is in a carrier crate, which is held in place by a seat belt.
Alternatively you can get a back seat cover and tie them in with a special tie via the seatbelt socket or through the headrest. We have a great seat cover that can go across the whole back seat. In a campervan you might be able to put them in their dog bed with their lead on and make sure
5. Have a 'mud daddy' handy to keep them clean
Trust us, a mud daddy will be an absolute life saver. After all, you'll all be sharing this space together for the next few days. So, if your dog brings in mud after a walk, your entire campervan (including your bedroom and kitchen) will get dirty in minutes. Nightmare!
With a mud daddy, you can regularly clean your pup, before they step inside the vehicle. It's so easy to use that you can quickly give them a wipe after every trip outside. This will keep your campervan nice and clean for the entire trip.
We love your mud daddy and use it for Cookie all the time.
6. Don't ever leave them in a hot car
Leaving your dog in a hot car will, at the minimum, make them feel very uncomfortable and distressed. At its worst, this can be fatal. So, it is essential that you don't ever leave your dog in a hot car or campervan for a prolonged period of time.
7. If the weather is hot, make sure you keep your dog cool
Building on the point above, if the weather forecast predicts hot temperatures, make sure you are well prepared to keep your dog cool. Take plenty of water with you, keep the air conditioning on, or invest in a cool mat, which you can keep under your dog's bed.
8. Bring comfortable cushions and soft furnishings from home
Items like these will ensure that your dog feels comfortable and settled in your campervan, as they are surrounded by smells and sights that they are familiar with.
9. Prepare a medical kit
You'll have already packed an emergency kit for humans, but don't forget one for the dog! You can buy pre-packaged medical kit for dogs, which contains all of the essentials. These include bandages, emergency cool mats, and tools to remove splinters, for example. This is a fantastic way to ensure that you are prepared for every eventuality.
10. Make the travel crate as comfortable as possible
Finally, make sure that your dog will be comfy, cosy and relaxed in their travel crate. You can do this by packing blankets, their favourite toy, pillows, a miniature bed and any of their other favourite things in the crate. Also, if you're about to buy a crate for the first time, ensure you carefully measure your dog, so that you choose the right size for them. Too small and it'll be cramped, too big and they won't be secure.
So there are our top tips for travelling in a campervan with a dog, now the equally important stuff, what to pack!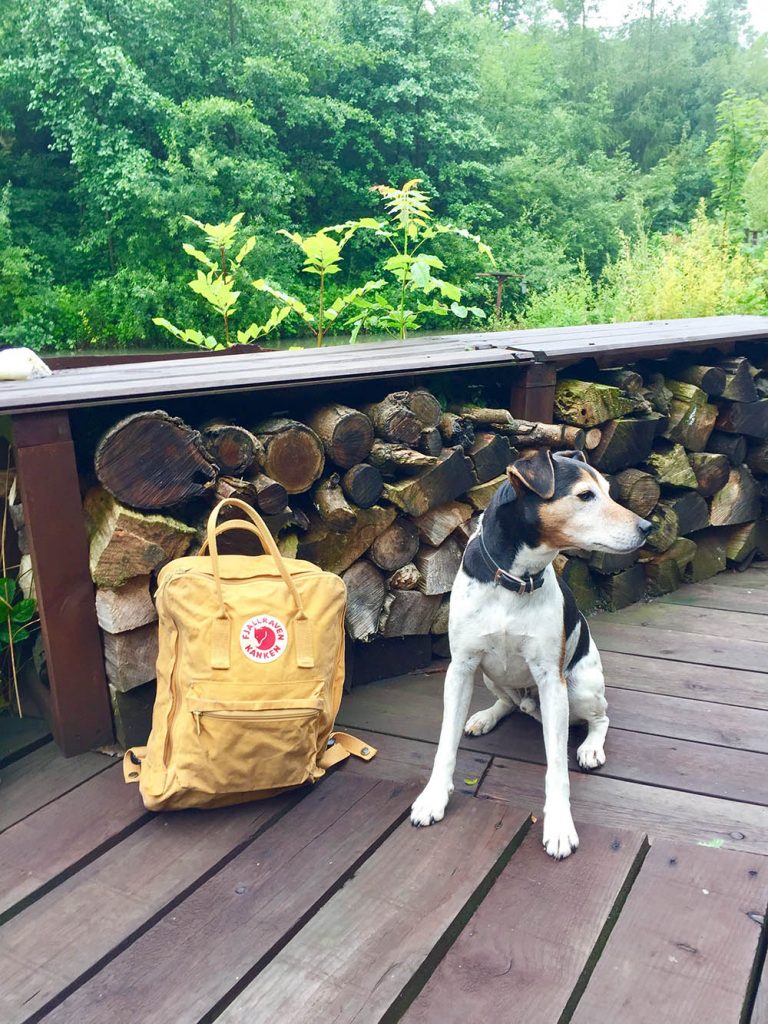 Things to pack when travelling in a campervan with a dog
Alongside all of the stuff you'll need to bring for yourself, you'll also need to bring a lot of essentials for your dog. It's a lot like having a travel bag for a baby! Sometimes it amazes me how much stuff Cookie needs for a trip away. What a pampered pooch 😉
So, building on everything that we covered above, here is our ultimate list of what to pack on a holiday with a dog:
Comfortable cushions and soft furnishings from home
Water bottle and bowl
Food (enough for the whole trip plus a bit spare) and food bowl
Dog treats
Their favourite cuddly toy
Tennis ball, frisbee, or any other favourite toys to play with
Medical kit
Travel crate
Cool mat
Puppy pads
Mud daddy
Collar including dog tag (with all of your contact information)
Dog leads, one long and one short
Dog towel
Suncream (that's suitable for dogs who don't have much hair)
A brush (we certainly need one of these for Cookie!)
Doggy shampoo
Doggy waste bags
Spare carrier bags
Dog passport
Proof of your dog's vaccinations
A recent photograph of your dog – not to worry you but, if you ever get separated, you can show this to people in the area.
So there it is, everything you need to know for travelling in a campervan with a dog. Who's ready to book a trip with Goboony?
Other Posts you might like