7 luxury hotels in Cornwall you need to visit
Jose is back, sharing the best luxury hotels in Cornwall you need to visit!
Cornwall's had a tourism trade for pretty much as long as it's had beaches. As a result, Cornish hospitality specialists have had plenty of time to perfect their craft.
Although 'Cornish holiday' undoubtedly evokes pictures of crabbing, sandcastles and Mr Whippy's, this is just one side of the region's signature draws.
Beyond the delightfully timeless cheap-and-cheerful holidays, Cornwall has an extraordinary hospitality sector, with a huge portion of the UK's best luxury hotels lining its coast. 
So, if you're wanting to treat yourself to a staycation with a difference, check out our roundup of the top luxury hotels in Cornwall.
Expect to see panoramic sea views, menus exclusively featuring fresh local produce, and a charming beachy aesthetic.
Keep reading to find everything you need to know about luxury holidays in Cornwall. 
Psst, if it's food you're looking for then check out Jose's post on the best places to eat and drink in Falmouth.
My favourite luxury spa hotels in Cornwall
Fistral Beach Hotel & Spa – Newquay
Newquay has no difficulty attracting Europe's surfers, but the Fistral takes a somewhat different approach to water-side entertainment. 
The Fistral Beach Hotel & Spa provides everything that you'd hope for from an adult's only hotel. Namely, a stunning spa, dedicated to wellness and self-care.
The hotel's renowned spa has made it one of the most famous Cornwall luxury spa hotels.
The spa is available for both overnight guests and day-trippers alike. There's a huge range of luxurious treatments on offer, including everything from facials to hot stone massages, and salt & oil scrubs, to an 'Ocean Gaia Ritual'. 
And, conveniently located just off the Cornish coast, it's never been easier to book a well-earned break from the family!
The Alverton Hotel – Truro
Located right by Cornwall's historic capital, The Alverton may not have sea views, but its timeless grandeur really is something else. 
As Truro's best-kept secret, The Alverton Hotel is within easy walking distance of the small city, making it the perfect stop-over for your romantic Cornish holiday. In fact, from this central point, you can conveniently access all of Cornwall's top attractions.
But, when you've got luxury like this at your base, why would you ever leave?
The Alverton boasts a double AA rosette restaurant, and an exciting events calendar, featuring summer music sessions, balls, and even an annual gin festival.
Bedruthan Hotel and Spa – Mawgan Porth
If you're visiting Cornwall for the sea, then you'd be mad to miss a trip to Bedruthan.
The Bedruthan Hotel and Spa is perched right on the dramatic cliffs of North Cornwall. Amongst other things, this gives the hotel the most incredible views imaginable.
Gaze out across the crystal blue waters, in all their choppy drama. And, furthering this characteristically Cornish laid-back vibe, the hotel offers wide balcony spaces, decked out in stylish Scandi furnishings.
Alongside the spectacular views, the Bedruthan also has a proud reputation for being one of Cornwall's best spa hotels. It boasts a spa with all the works, day spa treatments, wellbeing classes AND a sensory spa garden.
The hotel's unique sensory spa garden puts its own twist on traditional Nordic thermal therapies. It gives guests the opportunity to experience these specialist treatments in a garden filled with fragrant flowers and scents of the sea air – the ultimate in Cornish wellbeing.
Fowey Hall Hotel – Fowey
This entry is one for families, but that's not to say that the luxury level changes.
The Fowey Hall Hotel gives guests a glimpse into Cornwall's rich history. This Victorian coastal manor house (formerly a private mansion, built by Fowey local Charles Hanson) offers unrivalled views of Fowey's famous estuary.
And, if you and your other half want to take a break from parenting duties, the Fowey Hall Hotel offers an impressive range of childcare facilities (at no extra cost). There's even a childcare Den that's Ofsted-registered!
Fowey is a jewel in Cornwall's lustrous crown. Personally, it is easily one of my favourite places to visit in Cornwall. The whole place has a joyful and friendly atmosphere, the estuary gives the town magnificent views everywhere you look, and the food on offer is exceptional.
From small tapas bars to the Fowey Hotel itself, local chefs take immense pride in showcasing the finest, freshest and most seasonal food that the region has to offer.
Carbis Bay Hotel – St Ives
The Carbis Bay Hotel is situated right on the iconic Cornish coastline. And, it's fair to say that the hotel has made full use out of this most spectacular setting.
The rejuvenating spa is, undoubtedly, one of the top attractions of this luxury Cornish hotel. With its fabulous Mermaids and Sailors spa packages, there's something to tempt any guest.
And the most luxurious treatment on offer? The Spring Spa Revival Experience is a whopping £450 a night for two people. Now, although we wouldn't be able to treat ourselves to treatments like these every day (most of us, at least), the price tag is certainly justified by the exceptional quality of the service.
Guests that have chosen the package get to unwind with two spa treatment sessions, stay in one of the hotel's most premier rooms, tuck into a decadent dinner at the hotel's renowned Orangery Restaurant, wake up to a luxurious breakfast, and enjoy full use of the hotel's entire spa facilities all the while.
Where do we sign…?
St Michael's Resort – Falmouth
Having gone to university in Falmouth, this gorgeous town and its beaches still have a firm hold on my heart.
And, if you've got a taste for the finer things in life, St Michael's Resort and Falmouth are a pretty unbeatable combination.
And the best bit? You can even bring your four-legged friend with you! This pup-friendly hotel is perfect for families whose holidays wouldn't feel complete without their dog enjoying it with them. Cookie will be happy!
As with many of its rivals, St Michael's is best known for its spa and easy beach access. In fact, St Michael's has an impressive reputation for being one of the finest luxury spa hotels in south Cornwall. 
The St Michael's spa offers a wide range of state of the art treatments, including hydrothermal experiences, to a luxurious mud treatment package.
After a hard day of spa treatments, you can cap off your visit with a trip to the Brasserie on the Bay restaurant. The culinary team have forged close partnerships with local Falmouth producers, ensuring that all of the restaurant's ingredients represent the very best of Cornish produce.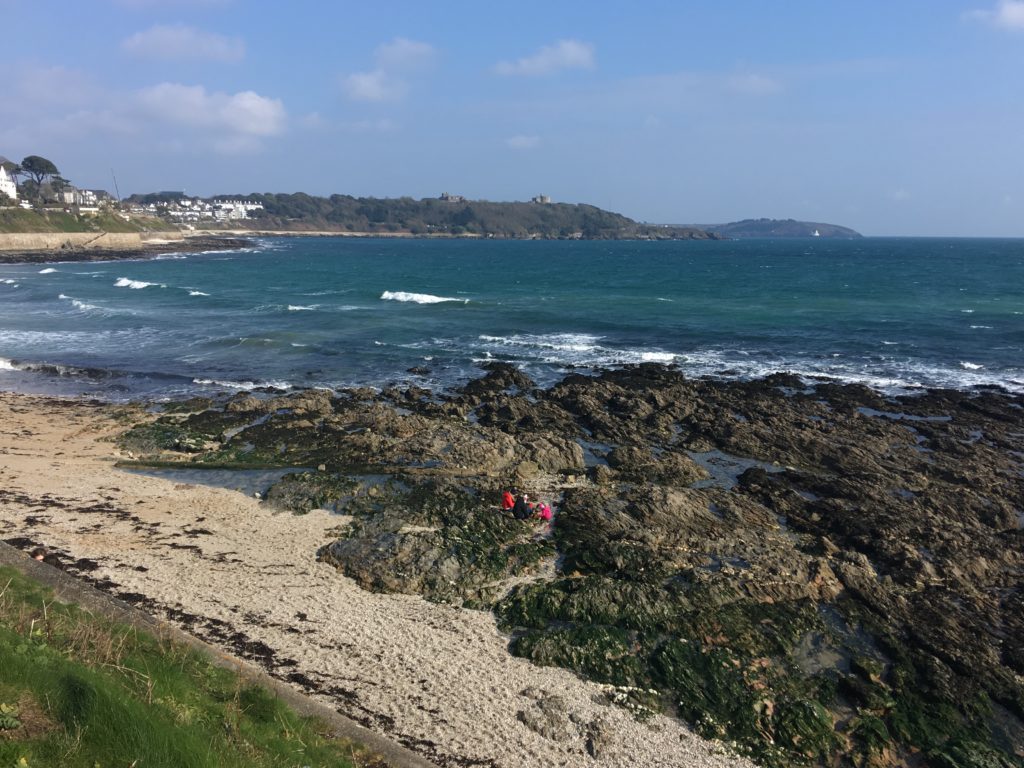 The Nare Hotel – Carne Beach
And last, but certainly not least, The Nare Hotel concludes our round-up.
The Nare immerses guests in a perfect slice of traditional Cornish hospitality. Inside, time stands still (in the best possible way). The decor speaks to all the grandeur of a Downton episode, with attentive and personable service to match. 
This country house hotel boasts the full five stars, and it certainly hasn't spared any expense on its list of luxuries.
The Nare provides its guests with access to two swimming pools, tennis, horse riding, croquet, a hot tub with a sea view, a long list of indulgent spa treatments and, most importantly, the stunning Carne beach.
With these hotels, you can experience the very finest that Cornwall has to offer.
Beyond their status as the best luxury places to stay in Cornwall, these exceptional venues also represent some of the most sought-after destinations in the entire UK.
With everything from 5 star luxury spa hotels, to hotels by the sea, deciding to visit Cornwall was the easy part – now you have to decide where to stay!
And, with an itinerary of beach walks, pampering spa sessions and indulgent dining, why would you choose anywhere else to go on holiday?
Other Posts you Might like