Surfing Busua with Mr Brights
I lived in, Santa Cruz, California for a year in 2005… the home of surfing, the place where a permanent statue has pride of place by the beach, where surfers outnumber sunbathers and every car has a roof rack for the essential surfboard. Yet somehow I never did a surfing lesson. I must have been the only person at UC Santa Cruz who chose not to try surfing. Why? Well I am not really sure, I think my weeks of learning to sail, climb, raft and belly dance didn't leave much time for surfing, but I have regretted it ever since and knew that someday I would have that surf lesson and see what all the fuss was about.
I certainly didn't expect that time to come in Ghana, but when I was offered a surf lesson with Mr Brights I realised my time to shine had finally come.
We arrived bright and early ready for the waves, ready to stand tall and ready to become Busua's best surfers?!
Brett AKA Mr Bright was a caring and dedicated teacher. A surfer for 30 years and a teacher for 6 he had clearly done this many times before but didn't seem bored as we repeated questions and made mistakes he has probably heard and seen a thousand times before.
After a brief lesson on land of the dangers of the sea, we headed in to try catching our first wave and body surfing our way to shore. Sooo much fun, we were all instantly hooked and didn't want to come back to the beach for part two of the lesson … how to stand! Why bother when surfing on your belly is so much fun?
After just about managing to stand on my surf board when on the sand it was time to try in the sea. Brett assured us we would all stand before the end and well Mr Bright was right… just about!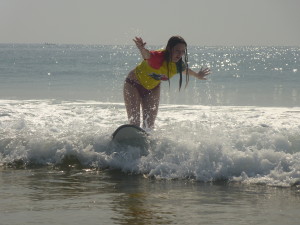 The waves at Busua are perfect for beginners, not to big, not to small, the water is warm and the beach and sea are never too busy… and like everything in Ghana it is not too expensive either.
The best part about Mr Brights is seeing what he has done for all the locals in teaching them to surf, taking them to competitions in South Africa (for many their first time on a plane) and bringing a whole new culture and sport to the quiet beach along the west coast of Africa.