Kayaking The Thames at Night.
Ever wanted to escape the busy streets of London town but don't have the time to run away for a weekend? Yes? Then how about a quiet, relaxing kayak down the Thames at night…
A what? I hear you say. Believe it or not, relaxing and quiet, is just what it was, add on some exercise, beautiful sites, interesting people and tasty food and, VOILA, you have a lovely evening escape from the busy streets of London, within zone 1.
Most people I told thought I was crazy (people often do) and so I joined alone and was pleased to be in a group with likeminded 'crazy' people, who think a 6 mile kayak down the Thames on a cold November night, is just the thing to escape the London grind and feel free, calm and excited without leaving the city.
We were given all the equipment we needed, from the kayaks and paddles, to warm hats and gloves and after a brief introduction to health and safety on the river we were pushed out. It was already dark and the first thing that hit me was the beauty of Canary Wharf at night. We were slowly kayaking towards the big tall buildings filled with tiny matching suited 'ants' still beavering away at their hot shot city jobs. I am not a Canary Wharf fan, I worked there for a few months and just had to get out, the soulless, chain store filled maze of buildings did not excite me… but kayaking past these magnificent buildings gave me that feeling that only people in London get … 'WOW, I live here' !!
The journey continued down the Thames towards Greenwich, past beautiful ships and buildings old and new. After about an hour of zigzagging along the Thames (my kayak partner and I hadn't quite mastered the art of paddling in straight lines) it was time to paddle full steam ahead onto the 'beach' to moor the kayaks and step into the warmth of The Trafalgar Tavern for a tasty chicken pie and a chance to dry off.
Over dinner we talked about the various adventures we had been on, from weekends hiking across the UK to rowing across the Pacific Ocean, the group of 10 were the kind of people where you just don't want the conversation to end, the stories of adventures across oceans, up mountains and the last hour we had spent kayaking could have kept us in that pub for hours. But alas the tide was coming in and it was time to get back into our thermals and onto the river again to kayak back to shore.
The return journey was straighter than before, speedily working our way up the north shore back towards our starting point at Tower Gateway. Looking down the river towards the Houses of Parliament and bobbing slowly along, with little sound but the ripple of waves all helped make the ache in my arms and frozen fingers more than worthwhile.
Our journey wasn't your average way to spend a Wednesday night, but my cold fingers and toes were soon forgotten as I headed home feeling calmer, a little bit fitter and like I'd had one of those experiences in London which really makes it feel special.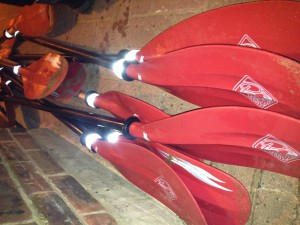 I love you London when walking the streets, when flying above en route to somewhere exotic, and… when softly kayaking down the river at twilight.
An adventure I would definitely like to do again.
I went kayaking with Moo Canoes, they were loads of fun to travel with and are doing more fun trips on the Thames and beyond over the coming months.