A Girly Spa Break to Forest Pines, North Lincolnshire
Before lockdown I was invited to review the Forest Pines Spa and Golf Resort in North Lincolnshire. I brought my friend Lucie along for a mid-week girly spa break.
Forest Pines is a secluded resort in North Lincolnshire, just over an hour from my home in Derbyshire. It was a perfect spot for a mid-week spa break, without having to drive too far, whilst still feeling like you're having a mini holiday.
The resort is just off the M180 and has everything you need in one place. There is a fully equipped spa, gym, 27 hole championship golf course and delicious on site restaurant.
Forest Pines is a DoubleTree Hotel which means… DoubleTree Cookies on arrival!! For those of you who haven't stayed in a DoubleTree hotel, you get a warm chocolate chip cookie on arrival and they are absolutely delicious.
At the start of lockdown DoubleTree gave away their cookie recipe and I have already made the DoubleTree Cookies on many occasions in the last few months!
Though you get one cookie each on arrival, you can actually ask for more should you need another one, or another five, to keep you going during your stay. Trust me they are the most delicious cookies!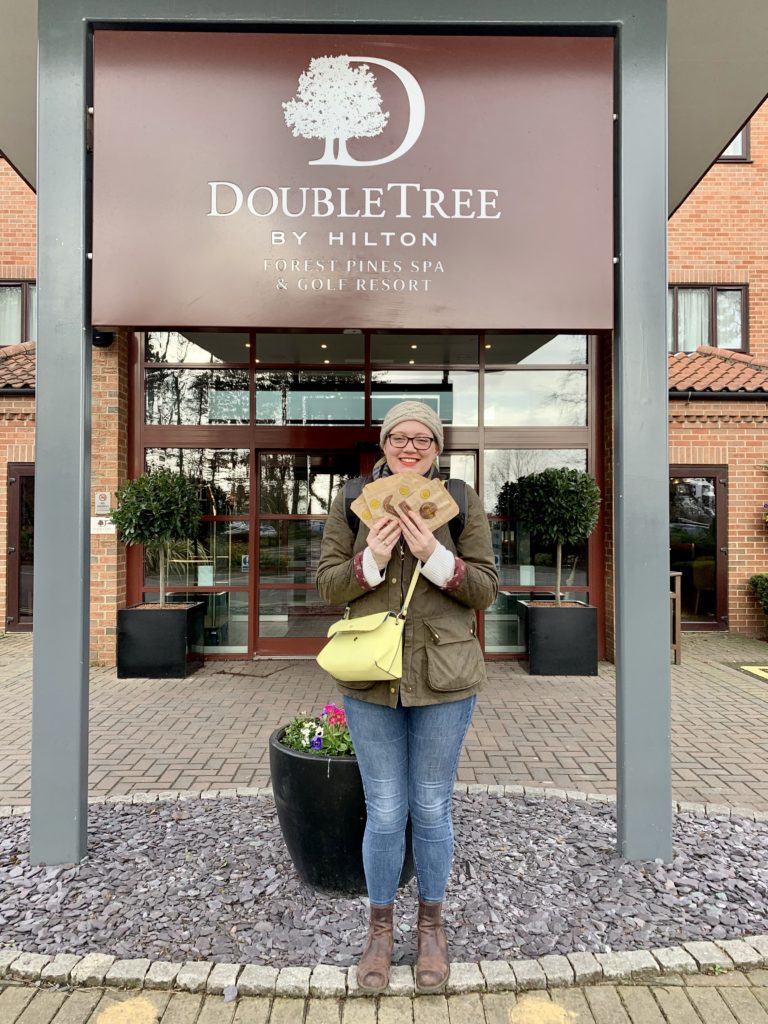 We were at Forest Pines for less than 24 hours, but enjoyed a relaxing afternoon at the spa, a tasty dinner and slow morning at the resort. Before we headed home we visited Barton-upon-Humber a cute town with views of the famous Humber Bridge.
Review – Forest Pines Spa and Golf Resort, North Lincolnshire
I was given a free stay in exchange for a review. As always these are my honest opinions of our stay.
Our Room at Forest Pines
When you stay at a DoubleTree Hotel you know what you are getting. The beds are always really comfy, with big fluffy pillows and thick soft duvets. Forest Pines didn't disappoint and I could happily have spent an evening reading in bed or watching a film on the big TV.
We had a twin room, which meant two big double beds! Much better than two single beds. Plenty of space for starfishing! Lucie settled on the bed to get some work done and I headed straight to the spa.
The Spa at Forest Pines
The Spa is in a separate building that involved quite a walk from our hotel room. Not so great in winter, as it includes a walk across the carpark. Though it's probably my fault for heading out in my swimsuit and robe they provided, rather than getting changed when I got there.
We hadn't realised it was half term so the swimming pool was quite busy with young children having a great time splashing and squealing. I still managed to switch off and enjoy reading my book by the pool before jumping in for a swim.
The spa includes a jacuzzi, steam room and sauna. All much quieter places to escape from the children! The resort includes numerous treatment rooms, a fully equipped gym and a lounge and relaxation room.
Despite the kids it was a real treat for a mid week spa escape from home.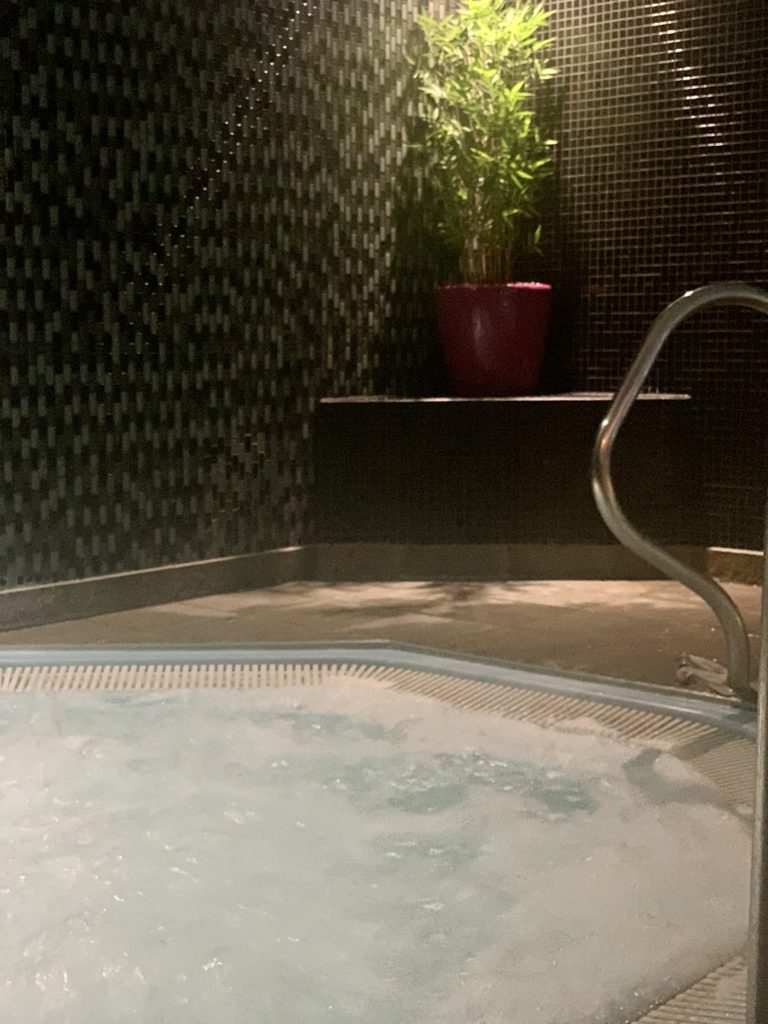 Breakfast and Dinner at Forest Pines
The stylish restaurant and bar area was light and spacious with various different seating areas. Including a more relaxed lounge bar with sofas and modern furnishings and a large dining area that was used for breakfast too.
Dinner was both beautiful and delicious, with the most exceptional apple, waffle and ice cream dessert! Yum! All washed down with a glass of wine or two of course!
Breakfast was one of those buffets where you can easily eat a 6 course breakfast in half an hour. I'll take a croissant, followed by some cereal, followed by a full fry up, then some pancakes, toast and fresh fruit! Please!
They did have a few hot options you could order direct to your table too, and I imagine in the 'age of Coronavirus' everything is ordered from your table. Gone are the days of an all you can eat breakfast buffet for a while!
If you're staying for longer than a night and want to explore the area I recommend a visit to Barton-upon-Humber, including the RopeWalk, a beautiful gallery, art shop and cafe. If you want to head further afield there is loads to see and do in Hull too.
Don't forget to ask for a cookie or two for the road!
Other Posts you might like