A local's guide to Greenwich Market
Greenwich Market is one of London's oldest and most beloved food markets. And in this blog post, we'll be sharing a local's guide to Greenwich Market (so you know you're going to get the best tips here). 
I moved to Greenwich a few months ago, and it feels somehow at once both firmly in and completely separate to London. That's in the best way possible.
Greenwich has all of London's artistry and dynamic, exciting vibe, but with the charming quaint feel of somewhere far from the city.
At the very heart of Greenwich is its historic market, which features some of London's finest producers, artisans and craftspeople. If you've never been before, it's definitely worth including in your Greenwich day trip itinerary.
And, to help you make the most out of your visit, I've written up a comprehensive local's guide to Greenwich Market. Keep reading to find all the best foodie hotspots and must-visit artisan stalls.
A brief history of Greenwich Market
Believe it or not, Greenwich Market has been running (in some form) for over 300 years.
Originally, it was the home of the Royal Charter Market. On the 19th December 1700, this was assigned to the Commissioners of Greenwich Hospital (for 1,000 years, no less!).
The market was opened on 3rd September 1737, and it started with around 60 stallholders, who travelled from all over the city of London. Interestingly, over half of these were butchers.
Over time, the market had an ongoing flux between periods of popularity and quiet slumps, with the longest decline occurring after World War II, through till the 1980s.
But then, in the '80s, Greenwich Market saw a major revival, with arts and crafts stalls being introduced to the market for the very first time (taking inspiration from Camden Kock, which was flourishing at the time). This reimagined market opened on 14th May 1985. And ever since then, Greenwich Market has been a thriving hub of arts, crafts and stand-out street food.
What makes Greenwich Market unique?
But, London is full of thriving food and crafts markets. There's Shoreditch, Camden, Covent Garden, Upmarket and countless other spots, dotted throughout the city.
So, what does Greenwich Market bring to the table?
For me, one of the qualities of Greenwich Market that immediately strikes you is the historic charm. This market has been around for centuries, and this proud market hall makes that abundantly clear.
And what Greenwich Market does best is balance this long-standing history – and the borough's trademark charm – with all the vibrancy and creativity of London's makers.
You can escape the hustle and bustle of central London, with the distinctly non-city beauty of Greenwich, but still enjoy all the artistry and innovation that puts London on the map (not that I'm biased or anything).
The market is absolutely free to enter, meaning you are at liberty to just wander in and amble through the stalls (a favourite pastime of mine, for sure). This could be to simply grab your lunch, or to do a bit of targeted gift shopping.
On that note, the arts and crafts stalls featured here are among the best that you'll see in London markets. The quality of the products is second-to-none, and the range is brilliantly varied. There's everything on offer from hand painted plant pots, to meticulously crafted jewellery, plus the works of talented photographers, painters and print-makers.
Our 6 favourite stalls at Greenwich Market
In case it wasn't clear already, we would absolutely recommend a trip to Greenwich Market. Whether you live in London or are planning a mini break, this is a must-add to your itinerary.
So, if you're ready to start planning your visit, here's our pick of our 6 favourite stalls at Greenwich Market.
Scotch Eggs
After all, sometimes there's no beating life's simple pleasures. So, when you see a stall selling huge, freshly made, premium scotch eggs, there's no turning it down. This stall is a regular feature at Greenwich Market, selling a variety of fist-sized scotch eggs. The flavours available include the classic, alongside chorizo and black pudding varieties. There's also a range of rich, traditional pies, including chicken and mushroom, steak, and chicken and ham.
Wrapped
Another one for the carnivores, Wrapped boasts a range of fresh flatbread wraps, made to order. They're best known for their pulled pork shoulder filling, which is slow roasted for 12 hours. Alongside this, the bread is also made fresh, and you can get your filling of choice (a veggie option of brie, crispy onions and roasted garlic tomatoes is also available) topped with whatever you fancy. Again, another prime example of a simple dish made to perfection.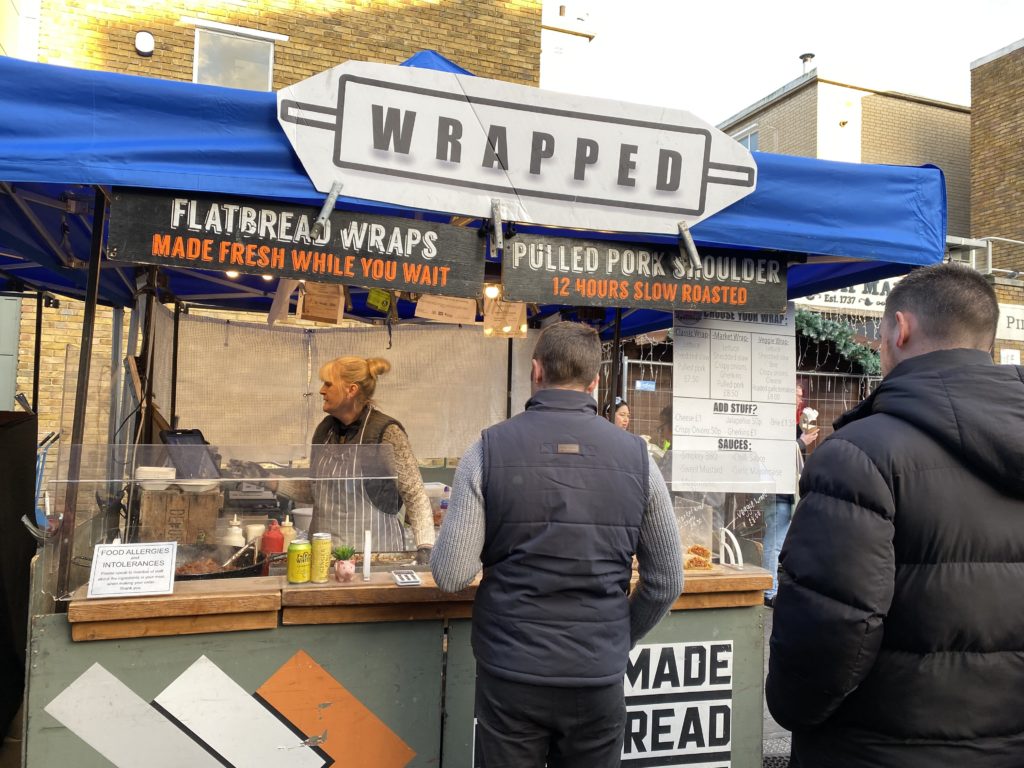 The Arepa
Alongside the classic British cuisine on offer, there's also a wealth of global specialities to explore. If you're looking to try something different, there are few better places to do it than Greenwich Market. The Arepa serves its take on Venezuelan street food, in a wide range of flavour-packed, authentic dishes. Its menu includes beef llanera (corn arepa filled with grilled beef, cheese and pico de gallo), and the pabellon box (a traditional Venezuelan dish with shredded beef, black beans and plantain).
Desi Indian street food
As much as I adore my go-to Indian takeaway, it's good to shake things up a little now and then. And, this stall is a great way to explore more of the diversity of traditional Indian cuisine. At the Desi stall, you can enjoy a wide range of authentic, fresh Indian street food. The dishes available – you'd be mad to order only one – include the familiar samosas and onion bhajis, alongside pakora chaat and samosa chaat.
Muffins
Once you've had your savoury, you'll never be short of sweet treats to choose from. There's a huge variety of desserts to try, including churros, doughnuts, cheesecakes and chocolates. But, although it was definitely a tough call, it's the muffin stall that takes my top vote. This stall is packed full of muffins, in a wide range of fresh, tempting flavours. It's a welcome change from the usual sickly-sweet cupcakes, plus the flavours are well-balanced and put a clever twist on the usual classics. Ticks all round.
Len Art
Although there's a huge range of exceptional art on display here, this was the one that caught my eye the most. The artist, Leonard Tan, specialises in a range of natural and cityscape watercolours, which offer a beautiful insight into London life.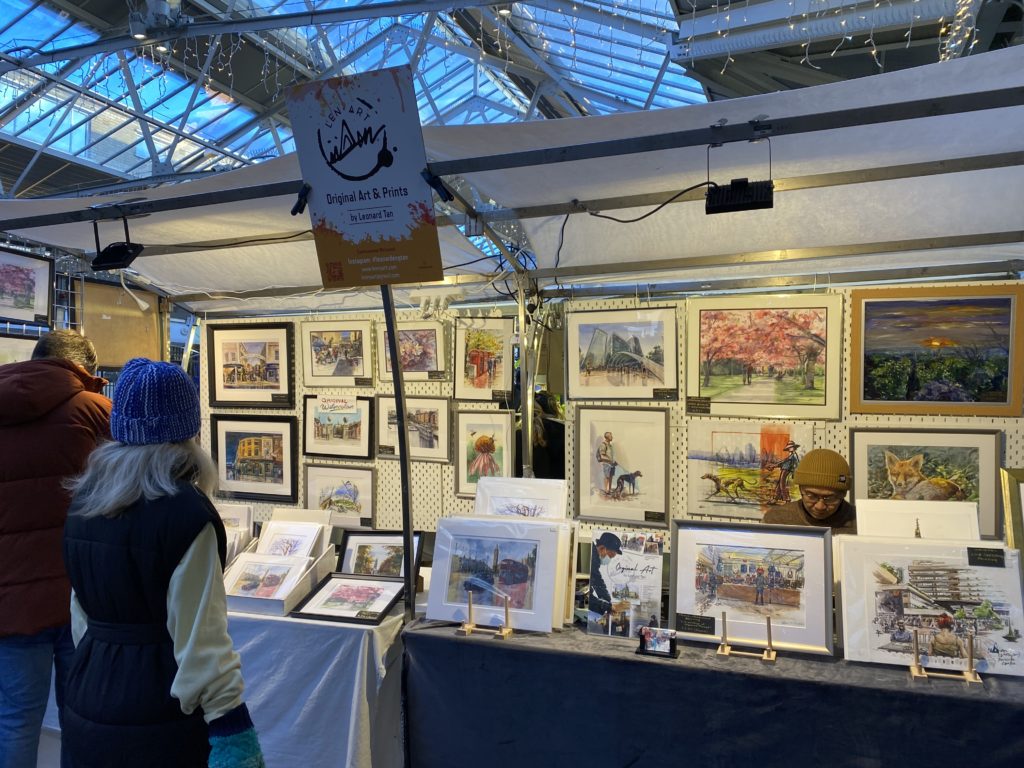 ---
We hope you enjoyed this local's guide to Greenwich Market in London.
Are there any tips or insights that I've missed on this list? Or, are there any stalls that you'd recommend visiting, for readers looking for a review of Greenwich Market?
If you've got any other inside tips that you think we need to add to our list, we'd love to hear them! Get in touch with us in the comments, or through our socials.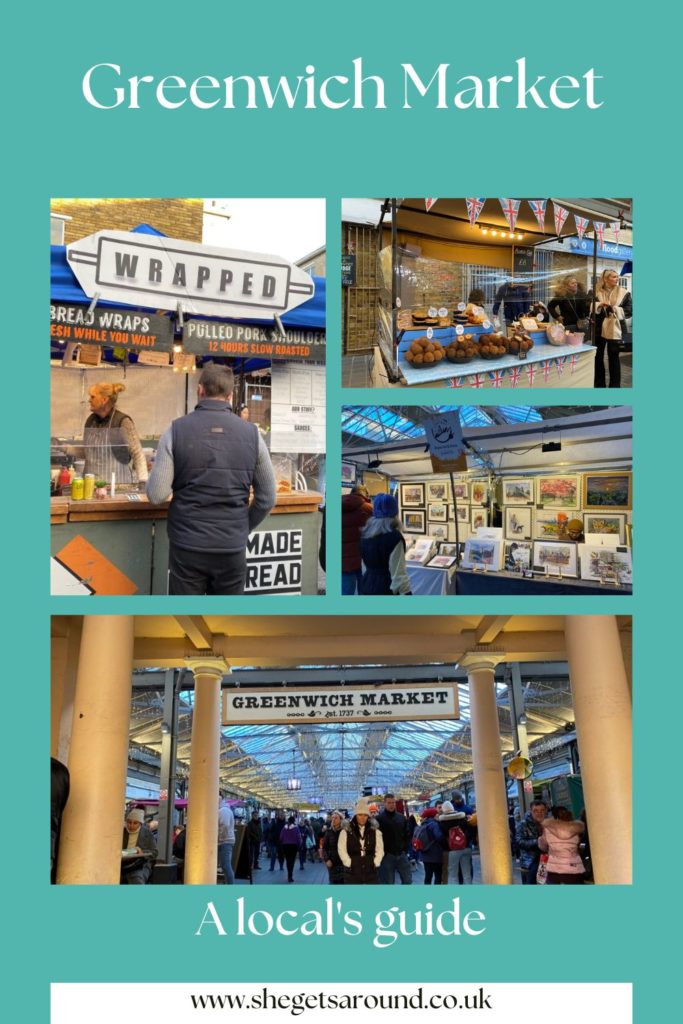 Other posts you might like