10 reasons to visit Mallorca in the winter?
Is it worth visiting Mallorca in the winter? Mallorca is generally seen as a summer destination, a place for guaranteed sunshine and gaining a golden tan, while eating fresh tapas by the beach.
Well Mallorca can be just as beautiful and enjoyable in the winter months, so yes it is definitely worth visiting. Read on to find out why and see some of the best things to do in Mallorca in the winter.
10 reasons to visit Mallorca in the winter
I have been to Mallorca three times in winter or Autumn and loved it every time. I think it is a great time to visit, I would even go so far as to say winter is the best time to visit Mallorca. Here are a few reasons why it is worth visiting Mallorca in the winter.
The sun still shines
First let's get one thing straight. A Mallorca winter is nothing like an English winter and temperatures can be as high as the mid 20s even in December and January. When I was in Mallorca in October we had 2-3 days of sunshine and 2-3 days of cloud cover and rain. It is less predictable than the long hot summer days, but you will be sure to still get a few days of sunshine to enjoy the beaches and work on your tan.
Learn to dive with a private teacher
The first time I visited Mallorca I learnt to dive. Due to it being off season I had a personal instructor and sometimes two instructors teaching me. I also got a small discount as they were so quiet. The water wasn't as clear as it might have been in the summer, but I still saw some exciting fish, an octopus and for the first time breathed under water. I was instantly hooked on diving and recommend Mallorca as a fun and easy place to learn, even in winter!
Eat even more tapas
The tapas is still there come rain or shine and you have the added excuse that you might need to eat more to keep warm. Right?! Yes well you tell yourself that, I'm on your side. Eat more tapas!
Drive the west coastal route
This was my favourite day in Mallorca when I was there in October. We drove from Pollenca to Port d'Andratx, stopping at various cute port towns on the way like Port de Soller. Though it wasn't the best weather as we drove the views were still spectacular, the tapas still delicious and you didn't feel you were missing out too much on the sun as you drove the windy roads. I recommend a coastal road trip through Mallorca whatever the time of year.
Watch the waves crash on the beach and cliffs in Mallorca
There is something mesmerising and wonderful about watching wild waves crash against the cliffs or up on the beach, and even more so in winter, when they are likely bigger. I'm not sure if the waves ever get as wild as they can on the East coast of England but they are still fun to watch.
Snuggle by a warm fire in a beautiful Mallorcan villa
In our Travelopo villa we had a log fire in the living room, something I didn't expect to make use of in Mallorca, but the temperature drops at night and it felt wonderful to be snuggled by a warm fire as the wind blew outside.
I think it's almost a perfect mix, warm days and colder evenings, so you still get that cosy winter feel, but get to enjoy the sun on your back in the day.
It's still not as cold as the UK!
I feel the need to stress this a second time. Right now, as I write this in October it is 8 degrees in Derbyshire, last week it was about 1 degree. In Mallorca in October it is 20 degrees, that's more than double, that is shirt and t shirt weather, that is sitting on the seafront eating an ice cream weather.
Mallorca is still warm in winter!

Enjoy peace and quiet without masses of tourists
The summer will always be the busier time of year for travellers, a bum fight for the best spots on the beach and excursions booked out before you even get a look in. Though some hotels and attractions may close in the winter in Mallorca, there will still be plenty of places to eat and activities to get involved in without feeling like one of 50000! Make the most of the quieter shops, the discounts and the empty roads.
Take a class in Palma de Mallorca
Learn to cook tapas, take a Spanish class or try out some salsa. There will always be plenty of activities and classes to get involved in during the winter monthsm so use your winter holiday in Mallorca to gain a new skill.
Get to know the locals
The markets will be filled with more locals than tourists so chat to them and get to know them. They will probably appreciate you being there in the quieter months and you might learn some secret locals tips or even get invited to dinner.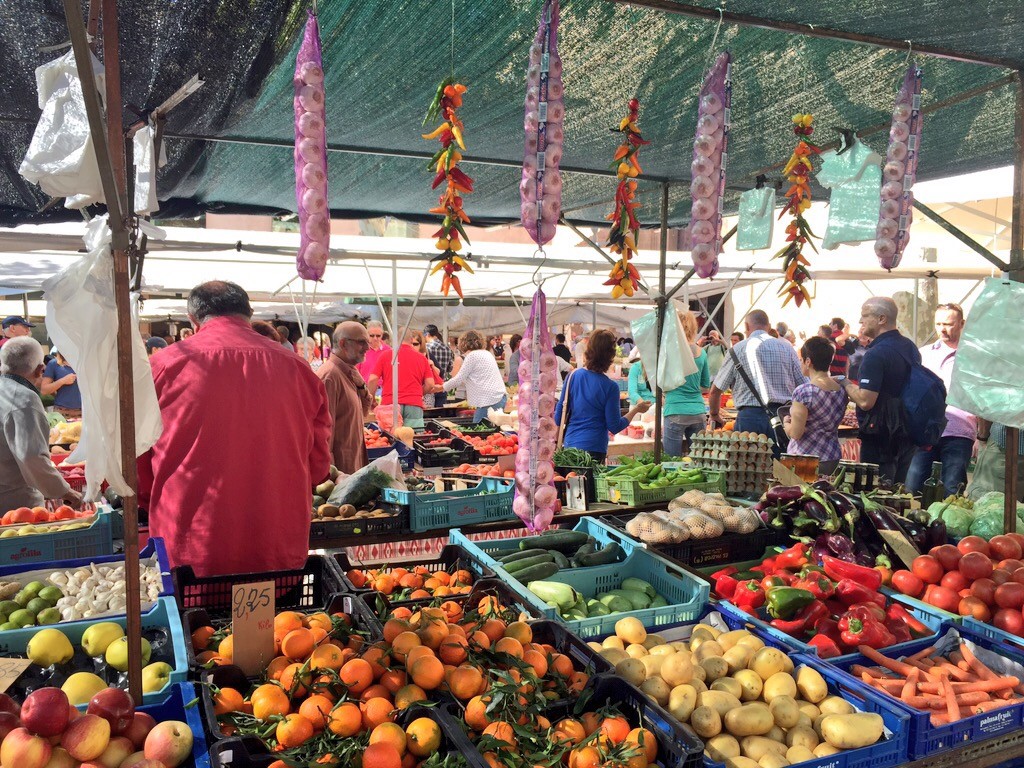 Mallorca isn't all about the beaches and sunshine. There is plenty to do even if the winter weather isn't on your side and you are still guaranteed to get better weather than back home. If it is really bad you could always just hole up in your villa with a few good books and just take some time out admiring the views through your window and cooking up a feast in your private kitchen.
I stayed in Mallorca in October with Travelopo villas. Despite the occasional rainy day I still made the most of what Mallorca had to offer and ate my fair share of tapas. Chorizo and Patatas Bravas anyone??
I was offered a complimentary stay in a Travelopo villa in exchange for a review of the destination and villa. All views in this blog post are still my own.