My DoubleTree #DTour of a Lifetime Itinerary
My itinerary is here and I leave for my Double Tree Hilton trip of a lifetime on Saturday!
It has all come around so fast and so I now have lots to organise to finalise itineraries and prepare to share all my experiences with you.
My first stop is to the dazzling city of Dubai. Where I will be staying at the Double Tree by Hilton Hotel Ras Al Khaimah.
I have five days in Dubai where I am hoping to see some of the world's most spectacular buildings, taste some of their best cuisines and experience some new bucket list activities. The itinerary is mega and includes a dinner cruise on a motorised yacht, a desert safari and a falcon show.
I have spent twenty four hours in Abu Dhabi before, but never been to Dubai where I believe the buildings are taller, hotels bigger and I'm sure food tastier. I will be eating at some of Dubai's top restaurants including Table 9  and Marjan at the Waldorf Astoria.  Wowee!
Next I fly to the sensational Seychelles to the Doubletree by Hilton Seychelles Allamanda Resort and Spa Here my plan involves a lot less, think beach cocktails, scuba diving, snorkelling and wildlife tours. I hope I get to see some of the incredible wildlife on the island and in the sea from turtles to birds and maybe even a whale.
They Seychelles Resort has been undergoing a huge renovation and doesn't officially open until the week after my visit. So I will be getting a sneak peak at the newly renovated hotel before anyone else, hopefully I will get to try out some of their spa facilities too.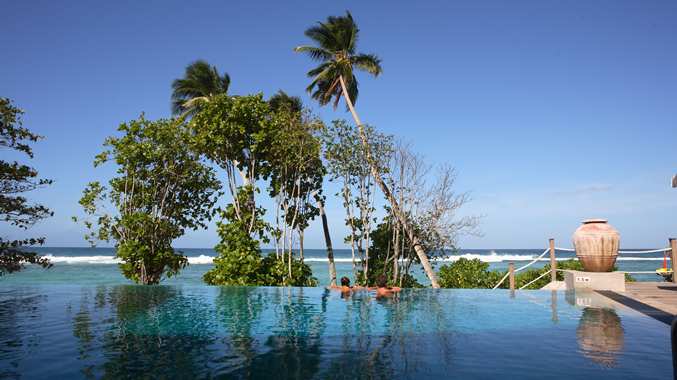 For my third destination I visit another beautiful island, Zanzibar in Tanzania, staying at the Double Tree by Hilton Hotel Zanzibar – Nungwi. My journey in Zanzibar starts and ends with a massage in the hotel's spa, if only all trips could start and end this way?!
I am in Tanzania for five days and hope to learn as much about this beautiful island as possible, with a visit to the Spice Gardens and Stone Town. I can't wait to taste the local delights and meet some of the locals, whilst enjoying a few more holiday activities, boat rides and fishing.
Then it's more time to enjoy beach life, with some scuba diving and snorkeling and perhaps a visit to neighbouring island of Tumbatu.
My fourth and final stop is to the amazing bustling city of Cape Town, staying at the Double Tree by Hilton Hotel Cape Town – Upper Eastside. I visited Cape Town a few years ago as part of a wider trip to South Africa and loved it. I remember taking the open top bus tour three times to make sure I saw everything and took some local kids to the top of Table Mountain on the cable car. Such brilliant memories I can't wait to return.
My itinerary for Cape Town is still unconfirmed but the list of options is mega! From day safaris to cooking classes and township tours. Of course I plan on making full use of the local wine and perhaps visit a winery or two, not to mention enjoying some of the delicious local food. I have fond memories of restaurants serving nothing but meat… far from a vegetarian this is my idea of absolute heaven. YUM!
I depart for my adventure this Saturday, leaving only a few days to finalise plans, get packed and prepared for this trip of a lifetime. EEeeee exciting!!! *jumps up and down, spins around and squeals a little* 😉
I would love to hear your tips on things to do, see and eat in my different destinations.
I will be running a twitter chat with Double Tree on Thursday 14th November at 7PM UK time. Join in with your tips, questions and advice and have the chance to win a tin of Double Tree Cookies… believe me they are delicious and worth a few tweets!