When I knew I was going to Cape Town there were two things I absolutely KNEW I wanted to do and both of them involved Table Mountain, trekking and paragliding. The iconic natural wonder of Cape Town has been something that has amazed both me and thousands of others for years, standing majestic behind the city. Sometimes hidden by it's table cloth and if you're lucky towering proud as you continue your business down below.
I have been to Cape Town once before and managed to get to the top of Table Mountain with about 12 local children, but we headed up and down on the Cable Car which seemed a bit of a cheat. I love hiking and so wanted to tick off another bucket list item and hike up Table Mountain.
I managed to pick the clearest and sunniest day of my time in Cape Town to trek to the top, woopee! But then when I arrived and met my guide Christopher, he informed me it was just TOO hot to hike up Table Mountain. Nooo!
I was disappointed and tried to persuade him I was a good hiker. He clearly didn't believe me, noticing I hadn't brought anything for my head and my water bottle was far too small for a day like today. Oops! I bought a head scarf and a larger bottle of water and he said we could still do a brilliant walk but down the other side once we take the Cable Car up to the top. I begrudgingly agreed and we headed to the Cable Car.
The views over the city were spectacular, it was a crystal clear day and you could see for miles around, the peak of Lion Head and other mountains surrounding the city. The Cable Car rotates as it moves up to give everyone a chance of seeing the views, or a chance to start walking early as you move with the rotating floor to get the best photograph.
When we reached the top, Michael gave me plenty of chances to take lots of photos, posing from the different sides of the mountain, overlooking the city and Camps Bay. It wasn't long before the real trek began. Starting by walking across the 'table' before we started the journey down. Like any journey down a mountain it is often as much up or across as it is down and often not easier than going up. In fact I prefer to hike up a mountain as bad knees means after a few metres down they are starting to cause me pain and all I want is some horizontal walking or a few steps up.
Luckily the hike around and down the back of Table Mountain was a good mix of up, down and across. The views were something else and Christopher did a brilliant job of telling me all about the natural plants and wildlife on the mountain. You could tell he clearly loved his job and was at his happiest when on the mountain. He told me stories of his time living in England and how he got into his dream job of being a tour guide on Table Mountain and areas surrounding Cape Town. I loved listening to his stories and seeing his unrivalled passion for his job.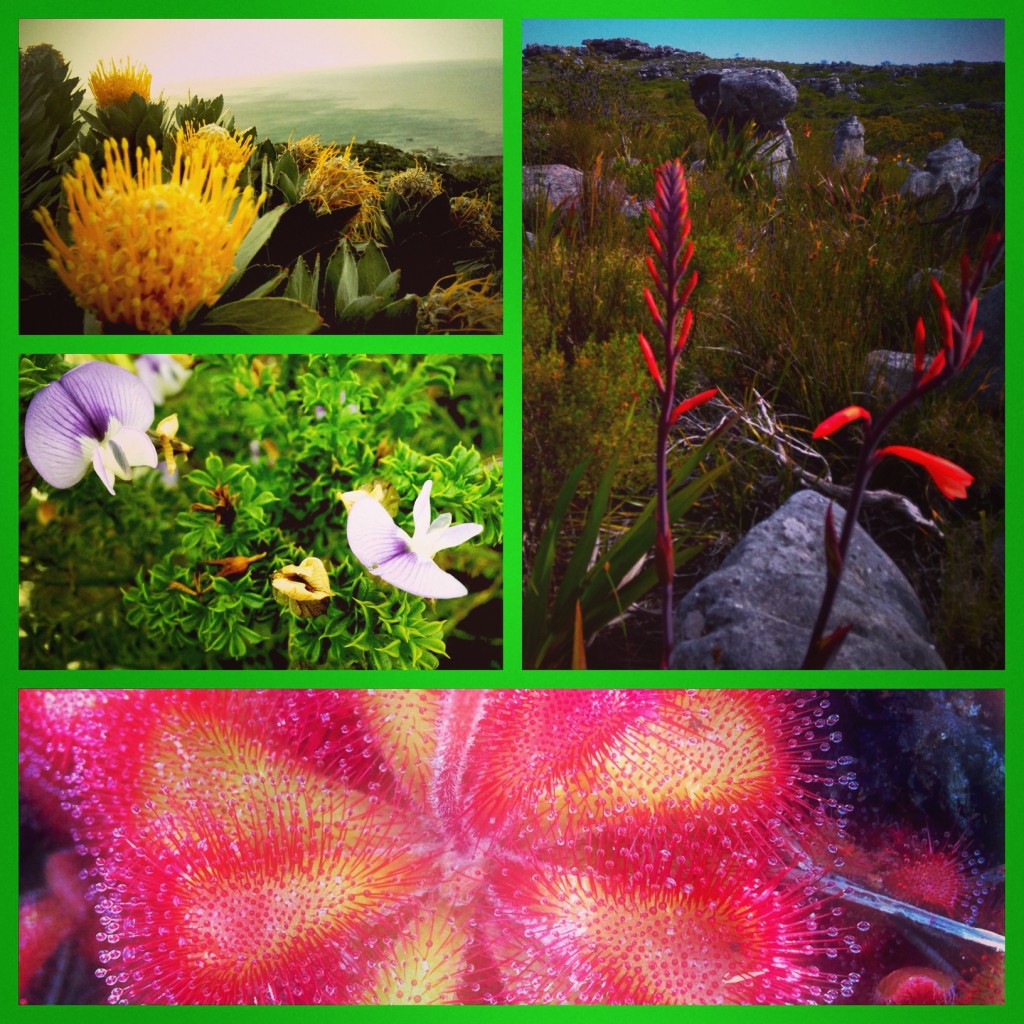 It took us four hours to walk down the mountain, taking a beautiful scenic route past reservoirs that used to provide all the water for Cape Town, along the old train track and past colourful flowers and fauna. The final stretch was along the coast, still high above the water level looking down on the beaches below.
At the end of the day the sun was setting over the sea, my legs were like jelly and my knees screaming at me to stop, but I LOVED it. The fresh breeze, the breathtaking scenery and my brilliant guide Christopher. I definitely recommend him if you want a hike up, down or around Table Mountain. Do NOT go hiking alone. the routes aren't clear and the weather can change in an instant. Even Christopher said he doesn't hike alone.
If you're thinking of doing some hiking on Table Mountain then visit Christopher's website. It is worth a look just for the amazing photos.
Happy Hiking 🙂 x